Abstract
Evidence from inflammatory bowel diseases (IBD) patients and animal models has indicated that gut inflammation is driven by effector CD4+ T-cell, including Th1 and Th17. Conversely, Treg seem to be dysfunctional in IBD. Importantly, dopamine, which is abundant in the gut mucosa under homoeostasis, undergoes a sharp reduction upon intestinal inflammation. Here we analysed the role of the high-affinity dopamine receptor D3 (DRD3) in gut inflammation. Our results show that Drd3 deficiency confers a stronger immunosuppressive potency to Treg, attenuating inflammatory colitis manifestation in mice. Mechanistic analyses indicated that DRD3-signalling attenuates IL-10 production and limits the acquisition of gut-tropism. Accordingly, the ex vivo transduction of wild-type Treg with a siRNA for Drd3 induced a potent therapeutic effect abolishing gut inflammation. Thus, our findings show DRD3-signalling as a major regulator of Treg upon gut inflammation.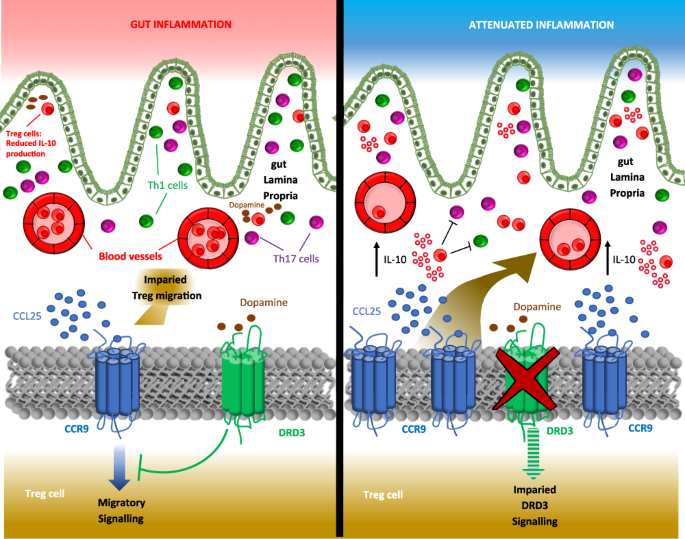 This is a preview of subscription content
Access options
Subscribe to Journal
Get full journal access for 1 year
$119.00
only $19.83 per issue
All prices are NET prices.
VAT will be added later in the checkout.
Tax calculation will be finalised during checkout.
Rent or Buy article
Get time limited or full article access on ReadCube.
from$8.99
All prices are NET prices.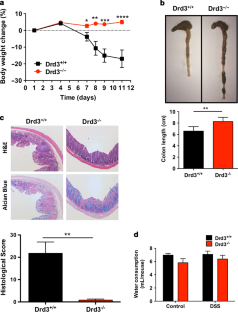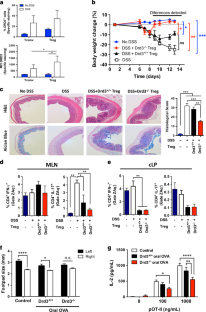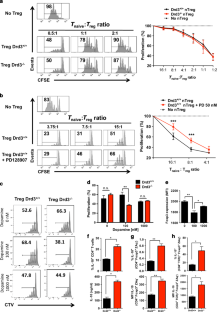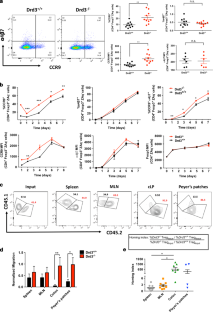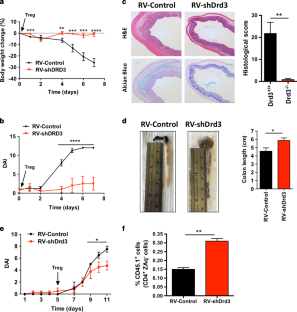 References
1.

Granlund, A. et al. Whole genome gene expression meta-analysis of inflammatory bowel disease colon mucosa demonstrates lack of major differences between Crohn's disease and ulcerative colitis. PloS ONE 8, e56818 (2013).

2.

Olsen, T. et al. TH1 and TH17 interactions in untreated inflamed mucosa of inflammatory bowel disease, and their potential to mediate the inflammation. Cytokine 56, 633–640 (2011).

3.

Wu, W. et al. Prolactin mediates psychological stress-induced dysfunction of regulatory T cells to facilitate intestinal inflammation. Gut 63, 1883–1892 (2014).

4.

Powrie, F. & Mason, D. OX-22high CD4+ T cells induce wasting disease with multiple organ pathology: prevention by the OX-22low subset. J. Exp. Med 172, 1701–1708 (1990).

5.

Mair, I. et al. A context-dependent role for alphav integrins in regulatory T cell accumulation at sites of inflammation. Front. Immunol. 9, 264 (2018).

6.

Huber, S. et al. Cutting edge: TGF-beta signaling is required for the in vivo expansion and immunosuppressive capacity of regulatory CD4+CD25+ T cells. J. Immunol. 173, 6526–6531 (2004).

7.

Saruta, M. et al. Characterization of FOXP3+CD4+ regulatory T cells in Crohn's disease. Clin. Immunol. 125, 281–290 (2007).

8.

Maul, J. et al. Peripheral and intestinal regulatory CD4+ CD25(high) T cells in inflammatory bowel disease. Gastroenterology 128, 1868–1878 (2005).

9.

Clark, A. & Mach, N. Exercise-induced stress behavior, gut-microbiota-brain axis and diet: a systematic review for athletes. J. Int. Soc. Sports Nutr. 13, 43 (2016).

10.

Asano, Y. et al. Critical role of gut microbiota in the production of biologically active, free catecholamines in the gut lumen of mice. Am. J. Physiol. Gastrointest. Liver Physiol. 303, G1288–G1295 (2012).

11.

Pacheco, R., Contreras, F. & Zouali, M. The dopaminergic system in autoimmune diseases. Front. Immunol. 5, 117 (2014).

12.

Prado, C. et al. Stimulation of dopamine receptor D5 expressed on dendritic cells potentiates Th17-mediated immunity. J. Immunol. 188, 3062–3070 (2012).

13.

Cosentino, M. et al. Human CD4+CD25+ regulatory T cells selectively express tyrosine hydroxylase and contain endogenous catecholamines subserving an autocrine/paracrine inhibitory functional loop. Blood 109, 632–642 (2007).

14.

Magro, F. et al. Impaired synthesis or cellular storage of norepinephrine, dopamine, and 5-hydroxytryptamine in human inflammatory bowel disease. Dig. Dis. Sci. 47, 216–224 (2002).

15.

Magro, F., Fraga, S., Ribeiro, T. & Soares-da-Silva, P. Decreased availability of intestinal dopamine in transmural colitis may relate to inhibitory effects of interferon-gamma upon L-DOPA uptake. Acta Physiol. Scand. 180, 379–386 (2004).

16.

Pacheco, R., Prado, C. E., Barrientos, M. J. & Bernales, S. Role of dopamine in the physiology of T-cells and dendritic cells. J. Neuroimmunol. 216, 8–19 (2009).

17.

Contreras, F. et al. Dopamine receptor D3 signaling on CD4+ T cells favors Th1- and Th17-mediated immunity. J. Immunol. 196, 4143–4149 (2016).

18.

Franz, D. et al. Dopamine receptors D3 and D5 regulate CD4(+)T-cell activation and differentiation by modulating ERK activation and cAMP production. J. Neuroimmunol. 284, 18–29 (2015).

19.

Elgueta, D. et al. Dopamine receptor D3 expression is altered in CD4+ T-cells from Parkinson's disease patients and its pharmacologic inhibition attenuates the motor impairment in a mouse model. Front. Immunol. 10, 981 (2019).

20.

Shao, W. et al. Suppression of neuroinflammation by astrocytic dopamine D2 receptors via alphaB-crystallin. Nature 494, 90–94 (2013).

21.

Yan, Y. et al. Dopamine controls systemic inflammation through inhibition of NLRP3 inflammasome. Cell 160, 62–73 (2015).

22.

Torres-Rosas, R. et al. Dopamine mediates vagal modulation of the immune system by electroacupuncture. Nat. Med. 20, 291–295 (2014).

23.

Besser, M. J., Ganor, Y. & Levite, M. Dopamine by itself activates either D2, D3 or D1/D5 dopaminergic receptors in normal human T-cells and triggers the selective secretion of either IL-10, TNFalpha or both. J. Neuroimmunol. 169, 161–171 (2005).

24.

Miyazawa, T., Matsumoto, M., Kato, S. & Takeuchi, K. Dopamine-induced protection against indomethacin-evoked intestinal lesions in rats−role of anti-intestinal motility mediated by D2 receptors. Med. Sci. Monit. 9, BR71–BR77 (2003).

25.

Magro, F. et al. Dopamine D2 receptor polymorphisms in inflammatory bowel disease and the refractory response to treatment. Dig. Dis. Sci. 51, 2039–2044 (2006).

26.

Corridoni, D., Chapman, T., Ambrose, T. & Simmons, A. Emerging mechanisms of innate immunity and their translational potential in inflammatory bowel disease. Front. Med. 5, 32 (2018).

27.

Gerner, R. R. et al. NAD metabolism fuels human and mouse intestinal inflammation. Gut 67, 1813–1823 (2018).

28.

Sainathan, S. K. et al. Granulocyte macrophage colony-stimulating factor ameliorates DSS-induced experimental colitis. Inflamm. Bowel Dis. 14, 88–99 (2008).

29.

Moraga-Amaro, R., Gonzalez, H., Pacheco, R. & Stehberg, J. Dopamine receptor D3 deficiency results in chronic depression and anxiety. Behav. Brain Res. 274, 186–193 (2014).

30.

McKenna, F. et al. Dopamine receptor expression on human T- and B-lymphocytes, monocytes, neutrophils, eosinophils and NK cells: a flow cytometric study. J. Neuroimmunol. 132, 34–40 (2002).

31.

Vidal, P. M. & Pacheco, R. Targeting the dopaminergic system in autoimmunity. J. Neuroimmune Pharmacol. 15, 57–73 (2019).

32.

Ueno, A. et al. Th17 plasticity and its relevance to inflammatory bowel disease. J. Autoimmun. 87, 38–49 (2018).

33.

Owaga, E. et al. Th17 cells as potential probiotic therapeutic targets in inflammatory bowel diseases. Int. J. Mol. Sci. 16, 20841–20858 (2015).

34.

Fontenot, J. D. et al. Regulatory T cell lineage specification by the forkhead transcription factor foxp3. Immunity 22, 329–341 (2005).

35.

Ostanin, D. V. et al. T cell transfer model of chronic colitis: concepts, considerations, and tricks of the trade. Am. J. Physiol. Gastrointest. Liver Physiol. 296, G135–G146 (2009).

36.

Cassani, B. et al. Gut-tropic T cells that express integrin alpha4beta7 and CCR9 are required for induction of oral immune tolerance in mice. Gastroenterology 141, 2109–2118 (2011).

37.

Wan, Y. Y. & Flavell, R. A. Regulatory T-cell functions are subverted and converted owing to attenuated Foxp3 expression. Nature 445, 766–770 (2007).

38.

Rubtsov, Y. P. et al. Regulatory T cell-derived interleukin-10 limits inflammation at environmental interfaces. Immunity 28, 546–558 (2008).

39.

Karo, J. M., Schatz, D. G. & Sun, J. C. The RAG recombinase dictates functional heterogeneity and cellular fitness in natural killer cells. Cell 159, 94–107 (2014).

40.

Johansson-Lindbom, B. et al. Selective generation of gut tropic T cells in gut-associated lymphoid tissue (GALT): requirement for GALT dendritic cells and adjuvant. J. Exp. Med. 198, 963–969 (2003).

41.

Mora, J. R. et al. Selective imprinting of gut-homing T cells by Peyer's patch dendritic cells. Nature 424, 88–93 (2003).

42.

Kim, S. V. et al. GPR15-mediated homing controls immune homeostasis in the large intestine mucosa. Science 340, 1456–1459 (2013).

43.

Iwata, M. et al. Retinoic acid imprints gut-homing specificity on T cells. Immunity 21, 527–538 (2004).

44.

Figueroa, C. et al. Inhibition of dopamine receptor D3 signaling in dendritic cells increases antigen cross-presentation to CD8+ T-cells favoring anti-tumor immunity. J. Neuroimmunol. 303, 99–107 (2017).

45.

Villablanca, E. J. & Mora, J. R. Competitive homing assays to study gut-tropic t cell migration. J. Vis. Exp. 1, 2619 (2011).

46.

Pacheco, R. Targeting dopamine receptor D3 signalling in inflammation. Oncotarget 8, 7224–7225 (2017).

47.

Brochard, V. et al. Infiltration of CD4+ lymphocytes into the brain contributes to neurodegeneration in a mouse model of Parkinson disease. J. Clin. Invest. 119, 182–192 (2009).

48.

Gonzalez, H. et al. Dopamine receptor D3 expressed on CD4+ T cells favors neurodegeneration of dopaminergic neurons during Parkinson's disease. J. Immunol. 190, 5048–5056 (2013).

49.

Chen, Y. et al. Dopamine receptor 3 might be an essential molecule in 1-methyl-4-phenyl-1,2,3,6-tetrahydropyridine-induced neurotoxicity. BMC Neurosci. 14, 76 (2013).

50.

Elgueta, D. et al. Pharmacologic antagonism of dopamine receptor D3 attenuates neurodegeneration and motor impairment in a mouse model of Parkinson's disease. Neuropharmacology 113(Pt A), 110–123 (2017).

51.

Montoya, A. et al. Dopamine receptor D3 signalling in astrocytes promotes neuroinflammation. J. Neuroinflammation 16, 258 (2019).

52.

Kipnis, J. et al. Dopamine, through the extracellular signal-regulated kinase pathway, downregulates CD4+CD25+ regulatory T-cell activity: implications for neurodegeneration. J. Neurosci. 24, 6133–6143 (2004).

53.

Burris, K. D. et al. Lack of discrimination by agonists for D2 and D3 dopamine receptors. Neuropsychopharmacol. Off. Publ. Am. Coll. Neuropsychopharmacol. 12, 335–345 (1995).

54.

Pugsley, T. A. et al. Neurochemical and functional characterization of the preferentially selective dopamine D3 agonist PD 128907. J. Pharm. Exp. Ther. 275, 1355–1366 (1995).

55.

Sautel, F. et al. A functional test identifies dopamine agonists selective for D3 versus D2 receptors. Neuroreport 6, 329–332 (1995).

56.

Merlo, S., Canonico, P. L. & Sortino, M. A. Distinct effects of pramipexole on the proliferation of adult mouse sub-ventricular zone-derived cells and the appearance of a neuronal phenotype. Neuropharmacology 60, 892–900 (2011).

57.

Cretney, E. et al. Characterization of Blimp-1 function in effector regulatory T cells. J. Autoimmun. 91, 73–82 (2018).

58.

Zhang, S. Y. et al. Adrenomedullin 2 improves early obesity-induced adipose insulin resistance by inhibiting the class II MHC in adipocytes. Diabetes 65, 2342–2355 (2016).

59.

Basova, L. et al. Dopamine and its receptors play a role in the modulation of CCR5 expression in innate immune cells following exposure to Methamphetamine: Implications to HIV infection. PloS ONE 13, e0199861 (2018).

60.

Espinosa-Oliva, A. M. et al. Role of dopamine in the recruitment of immune cells to the nigro-striatal dopaminergic structures. Neurotoxicology 41, 89–101 (2014).

61.

Watanabe, Y. et al. Dopamine selectively induces migration and homing of naive CD8+ T cells via dopamine receptor D3. J. Immunol. 176, 848–856. (2006).

62.

Trivedi, P. J. et al. Intestinal CCL25 expression is increased in colitis and correlates with inflammatory activity. J. Autoimmun. 68, 98–104 (2016).

63.

Souza, H. S., Elia, C. C., Spencer, J. & MacDonald, T. T. Expression of lymphocyte-endothelial receptor-ligand pairs, alpha4beta7/MAdCAM-1 and OX40/OX40 ligand in the colon and jejunum of patients with inflammatory bowel disease. Gut 45, 856–863 (1999).

64.

Rivera-Nieves, J. et al. Antibody blockade of CCL25/CCR9 ameliorates early but not late chronic murine ileitis. Gastroenterology 131, 1518–1529 (2006).

65.

Biswas, S., Bryant, R. V. & Travis, S. Interfering with leukocyte trafficking in Crohn's disease. Best. Pr. Res Clin. Gastroenterol. 38–39, 101617 (2019).

66.

Sands, B. E. Leukocyte anti-trafficking strategies: current status and future directions. Digestive Dis. 35, 13–20 (2017).

67.

Joseph, J. D. et al. Dopamine autoreceptor regulation of release and uptake in mouse brain slices in the absence of D(3) receptors. Neuroscience 112, 39–49 (2002).

68.

Chen, Y. et al. Induction of experimental acute ulcerative colitis in rats by administration of dextran sulfate sodium at low concentration followed by intracolonic administration of 30% ethanol. J. Zhejiang Univ. Sci. B 8, 632–637 (2007).

69.

Menning, A. et al. Retinoic acid-induced gut tropism improves the protective capacity of Treg in acute but not in chronic gut inflammation. Eur. J. Immunol. 40, 2539–2548 (2010).

70.

Stransky, B., Faria, A. M. & Vaz, N. M. Oral tolerance induction with altered forms of ovalbumin. Braz. J. Med Biol. Res 31, 381–386 (1998).

71.

Weijtens, M. E., Willemsen, R. A., Hart, E. H. & Bolhuis, R. L. A retroviral vector system 'STITCH' in combination with an optimized single chain antibody chimeric receptor gene structure allows efficient gene transduction and expression in human T lymphocytes. Gene Ther. 5, 1195–1203 (1998).
Acknowledgements
We thank Dr. Marc Caron for providing Drd3−/− mice, Dr. María Rosa Bono for providing OT-II and B6.SJL-Ptprca mice. We are grateful to Dr. Alvaro Lladser and Dr. Ernesto López for helpful discussions and technical assistance with viral vectors. We also thank Dr. Sebastián Valenzuela for his valuable veterinary assistance in our animal facility and Dr. María José Fuenzalida for her technical assistance in cell sorting. This work was supported by Programa de Apoyo a Centros con Financiamiento Basal AFB-170004 (to Fundación Ciencia & Vida) from "Comisión Nacional de Investigación Científica y Tecnológica de Chile (CONICYT)" and by grants FONDECYT-1170093 (to R.P.), from "Fondo Nacional de Desarrollo Científico y Tecnológico de Chile, MJFF-10332.01 and MJFF-15076 (to R.P.) from Michael J. Fox Foundation for Parkinson Research.
Ethics declarations
Competing interests
The authors declare that the research was conducted in the absence of any financial or non-financial competing interests with the exception of a pending patent application describing the therapeutic use of DRD3 inhibition as treatment for inflammatory bowel diseases, and which could be construed as a potential conflict of interest. Authors of said patent present in this paper are: V.U., F.C. and R.P.
Additional information
Publisher's note Springer Nature remains neutral with regard to jurisdictional claims in published maps and institutional affiliations.
Supplementary information
About this article
Cite this article
Ugalde, V., Contreras, F., Prado, C. et al. Dopaminergic signalling limits suppressive activity and gut homing of regulatory T cells upon intestinal inflammation. Mucosal Immunol 14, 652–666 (2021). https://doi.org/10.1038/s41385-020-00354-7
Received:

Revised:

Accepted:

Published:

Issue Date: