Abstract
Exposure to preadult environmental exposures may have long-lasting effects on mental health by affecting the maturation of the brain and personality, two traits that interact throughout the developmental process. However, environment-brain-personality covariation patterns and their mediation relationships remain unclear. In 4297 healthy participants (aged 18–30 years), we combined sparse multiple canonical correlation analysis with independent component analysis to identify the three-way covariation patterns of 59 preadult environmental exposures, 760 adult brain imaging phenotypes, and five personality traits, and found two robust environment-brain-personality covariation models with sex specificity. One model linked greater stress and less support to weaker functional connectivity and activity in the default mode network, stronger activity in subcortical nuclei, greater thickness and volume in the occipital, parietal and temporal cortices, and lower agreeableness, consciousness and extraversion as well as higher neuroticism. The other model linked higher urbanicity and better socioeconomic status to stronger functional connectivity and activity in the sensorimotor network, smaller volume and surface area and weaker functional connectivity and activity in the medial prefrontal cortex, lower white matter integrity, and higher openness to experience. We also conducted mediation analyses to explore the potential bidirectional mediation relationships between adult brain imaging phenotypes and personality traits with the influence of preadult environmental exposures and found both environment-brain-personality and environment-personality-brain pathways. We finally performed moderated mediation analyses to test the potential interactions between macro- and microenvironmental exposures and found that one category of exposure moderated the mediation pathways of another category of exposure. These results improve our understanding of the effects of preadult environmental exposures on the adult brain and personality traits and may facilitate the design of targeted interventions to improve mental health by reducing the impact of adverse environmental exposures.
Access options
Subscribe to this journal
Receive 12 print issues and online access
$259.00 per year
only $21.58 per issue
Rent or buy this article
Prices vary by article type
from$1.95
to$39.95
Prices may be subject to local taxes which are calculated during checkout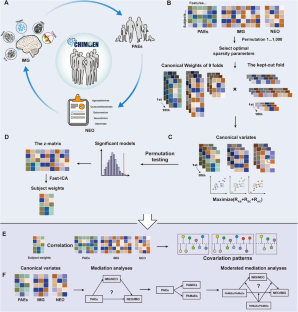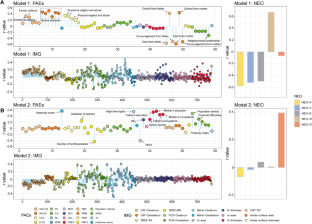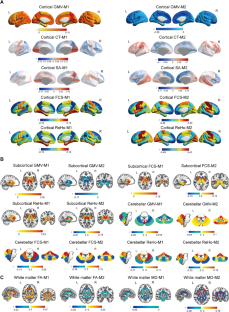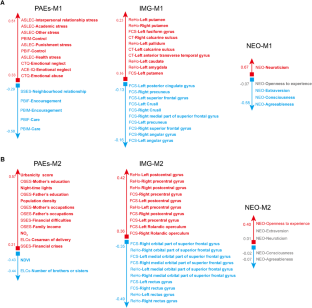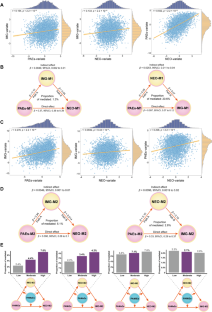 References
Xue T, Zhu T, Zheng Y, Zhang Q. Declines in mental health associated with air pollution and temperature variability in China. Nat Commun. 2019;10:2165.

Short AK, Baram TZ. Early-life adversity and neurological disease: age-old questions and novel answers. Nat Rev Neurol. 2019;15:657–69.

Miguel PM, Pereira LO, Silveira PP, Meaney MJ. Early environmental influences on the development of children's brain structure and function. Dev Med Child Neurol. 2019;61:1127–33.

Von Der Heide R, Vyas G, Olson IR. The social network-network: size is predicted by brain structure and function in the amygdala and paralimbic regions. Soc Cogn Affect Neurosci. 2014;9:1962–72.

Lamblin M, Murawski C, Whittle S, Fornito A. Social connectedness, mental health and the adolescent brain. Neurosci Biobehav Rev. 2017;80:57–68.

Moser DA, Doucet GE, Ing A, Dima D, Schumann G, Bilder RM, et al. An integrated brain-behavior model for working memory. Mol Psychiatry. 2018;23:1974–80.

Modabbernia A, Reichenberg A, Ing A, Moser DA, Doucet GE, Artiges E, et al. Linked patterns of biological and environmental covariation with brain structure in adolescence: a population-based longitudinal study. Mol Psychiatry. 2021;26:4905–18.

Noble KG, Houston SM, Brito NH, Bartsch H, Kan E, Kuperman JM, et al. Family income, parental education and brain structure in children and adolescents. Nat Neurosci. 2015;18:773–8.

Tomasi D, Volkow ND. Associations of family income with cognition and brain structure in USA children: prevention implications. Mol Psychiatry. 2021;26:6619–29.

Modabbernia A, Janiri D, Doucet GE, Reichenberg A, Frangou S. Multivariate patterns of brain-behavior-environment associations in the adolescent brain and cognitive development study. Biol Psychiatry. 2021;89:510–20.

Jeong HJ, Moore TM, Durham EL, Reimann GE, Dupont RM, Cardenas-Iniguez C, et al. General and specific factors of environmental stress and their associations with brain structure and dimensions of psychopathology. Biol Psychiatry: Glob Open Sci. 2022;3:480–9.

Miller KL, Alfaro-Almagro F, Bangerter NK, Thomas DL, Yacoub E, Xu J, et al. Multimodal population brain imaging in the UK Biobank prospective epidemiological study. Nat Neurosci. 2016;19:1523–36.

Alnæs D, Kaufmann T, Marquand AF, Smith SM, Westlye LT. Patterns of sociocognitive stratification and perinatal risk in the child brain. Proc Natl Acad Sci USA. 2020;117:12419–27.

Xu Q, Guo L, Cheng J, Wang M, Geng Z, Zhu W, et al. CHIMGEN: a Chinese imaging genetics cohort to enhance cross-ethnic and cross-geographic brain research. Mol Psychiatry. 2020;25:517–29.

Liu F, Xu J, Guo L, Qin W, Liang M, Schumann G, et al. Environmental neuroscience linking exposome to brain structure and function underlying cognition and behavior. Mol Psychiatry. 2023;28:17–27.

Rosenzweig MR. Effects of differential experience on the brain and behavior. Dev Neuropsychol. 2003;24:523–40.

Caspi A, Houts RM, Belsky DW, Goldman-Mellor SJ, Harrington H, Israel S, et al. The p factor: one general psychopathology factor in the structure of psychiatric disorders? Clin Psychol Sci. 2014;2:119–37.

Bjørnebekk A, Fjell AM, Walhovd KB, Grydeland H, Torgersen S, Westlye LT. Neuronal correlates of the five factor model (FFM) of human personality: multimodal imaging in a large healthy sample. Neuroimage. 2013;65:194–208.

Kolb B, Harker A, Gibb R. Principles of plasticity in the developing brain. Dev Med Child Neurol. 2017;59:1218–23.

Dempster AP, Laird NM, Rubin DB. Maximum likelihood from incomplete data via the EM algorithm. J R Stat Soc: Ser B (Methodol). 1977;39:1–22.

Fortin JP, Cullen N, Sheline YI, Taylor WD, Aselcioglu I, Cook PA, et al. Harmonization of cortical thickness measurements across scanners and sites. Neuroimage. 2018;167:104–20.

Van Dijk KR, Sabuncu MR, Buckner RL. The influence of head motion on intrinsic functional connectivity MRI. Neuroimage. 2012;59:431–8.

Witten DM, Tibshirani R, Hastie T. A penalized matrix decomposition, with applications to sparse principal components and canonical correlation analysis. Biostatistics. 2009;10:515–34.

Hyvärinen A. Fast and robust fixed-point algorithms for independent component analysis. IEEE Trans Neural Netw. 1999;10:626–34.

Tingley D, Yamamoto T, Hirose K, Keele L, Imai K. mediation: R Package for Causal Mediation Analysis. J Stat Softw. 2014;59:1–38.

Hayes AF. Introduction to mediation, moderation, and conditional process analysis: a regression-based approach. New York: Guilford Press; 2017.

Moser DA, Doucet GE, Lee WH, Rasgon A, Krinsky H, Leibu E, et al. Multivariate associations among behavioral, clinical, and multimodal imaging phenotypes in patients with psychosis. JAMA Psychiatry. 2018;75:386–95.

Grant S, Langan-Fox J. Personality and the occupational stressor-strain relationship: the role of the Big Five. J Occup Health Psychol. 2007;12:20–33.

Suls J, Martin R. The daily life of the garden-variety neurotic: reactivity, stressor exposure, mood spillover, and maladaptive coping. J Pers. 2005;73:1485–509.

Kendler KS, Myers J. The genetic and environmental relationship between major depression and the five-factor model of personality. Psychol Med. 2010;40:801–6.

Canli T. Biology of personality and individual differences. New York: Guilford Press; 2006.

Dube SR, Felitti VJ, Dong M, Chapman DP, Giles WH, Anda RF. Childhood abuse, neglect, and household dysfunction and the risk of illicit drug use: the adverse childhood experiences study. Pediatrics. 2003;111:564–72.

Hayes JF, Osborn DPJ, Lewis G, Dalman C, Lundin A. Association of late adolescent personality with risk for subsequent serious mental illness among men in a Swedish nationwide cohort study. JAMA Psychiatry. 2017;74:703–11.

Shonkoff JP. Leveraging the biology of adversity to address the roots of disparities in health and development. Proc Natl Acad Sci USA. 2012;109:17302–7.

Santesteban-Echarri O, MacQueen G, Goldstein BI, Wang J, Kennedy SH, Bray S, et al. Personality and risk for serious mental illness. Early Inter Psychiatry. 2021;15:133–9.

Akiki TJ, Averill CL, Wrocklage KM, Scott JC, Averill LA, Schweinsburg B, et al. Default mode network abnormalities in posttraumatic stress disorder: a novel network-restricted topology approach. Neuroimage. 2018;176:489–98.

Mohiyeddini C, Bauer S, Semple S. Neuroticism and stress: the role of displacement behavior. Anxiety Stress Coping. 2015;28:391–407.

Blain SD, Grazioplene RG, Ma Y, DeYoung CG. Toward a neural model of the openness-psychoticism dimension: functional connectivity in the default and frontoparietal control networks. Schizophr Bull. 2020;46:540–51.

Rauch SL, Shin LM, Phelps EA. Neurocircuitry models of posttraumatic stress disorder and extinction: human neuroimaging research–past, present, and future. Biol Psychiatry. 2006;60:376–82.

Liu WZ, Zhang WH, Zheng ZH, Zou JX, Liu XX, Huang SH, et al. Identification of a prefrontal cortex-to-amygdala pathway for chronic stress-induced anxiety. Nat Commun. 2020;11:2221.

Li A, Zalesky A, Yue W, Howes O, Yan H, Liu Y, et al. A neuroimaging biomarker for striatal dysfunction in schizophrenia. Nat Med. 2020;26:558–65.

Disner SG, Beevers CG, Haigh EA, Beck AT. Neural mechanisms of the cognitive model of depression. Nat Rev Neurosci. 2011;12:467–77.

Callaghan BL, Tottenham N. The stress acceleration hypothesis: effects of early-life adversity on emotion circuits and behavior. Curr Opin Behav Sci. 2016;7:76–81.

Frankenhuis WE, de Weerth C. Does early-life exposure to stress shape or impair cognition? Curr Dir Psychol Sci. 2013;22:407–12.

Pervin LA. The science of personality. New York: Oxford University Press; 2003.

DeYoung CG, Quilty LC, Peterson JB, Gray JR. Openness to experience, intellect, and cognitive ability. J Pers Assess. 2014;96:46–52.

Streit F, Witt SH, Awasthi S, Foo JC, Jungkunz M, Frank J, et al. Borderline personality disorder and the big five: molecular genetic analyses indicate shared genetic architecture with neuroticism and openness. Transl Psychiatry. 2022;12:153.

Kemp KC, Burgin CJ, Raulin ML, Kwapil TR. Using multiple measures of openness to experience to capture positive, negative, and disorganized dimensions of schizotypy. Personal Disord. 2020;11:260–9.

Zhou Y, Li D, Li X, Wang Y, Zhao L. Big five personality and adolescent Internet addiction: The mediating role of coping style. Addict Behav. 2017;64:42–8.

Shi B, Dai DY, Lu Y. Openness to experience as a moderator of the relationship between intelligence and creative thinking: a study of chinese children in urban and rural areas. Front Psychol. 2016;7:641.

Jonassaint CR, Siegler IC, Barefoot JC, Edwards CL, Williams RB. Low life course socioeconomic status (SES) is associated with negative NEO PI-R personality patterns. Int J Behav Med. 2011;18:13–21.

Delgado MR, Beer JS, Fellows LK, Huettel SA, Platt ML, Quirk GJ, et al. Viewpoints: dialogues on the functional role of the ventromedial prefrontal cortex. Nat Neurosci. 2016;19:1545–52.

Xu J, Liu X, Li Q, Goldblatt R, Qin W, Liu F, et al. Global urbanicity is associated with brain and behaviour in young people. Nat Hum Behav. 2022;6:279–93.

Mulders P, Llera A, Tendolkar I, van Eijndhoven P, Beckmann C. Personality profiles are associated with functional brain networks related to cognition and emotion. Sci Rep. 2018;8:13874.

Thase ME, Wright JH, Friedman ES, Russ E. Cognitive and behavioral therapies. Psychiatry. 2015;1:1836–58.

Wang X, Zhuang K, Li Z, Qiu J. The functional connectivity basis of creative achievement linked with openness to experience and divergent thinking. Biol Psychol. 2022;168:108260.

Kappes HB, Morewedge CK. Mental simulation as substitute for experience. Soc Personal Psychol Compass. 2016;10:405–20.

Minuzzi L, Syan SK, Smith M, Hall A, Hall GB, Frey BN. Structural and functional changes in the somatosensory cortex in euthymic females with bipolar disorder. Aust N Z J Psychiatry. 2018;52:1075–83.

Schmaal L, Hibar DP, Sämann PG, Hall GB, Baune BT, Jahanshad N, et al. Cortical abnormalities in adults and adolescents with major depression based on brain scans from 20 cohorts worldwide in the ENIGMA Major Depressive Disorder Working Group. Mol Psychiatry. 2017;22:900–9.

Woodward ND, Karbasforoushan H, Heckers S. Thalamocortical dysconnectivity in schizophrenia. Am J Psychiatry. 2012;169:1092–9.

Zhu X, Yan W, Lin X, Que J, Huang Y, Zheng H, et al. The effect of perceived stress on cognition is mediated by personality and the underlying neural mechanism. Transl Psychiatry. 2022;12:199.

Mackey S, Chaarani B, Kan KJ, Spechler PA, Orr C, Banaschewski T, et al. Brain regions related to impulsivity mediate the effects of early adversity on antisocial behavior. Biol Psychiatry. 2017;82:275–82.

Dubois J, Eberhardt F, Paul LK, Adolphs R. Personality beyond taxonomy. Nat Hum Behav. 2020;4:1110–7.

van den Bosch M, Meyer-Lindenberg A. Environmental exposures and depression: biological mechanisms and epidemiological evidence. Annu Rev Public Health. 2019;40:239–59.

Bale TL, Epperson CN. Sex differences and stress across the lifespan. Nat Neurosci. 2015;18:1413–20.

Heim C, Shugart M, Craighead WE, Nemeroff CB. Neurobiological and psychiatric consequences of child abuse and neglect. Dev Psychobiol. 2010;52:671–90.
Acknowledgements
This work was funded by Natural Science Foundation of China (82030053), Tianjin Key Medical Discipline (Specialty) Construction Project (TJYXZDXK-001A) and Tsinghua-Toyota Joint Research Fund. No other disclosures were reported.
Ethics declarations
Competing interests
The authors declare no competing interests.
Additional information
Publisher's note Springer Nature remains neutral with regard to jurisdictional claims in published maps and institutional affiliations.
Supplementary information
Rights and permissions
Springer Nature or its licensor (e.g. a society or other partner) holds exclusive rights to this article under a publishing agreement with the author(s) or other rightsholder(s); author self-archiving of the accepted manuscript version of this article is solely governed by the terms of such publishing agreement and applicable law.
About this article
Cite this article
Xue, K., Gao, B., Chen, F. et al. Covariation of preadult environmental exposures, adult brain imaging phenotypes, and adult personality traits. Mol Psychiatry (2023). https://doi.org/10.1038/s41380-023-02261-2
Received:

Revised:

Accepted:

Published:

DOI: https://doi.org/10.1038/s41380-023-02261-2