Abstract
Nearly all psychiatric diseases involve alterations in subjective, lived experience. The scientific study of the biological basis of mental illness has generally focused on objective measures and observable behaviors, limiting the potential for our understanding of brain mechanisms of disease states and possible treatments. However, applying methods designed principally to interpret objective behavioral measures to the measurement and extrapolation of subjective states presents a number of challenges. In order to help bridge this gap, we draw on the tradition of phenomenology, a philosophical movement concerned with elucidating the structure of lived experience, which emerged in the early 20th century and influenced philosophy of mind, cognitive science, and psychiatry. A number of early phenomenologically-oriented psychiatrists made influential contributions to the field, but this approach retreated to the background as psychiatry moved towards more operationalized disease classifications. Recently, clinical-phenomenological research and viewpoints have re-emerged in the field. We argue that the potential for phenomenological research and methods to generate productive hypotheses about the neurobiological basis of psychiatric diseases has thus far been underappreciated. Using specific examples drawing on the subjective experience of mania and psychosis, we demonstrate that phenomenologically-oriented clinical studies can generate novel and fruitful propositions for neuroscientific investigation. Additionally, we outline a proposal for more rigorously integrating phenomenological investigations of subjective experience with the methods of modern neuroscience research, advocating a cross-species approach with a key role for human subjects research. Collaborative interaction between phenomenology, psychiatry, and neuroscience has the potential to move these fields towards a unified understanding of the biological basis of mental illness.
Access options
Subscribe to Journal
Get full journal access for 1 year
$119.00
only $9.92 per issue
All prices are NET prices.
VAT will be added later in the checkout.
Tax calculation will be finalised during checkout.
Buy article
Get time limited or full article access on ReadCube.
$32.00
All prices are NET prices.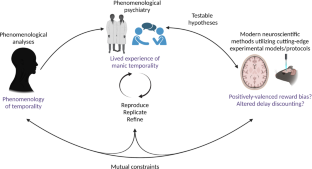 References
Jaspers K. The phenomenological approach in psychopathology. Br J Psychiatry. 1968;114:1313–23.

Freud S. On narcissism: an introduction. In: Strachey Jt (ed). The Standard Edition of the Complete Psychological Works of Sigmund Freud, XIV. Hogarth Press: London, UK, 1953.

Taschereau-Dumouchel V, Michel M, Lau H, Hofmann SG, LeDoux JE. Putting the "mental" back in "mental disorders": a perspective from research on fear and anxiety. Mol Psychiatry. 2022;27:1322–30.

Anderson DJ, Adolphs R. A framework for studying emotions across species. Cell. 2014;157:187–200.

Flavell SW, Gogolla N, Lovett-Barron M, Zelikowsky M. The emergence and influence of internal states. Neuron. 2022;110:2545–70.

Andreasen NC. DSM and the death of phenomenology in america: an example of unintended consequences. Schizophr Bull. 2007;33:108–12.

Frances A. RDoC is necessary, but very oversold. World Psychiatry. 2014;13:47–49.

Parnas J. The RDoC program: psychiatry without psyche? World Psychiatry. 2014;13:46–47.

Feyaerts J, Henriksen MG, Vanheule S, Myin-Germeys I, Sass LA. Delusions beyond beliefs: a critical overview of diagnostic, aetiological, and therapeutic schizophrenia research from a clinical-phenomenological perspective. Lancet Psychiatry. 2021;8:237–49.

Feyaerts J, Kusters W, Van Duppen Z, Vanheule S, Myin-Germeys I, Sass L. Uncovering the realities of delusional experience in schizophrenia: a qualitative phenomenological study in Belgium. Lancet Psychiatry. 2021;8:784–96.

Nelson B, McGorry PD, Fernandez AV. Integrating clinical staging and phenomenological psychopathology to add depth, nuance, and utility to clinical phenotyping: a heuristic challenge. Lancet Psychiatry. 2021;8:162–8.

Parnas J, Gallagher S. Phenomenology and the interpretation of psychopathological experience. In: Kirmayer L, Lemelson R, Cummings C (eds). Revisioning Psychiatry: Integrating Biological, Clinical and Cultural Perspectives. Cambridge University Press: Cambridge, UK, 2015, pp 65-80.

Parnas J, Raballo A, Handest P, Jansson L, Vollmer-Larsen A, Saebye D. Self-experience in the early phases of schizophrenia: 5-year follow-up of the Copenhagen Prodromal Study. World Psychiatry. 2011;10:200–4.

Parnas J, Zandersen M. Self and schizophrenia: current status and diagnostic implications. World Psychiatry. 2018;17:220–1.

Sass L, Byrom G. Phenomenological and neurocognitive perspectives on delusions: A critical overview. World Psychiatry. 2015;14:164–73.

Sass L, Pienkos E, Nelson B. Introspection and schizophrenia: a comparative investigation of anomalous self experiences. Conscious Cogn. 2013;22:853–67.

Minkowski E. The notion of a generating disorder and the structural analysis of mental disorders. In: Translated by Metzel N (ed). Lived Time: Phenomenological and Psychopathological Studies. Northwestern University Press: Evanston, IL, 1933, pp 220-71.

Stanghellini G, Broome MR. Psychopathology as the basic science of psychiatry. Br J Psychiatry. 2014;205:169–70.

Fuchs T. Ecology of the brain: The phenomenology and biology of the embodied mind. Oxford University Press 2017.

Nordgaard J, Sass LA, Parnas J. The psychiatric interview: validity, structure, and subjectivity. Eur Arch Psychiatry Clin Neurosci. 2013;263:353–64.

Braun V, Clarke V. Using thematic analysis in psychology. Qualitative Res Psychol. 2006;3:77–101.

Boyatzis RE. Transforming qualitative information: Thematic analysis and code development. sage 1998.

Sass L, Pienkos E, Skodlar B, Stanghellini G, Fuchs T, Parnas J, et al. EAWE: Examination of anomalous world experience. Psychopathology. 2017;50:10–54.

Parnas J, Moller P, Kircher T, Thalbitzer J, Jansson L, Handest P, et al. EASE: Examination of anomalous self-experience. Psychopathology. 2005;38:236–58.

Humpston CS, Broome MR. Thinking, believing, and hallucinating self in schizophrenia. Lancet Psychiatry. 2020;7:638–46.

Martin W, Gergel T, Owen GS. Manic temporality. Philos Psychol. 2019;32:72–97.

Ratcliffe M. Varieties of temporal experience in depression. J Med Philos. 2012;37:114–38.

McIntyre RS, Berk M, Brietzke E, Goldstein BI, Lopez-Jaramillo C, Kessing LV, et al. Bipolar disorders. Lancet. 2020;396:1841–56.

Nestler EJ, Hyman SE. Animal models of neuropsychiatric disorders. Nat Neurosci. 2010;13:1161–9.

Roybal K, Theobold D, Graham A, DiNieri JA, Russo SJ, Krishnan V, et al. Mania-like behavior induced by disruption of CLOCK. Proc Natl Acad Sci USA. 2007;104:6406–11.

Kristensen M, Nierenberg AA, Ostergaard SD. Face and predictive validity of the ClockDelta19 mouse as an animal model for bipolar disorder: a systematic review. Mol Psychiatry. 2018;23:70–80.

Amlung M, Marsden E, Holshausen K, Morris V, Patel H, Vedelago L, et al. Delay discounting as a transdiagnostic process in psychiatric disorders: a meta-analysis. JAMA Psychiatry. 2019;76:1176–86.

Vanderveldt A, Oliveira L, Green L. Delay discounting: Pigeon, rat, human-does it matter? J Exp Psychol Anim Learn Cogn. 2016;42:141–62.

Logan RW, Ozburn AR, Arey RN, Ketchesin KD, Winquist A, Crain A, et al. Valproate reverses mania-like behaviors in mice via preferential targeting of HDAC2. Mol Psychiatry. 2021;26:4066–84.

Kinderman P, Bentall R. The functions of delusional beliefs. In: Chung M, Fulford W, Graham G (eds). Reconceiving schizophrenia. Oxford University Press: Oxford, UK, 2007, pp 275-94.

Ratcliffe M. Feelings of Being: Phenomenology, Psychiatry, and the Sense of Reality. Oxford University Press: Oxford, UK, 2008.

Sips R, Van Duppen Z, Kasanova Z, De Thurah L, Teixeira A, Feyaerts J, et al. Psychosis as a dialectic of aha- and anti-aha-experiences: a qualitative study. Psychos: Psychological, Soc Integr Approaches. 2021;1:47–57.

Parnas J. The core Gestalt of schizophrenia. World Psychiatry. 2012;11:67–69.

Uhlhaas PJ, Mishara AL. Perceptual anomalies in schizophrenia: integrating phenomenology and cognitive neuroscience. Schizophr Bull. 2007;33:142–56.

Nelson B, Thompson A, Yung AR. Basic self-disturbance predicts psychosis onset in the ultra-high risk for psychosis "prodromal" population. Schizophr Bull. 2012;38:1277–87.

Nelson B, Whitford TJ, Lavoie S, Sass LA. What are the neurocognitive correlates of basic self-disturbance in schizophrenia? Integrating phenomenology and neurocognition: Part 2 (aberrant salience). Schizophr Res. 2014;152:20–27.

Nelson B, Whitford TJ, Lavoie S, Sass LA. What are the neurocognitive correlates of basic self-disturbance in schizophrenia?: Integrating phenomenology and neurocognition. Part 1 (Source monitoring deficits). Schizophr Res. 2014;152:12–19.

Nelson B, Lavoie S, Gaweda L, Li E, Sass LA, Koren D, et al. The neurophenomenology of early psychosis: An integrative empirical study. Conscious Cogn. 2020;77:102845.

Sass LA, Parnas J. Schizophrenia, consciousness, and the self. Schizophr Bull. 2003;29:427–44.

Friston K. The free-energy principle: a unified brain theory? Nat Rev Neurosci. 2010;11:127–38.

Connors MH, Halligan PW. Delusions and theories of belief. Conscious Cogn. 2020;81:102935.

Bastos AM, Usrey WM, Adams RA, Mangun GR, Fries P, Friston KJ. Canonical microcircuits for predictive coding. Neuron. 2012;76:695–711.

Corlett PR, Horga G, Fletcher PC, Alderson-Day B, Schmack K, Powers AR 3rd. Hallucinations and Strong Priors. Trends Cogn Sci. 2019;23:114–27.

Friston KJ, Wiese W, Hobson JA. Sentience and the origins of consciousness: from cartesian duality to Markovian monism. Entropy. 2020;22:516.

Powers AR 3rd, Bien C, Corlett PR. Aligning computational psychiatry with the hearing voices movement: hearing their voices. JAMA Psychiatry. 2018;75:640–1.

Sterzer P, Adams RA, Fletcher P, Frith C, Lawrie SM, Muckli L, et al. The Predictive coding account of psychosis. Biol Psychiatry. 2018;84:634–43.

Corlett PR, Taylor JR, Wang XJ, Fletcher PC, Krystal JH. Toward a neurobiology of delusions. Prog Neurobiol. 2010;92:345–69.

Powers AR, Mathys C, Corlett PR. Pavlovian conditioning-induced hallucinations result from overweighting of perceptual priors. Science. 2017;357:596–600.

Schmack K, Bosc M, Ott T, Sturgill JF, Kepecs A. Striatal dopamine mediates hallucination-like perception in mice. Science. 2021;372:eabf4740.

Ford JM, Mathalon DH. Efference copy, corollary discharge, predictive coding, and psychosis. Biol Psychiatry Cogn Neurosci Neuroimaging. 2019;4:764–7.

Frith CD. The positive and negative symptoms of schizophrenia reflect impairments in the perception and initiation of action. Psychol Med. 1987;17:631–48.

Feinberg I. Efference copy and corollary discharge: implications for thinking and its disorders. Schizophr Bull. 1978;4:636–40.

Frith C. Explaining delusions of control: the comparator model 20 years on. Conscious Cogn. 2012;21:52–54.

Ford JM, Palzes VA, Roach BJ, Mathalon DH. Did I do that? Abnormal predictive processes in schizophrenia when button pressing to deliver a tone. Schizophr Bull. 2014;40:804–12.

Ford JM, Mathalon DH, Heinks T, Kalba S, Faustman WO, Roth WT. Neurophysiological evidence of corollary discharge dysfunction in schizophrenia. Am J Psychiatry. 2001;158:2069–71.

Rummell BP, Klee JL, Sigurdsson T. Attenuation of responses to self-generated sounds in auditory cortical neurons. J Neurosci. 2016;36:12010–26.

McCutcheon RA, Abi-Dargham A, Howes OD. Schizophrenia, dopamine and the striatum: from biology to symptoms. Trends Neurosci. 2019;42:205–20.

Harsay HA, Cohen MX, Oosterhof NN, Forstmann BU, Mars RB, Ridderinkhof KR. Functional connectivity of the striatum links motivation to action control in humans. J Neurosci. 2011;31:10701–11.

Balleine BW, Delgado MR, Hikosaka O. The role of the dorsal striatum in reward and decision-making. J Neurosci. 2007;27:8161–5.

Jurado-Parras MT, Safaie M, Sarno S, Louis J, Karoutchi C, Berret B, et al. The Dorsal striatum energizes motor routines. Curr Biol. 2020;30:4362–4372 e4366.

Varela FJ. Neurophenomenology: A methodological remedy for the hard problem. J Conscious Stud. 1996;3:330–49.

Lutz A, Lachaux JP, Martinerie J, Varela FJ. Guiding the study of brain dynamics by using first-person data: synchrony patterns correlate with ongoing conscious states during a simple visual task. Proc Natl Acad Sci USA. 2002;99:1586–91.

Colombetti G. The feeling body: Affective science meets the enactive mind. MIT Press 2014.

Lutz A, Thompson E. Neurophenomenology integrating subjective experience and brain dynamics in the neuroscience of consciousness. J Conscious Stud. 2003;10:31–52.

Christoff K, Gordon AM, Smallwood J, Smith R, Schooler JW. Experience sampling during fMRI reveals default network and executive system contributions to mind wandering. Proc Natl Acad Sci USA. 2009;106:8719–24.

Cosmelli D, David O, Lachaux JP, Martinerie J, Garnero L, Renault B, et al. Waves of consciousness: ongoing cortical patterns during binocular rivalry. Neuroimage. 2004;23:128–40.

Harrison NA, Gray MA, Gianaros PJ, Critchley HD. The embodiment of emotional feelings in the brain. J Neurosci. 2010;30:12878–84.

Lutz A, Brefczynski-Lewis J, Johnstone T, Davidson RJ. Regulation of the neural circuitry of emotion by compassion meditation: effects of meditative expertise. PLoS One. 2008;3:e1897.

Petitmengin C, Navarro V, Quyen Mle V. Anticipating seizure: pre-reflective experience at the center of neuro-phenomenology. Conscious Cogn. 2007;16:746–64.

Yardley L. Demonstrating validity in qualitative psychology. Qualitative Psychol: Pract Guide Res Methods. 2015;3:257–73.

Smith JA, Fieldsend M. Interpretative phenomenological analysis. American Psychological Association 2021.

Nisbett RE, Wilson TD. Telling more than we can know: Verbal reports on mental processes. Psychol. Rev. 1977;84:231.

Booth A, Noyes J, Flemming K, Gerhardus A, Wahlster P, van der Wilt GJ, et al. Structured methodology review identified seven (RETREAT) criteria for selecting qualitative evidence synthesis approaches. J Clin Epidemiol. 2018;99:41–52.

Braun V, Clarke V. Thematic analysis. APA Handbook of Research Methods in Psychology, Vol 2: Research Designs: Quantitative, Qualitative, Neuropsychological, and Biological., 57–71. Washington, DC, US: American Psychological Association 2012.

Nowell LS, Norris JM, White DE, Moules NJ. Thematic analysis: Striving to meet the trustworthiness criteria. Int J Qual Methods. 2017;16:1609406917733847.

Campbell JL, Quincy C, Osserman J, Pedersen OK. Coding in-depth semistructured interviews: Problems of unitization and intercoder reliability and agreement. Sociol Methods Res. 2013;42:294–320.

Lincoln YS, Guba EG. But is it rigorous? Trustworthiness and authenticity in naturalistic evaluation. N. Dirs Program Eval. 1986;1986:73–84.

O'Brien BC, Harris IB, Beckman TJ, Reed DA, Cook DA. Standards for reporting qualitative research: a synthesis of recommendations. Acad Med. 2014;89:1245–51.

Tong A, Sainsbury P, Craig J. Consolidated criteria for reporting qualitative research (COREQ): a 32-item checklist for interviews and focus groups. Int J Qual Health Care. 2007;19:349–57.

Ritunnano R, Kleinman J, Whyte Oshodi D, Michail M, Nelson B, Humpston CS, et al. Subjective experience and meaning of delusions in psychosis: a systematic review and qualitative evidence synthesis. Lancet Psychiatry. 2022;9:458–76.

Husserl E. Zur Phänomenologie des inneren Zeitbewußtseins (1893–1917). Martinus Nijhoff: The Hague, 1966.

Gallagher S. The past, present and future of time-consciousness: From Husserl to Varela and beyond. Constr Found. 2017;13:91–97.
Acknowledgements
This work was funded through support from the National Institutes of Health—National Institute of Mental Health (R25MH08646) and the Leon Levy Foundation provided to both authors. The funders had no role in the conceptualization or preparation of this manuscript. The authors thank Dr. Deborah Cabaniss and Dr. Samantha Keil for feedback and suggestions on earlier drafts of the manuscript. The authors have no financial conflicts of interest to declare. The figure was prepared using BioRender with publication permissions.
Ethics declarations
Competing interests
The authors declare no competing interests.
Additional information
Publisher's note Springer Nature remains neutral with regard to jurisdictional claims in published maps and institutional affiliations.
Rights and permissions
Springer Nature or its licensor (e.g. a society or other partner) holds exclusive rights to this article under a publishing agreement with the author(s) or other rightsholder(s); author self-archiving of the accepted manuscript version of this article is solely governed by the terms of such publishing agreement and applicable law.
About this article
Cite this article
Kyzar, E.J., Denfield, G.H. Taking subjectivity seriously: towards a unification of phenomenology, psychiatry, and neuroscience. Mol Psychiatry 28, 10–16 (2023). https://doi.org/10.1038/s41380-022-01891-2
Received:

Revised:

Accepted:

Published:

Issue Date:

DOI: https://doi.org/10.1038/s41380-022-01891-2