Abstract
Exaggerated startle has been recognized as a core hyperarousal symptom of multiple fear-related anxiety disorders, such as post-traumatic stress disorder (PTSD) and panic disorder. However, the mechanisms driving this symptom are poorly understood. Here we reveal a neural projection from dorsal raphe nucleus (DRN) to a startle-controlling center reticulotegmental nucleus (RtTg) that mediates enhanced startle response under fear condition. Within RtTg, we identify an inhibitory microcircuit comprising GABAergic neurons in pericentral RtTg (RtTgP) and glutamatergic neurons in central RtTg (RtTgC). Inhibition of this RtTgP-RtTgC microcircuit leads to elevated startle amplitudes. Furthermore, we demonstrate that the conditioned fear-activated DRN 5-HTergic neurons send inhibitory projections to RtTgP GABAergic neurons, which in turn upregulate neuronal activities of RtTgC glutamatergic neurons. Chemogenetic activation of the DRN-RtTgP projections mimics the increased startle response under fear emotions. Moreover, conditional deletion of 5-HT1B receptor from RtTgP GABAergic neurons largely reverses the exaggeration of startle during conditioned fear. Thus, our study establishes the disinhibitory DRN-RtTgP-RtTgC circuit as a critical mechanism underlying exaggerated startle under fear emotions, and provides 5-HT1B receptor as a potential therapeutic target for treating hyperarousal symptom in fear-associated psychiatric disorders.
Access options
Subscribe to Journal
Get full journal access for 1 year
$119.00
only $9.92 per issue
All prices are NET prices.
VAT will be added later in the checkout.
Tax calculation will be finalised during checkout.
Buy article
Get time limited or full article access on ReadCube.
$32.00
All prices are NET prices.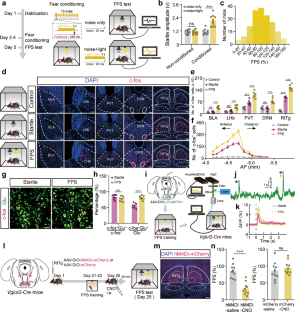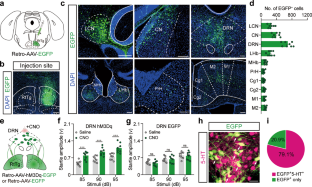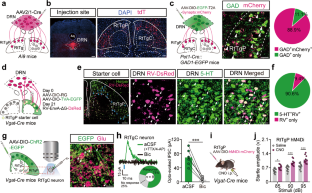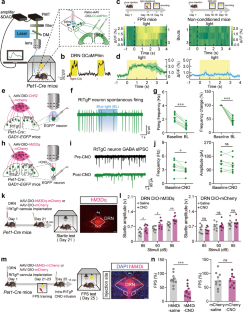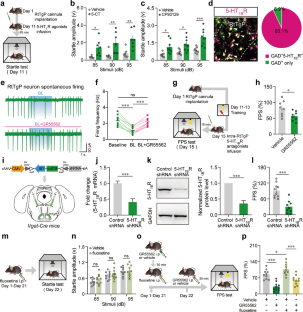 Data availability
The data that support the findings of this study are provided in the manuscript and supplementary information files and are available from the corresponding author upon reasonable request.
Code availability
The custom codes that support the findings of this study are available from the corresponding author upon reasonable request.
References
Grillon C, Baas J. A review of the modulation of the startle reflex by affective states and its application in psychiatry. Clin Neurophysiol. 2003;114:1557–79.

Boecker L, Pauli P. Affective startle modulation and psychopathology: Implications for appetitive and defensive brain systems. Neurosci Biobehav Rev. 2019;103:230–66.

Leaton RN, Cranney J. Potentiation of the acoustic startle response by a conditioned stimulus paired with acoustic startle stimulus in rats. J Exp Psychol Anim Behav Process. 1990;16:279–87.

Davis M, Antoniadis EA, Amaral DG, Winslow JT. Acoustic startle reflex in rhesus monkeys: a review. Rev Neurosci. 2008;19:171–85.

Grillon C, Ameli R, Woods SW, Merikangas K, Davis M. Fear-potentiated startle in humans: effects of anticipatory anxiety on the acoustic blink reflex. Psychophysiology 1991;28:588–95.

Jovanovic T, Keyes M, Fiallos A, Myers KM, Davis M, Duncan EJ. Fear potentiation and fear inhibition in a human fear-potentiated startle paradigm. Biol Psychiatry. 2005;57:1559–64.

Morgan CA 3rd, Grillon C, Southwick SM, Davis M, Charney DS. Fear-potentiated startle in posttraumatic stress disorder. Biol Psychiatry. 1995;38:378–85.

Pitman RK, Rasmusson AM, Koenen KC, Shin LM, Orr SP, Gilbertson MW, et al. Biological studies of post-traumatic stress disorder. Nat Rev Neurosci. 2012;13:769–87.

Grillon C, Ameli R, Goddard A, Woods SW, Davis M. Baseline and fear-potentiated startle in panic disorder patients. Biol Psychiatry. 1994;35:431–9.

Lissek S, Rabin S, Heller RE, Lukenbaugh D, Geraci M, Pine DS, et al. Overgeneralization of conditioned fear as a pathogenic marker of panic disorder. Am J Psychiatry. 2010;167:47–55.

McTeague LM, Lang PJ, Wangelin BC, Laplante MC, Bradley MM. Defensive mobilization in specific phobia: fear specificity, negative affectivity, and diagnostic prominence. Biol Psychiatry. 2012;72:8–18.

Ayers LW, Missig G, Schulkin J, Rosen JB. Oxytocin reduces background anxiety in a fear-potentiated startle paradigm: peripheral vs central administration. Neuropsychopharmacology 2011;36:2488–97.

Grillon C, Chavis C, Covington MF, Pine DS. Two-week treatment with the selective serotonin reuptake inhibitor citalopram reduces contextual anxiety but not cued fear in healthy volunteers: a fear-potentiated startle study. Neuropsychopharmacology 2009;34:964–71.

Grillon C, Heller R, Hirschhorn E, Kling MA, Pine DS, Schulkin J, et al. Acute hydrocortisone treatment increases anxiety but not fear in healthy volunteers: a fear-potentiated startle study. Biol Psychiatry. 2011;69:549–55.

Ko MC, Lee MC, Tang TH, Amstislavskaya TG, Tikhonova MA, Yang YL, et al. Bumetanide blocks the acquisition of conditioned fear in adult rats. Br J Pharm. 2018;175:1580–9.

Davis M, Gendelman DS, Tischler MD, Gendelman PM. A primary acoustic startle circuit: lesion and stimulation studies. J Neurosci. 1982;2:791–805.

Guo W, Fan S, Xiao D, Dong H, Xu G, Wan Z, et al. A Brainstem reticulotegmental neural ensemble drives acoustic startle reflexes. Nat Commun. 2021;12:6403.

Walker DL, Cassella JV, Lee Y, De Lima TC, Davis M. Opposing roles of the amygdala and dorsolateral periaqueductal gray in fear-potentiated startle. Neurosci Biobehav Rev. 1997;21:743–53.

Silva RC, Gárgaro AC, Brandão ML. Differential regulation of the expression of contextual freezing and fear-potentiated startle by 5-HT mechanisms of the median raphe nucleus. Behav Brain Res. 2004;151:93–101.

Koch M. The neurobiology of startle. Prog Neurobiol. 1999;59:107–28.

Falls WA, Fear-potentiated startle in mice. Curr Protoc Neurosci. 2002;Chapter 8:Unit 8.11B.

Morgan JI, Cohen DR, Hempstead JL, Curran T. Mapping patterns of c-fos expression in the central nervous system after seizure. Science 1987;237:192–7.

Li Y, Zhong W, Wang D, Feng Q, Liu Z, Zhou J, et al. Serotonin neurons in the dorsal raphe nucleus encode reward signals. Nat Commun. 2016;7:10503.

Vong L, Ye C, Yang Z, Choi B, Chua S Jr, Lowell BB. Leptin action on GABAergic neurons prevents obesity and reduces inhibitory tone to POMC neurons. Neuron 2011;71:142–54.

Armbruster BN, Li X, Pausch MH, Herlitze S, Roth BL. Evolving the lock to fit the key to create a family of G protein-coupled receptors potently activated by an inert ligand. Proc Natl Acad Sci USA. 2007;104:5163–8.

Tervo DG, Hwang BY, Viswanathan S, Gaj T, Lavzin M, Ritola KD, et al. A designer AAV variant permits efficient retrograde access to projection neurons. Neuron 2016;92:372–82.

Zingg B, Chou XL, Zhang ZG, Mesik L, Liang F, Tao HW, et al. AAV-mediated anterograde transsynaptic tagging: mapping corticocollicular input-defined neural pathways for defense behaviors. Neuron 2017;93:33–47.

Madisen L, Zwingman TA, Sunkin SM, Oh SW, Zariwala HA, Gu H, et al. A robust and high-throughput Cre reporting and characterization system for the whole mouse brain. Nat Neurosci. 2010;13:133–40.

Abe H, Yanagawa Y, Kanbara K, Maemura K, Hayasaki H, Azuma H, et al. Epithelial localization of green fluorescent protein-positive cells in epididymis of the GAD67-GFP knock-in mouse. J Androl. 2005;26:568–77.

Wickersham IR, Finke S, Conzelmann KK, Callaway EM. Retrograde neuronal tracing with a deletion-mutant rabies virus. Nat Methods. 2007;4:47–49.

Tellez LA, Han W, Zhang X, Ferreira TL, Perez IO, Shammah-Lagnado SJ, et al. Separate circuitries encode the hedonic and nutritional values of sugar. Nat Neurosci. 2016;19:465–70.

Scott MM, Wylie CJ, Lerch JK, Murphy R, Lobur K, Herlitze S, et al. A genetic approach to access serotonin neurons for in vivo and in vitro studies. Proc Natl Acad Sci USA. 2005;102:16472–7.

Fletcher PJ, Korth KM. Activation of 5-HT1B receptors in the nucleus accumbens reduces amphetamine-induced enhancement of responding for conditioned reward. Psychopharmacology 1999;142:165–74.

Przegaliński E, Siwanowicz J, Papla I, Filip M. Effects of 5-HT(1B) receptor ligands microinjected into the accumbal shell or core on the sensitization to cocaine in rats. Eur Neuropsychopharmacol. 2002;12:387–96.

Nunes-de-Souza RL, Canto-de-Souza A, Rodgers RJ. Effects of intra-hippocampal infusion of WAY-100635 on plus-maze behavior in mice. Influence of site of injection and prior test experience. Brain Res. 2002;927:87–96.

Jeong CY, Choi JI, Yoon MH. Roles of serotonin receptor subtypes for the antinociception of 5-HT in the spinal cord of rats. Eur J Pharm. 2004;502:205–11.

Pytliak M, Vargová V, Mechírová V, Felšöci M. Serotonin receptors—from molecular biology to clinical applications. Physiol Res. 2011;60:15–25.

Paxinos G, Mai JK, The human nervous system (Academic, New York), 2012;Ed 3.

LeDoux J, Daw ND. Surviving threats: neural circuit and computational implications of a new taxonomy of defensive behaviour. Nat Rev Neurosci. 2018;19:269–82.

Ren J, Friedmann D, Xiong J, Liu CD, Ferguson BR, Weerakkody T, et al. Anatomically defined and functionally distinct dorsal Raphe Serotonin Sub-systems. Cell 2018;175:472–.e20.

Michelsen KA, Schmitz C, Steinbusch HW. The dorsal raphe nucleus−from silver stainings to a role in depression. Brain Res Rev. 2007;55:329–42.

Sengupta A, Holmes A. A Discrete Dorsal Raphe to Basal Amygdala 5-HT circuit calibrates aversive memory. Neuron 2019;103:489–505.e7.

Marcinkiewcz CA, Mazzone CM, D'Agostino G, Halladay LR, Hardaway JA, DiBerto JF, et al. Serotonin engages an anxiety and fear-promoting circuit in the extended amygdala. Nature 2016;537:97–101.

Southwick SM, Krystal JH, Bremner JD, Morgan CA 3rd, Nicolaou AL, Nagy LM, et al. Noradrenergic and serotonergic function in posttraumatic stress disorder. Arch Gen Psychiatry. 1997;54:749–58.

Maron E, Shlik J. Serotonin function in panic disorder: important, but why? Neuropsychopharmacology 2006;31:1–11.

Davis M. Neurochemical modulation of sensory-motor reactivity: acoustic and tactile startle reflexes. Neurosci Biobehav Rev. 1980;4:241–63.
Acknowledgements
We acknowledge support from National Key R&D Program of China (2021YFA0804900), National Natural Science Foundation of China (32225020, 91849206, 91649121, 91942315, 92049304, 32121002), the Strategic Priority Research Program of the Chinese Academy of Sciences (XDB39050000), Key Research Program of Frontier Science (CAS, ZDBS-LY-SM002), CAS Interdisciplinary Innovation Team (JCTD-2018-20), the Fundamental Research Funds for the Central Universities, USTC Research Funds of the Double First-Class Initiative (YD9100002001), CAS Project for Young Scientists in Basic Research (YSBR-013).
Ethics declarations
Competing interests
The authors declare no competing interests.
Additional information
Publisher's note Springer Nature remains neutral with regard to jurisdictional claims in published maps and institutional affiliations.
Supplementary information
Rights and permissions
Springer Nature or its licensor holds exclusive rights to this article under a publishing agreement with the author(s) or other rightsholder(s); author self-archiving of the accepted manuscript version of this article is solely governed by the terms of such publishing agreement and applicable law.
About this article
Cite this article
Guo, W., Fan, S., Xiao, D. et al. A midbrain-reticulotegmental circuit underlies exaggerated startle under fear emotions. Mol Psychiatry (2022). https://doi.org/10.1038/s41380-022-01782-6
Received:

Revised:

Accepted:

Published:

DOI: https://doi.org/10.1038/s41380-022-01782-6