Abstract
Schizophrenia is a serious mental disorder with considerable somatic and psychiatric morbidity. It is unclear whether comorbid health conditions predominantly arise due to shared genetic risk or consequent to having schizophrenia. To explore the contribution of genetic risk for schizophrenia, we analysed the effect of schizophrenia polygenic risk scores (PRS) on a broad range of health problems in 406 929 individuals with no schizophrenia diagnosis from the UK Biobank. Diagnoses were derived from linked health data including primary care, hospital inpatient records, and registers with information on cancer and deaths. Schizophrenia PRS were generated and tested for associations with general health conditions, 16 ICD10 main chapters, and 603 diseases using linear and logistic regressions. Higher schizophrenia PRS was significantly associated with poorer overall health ratings, more hospital inpatient diagnoses, and more unique illnesses. It was also significantly positively associated with 4 ICD10 chapters: mental disorders; respiratory diseases; digestive diseases; and pregnancy, childbirth and the puerperium, but negatively associated with musculoskeletal disorders. Thirty-one specific phenotypes were significantly associated with schizophrenia PRS, and the 19 novel findings include several musculoskeletal diseases, respiratory diseases, digestive diseases, varicose veins, pituitary hyperfunction, and other peripheral nerve disorders. These findings extend knowledge of the pleiotropic effect of genetic risk for schizophrenia and offer insight into how some conditions often comorbid with schizophrenia arise. Additional studies incorporating the genetic basis of hormone regulation and involvement of immune mechanisms in the pathophysiology of schizophrenia may further elucidate the biological mechanisms underlying schizophrenia and its comorbid conditions.
Access options
Subscribe to this journal
Receive 12 print issues and online access
$259.00 per year
only $21.58 per issue
Rent or buy this article
Prices vary by article type
from$1.95
to$39.95
Prices may be subject to local taxes which are calculated during checkout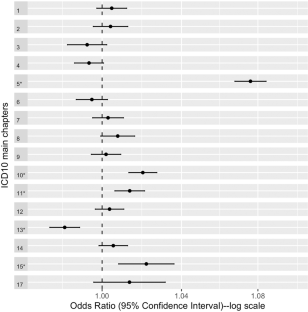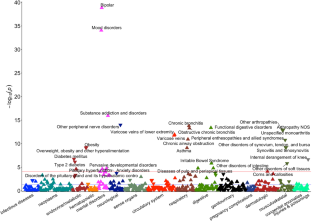 Code availability
All code used for data preparation and analysis are available upon request.
References
Buckley PF, Miller BJ, Lehrer DS, Castle DJ. Psychiatric comorbidities and schizophrenia. Schizophr Bull. 2009;35:383–402.

Braga RJ, Reynolds GP, Siris SG. Anxiety comorbidity in schizophrenia. Psychiatry Res. 2013;210:1–7.

Cantor-Graae E, Nordstrom LG, McNeil TF. Substance abuse in schizophrenia: a review of the literature and a study of correlates in Sweden. Schizophr Res. 2001;48:69–82.

Crump C, Winkleby MA, Sundquist K, Sundquist J. Comorbidities and Mortality in Persons With Schizophrenia: A Swedish National Cohort Study. Am J Psychiatry. 2013;170:324–33.

Benros ME, Eaton WW, Mortensen PB. The epidemiologic evidence linking autoimmune diseases and psychosis. Biol Psychiatry. 2014;75:300–6.

Lambert TJ, Velakoulis D, Pantelis C. Medical comorbidity in schizophrenia. Med J Aust. 2003;178:S67–70.

Ku H, Lee EK, Lee KU, Lee MY, Kwon JW. Higher prevalence of dementia in patients with schizophrenia: a nationwide population-based study. Asia Pac Psychiatry. 2016;8:145–53.

Bulik-Sullivan B, Finucane HK, Anttila V, Gusev A, Day FR, Loh PR, et al. An atlas of genetic correlations across human diseases and traits. Nat Genet. 2015;47:1236–41.

Hartz SM, Horton AC, Hancock DB, Baker TB, Caporaso NE, Chen LS, et al. Genetic correlation between smoking behaviors and schizophrenia. Schizophr Res. 2018;194:86–90.

Lichtenstein P, Yip BH, Bjork C, Pawitan Y, Cannon TD, Sullivan PF, et al. Common genetic determinants of schizophrenia and bipolar disorder in Swedish families: a population-based study. Lancet. 2009;373:234–9.

Sullivan PF, Kendler KS, Neale MC. Schizophrenia as a complex trait: evidence from a meta-analysis of twin studies. Arch Gen Psychiatry. 2003;60:1187–92.

Schizophrenia Working Group of the Psychiatric Genomics Consortium. Biological insights from 108 schizophrenia-associated genetic loci. Nature. 2014;511:421–7.

Marshall CR, Howrigan DP, Merico D, Thiruvahindrapuram B, Wu W, Greer DS, et al. Contribution of copy number variants to schizophrenia from a genome-wide study of 41,321 subjects. Nat Genet. 2017;49:27–35.

Bergen SE, Ploner A, Howrigan D, O'Donovan MC, Smoller JW, Sullivan PF, et al. Joint Contributions of Rare Copy Number Variants and Common SNPs to Risk for Schizophrenia. Am J Psychiatry. 2019;176:29–35.

Gratten J. Rare variants are common in schizophrenia. Nat Neurosci. 2016;19:1426–8.

Singh T, Kurki MI, Curtis D, Purcell SM, Crooks L, McRae J, et al. Rare loss-of-function variants in SETD1A are associated with schizophrenia and developmental disorders. Nat Neurosci. 2016;19:571–7.

Purcell SM, Wray NR, Stone JL, Visscher PM, O'Donovan MC, Sullivan PF, et al. Common polygenic variation contributes to risk of schizophrenia and bipolar disorder. Nature. 2009;460:748–52.

Wray NR, Lee SH, Mehta D, Vinkhuyzen AA, Dudbridge F, Middeldorp CM. Research review: Polygenic methods and their application to psychiatric traits. J Child Psychol Psychiatry. 2014;55:1068–87.

Schizophrenia Working Group of the Psychiatric Genomics Consortium, Ripke S, Walters JT, O'Donovan MC. Mapping genomic loci prioritises genes and implicates synaptic biology in schizophrenia. medRxiv 2020: 2020.2009.2012.20192922.

Zheutlin AB, Dennis J, Karlsson Linnér R, Moscati A, Restrepo N, Straub P, et al. Penetrance and Pleiotropy of Polygenic Risk Scores for Schizophrenia in 106,160 Patients Across Four Health Care Systems. Am J Psychiatry. 2019;176:846–55.

Anttila V, Bulik-Sullivan B, Finucane HK, Walters RK, Bras J, Duncan L et al. Analysis of shared heritability in common disorders of the brain. Science 2018;360:eaap8757.

Gandal MJ, Haney JR, Parikshak NN, Leppa V, Ramaswami G, Hartl C, et al. Shared molecular neuropathology across major psychiatric disorders parallels polygenic overlap. Science. 2018;359:693–7.

Cross-Disorder Group of the Psychiatric Genomics Consortium. Identification of risk loci with shared effects on five major psychiatric disorders: a genome-wide analysis. Lancet. 2013;381:1371–9.

Mistry S, Harrison JR, Smith DJ, Escott-Price V, Zammit S. The use of polygenic risk scores to identify phenotypes associated with genetic risk of schizophrenia: Systematic review. Schizophr Res. 2018;197:2–8.

Bycroft C, Freeman C, Petkova D, Band G, Elliott LT, Sharp K, et al. The UK Biobank resource with deep phenotyping and genomic data. Nature. 2018;562:203–9.

Bycroft C, Freeman C, Petkova D, Band G, Elliott LT, Sharp K et al. Genome-wide genetic data on ~500,000 UK Biobank participants. bioRxiv. 2017:166298. https://doi.org/10.1101/166298.

Choi SW, Mak TS, O'Reilly PF. Tutorial: a guide to performing polygenic risk score analyses. Nat Protoc. 2020;15:2759–72.

Coombes BJ, Ploner A, Bergen SE, Biernacka JM. A principal component approach to improve association testing with polygenic risk scores. Genet Epidemiol. 2020;44:676–86.

UK Biobank primary care linked data version 1.0. https://biobank.ndph.ox.ac.uk/showcase/showcase/docs/primary_care_data.pdf, 2019, Accessed Date Accessed 2019 Accessed.

UK Biobank hospital inpatient data version 3.0. https://biobank.ndph.ox.ac.uk/showcase/showcase/docs/HospitalEpisodeStatistics.pdf, 2020, Accessed Date Accessed 2020 Accessed.

UK Biobank first occurrence of health outcomes defined by 3-character ICD10 code. https://biobank.ndph.ox.ac.uk/showcase/showcase/docs/first_occurrences_outcomes.pdf, 2019, Accessed Date Accessed 2019 Accessed.

Wei WQ, Bastarache LA, Carroll RJ, Marlo JE, Osterman TJ, Gamazon ER, et al. Evaluating phecodes, clinical classification software, and ICD-9-CM codes for phenome-wide association studies in the electronic health record. PLoS ONE. 2017;12:e0175508.

Wu P, Gifford A, Meng X, Li X, Campbell H, Varley T, et al. Mapping ICD-10 and ICD-10-CM Codes to Phecodes: Workflow Development and Initial Evaluation. JMIR Med Inf. 2019;7:e14325.

Verma A, Bradford Y, Dudek S, Lucas AM, Verma SS, Pendergrass SA, et al. A simulation study investigating power estimates in phenome-wide association studies. BMC Bioinforma. 2018;19:120.

Saul BC, Hudgens MG. The Calculus of M-Estimation in R with geex. J Stat Softw. 2020;92. https://doi.org/10.18637/jss.v092.i02.

Lee SH, Ripke S, Neale BM, Faraone SV, Purcell SM, Perlis RH, et al. Genetic relationship between five psychiatric disorders estimated from genome-wide SNPs. Nat Genet. 2013;45:984–94.

Genomic Relationships. Novel Loci, and Pleiotropic Mechanisms across Eight Psychiatric Disorders. Cell. 2019;179:1469–82.e1411.

Caspi A, Houts RM, Belsky DW, Goldman-Mellor SJ, Harrington H, Israel S, et al. The p Factor: One General Psychopathology Factor in the Structure of Psychiatric Disorders? Clin Psychol Sci. 2014;2:119–37.

Zareifopoulos N, Bellou A, Spiropoulou A, Spiropoulos K. Prevalence of Comorbid Chronic Obstructive Pulmonary Disease in Individuals Suffering from Schizophrenia and Bipolar Disorder: a systematic review. Copd. 2018;15:612–20.

Partti K, Vasankari T, Kanervisto M, Perälä J, Saarni SI, Jousilahti P, et al. Lung function and respiratory diseases in people with psychosis: population-based study. Br J Psychiatry. 2015;207:37–45.

Pedersen MS, Benros ME, Agerbo E, Børglum AD, Mortensen PB. Schizophrenia in patients with atopic disorders with particular emphasis on asthma: a Danish population-based study. Schizophr Res. 2012;138:58–62.

Lohr JB, Flynn K. Smoking and schizophrenia. Schizophr Res. 1992;8:93–102.

Holtzman MJ. Asthma as a chronic disease of the innate and adaptive immune systems responding to viruses and allergens. J Clin Investig. 2012;122:2741–8.

Fadgyas-Stanculete M, Buga AM, Popa-Wagner A, Dumitrascu DL. The relationship between irritable bowel syndrome and psychiatric disorders: from molecular changes to clinical manifestations. J Mol Psychiatry. 2014;2:4.

Gupta S, Masand PS, Kaplan D, Bhandary A, Hendricks S. The relationship between schizophrenia and irritable bowel syndrome (IBS). Schizophr Res. 1997;23:265–8.

Vu J, Kushnir V, Cassell B, Gyawali CP, Sayuk GS. The impact of psychiatric and extraintestinal comorbidity on quality of life and bowel symptom burden in functional GI disorders. Neurogastroenterol Motil. 2014;26:1323–32.

Filipovic BR, Filipovic BF. Psychiatric comorbidity in the treatment of patients with inflammatory bowel disease. World J Gastroenterol. 2014;20:3552–63.

Annamalai A, Kosir U, Tek C. Prevalence of obesity and diabetes in patients with schizophrenia. World J Diabetes. 2017;8:390–6.

So HC, Chau KL, Ao FK, Mo CH, Sham PC. Exploring shared genetic bases and causal relationships of schizophrenia and bipolar disorder with 28 cardiovascular and metabolic traits. Psychol Med. 2019;49:1286–98.

Mamakou V, Thanopoulou A, Gonidakis F, Tentolouris N, Kontaxakis V. Schizophrenia and type 2 diabetes mellitus. Psychiatriki. 2018;29:64–73.

Leppert B, Millard LAC, Riglin L, Davey Smith G, Thapar A, Tilling K, et al. A cross-disorder PRS-pheWAS of 5 major psychiatric disorders in UK Biobank. PLoS Genet. 2020;16:e1008185.

Axelson DA, Doraiswamy PM, Boyko OB, Rodrigo Escalona P, McDonald WM, Ritchie JC, et al. In vivo assessment of pituitary volume with magnetic resonance imaging and systematic stereology: relationship to dexamethasone suppression test results in patients. Psychiatry Res. 1992;44:63–70.

Pariante CM, Vassilopoulou K, Velakoulis D, Phillips L, Soulsby B, Wood SJ, et al. Pituitary volume in psychosis. Br J Psychiatry. 2004;185:5–10.

Nordholm D, Krogh J, Mondelli V, Dazzan P, Pariante C, Nordentoft M. Pituitary gland volume in patients with schizophrenia, subjects at ultra high-risk of developing psychosis and healthy controls: a systematic review and meta-analysis. Psychoneuroendocrinology. 2013;38:2394–404.

Oken RJ, Schulzer M. At issue: schizophrenia and rheumatoid arthritis: the negative association revisited. Schizophr Bull. 1999;25:625–38.

Mors O, Mortensen PB, Ewald H. A population-based register study of the association between schizophrenia and rheumatoid arthritis. Schizophr Res. 1999;40:67–74.

Sellgren C, Frisell T, Lichtenstein P, Landèn M, Askling J. The association between schizophrenia and rheumatoid arthritis: a nationwide population-based Swedish study on intraindividual and familial risks. Schizophr Bull. 2014;40:1552–9.

Vancampfort D, Firth J, Schuch FB, Rosenbaum S, Mugisha J, Hallgren M, et al. Sedentary behavior and physical activity levels in people with schizophrenia, bipolar disorder and major depressive disorder: a global systematic review and meta-analysis. World Psychiatry. 2017;16:308–15.

Smolen JS, Aletaha D, McInnes IB. Rheumatoid arthritis. Lancet. 2016;388:2023–38.

Cole SR, Platt RW, Schisterman EF, Chu H, Westreich D, Richardson D, et al. Illustrating bias due to conditioning on a collider. Int J Epidemiol. 2010;39:417–20.

Fry A, Littlejohns TJ, Sudlow C, Doherty N, Adamska L, Sprosen T, et al. Comparison of Sociodemographic and Health-Related Characteristics of UK Biobank Participants With Those of the General Population. Am J Epidemiol. 2017;186:1026–34.
Acknowledgements
This work is supported by the US National Institute of Mental Health to SEB (R21MH116188). RZ receives support from the Chinese Scholarship Council (grant number CSC201700260258); CMB is supported by NIMH (R01MH120170; R01MH119084; R01MH118278; U01MH109528); Brain and Behavior Research Foundation Distinguished Investigator Grant; Swedish Research Council (Vetenskapsrådet, award: 538-2013-8864); Lundbeck Foundation (Grant no. R276-2018-4581). We acknowledge and thank Prof Patrick Sullivan for advice regarding the study design. Participation of the UK Biobank subjects is gratefully appreciated. We also acknowledge UK Biobank team for collecting and preparing data for analyses.
Ethics declarations
Competing interests
CMB reports: Shire (grant recipient, Scientific Advisory Board member); Idorsia (consultant); Lundbeckfonden (grant recipient); Pearson (author, royalty recipient).
Additional information
Publisher's note Springer Nature remains neutral with regard to jurisdictional claims in published maps and institutional affiliations.
Supplementary information
About this article
Cite this article
Zhang, R., Sjölander, A., Ploner, A. et al. Novel disease associations with schizophrenia genetic risk revealed in ~400,000 UK Biobank participants. Mol Psychiatry 27, 1448–1454 (2022). https://doi.org/10.1038/s41380-021-01387-5
Received:

Revised:

Accepted:

Published:

Issue Date:

DOI: https://doi.org/10.1038/s41380-021-01387-5
This article is cited by
Olav B. Smeland
Ole A. Andreassen

Nature Reviews Neurology (2022)