Abstract
It is becoming increasingly clear that longer duration of untreated psychosis (DUP) is associated with adverse clinical outcomes in patients with psychosis spectrum disorders. Because this association is often cited when justifying early intervention efforts, it is imperative to better understand underlying biological mechanisms. We enrolled 66 antipsychotic-naïve first-episode psychosis (FEP) patients and 45 matched healthy controls in this trial. At baseline, we used a human connectome style diffusion-weighted imaging (DWI) sequence to quantify white matter integrity in both groups. Patients then received 16 weeks of treatment with risperidone, 51 FEP completed the trial. We compared whole-brain fractional anisotropy (FA), mean diffusivity, axial diffusivity (AD), and radial diffusivity between groups. To test if structural white matter integrity mediates the relationship between longer DUP and poorer treatment response, we fit a mediator model and estimated indirect effects. We found decreased whole-brain FA and AD in medication-naive FEP compared with controls. In patients, lower FA was correlated with longer DUP (r = −0.32; p = 0.03) and poorer subsequent response to antipsychotic treatment (r = 0.40; p = 0.01). Importantly, we found a significant mediation effect for FA (indirect effect: −2.70; p = 0.03), indicating that DUP exerts its effects on treatment response through affecting white matter integrity. Our data provide empirical support to the idea the DUP may have fundamental pathogenic effects on the natural history of psychosis, suggest a biological mechanism underlying this phenomenon, and underscore the importance of early intervention efforts in this disabling neuropsychiatric syndrome.
Relevant articles
Open Access articles citing this article.
Zhe Zhang

,

Kaiming Zhuo

…

Yu Sun

Translational Psychiatry Open Access 12 May 2021

Wonsuk Shin

,

Minji Bang

…

Sang-Hyuk Lee

npj Schizophrenia Open Access 29 January 2021
Access options
Subscribe to this journal
Receive 12 print issues and online access
$259.00 per year
only $21.58 per issue
Rent or buy this article
Prices vary by article type
from$1.95
to$39.95
Prices may be subject to local taxes which are calculated during checkout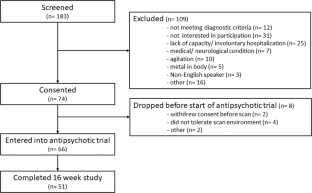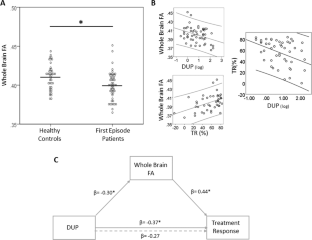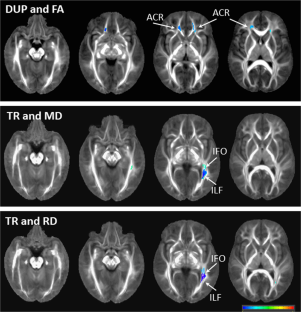 References
Kane JM, Robinson DG, Schooler NR, Mueser KT, Penn DL, Rosenheck RA, et al. Comprehensive versus usual community care for first-episode psychosis: 2-year outcomes from the NIMH RAISE Early Treatment Program. Am J Psychiatry. 2016;173:362–72.

Primavera D, Bandecchi C, Lepori T, Sanna L, Nicotra E, Carpiniello B. Does duration of untreated psychosis predict very long term outcome of schizophrenic disorders? Results of a retrospective study. Ann Gen Psychiatry. 2012;11:21.

Albert N, Melau M, Jensen H, Hastrup LH, Hjorthoj C, Nordentoft M. The effect of duration of untreated psychosis and treatment delay on the outcomes of prolonged early intervention in psychotic disorders. NPJ Schizophr. 2017;3:34.

McGlashan TH. Duration of untreated psychosis in first-episode schizophrenia: marker or determinant of course? Biol Psychiatry. 1999;46:899–907.

Anderson KK, Voineskos A, Mulsant BH, George TP, McKenzie KJ. The role of untreated psychosis in neurodegeneration: a review of hypothesized mechanisms of neurotoxicity in first-episode psychosis. Can J Psychiatry. 2014;59:513–7.

Rund BR. Does active psychosis cause neurobiological pathology? A critical review of the neurotoxicity hypothesis. Psychol Med. 2014;44:1577–90.

Wyatt RJ. Neuroleptics and the natural course of schizophrenia. Schizophr Bull. 1991;17:325–51.

Maximo JO, Nelson EA, Armstrong WP, Kraguljac NV, Lahti AC. Duration of untreated psychosis correlates with brain connectivity and morphology in medication-naive patients with first episode psychosis. Biol Psychiatry: CNNI. 2020;5:231–28.

Sarpal DK, Robinson DG, Fales C, Lencz T, Argyelan M, Karlsgodt KH, et al. Relationship between duration of untreated psychosis and intrinsic corticostriatal connectivity in patients with early phase schizophrenia. Neuropsychopharmacology. 2017;42:2214–21.

Kraguljac NV, Frolich MA, Tran S, White DM, Nichols N, Barton-McArdle A, et al. Ketamine modulates hippocampal neurochemistry and functional connectivity: a combined magnetic resonance spectroscopy and resting-state fMRI study in healthy volunteers. Mol Psychiatry. 2017;22:562–9.

Ghisleni C, Bollmann S, Poil SS, Brandeis D, Martin E, Michels L, et al. Subcortical glutamate mediates the reduction of short-range functional connectivity with age in a developmental cohort. J Neurosci. 2015;35:8433–41.

Conio B, Martino M, Magioncalda P, Escelsior A, Inglese M, Amore M, et al. Opposite effects of dopamine and serotonin on resting-state networks: review and implications for psychiatric disorders. Mol Psychiatry. 2020;25:82–93.

Duerden EG, Halani S, Ng K, Guo T, Foong J, Glass TJA, et al. White matter injury predicts disrupted functional connectivity and microstructure in very preterm born neonates. Neuroimage Clin. 2019;21:101596.

Au Duong MV, Audoin B, Boulanouar K, Ibarrola D, Malikova I, Confort-Gouny S, et al. Altered functional connectivity related to white matter changes inside the working memory network at the very early stage of MS. J Cereb Blood Flow Metab. 2005;25:1245–53.

Mollink J, Smith SM, Elliott LT, Kleinnijenhuis M, Hiemstra M, Alfaro-Almagro F, et al. The spatial correspondence and genetic influence of interhemispheric connectivity with white matter microstructure. Nat Neurosci. 2019;22:809–19.

Skudlarski P, Jagannathan K, Calhoun VD, Hampson M, Skudlarska BA, Pearlson G. Measuring brain connectivity: diffusion tensor imaging validates resting state temporal correlations. Neuroimage. 2008;43:554–61.

Emsley R, Rabinowitz J, Medori R. Time course for antipsychotic treatment response in first-episode schizophrenia. Am J Psychiatry. 2006;163:743–5.

Gallego JA, Robinson DG, Sevy SM, Napolitano B, McCormack J, Lesser ML, et al. Time to treatment response in first-episode schizophrenia: should acute treatment trials last several months? J Clin Psychiatry. 2011;72:1691–6.

Kraguljac NV, Anthony T, Monroe WS, Skidmore FM, Morgan CJ, White DM, et al. A longitudinal neurite and free water imaging study in patients with a schizophrenia spectrum disorder. Neuropsychopharmacology. 2019;44:1932–9.

Crossley NA, Marques TR, Taylor H, Chaddock C, Dell'Acqua F, Reinders AA, et al. Connectomic correlates of response to treatment in first-episode psychosis. Brain. 2017;140:487–96.

Carpenter WT Jr., Gold JM, Lahti AC, Queern CA, Conley RR, Bartko JJ, et al. Decisional capacity for informed consent in schizophrenia research. Arch Gen Psychiatry. 2000;57:533–8.

Pierpaoli C, Walker L, Irfanoglu MO, Barnett A, Basser P, Chang L-C, et al. TORTOISE: an integrated software package for processing of diffusion MRI data. In: Proceedings of the ISMRM 18th Annual Meeting. Stockholm, Sweden; 2010.

Irfanoglu MO, Nayak A, Jenkins J, Pierpaoli C. TORTOISEv3: improvements and new features of the NIH diffusion MRI processing pipeline. In: Proceedings of the ISMRM 25th Annual Meeting. Honolulu, HI; 2017.

Veraart J, Fieremans E, Novikov DS, Diffusion MRI. noise mapping using random matrix theory. Magn Reson Med. 2016;76:1582–93.

Kellner E, Dhital B, Kiselev VG, Reisert M. Gibbs-ringing artifact removal based on local subvoxel-shifts. Magn Reson Med. 2016;76:1574–81.

Rohde GK, Barnett AS, Basser PJ, Marenco S, Pierpaoli C. Comprehensive approach for correction of motion and distortion in diffusion-weighted MRI. Magn Reson Med. 2004;51:103–14.

Ozarslan E, Koay CG, Shepherd TM, Komlosh ME, Irfanoglu MO, Pierpaoli C, et al. Mean apparent propagator (MAP) MRI: a novel diffusion imaging method for mapping tissue microstructure. Neuroimage. 2013;78:16–32.

Irfanoglu MO, Modi P, Nayak A, Hutchinson EB, Sarlls J, Pierpaoli C. DR-BUDDI (diffeomorphic registration for blip-up blip-down diffusion imaging) method for correcting echo planar imaging distortions. Neuroimage. 2015;106:284–99.

Marstrander JR, Anthony T, Powel VL, Brook RG, Horto MD, Skidmore FM. Optimization of non-linear image registration in AFNI. In: Proceedings of the XSEDE. Miami, Florida: ACM; 2016.

Preacher KJ, Hayes AF. Asymptotic and resampling strategies for assessing and comparing indirect effects in multiple mediator models. Behav Res Methods. 2008;40:879–91.

Efron B, Tibshirani RJ. An introduction to the bootstrap. Boca Raton, FL: Chapman & Hall; 1993.

Cox RW, Chen G, Glen DR, Reynolds RC, Taylor PA. fMRI clustering and false-positive rates. Proc Natl Acad Sci USA. 2017;114:E3370–1.

Kraguljac NV, Anthony T, Skidmore FM, Marstrander JR, Morgan CJ, Reid M, et al. Micro-and macrostructural white matter integrity in never-treated and currently unmedicated patients with schizophrenia and effects of short term antipsychotic treatment. Biol Psychiatry: CNNI. 2020;4:462–71.

Reid MA, White DM, Kraguljac NV, Lahti AC. A combined diffusion tensor imaging and magnetic resonance spectroscopy study of patients with schizophrenia. Schizophr Res. 2016;170:341–50.

Baron RM, Kenny DA. The moderator-mediator variable distinction in social psychological research: conceptual, strategic, and statistical considerations. J Pers Soc Psychol. 1986;51:1173–82.

Kelly S, Jahanshad N, Zalesky A, Kochunov P, Agartz I, Alloza C, et al. Widespread white matter microstructural differences in schizophrenia across 4322 individuals: results from the ENIGMA Schizophrenia DTI Working Group. Mol Psychiatry. 2018;23:1261–9.

Perkins DO, Gu H, Boteva K, Lieberman JA. Relationship between duration of untreated psychosis and outcome in first-episode schizophrenia: a critical review and meta-analysis. Am J Psychiatry. 2005;162:1785–804.

Anderson KK, Rodrigues M, Mann K, Voineskos A, Mulsant BH, George TP, et al. Minimal evidence that untreated psychosis damages brain structures: a systematic review. Schizophr Res. 2015;162:222–33.

Lee SW, Lee A, Choi TK, Kim B, Lee KS, Bang M, et al. White matter abnormalities of the tapetum and their associations with duration of untreated psychosis and symptom severity in first-episode psychosis. Schizophr Res. 2018;201:437–8.

Filippi M, Canu E, Gasparotti R, Agosta F, Valsecchi P, Lodoli G, et al. Patterns of brain structural changes in first-contact, antipsychotic drug-naive patients with schizophrenia. AJNR Am J Neuroradiol. 2014;35:30–7.

Cropley VL, Klauser P, Lenroot RK, Bruggemann J, Sundram S, Bousman C, et al. Accelerated gray and white matter deterioration with age in schizophrenia. Am J Psychiatry. 2017;174:286–95.

Lee S-W, Kim S-W, Lee S-H. White matter alterations related to duration of untreated periods in patients with recent-onset psychosis. Int J Neuropsychopharmacol. 2016;19:70.

Squarcina L, Bellani M, Rossetti MG, Perlini C, Delvecchio G, Dusi N, et al. Similar white matter changes in schizophrenia and bipolar disorder: a tract-based spatial statistics study. PLoS One. 2017;12:e0178089.

Reis Marques T, Taylor H, Chaddock C, Dell'acqua F, Handley R, Reinders AA, et al. White matter integrity as a predictor of response to treatment in first episode psychosis. Brain. 2014;137:172–82.

Crespo-Facorro B, Roiz-Santianez R, Pelayo-Teran JM, Gonzalez-Blanch C, Perez-Iglesias R, Gutierrez A, et al. Caudate nucleus volume and its clinical and cognitive correlations in first episode schizophrenia. Schizophr Res. 2007;91:87–96.

Keshavan MS, Haas GL, Kahn CE, Aguilar E, Dick EL, Schooler NR, et al. Superior temporal gyrus and the course of early schizophrenia: progressive, static, or reversible? J Psychiatr Res. 1998;32:161–7.

Choi MH, Na JE, Yoon YR, Lee HJ, Yoon S, Rhyu IJ, et al. Role of dopamine D2 receptor in stress-induced myelin loss. Sci Rep. 2017;7:11654.

Roy K, Murtie JC, El-Khodor BF, Edgar N, Sardi SP, Hooks BM, et al. Loss of erbB signaling in oligodendrocytes alters myelin and dopaminergic function, a potential mechanism for neuropsychiatric disorders. Proc Natl Acad Sci USA. 2007;104:8131–6.

Kraguljac NV, Morgan CJ, Reid MA, White DM, Jindal RD, Sivaraman S, et al. A longitudinal magnetic resonance spectroscopy study investigating effects of risperidone in the anterior cingulate cortex and hippocampus in schizophrenia. Schizophr Res. 2019;210:239–44.

de la Fuente-Sandoval C, Reyes-Madrigal F, Mao X, Leon-Ortiz P, Rodriguez-Mayoral O, Jung-Cook H, et al. Prefrontal and striatal gamma-aminobutyric acid levels and the effect of antipsychotic treatment in first-episode psychosis patients. Biol Psychiatry. 2018;83:475–83.

Egerton A, Bhachu A, Merritt K, McQueen G, Szulc A, McGuire P. Effects of antipsychotic administration on brain glutamate in schizophrenia: a systematic review of longitudinal (1)H-MRS studies. Front Psychiatry. 2017;8:66.

Egerton A, Broberg BV, Van Haren N, Merritt K, Barker GJ, Lythgoe DJ, et al. Response to initial antipsychotic treatment in first episode psychosis is related to anterior cingulate glutamate levels: a multicentre (1)H-MRS study (OPTiMiSE). Mol Psychiatry. 2018;23:2145–55.

de la Fuente-Sandoval C, Leon-Ortiz P, Azcarraga M, Stephano S, Favila R, Diaz-Galvis L, et al. Glutamate levels in the associative striatum before and after 4 weeks of antipsychotic treatment in first-episode psychosis: a longitudinal proton magnetic resonance spectroscopy study. JAMA Psychiatry. 2013;70:1057–66.

Matute C, Alberdi E, Domercq M, Sanchez-Gomez MV, Perez-Samartin A, Rodriguez-Antiguedad A, et al. Excitotoxic damage to white matter. J Anat. 2007;210:693–702.

Hassel B, Boldingh KA, Narvesen C, Iversen EG, Skrede KK. Glutamate transport, glutamine synthetase and phosphate-activated glutaminase in rat CNS white matter. A quantitative study. J Neurochem. 2003;87:230–7.

Rabinowitz J, Levine SZ, Barkai O, Davidov O. Dropout rates in randomized clinical trials of antipsychotics: a meta-analysis comparing first- and second-generation drugs and an examination of the role of trial design features. Schizophr Bull. 2009;35:775–88.

Register-Brown K, Hong LE. Reliability and validity of methods for measuring the duration of untreated psychosis: a quantitative review and meta-analysis. Schizophr Res. 2014;160:20–6.
Acknowledgements
This work was supported by the National Institute of Mental Health (R01MH112800 and R01MH102951, ACL; K23MH106683, NVK). We would like to thank UAB IT Research Computing for providing the HPC resources (compute, storage and networking) for this project. Cheaha is supported in part by the National Science Foundation under Grant No. OAC-1541310, the University of Alabama at Birmingham, and the Alabama Innovation Fund.
Ethics declarations
Conflict of interest
ACL has received an investigator initiated grant from Janssen Pharmaceuticals. The other authors declare that they have no conflict of interest.
Additional information
Publisher's note Springer Nature remains neutral with regard to jurisdictional claims in published maps and institutional affiliations.
About this article
Cite this article
Kraguljac, N.V., Anthony, T., Morgan, C.J. et al. White matter integrity, duration of untreated psychosis, and antipsychotic treatment response in medication-naïve first-episode psychosis patients. Mol Psychiatry 26, 5347–5356 (2021). https://doi.org/10.1038/s41380-020-0765-x
Received:

Revised:

Accepted:

Published:

Issue Date:

DOI: https://doi.org/10.1038/s41380-020-0765-x