Abstract
A high proportion of those with schizophrenia experience treatment non-response, placing them at higher risk for mortality and suicide attempts, compared to treatment responders. The clinical, social, and economic burden of treatment-resistant schizophrenia (TRS) are substantial. Previous genomic and epidemiological studies of TRS were often limited by sample size or lack of comprehensive genomic data. We aimed to systematically understand the clinical, demographic, and genomic correlates of TRS using epidemiological and genetic epidemiological modelling in a Swedish national population sample (n = 24,706) and then in a subgroup with common variant genetic risk scores, rare copy-number variant burden, and rare exonic burden (n = 4936). Population-based analyses identified increasing schizophrenia family history to be significantly associated with TRS (highest quartile of familial burden vs. lowest: adjusted odds ratio (aOR): 1.31, P = 4.8 × 10-8). In males, a decrease of premorbid IQ of one standard deviation was significantly associated with greater risk of TRS (minimal aOR: 0.94, P = 0.002). In a subset of cases with extensive genomic data, we found no significant association between the genetic risk scores of four psychiatric disorders and two cognitive traits with TRS (schizophrenia genetic risk score: aOR = 1.07, P = 0.067). The association between copy number variant and rare variant burden measures and TRS did not reach the pre-defined statistical significance threshold (all P ≥ 0.005). In conclusion, direct measures of genomic risk were not associated with TRS; however, premorbid IQ in males and schizophrenia family history were significantly correlated with TRS and points to new insights into the architecture of TRS.
Relevant articles
Open Access articles citing this article.
Michael J. Owen

,

Sophie E. Legge

…

Michael C. O'Donovan

Molecular Psychiatry Open Access 18 October 2023
Access options
Subscribe to this journal
Receive 12 print issues and online access
$259.00 per year
only $21.58 per issue
Rent or buy this article
Prices vary by article type
from$1.95
to$39.95
Prices may be subject to local taxes which are calculated during checkout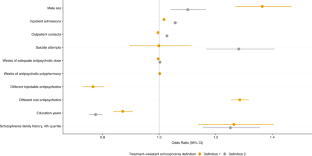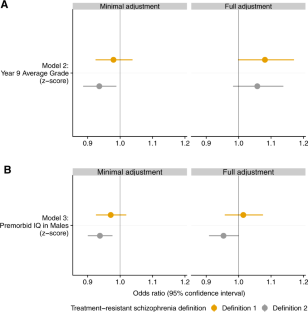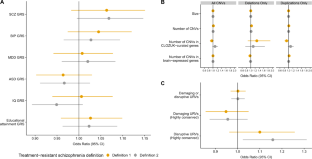 Code availability
Custom written R scripts used for statistical analyses can be provided upon request.
References
Barnes T. Schizophrenia Consensus Group of British Association for Psychopharmacology. Evidence-based guidelines for the pharmacological treatment of schizophrenia: recommendations from the British Association for Psychopharmacology. J Psychopharmacol. 2011;25:567–620.

Wimberley T, MacCabe JH, Laursen TM, Sørensen HJ, Astrup A, Horsdal HT, et al. Mortality and self-harm in association with clozapine in treatment-resistant schizophrenia. Am J Psychiatry. 2017;174:990–8.

Wimberley T, Stovring H, Sorensen HJ, Horsdal HT, MacCabe JH, Gasse C, et al. Predictors of treatment resistance in patients with schizophrenia: A population-based cohort study. Lancet Psychiatry. 2016;3:358–66.

Kennedy JL, Altar CA, Taylor DL, Degtiar I, Hornberger JC. The social and economic burden of treatment-resistant schizophrenia: a systematic literature review. Int Clin Psychopharmacol. 2014;29:63–76.

de Bartolomeis A, Balletta R, Giordano S, Buonaguro EF, Latte G, Iasevoli F. Differential cognitive performances between schizophrenic responders and non-responders to antipsychotics: correlation with course of the illness, psychopathology, attitude to the treatment and antipsychotics doses. Psychiatry Res. 2013;210:387–95.

Frydecka D, Beszłej JA, Gościmski P, Kiejna A, Misiak B. Profiling cognitive impairment in treatment-resistant schizophrenia patients. Psychiatry Res. 2016;235:133–8.

Kane J, Honigfeld G, Singer J, Meltzer H. Clozapine for the treatment-resistant schizophrenic. A double-blind comparison with chlorpromazine. Arch Gen Psychiatry. 1988;45:789–96.

Suzuki T, Remington G, Mulsant BH, Rajji TK, Uchida H, Graff-Guerrero A, et al. Treatment resistant schizophrenia and response to antipsychotics: A review. Schizophr Res. 2011;133:54–62.

Bachmann CJ, Aagaard L, Bernardo M, Brandt L, Cartabia M, Clavenna A, et al. International trends in clozapine use: a study in 17 countries. Acta Psychiatr Scand. 2017;136:37–51.

Crespo-Facorro B, de la Foz VOG, Ayesa-Arriola R, Pérez-Iglesias R, Mata I, Suarez-Pinilla P, et al. Prediction of acute clinical response following a first episode of non affective psychosis: Results of a cohort of 375 patients from the Spanish PAFIP study. Prog Neuro-Psychopharmacol Biol Psychiatry. 2013;44:162–7.

Hassan AN, De Luca V. The effect of lifetime adversities on resistance to antipsychotic treatment in schizophrenia patients. Schizophr Res. 2015;161:496–500.

Frank J, Lang M, Witt SH, Strohmaier J, Rujescu D, Cichon S, et al. Identification of increased genetic risk scores for schizophrenia in treatment-resistant patients. Mol Psychiatry. 2015;20:150–1.

Martin AK, Mowry B. Increased rare duplication burden genomewide in patients with treatment-resistant schizophrenia. Psychol Med. 2016;46:469–76.

Horsdal HT, Meier SM, Wimberley T, Agerbo E, Gasse C, MacCabe JH. Polygenic risk score for schizophrenia and treatment-resistant schizophrenia. Schizophr Bull. 2017;43:1064–9.

Zhang JP, Robinson D, Yu J, Gallego J, Fleischhacker WW, Kahn RS, et al. Schizophrenia polygenic risk score as a predictor of antipsychotic efficacy in first-episode psychosis. Am J Psychiatry. 2019;176:21–8.

Lee SH, DeCandia TR, Ripke S, Yang J. Schizophrenia Psychiatric Genome-Wide Association Study Consortium (PGC-SCZ) PF, International Schizophrenia Consortium (ISC) ME, et al. Estimating the proportion of variation in susceptibility to schizophrenia captured by common SNPs. Nat Genet. 2012;44:247–50.

Ruderfer DM, Charney AW, Readhead B, Kidd BA, Kähler AK, Kenny PJ, et al. Polygenic overlap between schizophrenia risk and antipsychotic response: A genomic medicine approach. Lancet Psychiatry. 2016;3:350–7.

Wang Q, Man WuH, Yue W, Yan H, Zhang Y, Tan L, et al. Effect of damaging rare mutations in synapse-related gene sets on response to short-term antipsychotic medication in chinese patients with schizophrenia. JAMA Psychiatry. 2018;75:1261.

Jedenius E, Tanskanen A, Leval A, Hoti F, Majak M, Taipale H, et al. Real-world effectiveness of antipsychotic treatments in a nationwide cohort of 29 823 patients with schizophrenia. JAMA Psychiatry. 2017;74:686.

Wettermark B, Hammar N, Fored CM, Leimanis A, Olausson PO, Bergman U, et al. The new Swedish Prescribed Drug Register Opportunities for pharmacoepidemiological research and experience from the first six months. Pharmacoepidemiol Drug Saf. 2007;16:726–35.

Ripke S, O'Dushlaine C, Chambert K, Moran JL, Kahler AK, Akterin S, et al. Genome-wide association analysis identifies 13 new risk loci for schizophrenia. Nat Genet. 2013;45:1150–9.

Ludvigsson JF, Andersson E, Ekbom A, Feychting M, Kim JL, Reuterwall C, et al. External review and validation of the Swedish national inpatient register. BMC Public Health. 2011;11:450.

Ekbom A. The Swedish Multi-generation Register. Methods Mol Biol. 2010;675:215–20.

Brooke HL, Talbäck M, Hörnblad J, Johansson LA, Ludvigsson JF, Druid H, et al. The Swedish cause of death register. Eur J Epidemiol. 2017;32:765–73.

Ajnakina O, Horsdal HT, Lally J, MacCabe JH, Murray RM, Gasse C, et al. Validation of an algorithm-based definition of treatment resistance in patients with schizophrenia. Schizophr Res. 2018;197:294–7.

Sullivan PF, Wells JE, Joyce PR, Bushnell JA, Mulder RT, Oakley-Browne MA. Family history of depression in clinic and community samples. J Affect Disord. 1996;40:159–68.

Purcell SM, Wray NR, Stone JL, Visscher PM, O'Donovan MC, Sullivan PF, et al. Common polygenic variation contributes to risk of schizophrenia and bipolar disorder. Nature. 2009;10:8192–92.

Ripke S, Neale BM, Corvin A, Walters JTR, Farh KH, Holmans PA, et al. Biological insights from 108 schizophrenia-associated genetic loci. Nature. 2014;511:421–7.

Cross-Disorder Group of the Psychiatric Genomics Consortium. Identification of the Psychiatric Genomics Consortium. Identification of risk loci with shared effects on five major psychiatric disorders: a genome-wide analysis. Lancet (Lond, Engl). 2013;381:1371–9.

Hubbard L, Tansey KE, Rai D, Jones P, Ripke S, Chambert KD, et al. Evidence of common genetic overlap between schizophrenia and cognition. Schizophr Bull. 2016;42:832–42.

Leeson VC, Barnes TRE, Hutton SB, Ron MA, Joyce EM. IQ as a predictor of functional outcome in schizophrenia: a longitudinal, four-year study of first-episode psychosis. Schizophr Res. 2009;107:55–60.

van Winkel R, Myin-Germeys I, De Hert M, Delespaul P, Peuskens J, van Os J. The association between cognition and functional outcome in first-episode patients with schizophrenia: mystery resolved? Acta Psychiatr Scand. 2007;116:119–24.

Escott-Price V, Bracher-Smith M, Menzies G, Walters J, Kirov G, Owen MJ, et al. Genetic liability to schizophrenia is negatively associated with educational attainment in UK Biobank. Mol Psychiatry. 2019; https://doi.org/10.1038/s41380-018-0328-6.

Hagenaars SP, Harris SE, Davies G, Hill WD, Liewald DCM, Ritchie SJ, et al. Shared genetic aetiology between cognitive functions and physical and mental health in UK Biobank (N=112151) and 24 GWAS consortia. Mol Psychiatry. 2016;21:1624–32.

Wray NR, Ripke S, Mattheisen M, Trzaskowski M, Byrne EM, Abdellaoui A, et al. Genome-wide association analyses identify 44 risk variants and refine the genetic architecture of major depression. Nat Genet. 2018;50:668–81.

Green EK, Hamshere M, Forty L, Gordon-Smith K, Fraser C, Russell E, et al. Replication of bipolar disorder susceptibility alleles and identification of two novel genome-wide significant associations in a new bipolar disorder case-control sample. Mol Psychiatry. 2013;18:1302–7.

Autism Spectrum Disorders Working Group of The Psychiatric Genomics Consortium. Meta-analysis of GWAS of over 16,000 individuals with autism spectrum disorder highlights a novel locus at 10q24.32 and a significant overlap with schizophrenia. Mol Autism. 2017;8:21.

Lee JJ, Wedow R, Okbay A, Kong E, Maghzian O, Zacher M, et al. Gene discovery and polygenic prediction from a genome-wide association study of educational attainment in 1.1 million individuals. Nat Genet. 2018;50:1112–21.

Savage JE, Jansen PR, Stringer S, Watanabe K, Bryois J, De Leeuw CA, et al. Genome-wide association meta-analysis in 269,867 individuals identifies new genetic and functional links to intelligence. Nat Genet. 2018;50:912–9.

Szatkiewicz JP, O'Dushlaine C, Chen G, Chambert K, Moran JL, Neale BM, et al. Copy number variation in schizophrenia in Sweden. Mol Psychiatry. 2014;19:762–73.

Tansey KE, Rees E, Linden DE, Ripke S, Chambert KD, Moran JL, et al. Common alleles contribute to schizophrenia in CNV carriers. Mol Psychiatry. 2016;21:1085–9.

Genovese G, Fromer M, Stahl EA, Ruderfer DM, Chambert K, Landen M, et al. Increased burden of ultra-rare protein-altering variants among 4,877 individuals with schizophrenia. Nat Neurosci. 2016;19:1433–41.

Purcell SM, Moran JL, Fromer M, Ruderfer D, Solovieff N, Roussos P, et al. A polygenic burden of rare disruptive mutations in schizophrenia. Nature. 2014;506:185–90.

Lek M, Karczewski KJ, Minikel EV, Samocha KE, Banks E, Fennell T, et al. Analysis of protein-coding genetic variation in 60,706 humans. Nature. 2016;536:285–91.

Ioannidis JPA. The proposal to lower P value thresholds to .005. JAMA. 2018;319:1429–30.

Sumiyoshi C, Fujino H, Yamamori H, Kudo N, Azechi H, Fujimoto M, et al. Predicting work outcome in patients with schizophrenia: Influence of IQ decline. Schizophr Res. 2018;201:172–9.

Barnett JH, Salmond CH, Jones PB, Sahakian BJ. Cognitive reserve in neuropsychiatry. Psychol Med. 2006;36:1053–64.

Mortensen PB, Pedersen CB, Westergaard T, Wohlfahrt J, Ewald H, Mors O, et al. Effects of family history and place and season of birth on the risk of schizophrenia. N Engl J Med. 1999;340:603–8.

Murray RM, Van OsJ. Predictors of outcome in schizophrenia. J Clin Psychopharmacol. 1998;18:2S–4S.

Hunt SC, Williams RR, Barlow GK. A comparison of positive family history definitions for defining risk of future disease. J Chronic Dis. 1986;39:809–21.

McCutcheon R, Beck K, D'Ambrosio E, Donocik J, Gobjila C, Jauhar S, et al. Antipsychotic plasma levels in the assessment of poor treatment response in schizophrenia. Acta Psychiatr Scand. 2018;137:39–46.
Acknowledgements
This work was supported by the Swedish Research Council (Vetenskapsrådet, award D0886501 to PFS). The Sweden Schizophrenia Study was supported by NIMH R01 MH077139. KK received funding from the European Union's Horizon 2020 Research and Innovation programme under the Marie Skłodowska-Curie grant agreement (No. 793530) and from the Government of Canada Banting Postdoctoral Fellowship Programme.
Ethics declarations
Conflict of interest
PFS reports the following potential competing financial interests: Current: Lundbeck (advisory committee, grant recipient); Past 3 years: Pfizer (scientific advisory board), Element Genomics (consultation fee), and Roche (speaker reimbursement). HL has served as a speaker for Evolan Pharma and Shire, and has received research grants from Shire; all outside the submitted work. All other authors report no disclosures related to this work.
Additional information
Publisher's note Springer Nature remains neutral with regard to jurisdictional claims in published maps and institutional affiliations.
Supplementary information
About this article
Cite this article
Kowalec, K., Lu, Y., Sariaslan, A. et al. Increased schizophrenia family history burden and reduced premorbid IQ in treatment-resistant schizophrenia: a Swedish National Register and Genomic Study. Mol Psychiatry 26, 4487–4495 (2021). https://doi.org/10.1038/s41380-019-0575-1
Received:

Revised:

Accepted:

Published:

Issue Date:

DOI: https://doi.org/10.1038/s41380-019-0575-1
This article is cited by
Hidekazu Kato
Hiroki Kimura
Norio Ozaki

Journal of Human Genetics (2023)

Michael J. Owen
Sophie E. Legge
Michael C. O'Donovan

Molecular Psychiatry (2023)

Kun Yang
Luisa Longo
Akira Sawa

Molecular Psychiatry (2022)