"Some are born great, some achieve greatness, and others have greatness thrust upon them." ― William Shakespeare, Twelfth Night.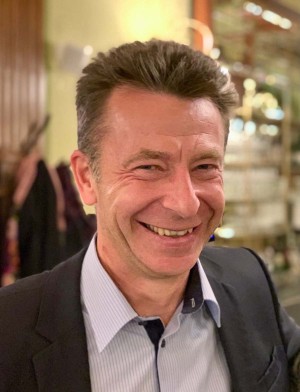 Dr. Ondrej Hes clearly belongs to the first category ("born great"), described by William Shakespeare centuries ago. This tribute has been prepared by a group of close friends of Dr. Hes, who had the honor and privilege to know him both personally and professionally over years. On July 2, 2022, Ondrej passed away, a few days after collapsing while running from home to work (his usual routine exercise) outside the hospital in Pilsen (Plzeň) and in the nature that he loved the most.
Ondrej was born in Pilsen in former Czechoslovakia on July 21, 1968, to an academic and an artistic family. He received his medical degree in 1993 at the Faculty of Medicine in Pilsen, Charles University. He subsequently completed his postgraduate training in Anatomic Pathology (1996) and went on to obtain his PhD in 2001. In a short period of time, he was promoted to Professor of Pathology at Charles University in 2009.
Dr. Hes was a giant in surgical pathology, particularly genitourinary pathology, and especially so in tumors of the kidney. As a world-renowned kidney tumor pathology expert, it is hard to imagine another pathologist who has reviewed as many as renal tumors as Ondrej Hes, through his possibly largest kidney tumor registry in the world and collaborations with pathologists in all five continents. To date, he has published more than 450 peer-reviewed articles, some of which significantly impacted the practice of urologic surgical pathology in the world. His extensive work has been cited over 5300 times, with a remarkable h-index of 47, testament to his significant contribution to our profession and beyond. His curious mind along with extremely friendly and warm personality provided numerous opportunities for him to visit many pathology departments across the globe in search of "orphan renal tumors" (the term he often used for neoplasms that did not currently fit existing classification schemes). Some of the recently described eosinophilic renal tumors, such as eosinophilic solid and cystic renal cell carcinoma (ESC-RCC), low-grade oncocytic tumor (LOT), and eosinophilic vacuolated tumor (EVT) will always remain linked to Ondrej's name, by his instrumental contributions to their first recognition. This is simply a testament to his incredible interest and true passion for patient care.
Being an honorable global citizen, Ondrej made numerous and long-lasting real friendships across the world with many pathologists, residents, and fellows. One of his amazing innovative and brilliant ideas was to merge science and friendship, which led him to establish the famous "Kidney Tumor Friends (KTF)" also known as the Pilsen Urogenital Pathology Conference 15 years ago. This is a highly unique academic forum in our field, with focus on exchanging scientific ideas in genitourinary surgical pathology in an environment of rich friendship and recreation. He sometimes joked that eventually the meeting would "have more speakers than audience members," reflecting the large group of colleagues and collaborators that was generously hosted in the Czech Republic every few years. Ondrej's two main guiding principles in this endeavor were excelling in science while maintaining friendship, which have held true to-date. Ondrej's philosophy in establishing an academic meeting in a non-competitive and relaxed environment has always been appealing to colleagues participating and friends contributing to KTF from around the world. Each KTF meeting led to many scientific collaborations and subsequent publications, including original research and review articles.
Ondrej's list of professional achievements and contributions are exemplary with his articles describing new tumor pathology entities, variants/subtypes, diagnostic challenges, and more. He also served numerous international societies, organizations, committees, and working groups, such as the European Society of Pathology (ESP), International Society of Urological Pathology (ISUP), Genitourinary Pathology Society (GUPS), Arkadi M. Rywlin (AMR) International Pathology Slide Seminar Club, and WHO blue books. He was an invited speaker to numerous meetings in the four corners of the globe and had widely lectured around the world on important and challenging genitourinary pathology topics.
Ondrej was always a strong believer in education and mentorship. He devoted a major part of his time to teaching medical students, residents, fellows, and junior faculty members. Every year, many pathologists (mostly junior) from all over the world came to Pilsen to train with him and to improve their diagnostic skills in the world of kidney tumors. They also often had the opportunity to collaborate with Ondrej on research projects, some of which led to individuals obtaining their PhDs.
Ondrej was a multifaceted individual and a man of wide interests, including sports (he was an avid runner—national championship in the men's 800 m run), photography (some of his professional works were exhibited in Czech museums), art, music, history, politics, and most importantly, ecology. Since his youth, he was interested in nature, especially herpetofauna and entomofauna. In fact, he has authored a number of articles and five books on reptiles and amphibians (his major work and contributions to Pilsen's Zoo is well known). For more than a decade, he was actively involved in the protection and creation of wetlands in the Czech Republic. He founded Eden, an NGO (Non-governmental organization) supporting biodiversity. As he simply stated it "Each of us, even the greatest ecologist, will destroy part of nature in our lifetimes. Come with us to try and repair some of the damage. Let us together protect and recreate nature for future generation" (https://fondeden.cz/).
Dr. Ondrej Hes was an incredible scientist and educator, a giant in surgical pathology, a tireless environmentalist, a passionate activist in protecting wildlife and nature, a competitive and friendly athlete, a dedicated husband and a loving father, and an amazing friend. Above all, he was an exceptional human being and an honorable global citizen, whose kindness was readily contagious. His sense of humor was enlightening and inviting; his constant smile, the most heartwarming and genuine. He was always present and ready to help anyone in need. And this reminds us of the 17th century English poet John Bunyan's famous poem: "You have not lived today until you have done something for someone who can never repay you." And by this virtue, Ondrej Hes certainly lived many lives, and his memory and legacy will remain in our hearts and for generations to come.
About this article
Cite this article
Alaghehbandan, R., Agaimy, A., Ali, L. et al. A tribute to Prof. Ondrej Hes, MD, PhD (1968–2022). Mod Pathol 35, 2023–2024 (2022). https://doi.org/10.1038/s41379-022-01159-8
Published:

Issue Date:

DOI: https://doi.org/10.1038/s41379-022-01159-8