The original version of this article unfortunately contained mistakes. The errors are:
1.

in Table 2: For LCNEC2, p53 IHC should be ++, not +

Table 2 RB and p53 alterations in neuroendocrine carcinomas.

2.

in Figure 4: the type of RB mutation for SCNEC6 is incorrect (box should be yellow not peach). The corrected table and figure can be found below. The original article has been corrected.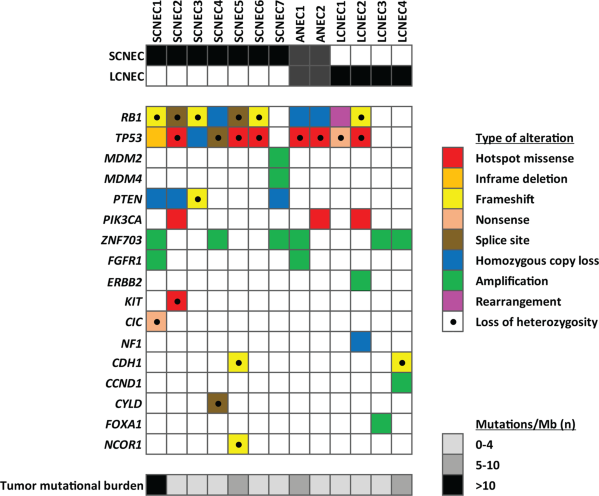 Rights and permissions
Open Access This article is licensed under a Creative Commons Attribution 4.0 International License, which permits use, sharing, adaptation, distribution and reproduction in any medium or format, as long as you give appropriate credit to the original author(s) and the source, provide a link to the Creative Commons licence, and indicate if changes were made. The images or other third party material in this article are included in the article's Creative Commons licence, unless indicated otherwise in a credit line to the material. If material is not included in the article's Creative Commons licence and your intended use is not permitted by statutory regulation or exceeds the permitted use, you will need to obtain permission directly from the copyright holder. To view a copy of this licence, visit http://creativecommons.org/licenses/by/4.0/.
About this article
Cite this article
Bean, G.R., Najjar, S., Shin, S.J. et al. Correction to: Genetic and immunohistochemical profiling of small cell and large cell neuroendocrine carcinomas of the breast. Mod Pathol (2022). https://doi.org/10.1038/s41379-022-01099-3
Published:

DOI: https://doi.org/10.1038/s41379-022-01099-3