Abstract
Vulvar squamous cell carcinomas and their precursors are currently classified by the World Health Organization based on their association with high-risk human papillomavirus (HPV). HPV independent lesions often harbor driver alterations in TP53, usually seen in the setting of chronic vulvar inflammation. However, a group of pre-invasive vulvar squamous lesions is independent from both HPV and mutant TP53. The lesions described within this category feature marked acanthosis, verruciform growth and altered squamous maturation, and over the last two decades several studies have added to their characterization. They have a documented association with verrucous carcinoma and conventional squamous cell carcinoma of the vulva, suggesting a precursor role. They also harbor recurrent genomic alterations in several oncogenes, mainly PIK3CA and HRAS, indicating a neoplastic nature. In this review, we provide a historical perspective and a comprehensive description of these lesions. We also offer an appraisal of the terminology used over the years, going from Vulvar Acanthosis with Altered Differentiation and Verruciform Lichen Simplex Chronicus to Differentiated Exophytic Vulvar Intraepithelial Lesion and Vulvar Aberrant Maturation, the latter term having been recently proposed by the International Society for the Study of Vulvovaginal Diseases. In line with the recognition of these lesions by the 2020 World Health Organization Classification of Tumours as a neoplastic precursor, we herein propose the term HPV-independent, p53-wild-type verruciform acanthotic Vulvar Intraepithelial Neoplasia (HPVi(p53wt) vaVIN), which better conveys not only the pathology but also the neoplastic nature and the biologic risk inherent to these uncommon and challenging lesions. We outline strict morphologic and immunohistochemical criteria for its diagnosis and distinction from mimickers. Immunohistochemistry for p16 and p53 should be performed routinely in the diagnostic work-up of these lesions, and the morphologic alternative term vaVIN should be reserved for instances in which p16/HPV/p53 status is unknown. We also discuss management considerations and the need to further explore precursors within and beyond the spectrum of verruciform acanthotic vulvar intraepithelial neoplasia.
Your institute does not have access to this article
Access options
Subscribe to Journal
Get full journal access for 1 year
We are sorry, but there is no personal subscription option available for your country.
Buy article
Get time limited or full article access on ReadCube.
$32.00
All prices are NET prices.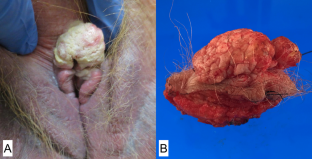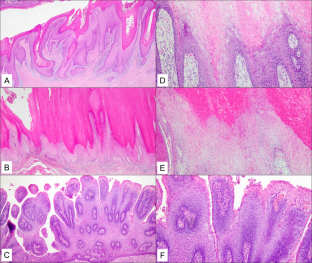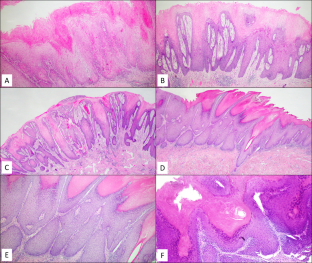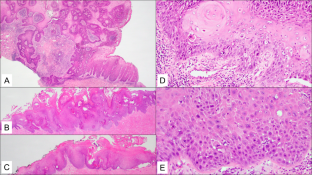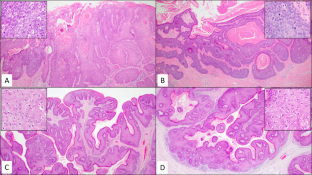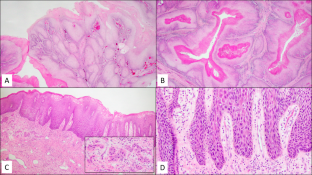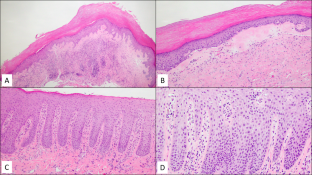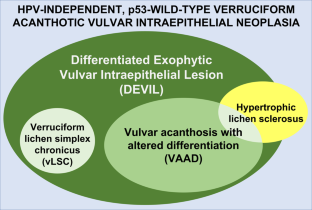 References
International Agency for Research on Cancer. World Health Organization Classification of Tumours—Female Genital Tumours. 5th edition. IARC: Lyon, 2020.

Heller DS, Day T, Allbritton JI, Scurry J, Radici G, Welch K, et al. Diagnostic criteria for differentiated vulvar intraepithelial neoplasia and vulvar aberrant maturation. J. Low Genit Tract Dis 25, 57–70 (2021).

Movahedi-Lankarani S, Krishnamurti U, Bell D, Birdsong G, Biscotti C, Chapman Jr C, et al. Protocol for the Examination of Specimens From Patients With Primary Carcinoma of the Vulva. Version 4.1.0.1. 2020. https://documents.cap.org/protocols/cp-femalereproductive-vulva-20-4101.pdf (accessed 9 Jun 2021).

Singh N, Gilks CB. Vulval squamous cell carcinoma and its precursors. Histopathology 76, 128–138 (2020).

Voss FO, Thuijs NB, Vermeulen RFM, Wilthagen EA, van Beurden M, Bleeker MCG. The vulvar cancer risk in differentiated vulvar intraepithelial neoplasia: a systematic review. Cancers 13, 6170 (2021).

Leibowitch M, Neill S, Pelisse M, Moyal-Baracco M. The epithelial changes associated with squamous cell carcinoma of the vulva: a review of the clinical, histological and viral findings in 78 women. Br J Obstet Gynaecol 97, 1135–1139 (1990).

van de Nieuwenhof HP, Bulten J, Hollema H, Dommerholt RG, Massuger LFAG, van der Zee AGJ, et al. Differentiated vulvar intraepithelial neoplasia is often found in lesions, previously diagnosed as lichen sclerosus, which have progressed to vulvar squamous cell carcinoma. Mod Pathol 24, 297–305 (2011).

Nascimento AF, Granter SR, Cviko A., Yuan L, Hecht JL, Crum CP. Vulvar acanthosis with altered differentiation: a precursor to verrucous carcinoma? Am J Surg Pathol 28, 638–643 (2004).

Nooij LS, Ter Haar NT, Ruano D, Rakislova N, van Wezel T, Smit VTHBM, et al. Genomic characterization of vulvar (pre)cancers identifies distinct molecular subtypes with prognostic significance. Clin Cancer Res 23, 6781–6789 (2017).

Salama AM, Momeni-Boroujeni A, Vanderbilt C, Ladanyi M, Soslow R. Molecular landscape of vulvovaginal squamous cell carcinoma: new insights into molecular mechanisms of HPV-associated and HPV-independent squamous cell carcinoma. Mod Pathol 35, 274–282 (2022).

Watkins JC, Howitt BE, Horowitz NS, Ritterhouse LL, Dong F, MacConaill LE, et al. Differentiated exophytic vulvar intraepithelial lesions are genetically distinct from keratinizing squamous cell carcinomas and contain mutations in PIK3CA. Mod Pathol 30, 448–458 (2017).

Akbari A, Pinto A, Amemiya Y, Seth A, Mirkovic J, Parra-Herran C. Differentiated exophytic vulvar intraepithelial lesion: clinicopathologic and molecular analysis documenting its relationship with verrucous carcinoma of the vulva. Mod. Pathol. 33, 2011–2018 (2020).

Tessier-Cloutier B, Pors J, Thompson E, Ho J, Prentice L, McConechy M, et al. Molecular characterization of invasive and in situ squamous neoplasia of the vulva and implications for morphologic diagnosis and outcome. Mod Pathol 34, 508-518 (2021).

Neville G, Chapel DB, Crum CP, Song SJ, Yoon J-Y, Lee KR, et al. Interobserver reproducibility of differentiated exophytic vulvar intraepithelial lesion (DEVIL) and the distinction from its mimics. Histopathology 79, 957–965 (2021).

Roy SF, Wong J, Le Page C, Tran-Thanh D, Barkati M, Pina A, et al. DEVIL, VAAD and vLSC constitute a spectrum of HPV-independent, p53-independent intraepithelial neoplasia of the vulva. Histopathology 79, 975–988 (2021).

Rakislova N, Alemany L, Clavero O, Del Pino M, Saco A, Marimon L, et al. HPV-independent precursors mimicking high-grade squamous intraepithelial lesions (HSIL) of the vulva. Am J Surg Pathol 44, 1506–1514 (2020).

Rakislova N, Alemany L, Clavero O, Del Pino M, Saco A, Quirós B, et al. Differentiated vulvar intraepithelial neoplasia-like and lichen sclerosus-like lesions in HPV-associated squamous cell carcinomas of the vulva. Am J Surg Pathol 42, 828–835 (2018).

Kortekaas KE, Bastiaannet E, van Doorn HC, de Vos van Steenwijk PJ, Ewing-Graham PC, Creutzberg CL, et al. Vulvar cancer subclassification by HPV and p53 status results in three clinically distinct subtypes. Gynecol Oncol 159, 649–656 (2020).

Watkins JC, Yang E, Crum CP, Herfs M, Gheit T, Tommasino M, et al. Classic vulvar intraepithelial neoplasia with superimposed lichen simplex chronicus: a unique variant mimicking differentiated vulvar intraepithelial neoplasia. Int J Gynecol Pathol 38, 175–182 (2019).

Dietl J, Fierlbeck G [Giant condyloma (Buschke-Löwenstein) of the vulva]. Geburtshilfe Frauenheilkd 50, 819–821 (1990).

Ergün SS, Kural YB, Büyükbabani N, Verim L, Akbulut H, Gürkan L. Giant condyloma acuminatum. Dermatol Surg 29, 300–303 (2003).

Weyers W. Hypertrophic lichen sclerosus with dyskeratosis and parakeratosis-a common presentation of vulvar lichen sclerosus not associated with a significant risk of malignancy. Am J Dermatopathol 35, 713–721 (2013).

Weyers W. Hypertrophic lichen sclerosus sine sclerosis: clues to histopathologic diagnosis when presenting as psoriasiform lichenoid dermatitis. J Cutan Pathol 42, 118–129 (2015).

Walton DB, Stearns L, Fillman EP, Banks N, Dalton S.R. Vulvar acanthosis with altered differentiation: is this entity a variant of hypertrophic lichen sclerosus? J Cutan Pathol 42, 1038–1042 (2015).

Campbell K, Shalin S, Quick C. Hypertrophic lichen sclerosus: a distinct precursor to squamous cell carcinoma in the vulva. Mod Pathol 33, 1022–1023 (2020).

Chan MP, Zimarowski MJ. Vulvar dermatoses: a histopathologic review and classification of 183 cases. J Cutan Pathol 42, 510–518 (2015).

Joehlin-Price AS, Mully TW. Review of 189 consecutive female genital skin and mucosal biopsies submitted to an academic dermatopathology practice. Am J Clin Pathol 155, 418–427 (2021).

Kapila S, Bradford J, Fischer G. Vulvar psoriasis in adults and children: a clinical audit of 194 cases and review of the literature. J Low Genit Tract Dis 16, 364–371 (2012).

da Silva N, Augustin M, Langenbruch A, Mrowietz U, Reich K, Thaçi D, et al. Disease burden and treatment needs of patients with psoriasis in sexually-sensitive and visible body areas: results from a large-scale survey in routine care. Eur J Dermatol 30, 267–278 (2020).

Fite C, Plantier F, Dupin N, Avril M-F, Moyal-Barracco M. Vulvar verruciform xanthoma: ten cases associated with lichen sclerosus, lichen planus, or other conditions. Arch Dermatol 147, 1087–1092 (2011).

Santa Cruz DJ, Martin SA. Verruciform xanthoma of the vulva. Report of two cases. Am J Clin Pathol 71, 224–228 (1979).

Muirhead D, Stone MS, Syrbu SI. The utility of PU.1 as an immunohistochemical marker for histiocytic and dendritic lesions of the skin. Am J Dermatopathol 31, 432–435 (2009).

Rhatigan RM, Nuss RC. Keratoacanthoma of the vulva. Gynecol Oncol 21, 118–123 (1985).

Chen W, Koenig C. Vulvar keratoacanthoma: a report of two cases. Int J Gynecol Pathol 23, 284–286 (2004).

Gilbey S, Moore, DH, Look KY, Sutton GP. Vulvar keratoacanthoma. Obstet Gynecol 89, 848–850 (1997).

Lee ES, Allen D, Scurry J. Pseudoepitheliomatous hyperplasia in lichen sclerosus of the vulva. Int J Gynecol Pathol 22, 57–62 (2003).

Frimer M, Chudnoff S, Hebert T, Shahabi S. Pseudoepitheliomatous hyperplasia mimicking vulvar cancer in a patient with AIDS. J Low Genit Tract Dis 15, 66–68 (2011).

Tangjitgamol S, Loharamtaweethong K, Thawaramara T, Chanpanitkitchot S. Vulvar pseudoepitheliomatous hyperplasia associated with herpes simplex virus type II mimicking cancer in an immunocompromised patient. J Obstet Gynaecol Res 40, 255–258 (2014).

Vera-Sirera B, Zabala P, Aviño-Mira C, Vera-Sempere FJ. Multiple granular cell tumors with metachronous occurrence in tongue and vulva. Clinicopathological and immunohistochemical study. J Oral Maxillofac Pathol 18, 437–441 (2014).
Acknowledgements
The authors thank Dr. Christopher P Crum (Brigham and Women's Hospital) for his insightful comments on the preliminary versions of this manuscript and, most importantly, for pioneering the work that has led to our current understanding of HPVi(p53wt) vaVIN.
Funding
There is no external funding to disclose.
Ethics declarations
Competing interests
The authors declare no competing interests.
Additional information
Publisher's note Springer Nature remains neutral with regard to jurisdictional claims in published maps and institutional affiliations.
About this article
Cite this article
Parra-Herran, C., Nucci, M.R., Singh, N. et al. HPV-independent, p53-wild-type vulvar intraepithelial neoplasia: a review of nomenclature and the journey to characterize verruciform and acanthotic precursor lesions of the vulva. Mod Pathol (2022). https://doi.org/10.1038/s41379-022-01079-7
Received:

Revised:

Accepted:

Published:

DOI: https://doi.org/10.1038/s41379-022-01079-7