Abstract
Next-generation sequencing of oral squamous cell carcinoma (OSCC) has revealed TP53 as the most frequently mutated gene in OSCC mutually exclusive with human papillomavirus infection. Oral epithelial dysplasia (OED) is defined as a precancerous lesion of OSCC by the current World Health Organization (WHO) classification; therefore, it is assumed that TP53 mutations occur in early precancerous conditions such as OED. Here, we conducted an integrated analysis of TP53, including whole coding sequencing of TP53, FISH analysis of the 17p13.1 locus, and immunohistochemical analysis for p53 (p53-IHC), in 40 OED cases. We detected 20 mutations in 16 (40%) OED cases, and four cases, each harbored two mutations. FISH analysis revealed six of 24 cases (25%) had a deletion on 17p13.1, and four cases had concurrent TP53 mutations and 17p13.1 deletion (2-hit). Also, the increased frequency of TP53 mutations in higher degrees of OED implies acquisition of the mutation is a major event toward OSCC. p53-IHC revealed that overall cases could be categorized into four patterns that correlate well with the mutational status of TP53. Especially, two patterns, broad p53 expression type (pattern HI) and p53 null type (pattern LS), strongly correlated with a missense mutation and nonsense mutation, respectively. Furthermore, seven of the 40 cases progressed to SCC, and six of these seven cases presented pattern HI or LS. Therefore, patterns HI and LS have a high risk for malignant transformation if excisional treatment is not performed irrespective of the dysplasia grade. Although the current WHO classification mainly focuses on morphological criteria for the diagnosis of OED, interobserver discrepancy appears in some instances of the OED diagnosis. Our immunohistochemical analysis supports a more accurate pathological diagnosis for OED in cases of low dysplastic changes or of differential diagnosis with non-dysplastic lesions.
Your institute does not have access to this article
Relevant articles
Open Access articles citing this article.
Weilian Liang

,

Yang Chen

…

Zhengjun Shang

International Journal of Oral Science Open Access 19 July 2022
Access options
Subscribe to Journal
Get full journal access for 1 year
We are sorry, but there is no personal subscription option available for your country.
Buy article
Get time limited or full article access on ReadCube.
$32.00
All prices are NET prices.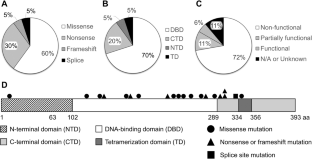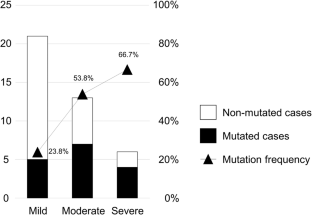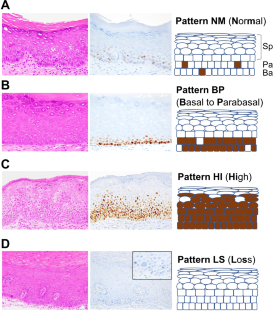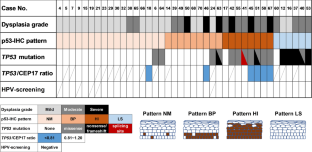 Data availability
All data generated or analyzed during this study are included in this published article.
References
El-Naggar, A. K., Chan, J. K., Grandis, J. R., Takata, T., Slootweg, P. J. WHO classification of head and neck tumours. International Agency for Research on Cancer (2017).

Warnakulasuriya, S., Johnson, N. W. & Van Der Waal, I. Nomenclature and classification of potentially malignant disorders of the oral mucosa. J Oral Pathol Med 36, 575–80 (2007).

Speight, P. M. Update on oral epithelial dysplasia and progression to cancer. Head Neck Pathol 1, 61–66 (2007).

Warnakulasuriya, S., Reibel, J., Bouquot, J. & Dabelsteen, E. Oral epithelial dysplasia classification systems: predictive value, utility, weaknesses and scope for improvement. J Oral Pathol Med 37, 127–33 (2008).

Schepman, K. P., van der Meij, E. H., Smeele, L. E. & Van Der Waal, I. Malignant transformation of oral leukoplakia: a follow-up study of a hospital-based population of 166 patients with oral leukoplakia from The Netherlands. Oral Oncol 34, 270–5 (1998).

Rosin, M. P., Cheng, X., Poh, C., Lam, W. L., Huang, Y. & Lovas, J. et al. Use of allelic loss to predict malignant risk for low-grade oral epithelial dysplasia. Clin Cancer Res 6, 357–62 (2000).

Brouns, E., Baart, J., Karagozoglu, K., Aartman, I., Bloemena, E. & Van Der Waal, I. Malignant transformation of oral leukoplakia in a well-defined cohort of 144 patients. Oral Dis 20, e19–e24 (2014).

Wang, Y.-Y., Tail, Y.-H., Wang, W.-C., Chen, C.-Y., Kao, Y.-H. & Chen, Y.-K. et al. Malignant transformation in 5071 southern Taiwanese patients with potentially malignant oral mucosal disorders. BMC Oral Health 14, 99 (2014).

Chaturvedi, A. K., Udaltsova, N., Engels, E. A., Katzel, J. A., Yanik, E. L. & Katki, H. A. et al. Oral leukoplakia and risk of progression to oral cancer: a population-based cohort study. J Natl Cancer Inst 112, 1047–54 (2020).

Lee, J. J., Hung, H. C., Cheng, S. J., Chen, Y. J., Chiang, C. P. & Liu, B. Y. et al. Carcinoma and dysplasia in oral leukoplakias in Taiwan: prevalence and risk factors. Oral Surg Oral Med Oral Pathol Oral Radio Endod 101, 472–80 (2006).

Abbey, L. M., Kaugars, G. E., Gunsolley, J. C., Burns, J. C., Page, D. G. & Svirsky, J. A. et al. Intraexaminer and interexaminer reliability in the diagnosis of oral epithelial dysplasia. Oral Surg Oral Med Oral Pathol Oral Radio Endod 80, 188–91 (1995).

Karabulut, A., Reibel, J., Therkildsen, M. H., Praetorius, F., Nielsen, H. W. & Dabelsteen, E. Observer variability in the histologic assessment of oral premalignant lesions. J Oral Pathol Med 24, 198–200 (1995).

Fischer, D. J., Epstein, J. B., Morton, T. H. & Schwartz, S. M. Interobserver reliability in the histopathologic diagnosis of oral pre-malignant and malignant lesions. J Oral Pathol Med 33, 65–70 (2004).

Ida-Yonemochi, H., Maruyama, S., Kobayashi, T., Yamazaki, M., Cheng, J. & Saku, T. Loss of keratin 13 in oral carcinoma in situ: a comparative study of protein and gene expression levels using paraffin sections. Mod Pathol 25, 784–94 (2012).

Nobusawa, A., Sano, T., Negishi, A., Yokoo, S. & Oyama, T. Immunohistochemical staining patterns of cytokeratins 13, 14, and 17 in oral epithelial dysplasia including orthokeratotic dysplasia. Pathol Int 64, 20–7 (2014).

Wils, L. J., Poell, J. B., Evren, I., Koopman, M. S., Brouns, E. R. E. A. & De Visscher, J. G. A. M. et al. Incorporation of differentiated dysplasia improves prediction of oral leukoplakia at increased risk of malignant progression. Mod Pathol 33, 1033–40 (2020).

Califano, J., van der Riet, P., Westra, W., Nawroz, H., Clayman, G. & Piantadosi, S. et al. Genetic progression model for head and neck cancer: implications for field cancerization. Cancer Res 56, 2488–92 (1996).

Tabor, M. P., Brakenhoff, R. H., van Houten, V. M., Kummer, J. A., Snel, M. H. & Snijders, P. J. et al. Persistence of genetically altered fields in head and neck cancer patients: biological and clinical implications. Clin Cancer Res 7, 1523–32 (2001).

Braakhuis, B. J. M. A genetic explanation of slaughter's concept of field cancerization: evidence andclinical implications1. Cancer Res 63, 1727–30 (2003).

Stransky, N., Egloff, A. M., Tward, A. D., Kostic, A. D., Cibulskis, K. & Sivachenko, A. et al. The mutational landscape of head and neck squamous cell carcinoma. Science 333, 1157–60 (2011).

Cancer Genome Atlas Network. Comprehensive genomic characterization of head and neck squamous cell carcinomas. Nature 517, 576–82 (2015).

Pickering, C. R., Zhang, J., Yoo, S. Y., Bengtsson, L., Moorthy, S. & Neskey, D. M. et al. Integrative genomic characterization of oral squamous cell carcinoma identifies frequent somatic drivers. Cancer Disco 3, 770–81 (2013).

Gillison, M. L., Akagi, K., Xiao, W., Jiang, B., Pickard, R. K. L. & Li, J. et al. Human papillomavirus and the landscape of secondary genetic alterations in oral cancers. Genome Res 29, 1–17 (2019).

Nakagaki, T., Tamura, M., Kobashi, K., Koyama, R., Fukushima, H. & Ohashi, T. et al. Profiling cancer-related gene mutations in oral squamous cell carcinoma from Japanese patients by targeted amplicon sequencing. Oncotarget 8, 59113–22 (2017).

Nakagaki, T., Tamura, M., Kobashi, K., Omori, A., Koyama, R. & Idogawa, M. et al. Targeted next-generation sequencing of 50 cancer-related genes in Japanese patients with oral squamous cell carcinoma. Tumour Biol 40, 101042831880018 (2018).

Kusama, K., Okutsu, S., Takeda, A., Himiya, T., Kojima, A. & Kidokoro, Y. et al. p53 gene alterations and p53 protein in oral epithelial dysplasia and squamous cell carcinoma. J Pathol 178, 415–21 (1996).

Shahnavaz, S. A., Regezi, J. A., Bradley, G., Dubé, I. D. & Jordan, R. C. p53 gene mutations in sequential oral epithelial dysplasias and squamous cell carcinomas. J Pathol 190, 417–22 (2000).

Ogmundsdottir, H. M., Bjornsson, J. & Holbrook, W. P. Role of TP53 in the progression of pre-malignant and malignant oral mucosal lesions. A follow-up study of 144 patients. J Oral Pathol Med 38, 565–71 (2009).

Graveland, A. P., Bremmer, J. F., De Maaker, M., Brink, A., Cobussen, P. & Zwart, M. et al. Molecular screening of oral precancer. Oral Oncol 49, 1129–35 (2013).

Zhang, L., Poh, C. F., Williams, M., Laronde, D. M., Berean, K. & Gardner, P. J. et al. Loss of Heterozygosity (LOH) Profiles–Validated Risk Predictors for Progression to Oral Cancer. Cancer Prev Res 5, 1081–9 (2012).

Fonseca-Silva, T., Diniz, M. G., De Sousa, S. F., Gomez, R. S. & Gomes, C. C. Association between histopathological features of dysplasia in oral leukoplakia and loss of heterozygosity. Histopathology 68, 456–60 (2016).

Regezi, J. A., Zarbo, R. J., Regev, E., Pisanty, S., Silverman, S. & Gazit, D. p53 protein expression in sequential biopsies of oral dysplasias and in situ carcinomas. J Oral Pathol Med 24, 18–22 (1995).

Kushner, J., Bradley, G. & Jordan, R. C. Patterns of p53 and Ki-67 protein expression in epithelial dysplasia from the floor of the mouth. J Pathol 183, 418–23 (1997).

Rowley, H., Helliwell, T. R., Jones, A. S., Roland, N. J., Field, E. A. & Field, J. K. An immunohistochemical analysis of p53 protein expression in pre-malignant and malignant tissues of the oral cavity. Clin Otolaryngol Allied Sci 22, 23–29 (1997).

Kurokawa, H., Matsumoto, S., Murata, T., Yamashita, Y., Tomoyose, T. & Zhang, M. et al. Immunohistochemical study of syndecan-1 down-regulation and the expression of p53 protein or Ki-67 antigen in oral leukoplakia with or without epithelial dysplasia. J Oral Pathol Med 32, 513–21 (2003).

Kohda, M., Tokuzawa, Y., Kishita, Y., Nyuzuki, H., Moriyama, Y. & Mizuno, Y. et al. A comprehensive genomic analysis reveals the genetic landscape of mitochondrial respiratory chain complex deficiencies. PLoS Genet 12, e1005679 (2016).

Bolger, A. M., Lohse, M. & Usadel, B. Trimmomatic: a flexible trimmer for Illumina sequence data. Bioinformatics 30, 2114–20 (2014).

Li, H. & Durbin, R. Fast and accurate short read alignment with Burrows-Wheeler transform. Bioinformatics 25, 1754–60 (2009).

Li, H., Handsaker, B., Wysoker, A., Fennell, T., Ruan, J. & Homer, N. et al. The sequence alignment/map format and SAMtools. Bioinformatics 25, 2078–9 (2009).

McKenna, A., Hanna, M., Banks, E., Sivachenko, A., Cibulskis, K. & Kernytsky, A. et al. The Genome Analysis Toolkit: A MapReduce framework for analyzing next-generation DNA sequencing data. Genome Res 20, 1297–303 (2010).

Wilm, A., Aw, P. P. K., Bertrand, D., Yeo, G. H. T., Ong, S. H. & Wong, C. H. et al. LoFreq: a sequence-quality aware, ultra-sensitive variant caller for uncovering cell-population heterogeneity from high-throughput sequencing datasets. Nucleic Acids Res 40, 11189–201 (2012).

Gravitt, P. E., Peyton, C. L., Alessi, T. Q., Wheeler, C. M., Coutlee, F. & Hildesheim, A. et al. Improved amplification of genital human papillomaviruses. J Clin Microbiol 38, 357–61 (2000).

Fuessel Haws, A. L., He, Q., Rady, P. L., Zhang, L., Grady, J. & Hughes, T. K. et al. Nested PCR with the PGMY09/11 and GP5(+)/6(+) primer sets improves detection of HPV DNA in cervical samples. J Virol Methods 122, 87–93 (2004).

Erhart, S. M., Rivero, E. R., Bazzo, M. L. & Onofre, A. S. Comparative evaluation of the GP5+/6+, MY09/11 and PGMY09/11 primer sets for HPV detection by PCR in oral squamous cell carcinomas. Exp Mol Pathol 100, 13–16 (2016).

Xu-Monette, Z. Y., Wu, L., Visco, C., Tai, Y. C., Tzankov, A. & Liu, W.-M. et al. Mutational profile and prognostic significance of TP53 in diffuse large B-cell lymphoma patients treated with R-CHOP: report from an International DLBCL Rituximab-CHOP Consortium Program Study. Blood 120, 3986–96 (2012).

Soong, D., Stratford, J., Avet-Loiseau, H., Bahlis, N., Davies, F. & Dispenzieri, A. et al. CNV Radar: an improved method for somatic copy number alteration characterization in oncology. BMC Bioinform 21, 98 (2020).

Kanda, Y. Investigation of the freely available easy-to-use software 'EZR' for medical statistics. Bone Marrow Transpl 48, 452–8 (2013).

Kastenhuber, E. R. & Lowe, S. W. Putting p53 in Context. Cell 170, 1062–78 (2017).

Woo, S.-B., Grammer, R. L. & Lerman, M. A. Keratosis of unknown significance and leukoplakia: a preliminary study. Oral Surg Oral Med Oral Pathol Oral Radio 118, 713–24 (2014).

Holmstrup, P., Vedtofte, P., Reibel, J. & Stoltze, K. Long-term treatment outcome of oral premalignant lesions. Oral Oncol 42, 461–74 (2006).

Napier, S. S. & Speight, P. M. Natural history of potentially malignant oral lesions and conditions: an overview of the literature. J Oral Pathol Med 37, 1–10 (2008).

Cruz, I. B., Snijders, P. J., Meijer, C. J., Braakhuis, B. J., Snow, G. B. & Walboomers, J. M. et al. p53 expression above the basal cell layer in oral mucosa is an early event of malignant transformation and has predictive value for developing oral squamous cell carcinoma. J Pathol 184, 360–8 (1998).

Viveka, T. S., Shyamsundar, V., Krishnamurthy, A., Ramani, P. & Ramshankar, V. p53 expression helps identify high risk oral tongue pre- malignant lesions and correlates with patterns of invasive tumour front and tumour depth in oral tongue squamous cell carcinoma cases. Asian Pac J Cancer Prev 17, 189–95 (2016).

Horne, G. M., Anderson, J. J., Tiniakos, D. G., McIntosh, G. G., Thomas, M. D. & Angus, B. et al. p53 protein as a prognostic indicator in breast carcinoma: a comparison of four antibodies for immunohistochemistry. Br J Cancer 73, 29–35 (1996).

Lavieille, J. P., Righini, C., Reyt, E., Brambilla, C. & Riva, C. Implications of p53 alterations and anti-p53 antibody response in head and neck squamous cell carcinomas. Oral Oncol 34, 84–92 (1998).

Villa, A., Hanna, G. J., Kacew, A., Frustino, J., Hammerman, P. S. & Woo, S. B. Oral keratosis of unknown significance shares genomic overlap with oral dysplasia. Oral Dis 25, 1707–14 (2019).

Köbel, M., Piskorz, A. M., Lee, S., Lui, S., LePage, C. & Marass, F. et al. Optimized p53 immunohistochemistry is an accurate predictor of TP53 mutation in ovarian carcinoma. J Pathol Clin Res 2, 247–58 (2016).

Yemelyanova, A., Vang, R., Kshirsagar, M., Lu, D., Marks, M. A. & Shih, I. M. et al. Immunohistochemical staining patterns of p53 can serve as a surrogate marker for TP53 mutations in ovarian carcinoma: an immunohistochemical and nucleotide sequencing analysis. Mod Pathol 24, 1248–53 (2011).

Liu, Y., Chen, C., Xu, Z., Scuoppo, C., Rillahan, C. D. & Gao, J. et al. Deletions linked to TP53 loss drive cancer through p53-independent mechanisms. Nature 531, 471–5 (2016).
Acknowledgements
We thank Ms. Kazuko Matsuno, Kyoko Kiuchi, Yuko Ohno, Tomohiro Aoki, and Kumiko Osawa for their technical assistance. The authors received no specific funding for this work.
Ethics declarations
Competing interests
The authors declare no competing interests.
Ethics approval
The present study was approved by the Institutional Review Board of Saitama Medical Center (No 1967) and conducted in accordance with the Declaration of Helsinki.
Additional information
Publisher's note Springer Nature remains neutral with regard to jurisdictional claims in published maps and institutional affiliations.
Supplementary information
About this article
Cite this article
Sawada, K., Momose, S., Kawano, R. et al. Immunohistochemical staining patterns of p53 predict the mutational status of TP53 in oral epithelial dysplasia. Mod Pathol 35, 177–185 (2022). https://doi.org/10.1038/s41379-021-00893-9
Received:

Revised:

Accepted:

Published:

Issue Date:

DOI: https://doi.org/10.1038/s41379-021-00893-9
Further reading
Weilian Liang
Yang Chen
Zhengjun Shang

International Journal of Oral Science (2022)