Abstract
High-grade serous carcinoma of uterine adnexa (HGSC) is the most frequent histotype of epithelial ovarian cancer and has a poor 5-year survival rate due to late-stage diagnosis and the poor efficacy of standard treatments. Novel biomarkers of cancer outcome are needed to identify new targetable pathways and improve personalized treatments. Cell-surface screening of 26 HGSC cell lines by high-throughput flow cytometry identified junctional adhesion molecule 1 (JAM-A, also known as F11R) as a potential biomarker. Using a multi-labeled immunofluorescent staining coupled with digital image analysis, protein levels of JAM-A were quantified in tissue microarrays from three HGSC patient cohorts: a discovery cohort (n = 101), the Canadian Ovarian Experimental Unified Resource cohort (COEUR, n = 1158), and the Canadian Cancer Trials Group OV16 cohort (n = 267). Low JAM-A level was associated with poorer outcome in the three cohorts by Kaplan–Meier (p = 0.023, p < 0.001, and p = 0.036, respectively) and was an independent marker of shorter survival in the COEUR cohort (HR = 0.517 (0.381–703), p < 0.001). When analyses were restricted to patients treated by taxane–platinum-based chemotherapy, low JAM-A protein expression was associated with poorer responses in the COEUR (p < 0.001) and OV16 cohorts (p = 0.006) by Kaplan–Meier. Decreased JAM-A gene expression was an indicator of poor outcome in gene expression datasets including The Cancer Genome Atlas (n = 606, p = 0.002) and Kaplan–Meier plotter (n = 1816, p = 0.024). Finally, we observed that tumors with decreased JAM-A expression exhibited an enhanced epithelial to mesenchymal transition (EMT) signature. Our results demonstrate that JAM-A expression is a robust prognostic biomarker of HGSC and may be used to discriminate tumors responsive to therapies targeting EMT.
Access options
Subscribe to Journal
Get full journal access for 1 year
$119.00
only $9.92 per issue
All prices are NET prices.
VAT will be added later in the checkout.
Tax calculation will be finalised during checkout.
Rent or Buy article
Get time limited or full article access on ReadCube.
from$8.99
All prices are NET prices.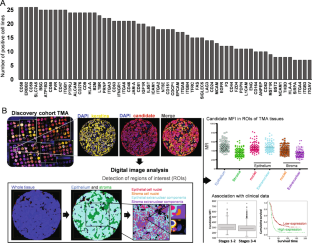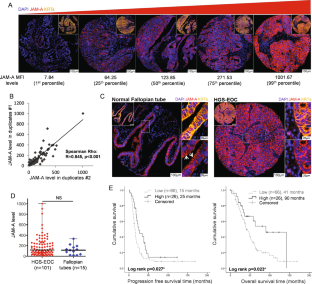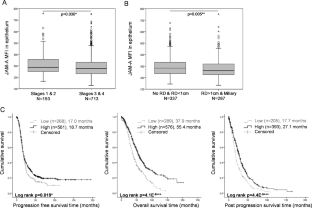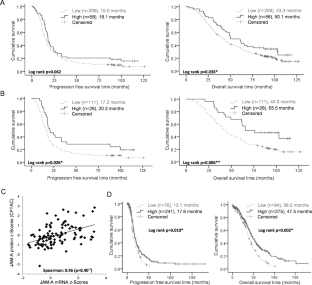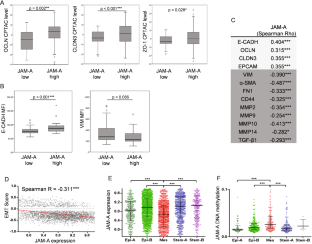 References
1.

Siegel RL, Miller KD, Jemal A. Cancer statistics, 2015. CA Cancer J Clin. 2015;65:5–29.

2.

Committee CCSA. Canadian Cancer Statistics 2018. Toronto, ON: Canadian Cancer Society; 2018.

3.

Lheureux S, Gourley C, Vergote I, Oza AM. Epithelial ovarian cancer. Lancet. 2019;393:1240–53.

4.

Prat J. Ovarian carcinomas: five distinct diseases with different origins, genetic alterations, and clinicopathological features. Virchows Arch. 2012;460:237–49.

5.

Tothill RW, Tinker AV, George J, Brown R, Fox SB, Lade S, et al. Novel molecular subtypes of serous and endometrioid ovarian cancer linked to clinical outcome. Clin Cancer Res. 2008;14:5198–208.

6.

Cancer Genome Atlas Research Network. Integrated genomic analyses of ovarian carcinoma. Nature. 2011;474:609–15.

7.

Tan TZ, Miow QH, Huang RY, Wong MK, Ye J, Lau JA, et al. Functional genomics identifies five distinct molecular subtypes with clinical relevance and pathways for growth control in epithelial ovarian cancer. EMBO Mol Med. 2013;5:1051–66.

8.

Konecny GE, Wang C, Hamidi H, Winterhoff B, Kalli KR, Dering J, et al. Prognostic and therapeutic relevance of molecular subtypes in high-grade serous ovarian cancer. J Natl Cancer Inst. 2014;106.

9.

Lheureux S, Braunstein M, Oza AM. Epithelial ovarian cancer: evolution of management in the era of precision medicine. CA Cancer J Clin. 2019.

10.

Medrano M, Communal L, Brown KR, Iwanicki M, Normand J, Paterson J, et al. Interrogation of functional cell-surface markers identifies CD151 dependency in high-grade serous ovarian cancer. Cell Rep. 2017;18:2343–58.

11.

Paterson J, Ailles LE. High throughput flow cytometry for cell surface profiling. Methods Mol Biol. 2018;1678:111–38.

12.

Martin-Padura I, Lostaglio S, Schneemann M, Williams L, Romano M, Fruscella P, et al. Junctional adhesion molecule, a novel member of the immunoglobulin superfamily that distributes at intercellular junctions and modulates monocyte transmigration. J Cell Biol. 1998;142:117–27.

13.

Zhao C, Lu F, Chen H, Zhao X, Sun J, Chen H. Dysregulation of JAM-A plays an important role in human tumor progression. Int J Clin Exp Pathol. 2014;7:7242–8.

14.

Mandell KJ, Babbin BA, Nusrat A, Parkos CA. Junctional adhesion molecule 1 regulates epithelial cell morphology through effects on beta1 integrins and Rap1 activity. J Biol Chem. 2005;280:11665–74.

15.

Martin TA. The role of tight junctions in cancer metastasis. Semin Cell Dev Biol. 2014;36:224–31.

16.

Ghislin S, Obino D, Middendorp S, Boggetto N, Alcaide-Loridan C, Deshayes F. Junctional adhesion molecules are required for melanoma cell lines transendothelial migration in vitro. Pigment Cell Melanoma Res. 2011;24:504–11.

17.

Gutwein P, Schramme A, Voss B, Abdel-Bakky MS, Doberstein K, Ludwig A, et al. Downregulation of junctional adhesion molecule-A is involved in the progression of clear cell renal cell carcinoma. Biochem Biophys Res Commun. 2009;380:387–91.

18.

Koshiba H, Hosokawa K, Kubo A, Tokumitsu N, Watanabe A, Honjo H. Junctional adhesion molecule A [corrected] expression in human endometrial carcinoma. Int J Gynecol Cancer. 2009;19:208–13.

19.

Fong D, Spizzo G, Mitterer M, Seeber A, Steurer M, Gastl G, et al. Low expression of junctional adhesion molecule A is associated with metastasis and poor survival in pancreatic cancer. Ann Surg Oncol. 2012;19:4330–6.

20.

Zhang M, Luo W, Huang B, Liu Z, Sun L, Zhang Q, et al. Overexpression of JAM-A in non-small cell lung cancer correlates with tumor progression. PLoS One. 2013;8:e79173.

21.

Tian Y, Tian Y, Zhang W, Wei F, Yang J, Luo X, et al. Junctional adhesion molecule-A, an epithelial-mesenchymal transition inducer, correlates with metastasis and poor prognosis in human nasopharyngeal cancer. Carcinogenesis. 2015;36:41–48.

22.

Lathia JD, Li M, Sinyuk M, Alvarado AG, Flavahan WA, Stoltz K, et al. High-throughput flow cytometry screening reveals a role for junctional adhesion molecule a as a cancer stem cell maintenance factor. Cell Rep. 2014;6:117–29.

23.

Solimando AG, Brandl A, Mattenheimer K, Graf C, Ritz M, Ruckdeschel A, et al. JAM-A as a prognostic factor and new therapeutic target in multiple myeloma. Leukemia. 2018;32:736–43.

24.

Ikeo K, Oshima T, Shan J, Matsui H, Tomita T, Fukui H, et al. Junctional adhesion molecule-A promotes proliferation and inhibits apoptosis of gastric cancer. Hepatogastroenterology. 2015;62:540–5.

25.

Huang JY, Xu YY, Sun Z, Wang ZN, Zhu Z, Song YX, et al. Low junctional adhesion molecule A expression correlates with poor prognosis in gastric cancer. J Surg Res. 2014;192:494–502.

26.

Naik MU, Naik TU, Suckow AT, Duncan MK, Naik UP. Attenuation of junctional adhesion molecule-A is a contributing factor for breast cancer cell invasion. Cancer Res. 2008;68:2194–203.

27.

McSherry EA, McGee SF, Jirstrom K, Doyle EM, Brennan DJ, Landberg G, et al. JAM-A expression positively correlates with poor prognosis in breast cancer patients. Int J Cancer. 2009;125:1343–51.

28.

Murakami M, Giampietro C, Giannotta M, Corada M, Torselli I, Orsenigo F, et al. Abrogation of junctional adhesion molecule-A expression induces cell apoptosis and reduces breast cancer progression. PLoS One. 2011;6:e21242.

29.

Ivana B, Emina M, Marijana MK, Irena J, Zoran B, Radmila J. High expression of junctional adhesion molecule-A is associated with poor survival in patients with epithelial ovarian cancer. Int J Biol Markers. 2019. https://doi.org/10.1177/1724600819850178.

30.

Le Page C, Rahimi K, Kobel M, Tonin PN, Meunier L, Portelance L, et al. Characteristics and outcome of the COEUR Canadian validation cohort for ovarian cancer biomarkers. BMC Cancer. 2018;18:347.

31.

Hoskins P, Vergote I, Cervantes A, Tu D, Stuart G, Zola P, et al. Advanced ovarian cancer: phase III randomized study of sequential cisplatin-topotecan and carboplatin-paclitaxel vs carboplatin-paclitaxel. J Natl Cancer Inst. 2010;102:1547–56.

32.

Gao J, Aksoy BA, Dogrusoz U, Dresdner G, Gross B, Sumer SO, et al. Integrative analysis of complex cancer genomics and clinical profiles using the cBioPortal. Sci Signal. 2013;6:pl1.

33.

Cerami E, Gao J, Dogrusoz U, Gross BE, Sumer SO, Aksoy BA, et al. The cBio cancer genomics portal: an open platform for exploring multidimensional cancer genomics data. Cancer Disco. 2012;2:401–4.

34.

Gyorffy B, Lanczky A, Szallasi Z. Implementing an online tool for genome-wide validation of survival-associated biomarkers in ovarian-cancer using microarray data from 1287 patients. Endocr Relat Cancer. 2012;19:197–208.

35.

Tan TZ, Yang H, Ye J, Low J, Choolani M, Tan DS, et al. CSIOVDB: a microarray gene expression database of epithelial ovarian cancer subtype. Oncotarget. 2015;6:43843–52.

36.

Tan TZ, Miow QH, Miki Y, Noda T, Mori S, Huang RY, et al. Epithelial-mesenchymal transition spectrum quantification and its efficacy in deciphering survival and drug responses of cancer patients. EMBO Mol Med. 2014;6:1279–93.

37.

Gedye CA, Hussain A, Paterson J, Smrke A, Saini H, Sirskyj D, et al. Cell surface profiling using high-throughput flow cytometry: a platform for biomarker discovery and analysis of cellular heterogeneity. PLoS One. 2014;9:e105602.

38.

Liu Y, Nusrat A, Schnell FJ, Reaves TA, Walsh S, Pochet M, et al. Human junction adhesion molecule regulates tight junction resealing in epithelia. J Cell Sci. 2000;113:2363–74.

39.

Bazzoni G. The JAM family of junctional adhesion molecules. Curr Opin Cell Biol. 2003;15:525–30.

40.

Mandell KJ, Parkos CA. The JAM family of proteins. Adv Drug Deliv Rev. 2005;57:857–67.

41.

Xu Z, Jin B. A novel interface consisting of homologous immunoglobulin superfamily members with multiple functions. Cell Mol Immunol. 2010;7:11–19.

42.

Cera MR, Fabbri M, Molendini C, Corada M, Orsenigo F, Rehberg M, et al. JAM-A promotes neutrophil chemotaxis by controlling integrin internalization and recycling. J Cell Sci. 2009;122:268–77.

43.

Iden S, Misselwitz S, Peddibhotla SS, Tuncay H, Rehder D, Gerke V, et al. aPKC phosphorylates JAM-A at Ser285 to promote cell contact maturation and tight junction formation. J Cell Biol. 2012;196:623–39.

44.

Severson EA, Parkos CA. Structural determinants of junctional adhesion molecule A (JAM-A) function and mechanisms of intracellular signaling. Curr Opin Cell Biol. 2009;21:701–7.

45.

Marchini S, Fruscio R, Clivio L, Beltrame L, Porcu L, Fuso Nerini I, et al. Resistance to platinum-based chemotherapy is associated with epithelial to mesenchymal transition in epithelial ovarian cancer. Eur J Cancer. 2013;49:520–30.

46.

Deng J, Wang L, Chen H, Hao J, Ni J, Chang L, et al. Targeting epithelial-mesenchymal transition and cancer stem cells for chemoresistant ovarian cancer. Oncotarget. 2016;7:55771–88.

47.

Mitra T, Prasad P, Mukherjee P, Chaudhuri SR, Chatterji U, Roy SS. Stemness and chemoresistance are imparted to the OC cells through TGFbeta1 driven EMT. J Cell Biochem. 2018;119:5775–87.

48.

Klymenko Y, Kim O, Stack MS. Complex determinants of epithelial: mesenchymal phenotypic plasticity in ovarian cancer. Cancers. 2017;9.

49.

Antony J, Thiery JP, Huang RY. Epithelial-to-mesenchymal transition: lessons from development, insights into cancer and the potential of EMT-subtype based therapeutic intervention. Phys Biol. 2019.

50.

Moffitt L, Karimnia N, Stephens A, Bilandzic M. Therapeutic targeting of collective invasion in ovarian cancer. Int J Mol Sci. 2019;20.

51.

Bilyk O, Coatham M, Jewer M, Postovit LM. Epithelial-to-mesenchymal transition in the female reproductive tract: from normal functioning to disease pathology. Front Oncol. 2017;7:145.

52.

Zhou J, Du Y, Lu Y, Luan B, Xu C, Yu Y, et al. CD44 expression predicts prognosis of ovarian cancer patients through promoting epithelial-mesenchymal transition (EMT) by regulating snail, ZEB1, and caveolin-1. Front Oncol. 2019;9:802.

53.

Bonome T, Levine DA, Shih J, Randonovich M, Pise-Masison CA, Bogomolniy F, et al. A gene signature predicting for survival in suboptimally debulked patients with ovarian cancer. Cancer Res. 2008;68:5478–86.

54.

Verhaak RG, Tamayo P, Yang JY, Hubbard D, Zhang H, Creighton CJ, et al. Prognostically relevant gene signatures of high-grade serous ovarian carcinoma. J Clin Invest. 2013;123:517–25.

55.

Newsted D, Banerjee S, Watt K, Nersesian S, Truesdell P, Blazer LL, et al. Blockade of TGF-beta signaling with novel synthetic antibodies limits immune exclusion and improves chemotherapy response in metastatic ovarian cancer models. Oncoimmunology 2019;8:e1539613.

56.

Komiyama S, Kurahashi T, Ishikawa M, Tanaka K, Komiyama M, Mikami M, et al. Expression of TGFss1 and its receptors is associated with biological features of ovarian cancer and sensitivity to paclitaxel/carboplatin. Oncol Rep. 2011;25:1131–8.

57.

Cao L, Shao M, Schilder J, Guise T, Mohammad KS, Matei D. Tissue transglutaminase links TGF-beta, epithelial to mesenchymal transition and a stem cell phenotype in ovarian cancer. Oncogene. 2012;31:2521–34.

58.

Wang Y, Lui WY. Transforming growth factor-beta1 attenuates junctional adhesion molecule-A and contributes to breast cancer cell invasion. Eur J Cancer. 2012;48:3475–87.

59.

Alsina-Sanchis E, Figueras A, Lahiguera A, Gil-Martin M, Pardo B, Piulats JM, et al. TGFbeta controls ovarian cancer cell proliferation. Int J Mol Sci. 2017;18.

60.

Szender JB, Emmons T, Belliotti S, Dickson D, Khan A, Morrell K, et al. Impact of ascites volume on clinical outcomes in ovarian cancer: a cohort study. Gynecol Oncol. 2017;146:491–7.
Acknowledgements
LC, MM, and FS were supported by the Selective Therapy Program from the TFRI and the Ontario Institute for Cancer Research. LC was supported by a post-doctoral fellowship from the Fond de recherche Québec—Santé (FRQS). MM was supported by Ovarian Cancer Canada's Teal Heart Scholarship. A-MMM and DP are researchers of CRCHUM/ICM, which receive support from the FRQS and the Réseau de Recherche sur le cancer (RR cancer). We thank Jacqueline Chung for English editing. We thank Anne-Marie Fortier, Senthil Muthuswamy, and Shakeel Virk for helpful discussions and information. We thank the molecular pathology core facility of the CRCHUM for performing the discovery and COEUR TMA construction and tissue scanning. We thank the Department of Pathology and Molecular Biology at the Queen's University for performing the OV16 TMA construction. Tumor banking for the discovery cohort was supported by the Banque de tissus et de données of the RR cancer of the FRQS affiliated with the Canadian Tumor Repository Network. Tumor banking for the OV16 cohort was performed by the CCTG Tumor Tissue Data Repository. This study uses resources provided by the COEUR biobank funded by the TFRI and managed and supervised by the CHUM. The Consortium acknowledges contributions to its COEUR biobank from Institutions across Canada (for a full list see www.tfri.ca/COEUR/members). We thank the generosity of patients included in this study.
Ethics declarations
Conflict of interest
AO is a consultant/advisory board member for Immunogen, AstraZeneca, Tesaro, and Clovis. The other authors declare that they have no conflict of interest.
Ethics approval
Ethical approval for the study was obtained from the Centre hospitalier de l'Université de Montreal (CHUM) institutional ethics committee (Comité d'éthique de la Recherche du CHUM).
Additional information
Publisher's note Springer Nature remains neutral with regard to jurisdictional claims in published maps and institutional affiliations.
Supplementary information
About this article
Cite this article
Communal, L., Medrano, M., Sircoulomb, F. et al. Low junctional adhesion molecule-A expression is associated with an epithelial to mesenchymal transition and poorer outcomes in high-grade serous carcinoma of uterine adnexa. Mod Pathol 33, 2361–2377 (2020). https://doi.org/10.1038/s41379-020-0586-0
Received:

Revised:

Accepted:

Published:

Issue Date: