Abstract
Although a certain proportion of intramucosal carcinomas (IMCs) of the stomach does metastasize, the majority of patients are currently treated with endoscopic resection without lymph node dissection, and this potentially veils any existing metastasis and may put some patients in danger. In this regard, biological markers from the resected IMC that can predict metastasis are warranted. Here, we discovered unique miRNA expression profiles that consist of 21 distinct miRNAs that are specifically upregulated (miR-628-5p, miR-1587, miR-3175, miR-3620-5p, miR-4459, miR-4505, miR-4507, miR-4720-5p, miR-4742-5p, and miR-6779-5p) or downregulated (miR-106b-3p, miR-125a-5p, miR-151b, miR-181d-5p, miR-486-5p, miR-500a-3p, miR-502-3p, miR-1231, miR-3609, and miR-6831-5p) in metastatic (M)-IMC compared to nonmetastatic (N)-IMC, or nonneoplastic gastric mucosa. Intriguingly, most of these selected miRNAs showed stepwise increased or decreased expression from nonneoplastic tissue to N-IMC to M-IMC. This suggests that common oncogenic mechanisms are gradually intensified during the metastatic process. Using a machine-learning algorithm, we demonstrated that such miRNA signatures could distinguish M-IMC from N-IMC. Gene ontology and pathway analysis revealed that TGF-β signaling was enriched from upregulated miRNAs, whereas E2F targets, apoptosis-related, hypoxia-related, and PI3K/AKT/mTOR signaling pathways, were enriched from downregulated miRNAs. Immunohistochemical staining of samples from multiple institutions indicated that PI3K/AKT/mTOR pathway components, MAPK1, phospho-p44/42 MAPK, and pS6 were highly expressed and the expression of SMAD7, a TGF-β pathway component, was decreased in M-IMC, which could aid in distinguishing M-IMC from N-IMC. The miRNA signature discovered in this study is a valuable biological marker for identifying metastatic potential of IMCs, and provides novel insights regarding the metastatic progression of IMC.
Access options
Subscribe to Journal
Get full journal access for 1 year
$499.00
only $41.58 per issue
All prices are NET prices.
VAT will be added later in the checkout.
Rent or Buy article
Get time limited or full article access on ReadCube.
from$8.99
All prices are NET prices.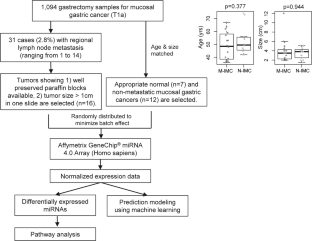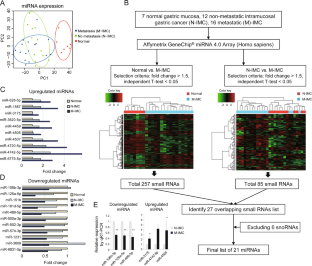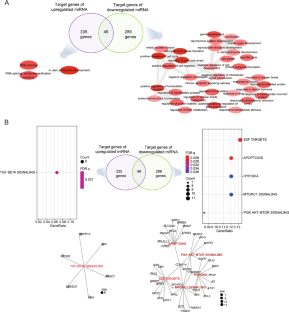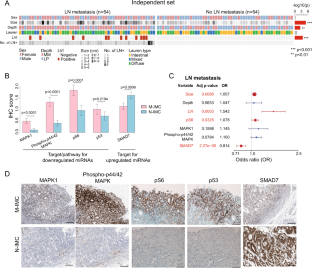 References
1.

Angeles-Angeles A, Candanedo-Gonzalez F, Gamboa-Dominguez A, Larriva-Sahd J. A clinicopathologic variant of intramucosal early gastric cancer with widespread dissemination: report of three cases. J Clin Gastroenterol. 1998;27:173–7.

2.

Hanaoka N, Tanabe S, Higuchi K, Sasaki T, Nakatani K, Ishido K, et al. A rare case of histologically mixed-type intramucosal gastric cancer accompanied by nodal recurrence and liver metastasis after endoscopic submucosal dissection. Gastrointest Endosc. 2009;69:588–90.

3.

Song SY, Park S, Kim S, Son HJ, Rhee JC. Characteristics of intramucosal gastric carcinoma with lymph node metastatic disease. Histopathology. 2004;44:437–44.

4.

Lee D, Kim YC, Lee KM, Yoon JK, Kim YB. MET-amplified intramucosal gastric cancer widely metastatic after complete endoscopic submucosal dissection. Cancer Res Treat. 2015;47:120–5.

5.

Korenaga D, Haraguchi M, Tsujitani S, Okamura T, Tamada R, Sugimachi K. Clinicopathological features of mucosal carcinoma of the stomach with lymph node metastasis in eleven patients. Br J Surg. 1986;73:431–3.

6.

Yamao T, Shirao K, Ono H, Kondo H, Saito D, Yamaguchi H, et al. Risk factors for lymph node metastasis from intramucosal gastric carcinoma. Cancer. 1996;77:602–6.

7.

Lee SH, Choi CW, Kim SJ, Choi CI, Kim DH, Jeon TY, et al. Risk factors for lymph node metastasis in mucosal gastric cancer and re-evaluation of endoscopic submucosal dissection. Ann Surg Treat Res. 2016;91:118–26.

8.

Wang H, Wei XZ, Fu CG, Zhao RH, Cao FA. Patterns of lymph node metastasis are different in colon and rectal carcinomas. World J Gastroenterol. 2010;16:5375–9.

9.

Zhao YX, Liu YR, Xie S, Jiang YZ, Shao ZM. A nomogram predicting lymph node metastasis in T1 breast cancer based on the surveillance, epidemiology, and end results program. J Cancer. 2019;10:2443–9.

10.

Cancer Genome Atlas Research N. Comprehensive molecular characterization of gastric adenocarcinoma. Nature. 2014;513:202–9.

11.

Choi JH, Kim YB, Ahn JM, Kim MJ, Bae WJ, Han SU, et al. Identification of genomic aberrations associated with lymph node metastasis in diffuse-type gastric cancer. Exp Mol Med. 2018;50:6.

12.

Calin GA, Ferracin M, Cimmino A, Di Leva G, Shimizu M, Wojcik SE, et al. A MicroRNA signature associated with prognosis and progression in chronic lymphocytic leukemia. N Engl J Med. 2005;353:1793–801.

13.

Yanaihara N, Caplen N, Bowman E, Seike M, Kumamoto K, Yi M, et al. Unique microRNA molecular profiles in lung cancer diagnosis and prognosis. Cancer Cell. 2006;9:189–98.

14.

Bloomston M, Frankel WL, Petrocca F, Volinia S, Alder H, Hagan JP, et al. MicroRNA expression patterns to differentiate pancreatic adenocarcinoma from normal pancreas and chronic pancreatitis. JAMA. 2007;297:1901–8.

15.

Garzon R, Volinia S, Liu CG, Fernandez-Cymering C, Palumbo T, Pichiorri F, et al. MicroRNA signatures associated with cytogenetics and prognosis in acute myeloid leukemia. Blood. 2008;111:3183–9.

16.

Hao NB, He YF, Li XQ, Wang K, Wang RL. The role of miRNA and lncRNA in gastric cancer. Oncotarget. 2017;8:81572–82.

17.

Li X, Zhang Y, Zhang Y, Ding J, Wu K, Fan D. Survival prediction of gastric cancer by a seven-microRNA signature. Gut. 2010;59:579–85.

18.

Hwang J, Min BH, Jang J, Kang SY, Bae H, Jang SS, et al. MicroRNA expression profiles in gastric carcinogenesis. Sci Rep. 2018;8:14393.

19.

Dweep H, Gretz N. miRWalk2.0: a comprehensive atlas of microRNA-target interactions. Nat Methods. 2015;12:697.

20.

Dweep H, Sticht C, Pandey P, Gretz N. miRWalk-database: prediction of possible miRNA binding sites by "walking" the genes of three genomes. J Biomed Inform. 2011;44:839–47.

21.

Yu G, Wang LG, Han Y, He QY. clusterProfiler: an R package for comparing biological themes among gene clusters. OMICS. 2012;16:284–7.

22.

Fresno C, Fernandez EA. RDAVIDWebService: a versatile R interface to DAVID. Bioinformatics. 2013;29:2810–1.

23.

Simon R, Lam A, Li MC, Ngan M, Menenzes S, Zhao Y. Analysis of gene expression data using BRB-ArrayTools. Cancer Informat. 2007;3:11–7.

24.

Simon RM, Subramanian J, Li MC, Menezes S. Using cross-validation to evaluate predictive accuracy of survival risk classifiers based on high-dimensional data. Brief Bioinformat. 2011;12:203–14.

25.

Colak S, Ten Dijke P. Targeting TGF-beta Signaling in. Cancer Trends Cancer. 2017;3:56–71.

26.

Tauriello DVF, Palomo-Ponce S, Stork D, Berenguer-Llergo A, Badia-Ramentol J, Iglesias M, et al. TGFbeta drives immune evasion in genetically reconstituted colon cancer metastasis. Nature. 2018;554:538–43.

27.

Kim YB, Ham IH, Hur H, Lee D. Various ARID1A expression patterns and their clinical significance in gastric cancers. Hum Pathol. 2016;49:61–70.

28.

Nishida N, Mimori K, Fabbri M, Yokobori T, Sudo T, Tanaka F, et al. MicroRNA-125a-5p is an independent prognostic factor in gastric cancer and inhibits the proliferation of human gastric cancer cells in combination with trastuzumab. Clin Cancer Res. 2011;17:2725–33.

29.

Lujambio A, Calin GA, Villanueva A, Ropero S, Sanchez-Cespedes M, Blanco D, et al. A microRNA DNA methylation signature for human cancer metastasis. Proc Natl Acad Sci USA. 2008;105:13556–61.

30.

Nicoloso MS, Spizzo R, Shimizu M, Rossi S, Calin GA. MicroRNAs-the micro steering wheel of tumour metastases. Nat Rev Cancer. 2009;9:293–302.

31.

Dong L, Li Y, Han C, Wang X, She L, Zhang H. miRNA microarray reveals specific expression in the peripheral blood of glioblastoma patients. Int J Oncol. 2014;45:746–56.

32.

Figueroa J, Phillips LM, Shahar T, Hossain A, Gumin J, Kim H. Exosomes from glioma-associated mesenchymal stem cells increase the tumorigenicity of glioma stem-like cells via transfer of miR-1587. Cancer Res. 2017;77:5808–19.

33.

Han L, Liu D, Li Z, Tian N, Han Z, Wang G, et al. HOXB1 is a tumor suppressor gene regulated by miR-3175 in glioma. PLoS ONE. 2015;10:e0142387.

34.

Martinez-Gutierrez AD, Catalan OM, Vazquez-Romo R, Porras Reyes FI, Alvarado-Miranda A, Lara Medina F, et al. miRNA profile obtained by nextgeneration sequencing in metastatic breast cancer patients is able to predict the response to systemic treatments. Int J Mol Med. 2019;44:1267–80.

35.

Wang YN, Chen ZH, Chen WC. Novel circulating microRNAs expression profile in colon cancer: a pilot study. Eur J Med Res. 2017;22:51.

36.

Li S, Hang L, Ma Y, Wu C. Distinctive microRNA expression in early stage nasopharyngeal carcinoma patients. J Cell Mol Med. 2016;20:2259–68.

37.

Ni S, Weng W, Xu M, Wang Q, Tan C, Sun H, et al. miR-106b-5p inhibits the invasion and metastasis of colorectal cancer by targeting CTSA. Onco Targets Ther. 2018;11:3835–45.

38.

Cao Y, Tan S, Tu Y, Zhang G, Liu Y, Li D, et al. MicroRNA-125a-5p inhibits invasion and metastasis of gastric cancer cells by targeting BRMS1 expression. Oncol Lett. 2018;15:5119–30.

39.

Yan L, Yu MC, Gao GL, Liang HW, Zhou XY, Zhu ZT, et al. MiR-125a-5p functions as a tumour suppressor in breast cancer by downregulating BAP1. J Cell Biochem. 2018;119:8773–83.

40.

Hu Y, Wang H, Chen E, Xu Z, Chen B, Lu G. Candidate microRNAs as biomarkers of thyroid carcinoma: a systematic review, meta-analysis, and experimental validation. Cancer Med. 2016;5:2602–14.

41.

Li Y, Kuscu C, Banach A, Zhang Q, Pulkoski-Gross A, Kim D, et al. miR-181a-5p inhibits cancer cell migration and angiogenesis via downregulation of matrix metalloproteinase-14. Cancer Res. 2015;75:2674–85.

42.

Gao LM, Zheng Y, Wang P, Zheng L, Zhang WL, Di Y, et al. Tumor-suppressive effects of microRNA-181d-5p on non-small-cell lung cancer through the CDKN3-mediated Akt signaling pathway in vivo and in vitro. Am J Physiol Lung Cell Mol Physiol. 2019;316:L918–L33.

43.

Tian F, Wang J, Ouyang T, Lu N, Lu J, Shen Y, et al. MiR-486-5p serves as a good biomarker in nonsmall cell lung cancer and suppresses cell growth with the involvement of a target PIK3R1. Front Genet. 2019;10:688.

44.

Yu S, Geng S, Hu Y. miR-486-5p inhibits cell proliferation and invasion through repressing GAB2 in non-small cell lung cancer. Oncol Lett. 2018;16:3525–30.

45.

Liao XH, Xie Z, Guan CN. MiRNA-500a-3p inhibits cell proliferation and invasion by targeting lymphocyte antigen 6 complex locus K (LY6K) in human non-small cell lung cancer. Neoplasma. 2018;65:673–82.

46.

Jiang C, Long J, Liu B, Xu M, Wang W, Xie X, et al. miR-500a-3p promotes cancer stem cells properties via STAT3 pathway in human hepatocellular carcinoma. J Exp Clin Cancer Res. 2017;36:99.

47.

Jin H, Yu M, Lin Y, Hou B, Wu Z, Li Z, et al. MiR-502-3P suppresses cell proliferation, migration, and invasion in hepatocellular carcinoma by targeting SET. Onco Targets Ther. 2016;9:3281–9.

48.

Ujihira T, Ikeda K, Suzuki T, Yamaga R, Sato W, Horie-Inoue K, et al. MicroRNA-574-3p, identified by microRNA library-based functional screening, modulates tamoxifen response in breast cancer. Sci Rep. 2015;5:7641.

49.

Okumura T, Kojima H, Miwa T, Sekine S, Hashimoto I, Hojo S, et al. The expression of microRNA 574-3p as a predictor of postoperative outcome in patients with esophageal squamous cell carcinoma. World J Surg Oncol. 2016;14:228.

50.

Shang S, Wang J, Chen S, Tian R, Zeng H, Wang L, et al. Exosomal miRNA-1231 derived from bone marrow mesenchymal stem cells inhibits the activity of pancreatic cancer. Cancer Med. 2019;8:7728–40.

51.

Zhang J, Zhang J, Qiu W, Zhang J, Li Y, Kong E, et al. MicroRNA-1231 exerts a tumor suppressor role through regulating the EGFR/PI3K/AKT axis in glioma. J Neurooncol. 2018;139:547–62.

52.

Li D, Wang X, Yang M, Kan Q, Duan Z. miR3609 sensitizes breast cancer cells to adriamycin by blocking the programmed death-ligand 1 immune checkpoint. Exp Cell Res. 2019;380:20–8.

53.

Usuba W, Urabe F, Yamamoto Y, Matsuzaki J, Sasaki H, Ichikawa M, et al. Circulating miRNA panels for specific and early detection in bladder cancer. Cancer Sci. 2019;110:408–19.
Acknowledgements
This research was supported by the Basic Science Research Program through the National Research Foundation (NRF), funded by the Ministry of Science and ICT (2017R1C1B2003970), Republic of Korea.
Ethics declarations
Conflict of interest
The authors declare that there are no conflicts of interest.
Additional information
Publisher's note Springer Nature remains neutral with regard to jurisdictional claims in published maps and institutional affiliations.
Supplementary information
About this article
Cite this article
Kim, S., Bae, W.J., Ahn, J.M. et al. MicroRNA signatures associated with lymph node metastasis in intramucosal gastric cancer. Mod Pathol (2020). https://doi.org/10.1038/s41379-020-00681-x
Received:

Revised:

Accepted:

Published: