Abstract
Microelectromechanical system (MEMS) devices, such as accelerometers, are widely used across industries, including the automotive, consumer electronics, and medical industries. MEMS are efficiently produced at very high volumes using large-scale semiconductor manufacturing techniques. However, these techniques are not viable for the cost-efficient manufacturing of specialized MEMS devices at low- and medium-scale volumes. Thus, applications that require custom-designed MEMS devices for markets with low- and medium-scale volumes of below 5000–10,000 components per year are extremely difficult to address efficiently. The 3D printing of MEMS devices could enable the efficient realization and production of MEMS devices at these low- and medium-scale volumes. However, current micro-3D printing technologies have limited capabilities for printing functional MEMS. Herein, we demonstrate a functional 3D-printed MEMS accelerometer using 3D printing by two-photon polymerization in combination with the deposition of a strain gauge transducer by metal evaporation. We characterized the responsivity, resonance frequency, and stability over time of the MEMS accelerometer. Our results demonstrate that the 3D printing of functional MEMS is a viable approach that could enable the efficient realization of a variety of custom-designed MEMS devices, addressing new application areas that are difficult or impossible to address using conventional MEMS manufacturing.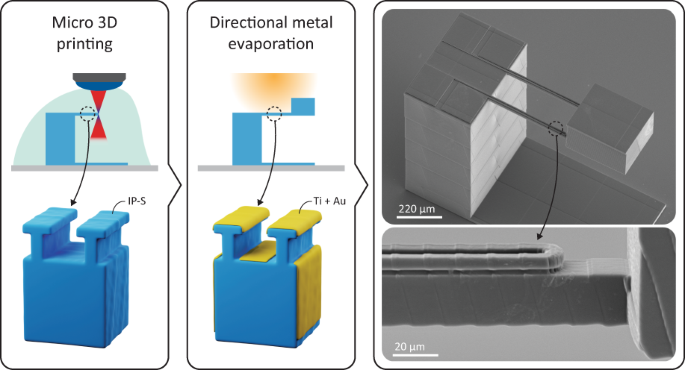 References
Lawes, R. A. Manufacturing costs for microsystems/MEMS using high aspect ratio microfabrication techniques. Microsyst. Technol. 13, 85–95 (2007).

Rayna, T. & Striukova, L. From rapid prototyping to home fabrication: How 3D printing is changing business model innovation. Technol. Forecast. Soc. Change 102, 214–224 (2016).

Shahrubudin, N., Lee, T. C. & Ramlan, R. An overview on 3D printing technology: technological, materials, and applications. Procedia Manuf. 35, 1286–1296 (2019).

Yusuf, S. M., Cutler, S. & Gao, N. Review: The impact of metal additive manufacturing on the aerospace industry. Metals 9, 1286 (2019).

Blachowicz, T. & Ehrmann, A. 3D printed MEMS technology-recent developments and applications. Micromachines 11, 434 (2020).

Hassanin, H., Sheikholeslami, G., Sareh, P. & Ishaq, R. B. Microadditive manufacturing technologies of 3D microelectromechanical systems. Adv. Eng. Mater. 23, 1–22 (2021).

Arh, M., Slavič, J. & Boltežar, M. Design principles for a single-process 3d-printed accelerometer—theory and experiment. Mech. Syst. Signal Process. 152, (2021).

Liu, G. et al. A rapid design and fabrication method for a capacitive accelerometer based on machine learning and 3D printing techniques. IEEE Sens. J. 21, 17695–17702 (2021).

Zega, V. et al. A 3D printed Ti6Al4V alloy uniaxial capacitive accelerometer. IEEE Sens. J. 21, 19640–19646 (2021).

Zega, V. et al. The first 3D-printed and wet-metallized three-axis accelerometer with differential capacitive sensing. IEEE Sens. J. 19, 9131–9138 (2019).

Liu, M., Zhang, Q., Zhao, Y., Shao, Y. & Zhang, D. Design and development of a fully printed accelerometer with a carbon paste-based strain gauge. Sensors (Switzerland) 20, 1–17 (2020).

Zega, V. et al. The first 3-d-printed z-axis accelerometers with differential capacitive sensing. IEEE Sens. J. 18, 53–60 (2018).

Hahn, V. et al. Rapid Assembly of small materials building blocks (voxels) into large functional 3D metamaterials. Adv. Funct. Mater. 30, 1907795 (2020).

Bragheri, F., Martinez Vazquez, R. & Osellame, R. Microfluidics. In: Baldacchini, T (ed) Three-Dimensional Microfabrication Using Two-Photon Polymerization: Fundamentals, Technology, and Applications 310–334 (Elsevier Inc., 2016).

Dietrich, P. I. et al. In situ 3D nanoprinting of free-form coupling elements for hybrid photonic integration. Nat. Photonics 12, 241–247 (2018).

Weisgrab, G. et al. 3D printing of large-scale and highly porous biodegradable tissue engineering scaffolds from poly (trimethylene-carbonate) using two-photon-polymerization. Biofabrication 12, 045036 (2020).

Kim, S., Velez, C., Pierre, R. S., Smith, G. L. & Bergbreiter, S. A two-step fabrication method for 3D printed microactuators: characterization and actuated mechanisms. J. Microelectromech. Syst. 29, 544–552 (2020).

Kim, S. & Bergbreiter, S. Fabrication and characterization of 3D printed out-of-plane torsional comb-drive actuators for microrobotics. 2021 21st International Conference on Solid-State Sensors, Actuators and Microsystems (Transducers), 2021, pp. 6-9

Devices Inc, A. Analog Dialogue 51-10 (Devices Inc, A, 2017).

Putz, B., Schoeppner, R. L., Glushko, O., Bahr, D. F. & Cordill, M. J. Improved electro-mechanical performance of gold films on polyimide without adhesion layers. Scr. Mater. 102, 23–26 (2015).

Oliva, A. I. et al. Effects of temperature and tensile strain on the electrical resistance of nanometric gold films. Mater. Res. Express 6, 066407 (2019).

Kiefer, P. et al. Sensitive photoresists for rapid multiphoton 3D laser micro‐ and nanoprinting. Adv. Opt. Mater. 8, 2000895 (2020).

Pakeltis, G. et al. Focused electron beam induced deposition synthesis of 3D photonic and magnetic nanoresonators. ACS Appl. Nano Mater. 2, 8075–8082 (2019).

Hengsteler, J. et al. Bringing electrochemical three-dimensional printing to the nanoscale. Nano Lett. 21, 9093–9101 (2021).

Duoss, E. B., Twardowski, M. & Lewis, J. A. Sol–gel inks for direct-write assembly of functional oxides. Adv. Mater. 19, 3485–3489 (2007).

Liao, C. et al. Design and realization of 3D printed fiber-tip microcantilever probes applied to hydrogen sensing. Light Adv. Manuf. 3, 1 (2022).

Sun, L. et al. 3D-printed cellular tips for tuning fork atomic force microscopy in shear mode. Nat. Commun. 11, 5732 (2020).

Kim, B. J. & Meng, E. Review of polymer MEMS micromachining. J. Micromech. Microeng. 26, 013001 (2015).

Li, Y. Challenges and issues of using polymers as structural materials in MEMS: a review. J. Microelectromech. Syst. 27, 581–598 (2018).

Nanoscribe IP-S. https://support.nanoscribe.com/hc/en-gb/articles/360001750353-IP-S#.

Meisel, D. C. et al. Shrinkage precompensation of holographic three-dimensional photonic-crystal templates. Adv. Mater. 18, 2964–2968 (2006).

LaFratta, C. N. & Baldacchini, T. Two-photon polymerization metrology: characterization methods of mechanisms and microstructures. Micromachines 8, 101 (2017).

Bauer, J., Guell Izard, A., Zhang, Y., Baldacchini, T. & Valdevit, L. Programmable mechanical properties of two-photon polymerized materials: from nanowires to bulk. Adv. Mater. Technol. 4, 1900146 (2019).

Wang, C. et al. Micromachined accelerometers with sub-µg/√Hz noise floor: a review. Sensors 20, 4054 (2020).

Kotz, F. et al. Two-photon polymerization of nanocomposites for the fabrication of transparent fused silica glass microstructures. Adv. Mater. 33, 2006341 (2021).

Stassi, S. et al. Reaching silicon-based NEMS performances with 3D printed nanomechanical resonators. Nat. Commun. 12, 6080 (2021).

Jang, J., Panusa, G., Boero, G. & Brugger, J. SU-8 cantilever with integrated pyrolyzed glass-like carbon piezoresistor. Microsyst. Nanoeng. 8, 22 (2022).

Li, C. et al. Thin gold film strain gauges. J. Vac. Sci. Technol. A 813, 0–7 (2016).

Teller, C. R. & Tosser, A. J. Grain size dependence of the gauge factor of thin metallic films. Electrocompon. Sci. Technol. 4, 9–17 (1977).

Han, J., Zhao, Z., Niu, W., Huang, R. & Dong, L. A low cross-axis sensitivity piezoresistive accelerometer fabricated by masked–maskless wet etching. Sens. Actuators A Phys. 283, 17–25 (2018).

PCB Piezotronics https://www.pcb.com/contentstore/MktgContent/LinkedDocuments/Aerospace/AD-3501-3503_lowres.pdf, TE connectivity https://www.te.com/usa-en/product-CAT-PPA0022.html & Endevco. http://www.endevco.com/contentstore/mktgcontent/endevco/datasheet/726ch_ds_083119.pdf.

Xu, Y. et al. A novel piezoresistive accelerometer with SPBs to improve the tradeoff between the sensitivity and the resonant frequency. Sensors 16, 210 (2016).

Edwards, W. D. & Beaulieu, R. P. Germanium piezoresistive element on a flexible substrate. J. Phys. E 2, 613–615 (1969).

Tata, U. et al. Wireless strain sensor based on amorphous carbon for human-motion detection. In BioWireleSS 2013—Proc. 2013 IEEE Top. Conf. Biomed. Wirel. Technol. Networks, Sens. Syst.—2013 IEEE Radio Wirel. Week, RWW 2013 31–33 (2013).

Ma, X. et al. Piezoresistive behavior of amorphous carbon films for high performance MEMS force sensors. Appl. Phys. Lett. 114, 253502 (2019).
Acknowledgements
This work was supported by the Swedish Foundation for Strategic Research (SSF) (GMT14-0071) and the Wenner-Gren scholarship (UPD2020-0119).
Funding
Open access funding provided by Royal Institute of Technology.
Ethics declarations
Conflict of interest
The authors declare no competing interests.
Rights and permissions
Open Access This article is licensed under a Creative Commons Attribution 4.0 International License, which permits use, sharing, adaptation, distribution and reproduction in any medium or format, as long as you give appropriate credit to the original author(s) and the source, provide a link to the Creative Commons license, and indicate if changes were made. The images or other third party material in this article are included in the article's Creative Commons license, unless indicated otherwise in a credit line to the material. If material is not included in the article's Creative Commons license and your intended use is not permitted by statutory regulation or exceeds the permitted use, you will need to obtain permission directly from the copyright holder. To view a copy of this license, visit http://creativecommons.org/licenses/by/4.0/.
About this article
Cite this article
Pagliano, S., Marschner, D.E., Maillard, D. et al. Micro 3D printing of a functional MEMS accelerometer. Microsyst Nanoeng 8, 105 (2022). https://doi.org/10.1038/s41378-022-00440-9
Received:

Revised:

Accepted:

Published:

DOI: https://doi.org/10.1038/s41378-022-00440-9