Access options
Subscribe to Journal
Get full journal access for 1 year
$399.00
only $33.25 per issue
All prices are NET prices.
VAT will be added later in the checkout.
Tax calculation will be finalised during checkout.
Rent or Buy article
Get time limited or full article access on ReadCube.
from$8.99
All prices are NET prices.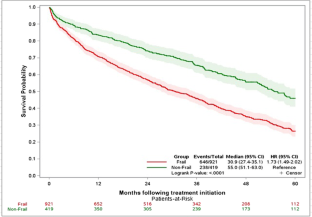 References
1.

Palumbo A, Bringhen S, Mateos MV, Larocca A, Facon T, Kumar SK, et al. Geriatric assessment predicts survival and toxicities in elderly myeloma patients: an International Myeloma Working Group report. Blood. 2015;125:2068–74. 26

2.

Milani P, Vincent Rajkumar S, Merlini G, Kumar S, Gertz MA, Palladini G, et al. N-terminal fragment of the type-B natriuretic peptide (NT-proBNP) contributes to a simple new frailty score in patients with newly diagnosed multiple myeloma. Am J Hematol. 2016;91:1129–34.

3.

Engelhardt M, Domm AS, Dold SM, Ihorst G, Reinhardt H, Zober A, et al. A concise revised Myeloma Comorbidity Index as a valid prognostic instrument in a large cohort of 801 multiple myeloma patients. Haematologica. 2017;102:910–21.

4.

Mian H, Brouwers M, Kouroukis CT, Wildes TM. Comparison of frailty scores in newly diagnosed patients with multiple myeloma: a review. J Frailty Aging. 2019;8:215–21.

5.

Facon T, Dimopoulos MA, Meuleman N, Belch A, Mohty M, Chen WM, et al. A simplified frailty scale predicts outcomes in transplant-ineligible patients with newly diagnosed multiple myeloma treated in the FIRST (MM-020) trial. Leukemia. 2020;34:224–33.

6.

Stege CAM, van der Holt B, Dinmohamed AG, Sonneveld P, Levin M-D, van de Donk NWCJ, et al. Validation of the FIRST simplified frailty scale using the ECOG performance status instead of patient-reported activities. Leukemia. 2020;34:1964–6. 2020/07/01

7.

Duma N, Azam T, Riaz IB, Gonzalez-Velez M, Ailawadhi S, Go R. Representation of minorities and elderly patients in multiple myeloma clinical trials. Oncologist. 2018;23:1076–8.

8.

Anderson F, Downing GM, Hill J, Casorso L, Lerch N. Palliative performance scale (PPS): a new tool. J Palliat Care. 1996;12:5–11. Spring

9.

Popovic G, Harhara T, Pope A, Al-Awamer A, Banerjee S, Bryson J, et al. Patient-reported functional status in outpatients with advanced cancer: correlation with physician-reported scores and survival. J Pain Symptom Manag. 2018;55:1500–8.

10.

Martin L, Watanabe S, Fainsinger R, Lau F, Ghosh S, Quan H, et al. Prognostic factors in patients with advanced cancer: use of the patient-generated subjective global assessment in survival prediction. J Clin Oncol. 2010;28:4376–83. 1

11.

Chari A, Romanus D, Palumbo A, Blazer M, Farrelly E, Raju A, et al. Randomized clinical trial representativeness and outcomes in real-world patients: comparison of 6 hallmark randomized clinical trials of relapsed/refractory multiple myeloma. Clin Lymphoma Myeloma Leuk. 2020;20(Jan):8–17.e16.

12.

Kumar V, Ailawadhi M, Dutta N, Abdulazeez M, Aggarwal CS, Quintero G, et al. Trends in early mortality from multiple myeloma: a population-based analysis. Clin Lymphoma Myeloma Leuk. 2020. https://doi.org/10.1016/j.clml.2020.12.023.

13.

Cairns D, Pawlyn C, Royle K-L, Best P, Bird J, Bowcock S, et al. Frailty-adjusted therapy in transplant non-eligible patients with newly diagnosed multiple myeloma (FiTNEss): a UK myeloma research alliance study, myeloma XIV. Blood. 2019;134:3153–3153.

14.

Knauf W, Aldaoud A, Hutzschenreuter U, Klausmann M, Dille S, Wetzel N, et al. Survival of non-transplant patients with multiple myeloma in routine care differs from that in clinical trials—data from the prospective German Tumour Registry Lymphatic Neoplasms. Ann Hematol. 2018;97:2437–45. 2018/12/01

15.

Repetto L, Fratino L, Audisio RA, Venturino A, Gianni W, Vercelli M, et al. Comprehensive geriatric assessment adds information to Eastern Cooperative Oncology Group performance status in elderly cancer patients: an Italian Group for Geriatric Oncology Study. J Clin Oncol. 2002;20(Jan):494–502. 15
Acknowledgements
HM is supported in part by the HHS Research Early Career Award from Hamilton Health Sciences Foundation. This investigation was supported by funding from Myeloma Canada. This study was supported by ICES, which is funded by an annual grant from the Ontario Ministry of Health and Long-Term Care (MOHLTC). The opinions, results and conclusions reported in this article are those of the authors and are independent from the funding sources. No endorsement by ICES or the Ontario MOHLTC is intended or should be inferred. Parts of this material are based on data and/or information compiled and provided by the Canadian Institute for Health Information (CIHI). However, the analyses, conclusions, opinions and statements expressed in the material are those of the authors, and not necessarily those of CIHI. We acknowledge Cancer Care Ontario for access to the Ontario Cancer Registry (OCR), Cancer Activity Level Reporting (ALR), Symptom Management Database (ESAS) and The New Drug Funding Program (NDFP). We thank IQVIA Solutions Canada Inc. for use of their Drug Information Database. SG is supported in part by the Walter B Frommeyer Fellowship in Investigative Medicine, Department of Medicine, University of Alabama at Birmingham
Ethics declarations
Conflict of interest
HS: Consultancy/Honoraria fees from Celgene, Takeda, Janssen, Amgen, Sanofi, SG: Reports research funding from CareVive, PackHealth, Sanofi and Oncopeptides. Honoraria from Carevive, Janssen, GP: Has a close family member who is employed by Roche Canada, and who owns Roche Canada stock. Consultancy fees from Astra-Zeneca. Honorarium from Takeda, TW: reports Research funding from Janssen and is a consultant for Carevive Systems and Seattle Genetics, AB, BS, AM, HS: None.
Additional information
Publisher's note Springer Nature remains neutral with regard to jurisdictional claims in published maps and institutional affiliations.
Supplementary information
About this article
Cite this article
Mian, H.S., Giri, S., Wildes, T.M. et al. External validation of the FIRST trial's simplified frailty score in a population-based cohort. Leukemia (2021). https://doi.org/10.1038/s41375-021-01247-9
Received:

Revised:

Accepted:

Published: