Access options
Subscribe to Journal
Get full journal access for 1 year
$1,224.00
only $102.00 per issue
All prices are NET prices.
VAT will be added later in the checkout.
Rent or Buy article
Get time limited or full article access on ReadCube.
from$8.99
All prices are NET prices.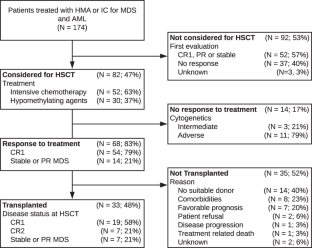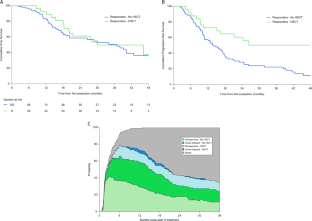 References
1.

Malcovati L, Hellström-Lindberg E, Bowen D, Adès L, Cermak J, del Cañizo C, et al. Diagnosis and treatment of primary myelodysplastic syndromes in adults: recommendations from the European LeukemiaNet. Blood. 2013;122:2943–64.

2.

Döhner H, Estey E, Grimwade D, Amadori S, Appelbaum FR, Büchner T, et al. Diagnosis and management of AML in adults: 2017 ELN recommendations from an international expert panel. Blood. 2017;129:424–47.

3.

Lancet JE, Uy GL, Cortes JE, Newell LF, Lin TL, Ritchie EK, et al. CPX-351 (cytarabine and daunorubicin) liposome for injection versus conventional cytarabine plus daunorubicin in older patients with newly diagnosed secondary acute myeloid leukemia. JCO. 2018;36:2684–92.

4.

DiNardo CD, Pratz K, Pullarkat V, Jonas BA, Arellano M, Becker PS, et al. Venetoclax combined with decitabine or azacitidine in treatment-naive, elderly patients with acute myeloid leukemia. Blood. 2019;133:7–17.

5.

Muffly L, Pasquini MC, Martens M, Brazauskas R, Zhu X, Adekola K, et al. Increasing use of allogeneic hematopoietic cell transplantation in patients aged 70 years and older in the United States. Blood. 2017;130:1156–64.

6.

Putter H, Fiocco M, Geskus RB. Tutorial in biostatistics: competing risks and multi-state models. Stat Med. 2007;26:2389–430.

7.

Estey E, de Lima M, Tibes R, Pierce S, Kantarjian H, Champlin R, et al. Prospective feasibility analysis of reduced-intensity conditioning (RIC) regimens for hematopoietic stem cell transplantation (HSCT) in elderly patients with acute myeloid leukemia (AML) and high-risk myelodysplastic syndrome (MDS). Blood. 2007;109:1395–400.

8.

Mawad R, Gooley TA, Sandhu V, Lionberger J, Scott B, Sandmaier BM, et al. Frequency of allogeneic hematopoietic cell transplantation among patients with high- or intermediate-risk acute myeloid leukemia in first complete remission. JCO. 2013;31:3883–8.

9.

Sorror ML, Sandmaier BM, Storer BE, Franke GN, Laport GG, Chauncey TR, et al. Long-term outcomes among older patients following nonmyeloablative conditioning and allogeneic hematopoietic cell transplantation for advanced hematologic malignancies. JAMA. 2011;306:1874.

10.

Koreth J, Pidala J, Perez WS, Deeg HJ, Garcia-Manero G, Malcovati L, et al. Role of reduced-intensity conditioning allogeneic hematopoietic stem-cell transplantation in older patients with de novo myelodysplastic syndromes: an international collaborative decision analysis. JCO. 2013;31:2662–70.

11.

McDonald GB, Sandmaier BM, Mielcarek M, Sorror M, Pergam SA, Cheng G-S, et al. Survival, nonrelapse mortality, and relapse-related mortality after allogeneic hematopoietic cell transplantation: comparing 2003-7 versus 2013-7 cohorts. Ann Intern Med. 2020;172:229.

12.

Simon R, Makuch RW. A non-parametric graphical representation of the relationship between survival and the occurrence of an event: application to responder versus non-responder bias. Stat Med. 1984;3:35–44.

13.

Juliusson G, Hagberg O, Lazarevic VL, Ölander E, Antunovic P, Cammenga J, et al. Improved survival of men 50 to 75 years old with acute myeloid leukemia over a 20-year period. Blood. 2019;134:1558–61.

14.

Ustun C, Le-Rademacher J, Wang H-L, Othus M, Sun Z, Major B, et al. Allogeneic hematopoietic cell transplantation compared to chemotherapy consolidation in older acute myeloid leukemia (AML) patients 60–75 years in first complete remission (CR1): an alliance (A151509), SWOG, ECOG-ACRIN, and CIBMTR study. Leukemia. 2019;33:2599–609.

15.

Deeg HJ, Steuten LM. Therapy for hematologic cancers in older patients, quality of life, and health economics: difficult decisions. JAMA Oncol. 2015;1:571.
Ethics declarations
Conflict of interest
The authors declare that they have no conflict of interest.
Additional information
Publisher's note Springer Nature remains neutral with regard to jurisdictional claims in published maps and institutional affiliations.
Supplementary information
About this article
Cite this article
Del Galy, A.S., Marouf, A., Raffoux, E. et al. Letter to the Editor: Allogeneic hematopoietic stem cell transplantation in elderly patients with acute myeloid leukemia or myelodysplastic syndromes: myth and reality. Leukemia (2020). https://doi.org/10.1038/s41375-020-1004-9
Received:

Revised:

Accepted:

Published: