Access options
Subscribe to Journal
Get full journal access for 1 year
$119.00
only $9.92 per issue
All prices are NET prices.
VAT will be added later in the checkout.
Tax calculation will be finalised during checkout.
Buy article
Get time limited or full article access on ReadCube.
$32.00
All prices are NET prices.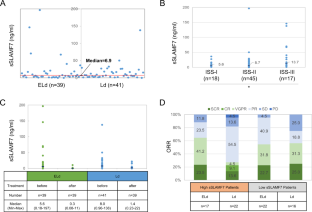 References
Hsi ED, Steinle R, Balasa B, Szmania S, Draksharapu A, Shum BP, et al. CS1, a potential new therapeutic antibody target for the treatment of multiple myeloma. Clin Cancer Res. 2008;14:2775–84.

Lonial S, Dimopoulos M, Palumbo A, White D, Grosicki S, Spicka I, et al. Elotuzumab therapy for relapsed or refractory multiple myeloma. N. Engl J Med. 2015;373:621–31.

Dimopoulos MA, Dytfeld D, Grosicki S, Moreau P, Takezako N, Hori M, et al. Elotuzumab plus pomalidomide and dexamethasone for multiple myeloma. N Engl J Med. 2018;379:1811–22.

Taniwaki M, Yoshida M, Matsumoto Y, Shimura K, Kuroda J, Kaneko H. Elotuzumab for the treatment of relapsed or refractory multiple myeloma, with special reference to its modes of action and SLAMF7 signaling. Mediterr J Hematol Infect Dis. 2018;10:e2018014.

Dong Z, Cruz-Munoz ME, Zhong MC, Chen R, Latour S, Veillette A. Essential function for SAP family adaptors in the surveillance of hematopoietic cells by natural killer cells. Nat Immunol. 2009;10:973–80.

Guo H, Cruz-Munoz ME, Wu N, Robbins M, Veillette A. Immune cell inhibition by SLAMF7 is mediated by a mechanism requiring src kinases, CD45, and SHIP-1 that is defective in multiple myeloma cells. Mol Cell Biol. 2015;35:41–51.

Zonder JA, Mohrbacher AF, Singhal S, van Rhee F, Bensinger WI, Ding H, et al. A phase 1, multicenter, open-label, dose escalation study of elotuzumab in patients with advanced multiple myeloma. Blood. 2012;120:552–9.

Postelnek J, Neely RJ, Robbins MD, Gleason CR, Peterson JE, Piccoli SP. Development and validation of electrochemiluminescence assays to measure free and total sSLAMF7 in human serum in the absence and presence of elotuzumab. AAPS J. 2016;18:989–99.

Kikuchi J, Hori M, Iha H, Toyama-Sorimachi N, Hagiwara S, Kuroda Y, et al. Soluble SLAMF7 promotes the growth of myeloma cells via homophilic interaction with surface SLAMF7. Leukemia. 2020;34:180–95.

Kubo K, Hori M, Ohta K, Handa H, Hatake K, Matsumoto M, et al. Elotuzumab plus lenalidomide and dexamethasone for newly diagnosed multiple myeloma: a randomized, open-label, phase 2 study in Japan. Int J Hematol. 2020;111:65–74.
Acknowledgements
This study was funded by Bristol-Myers Squibb K.K. English editing and formatting for journal submission was supported by Caudex, funded by Bristol-Myers Squibb K.K.
Ethics declarations
Conflict of interest
AS, SK, and MM are employees of Bristol-Myers Squibb K.K. MH reports postmarketing surveillance study fees from Celgene, Fujifilm RI Pharma, and Shire Japan. KS reports personal fees from Bristol-Myers Squibb K.K., Celgene, Janssen Pharmaceutical, Novartis, Sanofi, and Takeda. YF is supported by Grant-in-Aid for Scientific Research from JSPS, Ministry of Education, Culture, Sports, Science and Technology-supported program for the Strategic Foundation at Private Universities, Japan Leukemia Research Fund, Yasuda Memorial Cancer Foundation, Novartis Foundation, and Takeda Foundation. KO reports honoraria from Bristol-Myers Squibb K.K., Celgene K.K., Janssen Pharmaceutical K.K., Novartis Pharma K.K., Ono Pharmaceutical Co. Ltd, and Takeda Pharmaceutical Co. Ltd.
Additional information
Publisher's note Springer Nature remains neutral with regard to jurisdictional claims in published maps and institutional affiliations.
About this article
Cite this article
Suzuki, A., Kakugawa, S., Miyoshi, M. et al. Soluble SLAMF7 is a predictive biomarker for elotuzumab therapy. Leukemia 34, 3088–3090 (2020). https://doi.org/10.1038/s41375-020-0860-7
Received:

Accepted:

Published:

Issue Date:

DOI: https://doi.org/10.1038/s41375-020-0860-7