Abstract
Daratumumab (Dara), a multiple myeloma (MM) therapy, is an antibody against the surface receptor CD38, which is expressed not only on plasma cells but also on NK cells and monocytes. Correlative data have highlighted the immune-modulatory role of Dara, despite the paradoxical observation that Dara regimens decrease the frequency of total NK cells. Here we show that, despite this reduction, NK cells play a pivotal role in Dara anti-MM activity. CD38 on NK cells is essential for Dara-induced immune modulation, and its expression is restricted to NK cells with effector function. We also show that Dara induces rapid CD38 protein degradation associated with NK cell activation, leaving an activated CD38-negative NK cell population. CD38+ NK cell targeting by Dara also promotes monocyte activation, inducing an increase in T-cell costimulatory molecules (CD86/80) and enhancing anti-MM phagocytosis activity ex vivo and in vivo. In support of Dara's immunomodulating role, we show that MM patients that discontinued Dara therapy because of progression maintain targetable unmutated surface CD38 expression on their MM cells, but retain effector cells with impaired cellular immune function. In summary, we report that CD38+ NK cells may be an unexplored therapeutic target for priming the immune system of MM patients.
Relevant articles
Open Access articles citing this article.
Xavier Leleu

,

Thomas Martin

…

Paul G. Richardson

Annals of Hematology Open Access 09 August 2022

QinChen Xu

,

Xiaoyan Liu

…

Yunshan Wang

Cancer Cell International Open Access 30 July 2022

Sebastian Schlaweck

,

Leon Strauss

…

Annkristin Heine

Journal of Cancer Research and Clinical Oncology Open Access 02 March 2021
Access options
Subscribe to this journal
Receive 12 print issues and online access
$259.00 per year
only $21.58 per issue
Rent or buy this article
Get just this article for as long as you need it
$39.95
Prices may be subject to local taxes which are calculated during checkout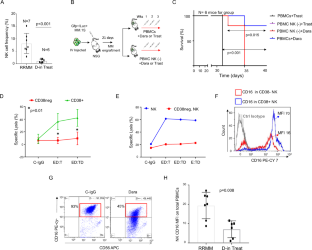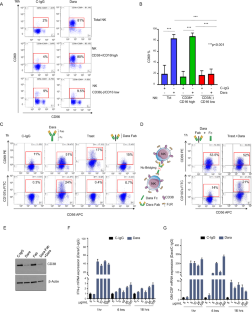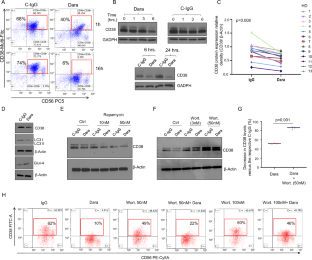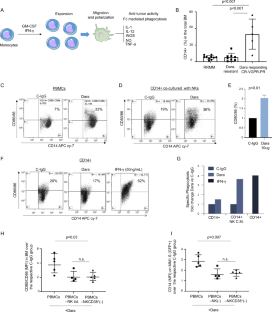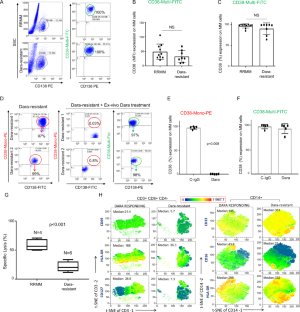 References
Dimopoulos MA, Oriol A, Nahi H, San-Miguel J, Bahlis NJ, Usmani SZ, et al. Daratumumab, lenalidomide, and dexamethasone for multiple myeloma. N Engl J Med. 2016;375:1319–31.

Plesner T, Arkenau HT, Gimsing P, Krejcik J, Lemech C, Minnema MC, et al. Phase 1/2 study of daratumumab, lenalidomide, and dexamethasone for relapsed multiple myeloma. Blood. 2016;128:1821–8.

Palumbo A, Chanan-Khan A, Weisel K, Nooka AK, Masszi T, Beksac M, et al. Daratumumab, bortezomib, and dexamethasone for multiple myeloma. N Engl J Med. 2016;375:754–66.

Rajan AM, Kumar S. New investigational drugs with single-agent activity in multiple myeloma. Blood Cancer J. 2016;6:e451.

Lokhorst HM, Plesner T, Laubach JP, Nahi H, Gimsing P, Hansson M, et al. Targeting CD38 with daratumumab monotherapy in multiple myeloma. N Engl J Med. 2015;373:1207–19.

Plesner T, Arkenau HT, Gimsing P, Krejcik J, Lemech C, Minnema MC, et al. Phase 1/2 study of daratumumab, lenalidomide, and dexamethasone for relapsed multiple myeloma. Blood. 2016;128:1821–8.

Mateos MV, Dimopoulos MA, Cavo M, Suzuki K, Jakubowiak A, Knop S, et al. Daratumumab plus bortezomib, melphalan, and prednisone for untreated myeloma. N Engl J Med. 2018;378:518–28.

Facon T, Kumar S, Plesner T, Orlowski RZ, Moreau P, Bahlis N, et al. Daratumumab plus lenalidomide and dexamethasone for untreated myeloma. N Engl J Med. 2019;380:2104–15.

Phipps C, Chen Y, Gopalakrishnan S, Tan D. Daratumumab and its potential in the treatment of multiple myeloma: overview of the preclinical and clinical development. Therapeutic Adv Hematol. 2015;6:120–7.

Ghose J, Terrazas C, Viola D, Caserta E, Krishnan A, Hofmeister CC, et al. Daratumumab impairs myeloma cell adhesion mediated drug resistance through CD38 internalization. Blood. 2016;128:4479.

Funaro A, Reinis M, Trubiani O, Santi S, Di Primio R, Malavasi F. CD38 functions are regulated through an internalization step. J Immunol. 1998;160:2238–47.

Pick M, Vainstein V, Goldschmidt N, Lavie D, Libster D, Gural A, et al. Daratumumab resistance is frequent in advanced-stage multiple myeloma patients irrespective of CD38 expression and is related to dismal prognosis. Eur J Haematol. 2018;100:494–501.

Nijhof IS, Groen RW, Lokhorst HM, van Kessel B, Bloem AC, van Velzen J, et al. Upregulation of CD38 expression on multiple myeloma cells by all-trans retinoic acid improves the efficacy of daratumumab. Leukemia. 2015;29:2039–49.

Oberle A, Brandt A, Alawi M, Langebrake C, Janjetovic S, Wolschke C, et al. Long-term CD38 saturation by daratumumab interferes with diagnostic myeloma cell detection. Haematologica. 2017;102:e368–70.

Adams HC 3rd, Stevenaert F, Krejcik J, Van der Borght K, Smets T, Bald J, et al. High-parameter mass cytometry evaluation of relapsed/refractory multiple myeloma patients treated with daratumumab demonstrates immune modulation as a novel mechanism of action. Cytometry A. 2018;95:279–89.

Wang Y, Zhang Y, Hughes T, Zhang J, Caligiuri MA, Benson DM, et al. Fratricide of NK cells in daratumumab therapy for multiple myeloma overcome by ex vivo-expanded autologous NK cells. Clin Cancer Res. 2018;24:4006–17.

Lischke T, Heesch K, Schumacher V, Schneider M, Haag F, Koch-Nolte F, et al. CD38 controls the innate immune response against Listeria monocytogenes. Infect Immun. 2013;81:4091–9.

Rah SY, Kwak JY, Chung YJ, Kim UH. ADP-ribose/TRPM2-mediated Ca2+ signaling is essential for cytolytic degranulation and antitumor activity of natural killer cells. Sci Rep. 2015;5:9482.

Mallone R, Funaro A, Zubiaur M, Baj G, Ausiello CM, Tacchetti C, et al. Signaling through CD38 induces NK cell activation. Int Immunol. 2001;13:397–409.

Postigo J, Iglesias M, Cerezo-Wallis D, Rosal-Vela A, Garcia-Rodriguez S, Zubiaur M, et al. Mice deficient in CD38 develop an attenuated form of collagen type II-induced arthritis. PLoS ONE. 2012;7:e33534.

Deaglio S, Zubiaur M, Gregorini A, Bottarel F, Ausiello CM, Dianzani U, et al. Human CD38 and CD16 are functionally dependent and physically associated in natural killer cells. Blood. 2002;99:2490–8.

Ghose J, Viola D, Terrazas C, Caserta E, Troadec E, Khalife J, et al. Daratumumab induces CD38 internalization and impairs myeloma cell adhesion. Oncoimmunology. 2018;7:e1486948.

Wang R, Jaw JJ, Stutzman NC, Zou Z, Sun PD. Natural killer cell-produced IFN-gamma and TNF-alpha induce target cell cytolysis through up-regulation of ICAM-1. J Leukoc Biol. 2012;91:299–309.

MacDonald RJ, Shrimp JH, Jiang H, Zhang L, Lin H, Yen A. Probing the requirement for CD38 in retinoic acid-induced HL-60 cell differentiation with a small molecule dimerizer and genetic knockout. Sci Rep. 2017;7:17406.

Casneuf T, Xu XS, Adams HC 3rd, Axel AE, Chiu C, Khan I, et al. Effects of daratumumab on natural killer cells and impact on clinical outcomes in relapsed or refractory multiple myeloma. Blood Adv. 2017;1:2105–14.

Frasca L, Fedele G, Deaglio S, Capuano C, Palazzo R, Vaisitti T, et al. CD38 orchestrates migration, survival, and Th1 immune response of human mature dendritic cells. Blood. 2006;107:2392–9.

Frasca L, Nasso M, Spensieri F, Fedele G, Palazzo R, Malavasi F, et al. IFN-gamma arms human dendritic cells to perform multiple effector functions. J Immunol. 2008;180:1471–81.

Atanackovic D, Yousef S, Shorter C, Tantravahi SK, Steinbach M, Iglesias F, et al. In vivo vaccination effect in multiple myeloma patients treated with the monoclonal antibody isatuximab. Leukemia. 2020;34:317–21.

Overdijk MB, Verploegen S, Bogels M, van Egmond M, Lammerts van Bueren JJ, Mutis T, et al. Antibody-mediated phagocytosis contributes to the anti-tumor activity of the therapeutic antibody daratumumab in lymphoma and multiple myeloma. MAbs. 2015;7:311–21.

Fatehchand K, McMichael EL, Reader BF, Fang H, Santhanam R, Gautam S, et al. Interferon-gamma promotes antibody-mediated fratricide of acute myeloid leukemia cells. J Biol Chem. 2016;291:25656–66.

Thiel M, Wolfs MJ, Bauer S, Wenning AS, Burckhart T, Schwarz EC, et al. Efficiency of T-cell costimulation by CD80 and CD86 cross-linking correlates with calcium entry. Immunology. 2010;129:28–40.

Usmani SZ, Khan I, Chiu C, Foureau D, Druhan LJ, Rigby K, et al. Deep sustained response to daratumumab monotherapy associated with T-cell expansion in triple refractory myeloma. Exp Hematol Oncol. 2018;7:3.

Hoylman E, Brown A, Perissinotti AJ, Marini BL, Pianko M, Ye JC, et al. Optimal sequence of daratumumab and elotuzumab in relapsed and refractory multiple myeloma. Leuk Lymphoma. 2020;61:691–8.
Acknowledgements
We thank Dori Triplett, Evelyn Flores, Elizabeth Hartman, and Debbie Flood for administrative support. Research was in part supported by the National Institutes of Health under grant number NIH-2-R01-CA201382 (FP and CCH), in part under NIH-2-R01-CA238429-01 (FP, JS, and XW) and in part by the Steven Gordon and Briskin Family Innovation Grant. We also thank Suzan King and Steve Allen for their support. Research reported in this publication included work performed at the Liquid Tissue Bank, Analytical Cytometry, and Integrative Genomics and Bioinformatics shared resource cores supported by the National Institutes of Health under award number P30CA033572. The content is solely the responsibility of the authors and does not necessarily represent the official views of the National Institutes of Health.
Ethics declarations
Conflict of interest
AK is a consultant for Celgene and Janssen, serves on the speakers' bureau for SutroBioPharma, zPredicta, Celgene, Amgen, and Takeda, and has stock ownership in Celgene. CCH has received research grants from Takeda & Oncolytics Biotech; research and personal grants from Janssen, BMS, Sanofi, Nektar, and Karyopharm; and personal grants from Imbrium Pharmaceuticals and Oncopeptides, all outside the submitted work.
Additional information
Publisher's note Springer Nature remains neutral with regard to jurisdictional claims in published maps and institutional affiliations.
Supplementary information
About this article
Cite this article
Viola, D., Dona, A., Caserta, E. et al. Daratumumab induces mechanisms of immune activation through CD38+ NK cell targeting. Leukemia 35, 189–200 (2021). https://doi.org/10.1038/s41375-020-0810-4
Received:

Revised:

Accepted:

Published:

Issue Date:

DOI: https://doi.org/10.1038/s41375-020-0810-4