This is a preview of subscription content
Access options
Subscribe to Journal
Get full journal access for 1 year
$119.00
only $9.92 per issue
All prices are NET prices.
VAT will be added later in the checkout.
Tax calculation will be finalised during checkout.
Rent or Buy article
Get time limited or full article access on ReadCube.
from$8.99
All prices are NET prices.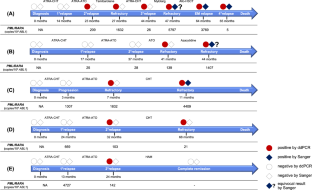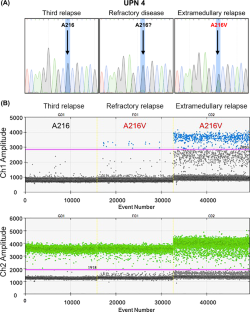 References
1.

Lo-Coco F, Avvisati G, Vignetti M, Thiede C, Orlando SM, Iacobelli S, et al. Retinoic acid and arsenic trioxide for acute promyelocytic leukemia. N Engl J Med. 2013;369:111–21.

2.

Burnett AK, Russell NH, Hills RK, Bowen D, Kell J, Knapper S, et al. Arsenic trioxide and all-trans retinoic acid treatment for acute promyelocytic leukaemia in all risk groups (AML17): results of a randomised, controlled, phase 3 trial. Lancet Oncol. 2015;16:1295–305.

3.

Iaccarino L, Ottone T, Divona M, Cicconi L, Cairoli R, Voso MT, et al. Mutations affecting both the rearranged and the unrearranged PML alleles in refractory acute promyelocytic leukaemia. Br J Haematol. 2016;172:909–13.

4.

Zhu H-H, Qin Y-Z, Huang X-J. Resistance to arsenic therapy in acute promyelocytic leukemia. N Engl J Med. 2014;370:1864–6.

5.

Lehmann-Che J, Bally C, de Thé H. Resistance to therapy in acute promyelocytic leukemia. N Engl J Med. 2014;371:1170–2.

6.

Sanz MA, Lo-Coco F. Modern approaches to treating acute promyelocytic leukemia. J Clin Oncol. 2011;29:495–503.
Acknowledgements
This work was supported by Associazione italiana contro le Leucemie-Linfomi e Mieloma (AIL) (to LI), Associazione Italiana Ricerca sul Cancro (AIRC, IG No. 16952 to MTV), AIRC 5 × 1000 call "Metastatic disease: the keyunmet need in oncology" to MYNERVA project, and IG No. 21267 to FLC (MYeloid NEoplasms Research Venture Airc). A detailed description of the MYNERVA project is available at http://www.progettoagimm.it.
Ethics declarations
Conflict of interest
The authors declare that they have no conflict of interest.
Additional information
Publisher's note: Springer Nature remains neutral with regard to jurisdictional claims in published maps and institutional affiliations.
Electronic supplementary material
About this article
Cite this article
Alfonso, V., Iaccarino, L., Ottone, T. et al. Early and sensitive detection of PML-A216V mutation by droplet digital PCR in ATO-resistant acute promyelocytic leukemia. Leukemia 33, 1527–1530 (2019). https://doi.org/10.1038/s41375-018-0298-3
Received:

Accepted:

Published:

Issue Date:
Further reading
Xiang Zhang
Jiewen Sun
Jie Jin

Biomarker Research (2021)

Minjian Chen
Jing Yang
Xiaoling Zhang

Scientific Reports (2020)

Reactions Weekly (2019)