Access options
Access options
Subscribe to Journal
Get full journal access for 1 year
$1,224.00
only $102.00 per issue
All prices are NET prices.
VAT will be added later in the checkout.
Rent or Buy article
Get time limited or full article access on ReadCube.
from$8.99
All prices are NET prices.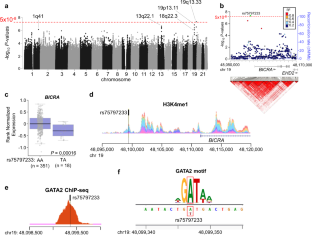 References
1.

Hahn CN, Chong CE, Carmichael CL, Wilkins EJ, Brautigan PJ, Li XC, et al. Heritable GATA2 mutations associated with familial myelodysplastic syndrome and acute myeloid leukemia. Nat Genet. 2011;43:1012–7.

2.

Smith ML, Cavenagh JD, Lister TA, Fitzgibbon J. Mutation of CEBPA in familial acute myeloid leukemia. N Engl J Med. 2014;351:2403–7.

3.

Hemminki K, Jiang Y. Familial myeloid leukemias from the Swedish Family-Cancer Database. Leuk Res. 2002;26:611–3.

4.

Goldin LR, Kristinsson SY, Liang XS, Derolf AR, Landgren O, Björkholm M. Familial aggregation of acute myeloid leukemia and myelodysplastic syndromes. J Clin Oncol. 2012;30:179–83.

5.

Lv H, Zhang M, Shang Z, Li J, Zhang S, Lian D, et al. Genome-wide haplotype association study identify the FGFR2 gene as a risk gene for acute myeloid leukemia. Oncotarget. 2017;8:7891–9.

6.

Knight JA, Skol AD, Shinde A, Hastings D, Walgren RA, Shao J, et al. Genome-wide association study to identify novel loci associated with therapy-related myeloid leukemia susceptibility. Blood. 2009;113:5575–82.

7.

Di Bernardo MC, Crowther-Swanepoel D, Broderick P, Webb E, Sellick G, Wild R, et al. A genome-wide association study identifies six susceptibility loci for chronic lymphocytic leukemia. Nat Genet. 2008;40:1204–10.

8.

Kim DH, Lee ST, Won HH, Kim S, Kim MJ, Kim HJ, et al. A genome-wide association study identifies novel loci associated with susceptibility to chronic myeloid leukemia. Blood. 2011;117:6906–11.

9.

Papaemmanuil E, Hosking FJ, Vijayakrishnan J, Price A, Olver B, Sheridan E, et al. Loci on 7p122, 10q212 and 14q112 are associated with risk of childhood acute lymphoblastic leukemia. Nat Genet. 2009;41:1006–10.

10.

Loeffler M, Engel C, Ahnert P, Alfermann D, Arelin K, Baber R, et al. The LIFE-Adult-Study: objectives and design of a population-based cohort study with 10,000 deeply phenotyped adults in Germany. BMC Public Health. 2015;15:691.

11.

Smith JS, Tachibana I, Pohl U, Lee HK, Thanarajasingam U, Portier BP, et al. Genomics. 2000;64:44–50.

12.

Rahman S, Sowa ME, Ottinger M, Smith JA, Shi Y, Harper JW, et al. The Brd4 extraterminal domain confers transcription activation independent of pTEFb by recruiting multiple proteins, including NSD3. Mol Cell Biol. 2011;31:2641–52.

13.

Roe JS, Vakoc CR. The essential transcriptional function of BRD4 in acute myeloid leukemia. Cold Spring Harb Symp Quant Biol. 2016;81:61–66.

14.

Alpsoy A, Dykhuizen EC. Glioma tumor suppressor candidate region gene 1 (GLTSCR1) and its paralog GLTSCR1-like form SWI/SNF chromatin remodeling subcomplexes. J Biol Chem. 2018;11:3892–903.

15.

Maharry SE, Walker CJ, Liyanarachchi S, Mehta S, Patel M, Bainazar MA, et al. Dissection of the major hematopoietic quantitative trait locus in chromosome 6q23.3 identifies miR-3662 as a player in hematopoiesis and acute myeloid leukemia. Cancer Discov. 2016;6:1036–51.
Acknowledgements
We would like to acknowledge: the patients who consented to provide material for this study; Jan Lockman and Barbara Fersch for administrative help; Donna Bucci and Wacharaphon Vongchucherd of The Alliance NCTN Biorepository and Biospecimen Resource for sample processing and storage services; the Ohio Supercomputer Center for computational resources; and Lisa J. Sterling of The Ohio State University Comprehensive Cancer Center for data management. This work was supported in part by National Institutes of Health National Cancer Institute grants CA180821 and CA180882 (to the Alliance for Clinical Trials in Oncology), CA196171, CA077658, CA180850, CA180861, CA140158, CA016058, a Pelotonia idea grant, and the Leukemia Clinical Research Foundation.
Author contributions
CJW, CCO, LKG, SL, DN, A-KE, MS, PB, MB, SS, AdlC, and CDB designed the study; MS, PB, MB, AJC, JEK, BLP, ESW, DWN, RMS, JCB, SS, AdlC, and CDB recruited subjects and handled biological samples; CJW, CCO, LKG, and BG performed genotyping; CJW, SL, DN, A-KE, JK, KM, SS, AdlC, and CDB wrote and revised the manuscript.
Ethics declarations
Conflict of interest
The authors declare that they have no conflict of interest.
Electronic supplementary material