This is a preview of subscription content
Access options
Subscribe to Journal
Get full journal access for 1 year
$119.00
only $9.92 per issue
All prices are NET prices.
VAT will be added later in the checkout.
Tax calculation will be finalised during checkout.
Rent or Buy article
Get time limited or full article access on ReadCube.
from$8.99
All prices are NET prices.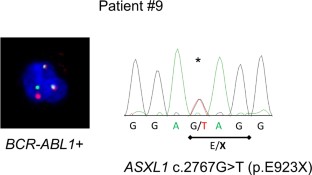 References
1.

Zoi K, Cross NC. Molecular pathogenesis of atypical CML, CMML and MDS/MPN-unclassifiable. Int J Hematol. 2015;101:229–42.

2.

Genovese G, Kähler AK, Handsaker RE, Lindberg J, Rose SA, Bakhoum SF, et al. Clonal hematopoiesis and blood-cancer risk inferred from blood DNA sequence. N Engl J Med. 2014;371:2477–87.

3.

Jaiswal S, Fontanillas P, Flannick J, Manning A, Grauman PV, Mar BG, et al. Age-related clonal hematopoiesis associated with adverse outcomes. N Engl J Med. 2014;371:2488–98.

4.

Xie M, Lu C, Wang J, McLellan MD, Johnson KJ, Wendl MC, et al. Age-related mutations associated with clonal hematopoietic expansion and malignancies. Nat Med. 2014;20:1472–8.

5.

Hehlmann R, Hochhaus A, Baccarani M. Chronic myeloid leukaemia. Lancet. 2007;370:342–50.

6.

Hochhaus A, Larson RA, Guilhot F, Radich JP, Branford S, Hughes TP, et al. Long-term outcomes of imatinib treatment for chronic myeloid leukemia. N Engl J Med. 2017;376:917–27.

7.

Schmidt M, Rinke J, Schafer V, Schnittger S, Kohlmann A, Obstfelder E, et al. Molecular-defined clonal evolution in patients with chronic myeloid leukemia independent of the BCR-ABL status. Leukemia. 2014;28:2292–9.

8.

Schäfer V, Ernst J, Rinke J, Winkelmann N, Beck JF, Hochhaus A, et al. EZH2 mutations and promoter hypermethylation in childhood acute lymphoblastic leukemia. J Cancer Res Clin Oncol. 2016;142:1641–50.

9.

Liang DC, Liu HC, Yang CP, Jaing TH, Hung IJ, Yeh TC, et al. Cooperating gene mutations in childhood acute myeloid leukemia with special reference on mutations of ASXL1, TET2, IDH1, IDH2, and DNMT3A. Blood. 2013;121:2988–95.

10.

Shih AH, Abdel-Wahab O, Patel JP, Levine RL. The role of mutations in epigenetic regulators in myeloid malignancies. Nat Rev Cancer. 2012;12:599–612.

11.

Abdel-Wahab O, Dey A. The ASXL-BAP1 axis: new factors in myelopoiesis, cancer and epigenetics. Leukemia. 2013;27:10–15.

12.

Boultwood J, Perry J, Zaman R, Fernandez-Santamaria C, Littlewood T, Kusec R, et al. High-density single nucleotide polymorphism array analysis and ASXL1 gene mutation screening in chronic myeloid leukemia during disease progression. Leukemia. 2010;24:1139–45.

13.

Togasaki E, Takeda J, Yoshida K, Shiozawa Y, Takeuchi M, Oshima M, et al. Frequent somatic mutations in epigenetic regulators in newly diagnosed chronic myeloid leukemia. Blood Cancer J. 2017;7:e559.

14.

Balasubramani A, Larjo A, Bassein JA, Chang X, Hastie RB, Togher SM, et al. Cancer-associated ASXL1 mutations may act as gain-of-function mutations of the ASXL1-BAP1 complex. Nat Commun. 2015;6:7307.

15.

Wang J, Li Z, He Y, Pan F, Chen S, Rhodes S, et al. Loss of Asxl1 leads to myelodysplastic syndrome-like disease in mice. Blood. 2014;123:541–53.
Acknowledgements
The excellent technical assistance of Mrs. Anja Waldau and Mrs. Susan Wittig is gratefully acknowledged. The study was supported by the Deutsche José Carreras Leukämie-Stiftung e.V. (DJCLS R 15/20).
Ethics declarations
Conflict of interest
The authors declare that they have no conflict of interest.
Electronic supplementary material
About this article
Cite this article
Ernst, T., Busch, M., Rinke, J. et al. Frequent ASXL1 mutations in children and young adults with chronic myeloid leukemia. Leukemia 32, 2046–2049 (2018). https://doi.org/10.1038/s41375-018-0157-2
Received:

Revised:

Accepted:

Published:

Issue Date:
Further reading
Stephanie M. Smith
Nobuko Hijiya
Kathleen M. Sakamoto

Current Oncology Reports (2021)

Yotaro Ochi
Kenichi Yoshida
Lee-Yung Shih

Nature Communications (2021)

Susan Branford
Dennis Dong Hwan Kim
Timothy P. Hughes

Leukemia (2019)