Abstract
Despite recent advances in sequencing technology and large-scale drug screenings employing hundreds of cell lines, the predictive accuracy of mutation-based biomarkers is still insufficient as a guide for cancer therapy. Therefore, novel types of diagnostic methods using alternative biomarkers would be highly desirable. We have hypothesized that sensitivity-specific changes in the phosphorylation of signaling molecules could be useful in this respect. Here, with the aim of developing a method for predicting the response of cancers to cisplatin using a combination of specific biomarker(s) and patient-derived tumor organoids (PDOs), we found that cisplatin-sensitive cell lines or PDOs showed enhanced phosphorylation of c-Jun (p-c-Jun) within 24 h after cisplatin treatment. We also compared the responses of 6 PDOs to cisplatin with the therapeutic effect of neoadjuvant chemotherapy (docetaxel/cisplatin/5-fluorouracil) in 6 matched patients. Mechanistically, the c-Jun induction was partly related to TNF signaling induced by cisplatin. Our data suggest that enhanced phosphorylation of c-Jun in response to cisplatin treatment could be a predictive biomarker for the efficacy of cisplatin in selected cancer patients.
Your institute does not have access to this article
Access options
Subscribe to Journal
Get full journal access for 1 year
We are sorry, but there is no personal subscription option available for your country.
Buy article
Get time limited or full article access on ReadCube.
$32.00
All prices are NET prices.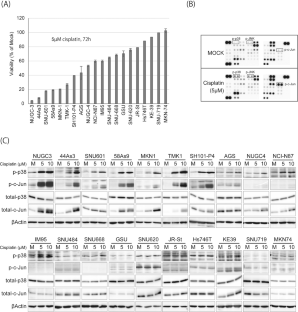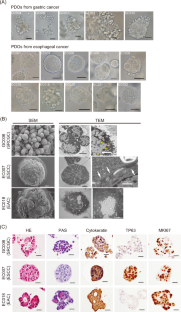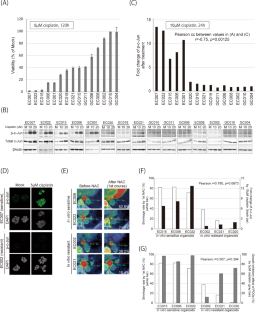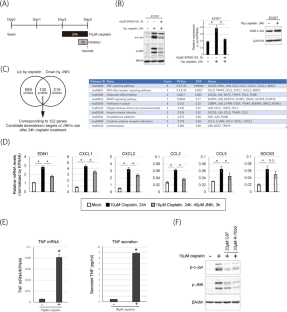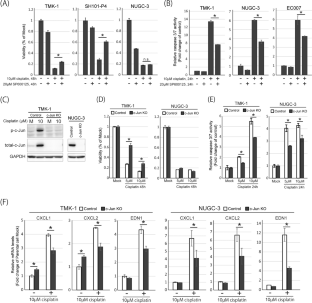 Data availability
The data that support the findings of this study are available from the corresponding authors, upon reasonable request.
References
Barretina, J, Caponigro, G, Stransky, N, Venkatesan, K, Margolin, AA, Kim, S, et al. The Cancer Cell Line Encyclopedia enables predictive modelling of anticancer drug sensitivity. Nature 483, 603-607 (2012).

Garnett, MJ, Edelman, EJ, Heidorn, SJ, Greenman, CD, Dastur, A, Lau, KW, et al. Systematic identification of genomic markers of drug sensitivity in cancer cells. Nature 483, 570-575 (2012).

Pauli, C, Hopkins, BD, Prandi, D, Shaw, R, Fedrizzi, T, Sboner, A, et al. Personalized in vitro and in vivo cancer models to guide precision medicine. Cancer Discov 7, 462-477 (2017).

Sato, T, Stange, DE, Ferrante, M, Vries, RG, Van Es, JH, Van den Brink, S, et al. Long-term expansion of epithelial organoids from human colon, adenoma, adenocarcinoma, and Barrett's epithelium. Gastroenterology 141, 1762-1772 (2011).

Sachs, N, Clevers, H. Organoid cultures for the analysis of cancer phenotypes. Curr Opin Genet Dev 24, 68-73 (2014).

Vlachogiannis, G, Hedayat, S, Vatsiou, A, Jamin, Y, Fernandez-Mateos, J, Khan, K, et al. Patient-derived organoids model treatment response of metastatic gastrointestinal cancers. Science 359, 920-926 (2018).

Kijima, T, Nakagawa, H, Shimonosono, M, Chandramouleeswaran, PM, Hara, T, Sahu, V, et al. Three-Dimensional Organoids Reveal Therapy Resistance of Esophageal and Oropharyngeal Squamous Cell Carcinoma Cells. Cell Mol Gastroenterol Hepatol 7, 73-91 (2019).

Driehuis E, van Hoeck A, Moore K, Kolders S, Francies HE, Gulersonmez MC, et al. Pancreatic cancer organoids recapitulate disease and allow personalized drug screening. Proc Natl Acad Sci USA (2019).

Driehuis, E, Kolders, S, Spelier, S, Lohmussaar, K, Willems, SM, Devriese, LA, et al. Oral Mucosal Organoids as a Potential Platform for Personalized Cancer Therapy. Cancer Discov 9, 852-871 (2019).

van de Wetering, M, Francies, HE, Francis, JM, Bounova, G, Iorio, F, Pronk, A, et al. Prospective derivation of a living organoid biobank of colorectal cancer patients. Cell 161, 933-945 (2015).

Matano, M, Date, S, Shimokawa, M, Takano, A, Fujii, M, Ohta, Y, et al. Modeling colorectal cancer using CRISPR-Cas9-mediated engineering of human intestinal organoids. Nat Med 21, 256-262 (2015).

Boj, SF., Hwang, CI., Baker, LA., Chio, II., Engle, DD. & Corbo, V. et al. Organoid models of human and mouse ductal pancreatic cancer. Cell 160, 324–338 (2015).

Li, X, Francies, HE, Secrier, M, Perner, J, Miremadi, A, Galeano-Dalmau, N, et al. Organoid cultures recapitulate esophageal adenocarcinoma heterogeneity providing a model for clonality studies and precision therapeutics. Nat Commun 9, 2983 (2018).

Lee, SH, Hu, W, Matulay, JT, Silva, MV, Owczarek, TB, Kim, K, et al. Tumor Evolution and Drug Response in Patient-Derived Organoid Models of Bladder Cancer. Cell 173, 515-528 e517 (2018).

Weeber, F, Ooft, SN, Dijkstra, KK,Voest, EE. Tumor Organoids as a Pre-clinical Cancer Model for Drug Discovery. Cell Chem Biol 24, 1092-1100 (2017).

Hirashita, Y, Tsukamoto, Y, Kudo, Y, Kakisako, D, Kurogi, S, Hijiya, N, et al. Early response in phosphorylation of ribosomal protein S6 is associated with sensitivity to trametinib in colorectal cancer cells. Lab Invest 101, 1036-1047 (2021).

Hirashita, Y, Tsukamoto, Y, Yanagihara, K, Fumoto, S, Hijiya, N, Nakada, C, et al. Reduced phosphorylation of ribosomal protein S6 is associated with sensitivity to MEK inhibition in gastric cancer cells. Cancer Sci 107, 1919-1928 (2016).

Bellmunt, J, Pons, F,Orsola, A. Molecular determinants of response to cisplatin-based neoadjuvant chemotherapy. Curr Opin Urol 23, 466-471 (2013).

Rose, MC, Kostyanovskaya, E,Huang, RS. Pharmacogenomics of cisplatin sensitivity in non-small cell lung cancer. Genomics Proteomics Bioinformatics 12, 198-209 (2014).

Ecke, TH. Biomarker in cisplatin-based chemotherapy for urinary bladder cancer. Adv Exp Med Biol 867, 293-316 (2015).

Ran, FA, Hsu, PD, Wright, J, Agarwala, V, Scott, DA, Zhang, F. Genome engineering using the CRISPR-Cas9 system. Nat Protoc 8, 2281-2308 (2013).

Bartfeld, S, Bayram, T, van de Wetering, M, Huch, M, Begthel, H, Kujala, P, et al. In vitro expansion of human gastric epithelial stem cells and their responses to bacterial infection. Gastroenterology 148, 126-136 e126 (2015).

Busslinger, GA, Weusten, BLA, Bogte, A, Begthel, H, Brosens, LAA,Clevers, H. Human gastrointestinal epithelia of the esophagus, stomach, and duodenum resolved at single-cell resolution. Cell Rep 34, 108819 (2021).

Fujishima, H, Fumoto, S, Shibata, T, Nishiki, K, Tsukamoto, Y, Etoh, T, et al. A 17-molecule set as a predictor of complete response to neoadjuvant chemotherapy with docetaxel, cisplatin, and 5-fluorouracil in esophageal cancer. PLoS One 12, e0188098 (2017).

Tsukamoto, Y, Nakada, C, Noguchi, T, Tanigawa, M, Nguyen, LT, Uchida, T, et al. MicroRNA-375 is downregulated in gastric carcinomas and regulates cell survival by targeting PDK1 and 14-3-3zeta. Cancer Res 70, 2339-2349 (2010).

Kanehisa, M, Goto, S, Hattori, M, Aoki-Kinoshita, KF, Itoh, M, Kawashima, S, et al. From genomics to chemical genomics: new developments in KEGG. Nucleic Acids Res 34, D354-357 (2006).

Yan, D, An, G,Kuo, MT. C-Jun N-terminal kinase signalling pathway in response to cisplatin. J Cell Mol Med 20, 2013-2019 (2016).

Mansouri, A, Ridgway, LD, Korapati, AL, Zhang, Q, Tian, L, Wang, Y, et al. Sustained activation of JNK/p38 MAPK pathways in response to cisplatin leads to Fas ligand induction and cell death in ovarian carcinoma cells. J Biol Chem 278, 19245-19256 (2003).

Helbig, L, Damrot, J, Hulsenbeck, J, Koberle, B, Brozovic, A, Osmak, M, et al. Late activation of stress-activated protein kinases/c-Jun N-terminal kinases triggered by cisplatin-induced DNA damage in repair-defective cells. J Biol Chem 286, 12991-13001 (2011).

Brozovic, A, Osmak, M. Activation of mitogen-activated protein kinases by cisplatin and their role in cisplatin-resistance. Cancer Lett 251, 1-16 (2007).

Wang, Q, Shi, S, He, W, Padilla, MT, Zhang, L, Wang, X, et al. Retaining MKP1 expression and attenuating JNK-mediated apoptosis by RIP1 for cisplatin resistance through miR-940 inhibition. Oncotarget 5, 1304-14 (2014).

Harris, LA, Frick, PL, Garbett, SP, Hardeman, KN, Paudel, BB, Lopez, CF, et al. An unbiased metric of antiproliferative drug effect in vitro. Nat Methods 13, 497-500 (2016).

Hafner, M, Niepel, M, Chung, M,Sorger, PK. Growth rate inhibition metrics correct for confounders in measuring sensitivity to cancer drugs. Nat Methods 13, 521-527 (2016).

Nanki, K, Toshimitsu, K, Takano, A, Fujii, M, Shimokawa, M, Ohta, Y, et al. Divergent Routes toward Wnt and R-spondin Niche Independency during Human Gastric Carcinogenesis. Cell 174, 856-869 e817 (2018).

Veninga, V,Voest, EE. Tumor organoids: Opportunities and challenges to guide precision medicine. Cancer Cell 39, 1190-1201 (2021).

Biton, S,Ashkenazi, A. NEMO and RIP1 control cell fate in response to extensive DNA damage via TNF-alpha feedforward signaling. Cell 145, 92-103 (2011).

Bulmer, JT, Zacal, NJ,Rainbow, AJ. Human cells deficient in transcription-coupled repair show prolonged activation of the Jun N-terminal kinase and increased sensitivity following cisplatin treatment. Cancer Chemother Pharmacol 56, 189-198 (2005).

Furuta, T, Ueda, T, Aune, G, Sarasin, A, Kraemer, KH,Pommier, Y. Transcription-coupled nucleotide excision repair as a determinant of cisplatin sensitivity of human cells. Cancer Res 62, 4899-4902 (2002).

Murai, J. Targeting DNA repair and replication stress in the treatment of ovarian cancer. Int J Clin Oncol 22, 619-628 (2017).
Acknowledgements
We would like to thank Ms. Mami Kimoto for technical assistance. We are also grateful to Prof. Hans Clevers, Dr. Georg A Busslinger, Dr. Else Driehuis and Ms. Stieneke van den Brink for critical advice on organoid experiments. This work was supported by Oita University President's Strategic Discretionary Fund (2020 and 2021), by JSPS KAKENHI Grant Numbers JP21H02703 and JP18H02631, by Takeda Science Foundation (2020) and by Japan AMED Translational Research Network Project Seeds A (A232).
Ethics declarations
Competing interests
The authors declare no competing interests.
Ethical approval
This study was approved by the ethics committee of Oita University Faculty of Medicine (approval No. 1495 and 1496).
Additional information
Publisher's note Springer Nature remains neutral with regard to jurisdictional claims in published maps and institutional affiliations.
Supplementary information
Rights and permissions
Springer Nature or its licensor holds exclusive rights to this article under a publishing agreement with the author(s) or other rightsholder(s); author self-archiving of the accepted manuscript version of this article is solely governed by the terms of such publishing agreement and applicable law.
About this article
Cite this article
Tsukamoto, Y., Kurogi, S., Shibata, T. et al. Enhanced phosphorylation of c-Jun by cisplatin treatment as a potential predictive biomarker for cisplatin response in combination with patient-derived tumor organoids. Lab Invest (2022). https://doi.org/10.1038/s41374-022-00827-2
Received:

Revised:

Accepted:

Published:

DOI: https://doi.org/10.1038/s41374-022-00827-2