Abstract
Previous studies have demonstrated that circST6GALNAC6 is a tumor suppressor in bladder cancer. However, the role of circST6GALNAC6 in ferroptosis remains unclear. In the current study, ferroptosis was induced in bladder cancer cells by erastin. Functional experiments showed that overexpression of circST6GALNAC6 promoted ferroptosis of bladder cancer cells in vitro and in vivo. Mechanistic studies revealed that circST6GALNAC6 bound to the N-terminus of small heat shock protein 1 (HSPB1) and thus blocked the erastin-induced phosphorylation of HSPB1 at the Ser-15 site, a phosphorylation site in the protective response to ferroptosis stress. In addition, protein kinase C inhibited circST6GALNAC6-induced ferroptosis by increasing the overall phosphorylation level of HSPB1, further demonstrating the role of phosphorylation activation of HSPB1 in resistance to ferroptosis. Finally, the involvement of the HSPB1/p38 MAPK pathway in the downstream signal transduction of circST6GALNAC6 in bladder cancer ferroptosis regulation was determined. The regulatory mechanism of ferroptosis sensitivity dependent on circST6GALNAC6 expression levels in bladder cancer was revealed as circRNA regulation of various protein functions. CircST6GALNAC6 inhibits HSPB1 and promotes cell ferroptosis by occupying the phosphorylation site (Ser-15) of HSBP1 and activating the P38 MAPK signaling pathway. Therefore, enhancing the expression of circST6GALNAC6 to promote ferroptosis or using circST6GALNAC6 as a biomarker of ferroptosis sensitivity is of considerable importance to the development and application of ferroptosis intervention methods in bladder cancer.
Access options
Subscribe to Journal
Get full journal access for 1 year
We are sorry, but there is no personal subscription option available for your country.
Buy article
Get time limited or full article access on ReadCube.
$32.00
All prices are NET prices.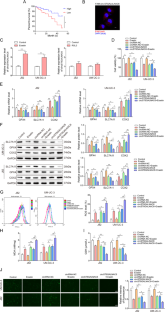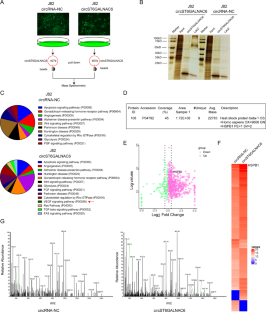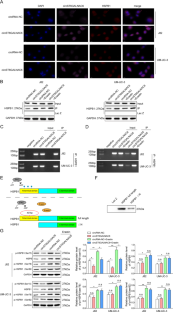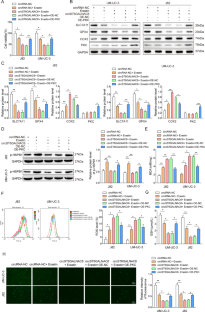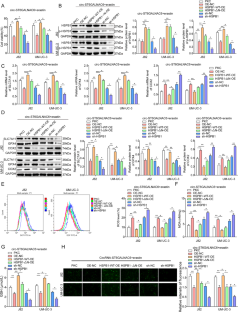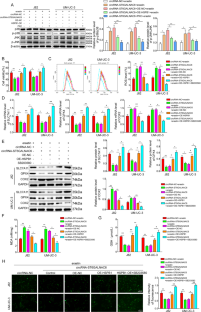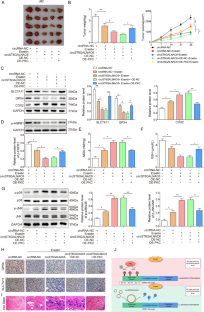 Data availability
All data generated or analyzed during this study are included in this published article.
References
Martinez Rodriguez, R. H., Buisan Rueda, O. & Ibarz, L. Bladder cancer: present and future. Med Clin 149, 449-455 (2017).

Siegel, R. L., Miller, K. D., Fuchs, H. E. & Jemal, A. Cancer Statistics, 2021. CA Cancer J Clin 71, 7-33 (2021).

Abdollah, F., Gandaglia, G., Thuret, R., Schmitges, J., Tian, Z., Jeldres, C. et al. Incidence, survival and mortality rates of stage-specific bladder cancer in United States: a trend analysis. Cancer Epidemiol 37, 219-225 (2013).

Kong, N., Chen, X. Y., Feng, J., Duan, T., Liu, S. P., Sun, X. N. et al. Baicalin induces ferroptosis in bladder cancer cells by downregulating FTH1. Acta Pharm Sin B 11, 4045-4054 (2021).

Qi, A., Wang, C., Ni, S., Meng, Y., Wang, T., Yue, Z. et al. Intravesical Mucoadhesive Hydrogel Induces Chemoresistant Bladder Cancer Ferroptosis through Delivering Iron Oxide Nanoparticles in a Three-Tier Strategy. ACS Appl Mater Interfaces, 13, 44 (2021).

Hsu, M. T. & Coca-Prados, M. Electron microscopic evidence for the circular form of RNA in the cytoplasm of eukaryotic cells. Nature 280, 339-340 (1979).

Cocquerelle, C., Mascrez, B., Hetuin, D. & Bailleul, B. Mis-splicing yields circular RNA molecules. FASEB J 7, 155-160 (1993).

Memczak, S., Jens, M., Elefsinioti, A., Torti, F., Krueger, J., Rybak, A. et al. Circular RNAs are a large class of animal RNAs with regulatory potency. Nature 495, 333-338 (2013).

Rybak-Wolf, A., Stottmeister, C., Glazar, P., Jens, M., Pino, N., Giusti, S. et al. Circular RNAs in the Mammalian brain are highly abundant, conserved, and dynamically expressed. Mol Cell 58, 870-885 (2015).

Lei, M., Zheng, G., Ning, Q., Zheng, J. & Dong, D. Translation and functional roles of circular RNAs in human cancer. Mol Cancer 19, 30 (2020).

Li, C., Tian, Y., Liang, Y. & Li, Q. Circ_0008035 contributes to cell proliferation and inhibits apoptosis and ferroptosis in gastric cancer via miR-599/EIF4A1 axis. Cancer Cell Int 20, 84 (2020).

Zhang, H. Y., Zhang, B. W., Zhang, Z. B. & Deng, Q. J. Circular RNA TTBK2 regulates cell proliferation, invasion and ferroptosis via miR-761/ITGB8 axis in glioma. Eur Rev Med Pharmacol Sci 24, 2585-2600 (2020).

Zhang, H., Ge, Z., Wang, Z., Gao, Y., Wang, Y., Qu, X. Circular RNA RHOT1 promotes progression and inhibits ferroptosis via mir-106a-5p/STAT3 axis in breast cancer. Aging (Albany NY) 13, 8115-8126 (2021).

Tan, S., Kang, Y., Li, H., He, H. Q., Zheng, L., Wu, S. Q. et al. circST6GALNAC6 suppresses bladder cancer metastasis by sponging miR-200a-3p to modulate the STMN1/EMT axis. Cell Death Dis 12, 168 (2021).

Saini, J. & Sharma, P. K. Clinical, prognostic and therapeutic significance of heat shock proteins in cancer. Curr Drug Targets 19, 1478-1490 (2018).

Takayama, S., Reed, J. C. & Homma, S. Heat-shock proteins as regulators of apoptosis. Oncogene 22, 9041-9047 (2003).

Rogalla, T., Ehrnsperger, M., Preville, X., Kotlyarov, A., Lutsch, G., Ducasse, C. et al. Regulation of Hsp27 oligomerization, chaperone function, and protective activity against oxidative stress/tumor necrosis factor alpha by phosphorylation. J Biol Chem 274, 18947-18956 (1999).

Sun, X., Ou, Z., Xie, M., Kang, R., Fan, Y., Niu, X. et al. HSPB1 as a novel regulator of ferroptotic cancer cell death. Oncogene 34, 5617-5625 (2015).

Kamada, M., So, A., Muramaki, M., Rocchi, P., Beraldi, E., Gleave, M. Hsp27 knockdown using nucleotide-based therapies inhibit tumor growth and enhance chemotherapy in human bladder cancer cells. Mol Cancer Ther 6, 299-308 (2007).

Wada, T. & Penninger, J. M. Mitogen-activated protein kinases in apoptosis regulation. Oncogene 23, 2838-2849 (2004).

Arthur, J. S. & Ley, S. C. Mitogen-activated protein kinases in innate immunity. Nat Rev Immunol 13, 679-692 (2013).

Chang, W. T., Bow, Y. D., Fu, P. J., Li, C. Y., Wu, C. Y., Chang, Y. H. et al. A marine terpenoid, heteronemin, induces both the apoptosis and ferroptosis of hepatocellular carcinoma cells and involves the ROS and MAPK pathways. Oxid Med Cell Longev 2021, 7689045 (2021).

Li, L., Hao, Y., Zhao, Y., Wang, H., Zhao, X. Jiang, Y. et al. Ferroptosis is associated with oxygen-glucose deprivation/reoxygenation-induced Sertoli cell death. Int J Mol Med 41, 3051-3062 (2018).

Li, Y., Chen, F., Chen, J., Chan, S., He, Y., Liu, W. et al. Disulfiram/copper induces antitumor activity against both nasopharyngeal cancer cells and cancer-associated fibroblasts through ROS/MAPK and ferroptosis pathways. Cancers 12, 138 (2020).

Kristensen, L. S., Hansen, T. B., Veno, M. T. & Kjems, J. Circular RNAs in cancer: opportunities and challenges in the field. Oncogene 37, 555-565 (2018).

Xian, Z. Y., Hu, B., Wang, T., Cai, J. L., Zeng, J. Y., Zou, Q. et al. CircABCB10 silencing inhibits the cell ferroptosis and apoptosis by regulating the miR-326/CCL5 axis in rectal cancer. Neoplasma 67, 1063-1073 (2020).

Xu, Q., Zhou, L., Yang, G., Meng, F., Wan, Y., Wang, L. et al. CircIL4R facilitates the tumorigenesis and inhibits ferroptosis in hepatocellular carcinoma by regulating the miR-541-3p/GPX4 axis. Cell Biol Int 44, 2344-2356 (2020).

Nagaraja, G. M., Kaur, P. & Asea, A. Role of human and mouse HspB1 in metastasis. Curr Mol Med 12, 1142-1150 (2012).

El-Meghawry El-Kenawy, A., El-Kott, A. F. & Hasan, M. S. Heat shock protein expression independently predicts survival outcome in schistosomiasis-associated urinary bladder cancer. Int J Biol Markers 23, 214-218 (2008).

Zhang, D., Wong, L. L. & Koay, E. S. Phosphorylation of Ser78 of Hsp27 correlated with HER-2/neu status and lymph node positivity in breast cancer. Mol Cancer 6, 52 (2007).
Funding
This work was supported by Hunan Provincial Natural Science Foundation of China (No. 2019JJ40442), National Natural Science Foundation of China (Grant no. 81972195), Hunan Provincial Key Area R&D Program (Grant no. 2019SK2253), Scientific Research Program of Hunan Provincial Health Commission (Grant no. 20201047) and Clinical Medical Technology Innovation Guide Project of Hunan Province (grant number S2020SFYLJS0311).
Ethics declarations
Competing interests
The authors declare no competing interests.
Ethics approval and consent to participate
Nude mice (male, 7–8 weeks old) were provided by Hunan SJA Laboratory Animal Co., Ltd, animal experiments were performed in accordance with the guidelines of the Committee on the Ethics of Animal Experiments of Central South University.
Additional information
Publisher's note Springer Nature remains neutral with regard to jurisdictional claims in published maps and institutional affiliations.
Supplementary information
Rights and permissions
Springer Nature or its licensor holds exclusive rights to this article under a publishing agreement with the author(s) or other rightsholder(s); author self-archiving of the accepted manuscript version of this article is solely governed by the terms of such publishing agreement and applicable law.
About this article
Cite this article
Wang, L., Wu, S., He, H. et al. CircRNA-ST6GALNAC6 increases the sensitivity of bladder cancer cells to erastin-induced ferroptosis by regulating the HSPB1/P38 axis. Lab Invest (2022). https://doi.org/10.1038/s41374-022-00826-3
Received:

Revised:

Accepted:

Published:

DOI: https://doi.org/10.1038/s41374-022-00826-3