Abstract
N6-methyladenosine (m6A) modification is involved in diverse immunoregulation, while the relationship between m6A modification and immune tolerance post kidney transplantation remains unclear. Expression of Wilms tumor 1-associating protein (WTAP), an m6A writer, was firstly detected in tolerant kidney transplant recipients (TOL). Then the role of WTAP on regulatory T (Treg) cell differentiation and function in CD4+ T cells from kidney transplant recipients with immune rejection (IR) was investigated. The potential target of WTAP and effect of WTAP on immune tolerance in vivo were subsequently verified. WTAP was upregulated in CD4+ T cells of TOL and positively correlated with Treg cell proportion. In vitro, WTAP overexpression promoted Treg cell differentiation and enhanced Treg cell-mediated suppression toward naïve T cells. Forkhead box other 1 (Foxo1) was identified as a target of WTAP. WTAP enhanced m6A modification of Foxo1 mRNA in coding sequence (CDS) region, leading to up-regulation of Foxo1. Overexpression of m6A demethylase removed the effect of WTAP overexpression, while Foxo1 overexpression reversed these effects. WTAP overexpression alleviated allograft rejection in model mice, as evidenced by reduced inflammatory response and increased Treg population. Our study suggests that WTAP plays a positive role in induction of immune tolerance post kidney transplant by promoting Treg cell differentiation and function.
Your institute does not have access to this article
Access options
Subscribe to Journal
Get full journal access for 1 year
We are sorry, but there is no personal subscription option available for your country.
Buy article
Get time limited or full article access on ReadCube.
$32.00
All prices are NET prices.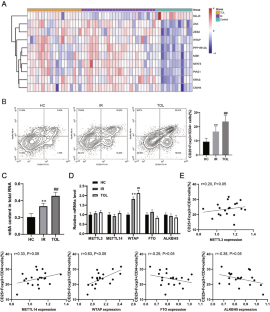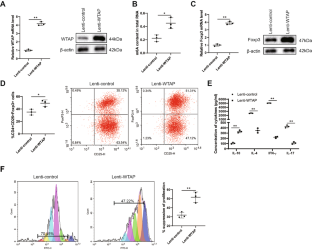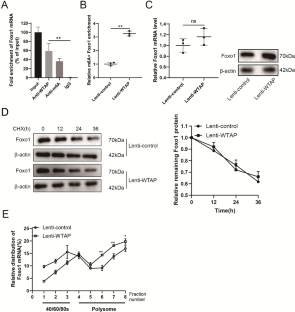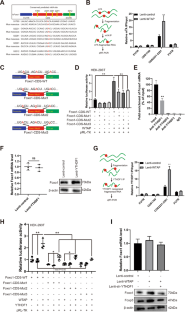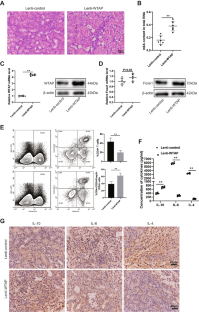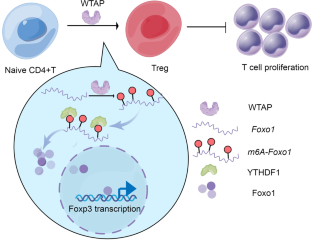 Data availability
The datasets used and/or analyzed during the current study are available from the corresponding author on reasonable request.
References
Zhang R. Donor-specific antibodies in kidney transplant recipients. Clin J Am Soc Nephrol. 13,182–192 (2018).

Shrestha BM. Two decades of tacrolimus in renal transplant: basic science and clinical evidences. Exp Clin Transpl. 15,1–9 (2017).

Yu P, Xiong S, He Q, Chu Y, Lu C, Ramlogan C, et al. Induction of allogeneic mixed chimerism by immature dendritic cells and bone marrow transplantation leads to prolonged tolerance to major histocompatibility complex disparate allografts. Immunology. 127, 500–511 (2009).

Georgiev P, Charbonnier LM, Chatila TA. Regulatory T Cells: the many faces of Foxp3. J Clin Immunol. 39, 623–640 (2019).

Braudeau C, Racape M, Giral M, Louis S, Moreau A, Berthelot L, et al. Variation in numbers of CD4+CD25highFOXP3+ T cells with normal immuno-regulatory properties in long-term graft outcome. Transpl Int. 20, 845–855 (2007).

Pang XL, Wang ZG, Liu L, Feng YH, Wang JX, Xie HC, et al. Immature dendritic cells derived exosomes promotes immune tolerance by regulating T cell differentiation in renal transplantation. Aging. 11, 8911–8924 (2019).

Wu H, Singer J, Kwan TK, Loh YK, Wang CM, Tan J, et al. Gut microbial metabolites induce donor-specific tolerance of kidney allografts through induction of t regulatory cells by short-chain fatty acids. J Am Soc Nephrol. 31, 1445–1461(2020).

Ono M. Control of regulatory T-cell differentiation and function by T-cell receptor signalling and Foxp3 transcription factor complexes. Immunology. 160, 24–37 (2020).

Fleskens V, Minutti CM, Wu X, Wei X, Pals C, McCrae J, et al. Nemo-like kinase drives Foxp3 stability and is critical for maintenance of immune tolerance by regulatory T cells. Cell Rep. 26, 3600–3612 (2019).

He L, Li H, Wu A, Peng Y, Shu G, Yin G. Functions of N6-methyladenosine and its role in cancer. Mol Cancer. 18, 176 (2019).

Zhang C, Fu J, Zhou Y. A review in research progress concerning m6A methylation and immunoregulation. Front Immunol. 10, 922 (2019).

Tong J, Cao G, Zhang T, Sefik E, Vesely M, Broughton J, et al. m(6)A mRNA methylation sustains Treg suppressive functions. Cell Res. 28, 253–256 (2018).

Dusséaux M, Masse-Ranson G, Darche S, Ahodantin J, Li Y, Fiquet O, et al. Viral load affects the immune response to HBV in mice with humanized immune system and liver. Gastroenterology. 153, 1647–1661 (2017).

Roman, MG., Flores, LC., Cunningham, GM., Cheng, C., Allen, C. & Bai, Y. et al. Thioredoxin down-regulation in the cytosol in thioredoxin 2 transgenic mice did not have beneficial effects to extend lifespan in male C57BL/6 mice. Aging Pathobiol Ther. 2, 203–209 (2020).

Wu T-F, Liu Y, Guo X-H. CASC15 promotes lens epithelial cell apoptosis in age-related cataracts by regulating MiR-139-5p/caspase-3. Clin Surg Res Commun. 3, 16–24 (2019).

Rousseau D, Kaspar R, Rosenwald I, Gehrke L, Sonenberg N. Translation initiation of ornithine decarboxylase and nucleocytoplasmic transport of cyclin D1 mRNA are increased in cells overexpressing eukaryotic initiation factor 4E. Proc Natl Acad Sci USA. 93, 1065–1070 (1996).

Wang YY, Jiang H, Pan J, Huang XR, Wang YC, Huang HF, et al. Macrophage-to-Myofibroblast transition contributes to interstitial fibrosis in chronic renal allograft injury. J Am Soc Nephrol. 28, 2053–2067 (2017).

Lee A, Lei H, Zhu L, Jiang Z, Ladiges W. Resilience to acute sleep deprivation is associated with attenuation of hippocampal mediated learning impairment. Aging Pathobiol Ther. 2, 195–202 (2020).

Wang T, Kong S, Tao M, Ju S. The potential role of RNA N6-methyladenosine in Cancer progression. Mol Cancer. 19, 88 (2020).

Kasashima S, Kawashima A, Zen Y, Ozaki S, Kasashima F, Endo M, et al. Upregulated interleukins (IL-6, IL-10, and IL-13) in immunoglobulin G4-related aortic aneurysm patients. J Vasc Surg. 67, 1248–1262 (2018).

Constantinescu CS, Farooqi N, O'Brien K, Gran B. Experimental autoimmune encephalomyelitis (EAE) as a model for multiple sclerosis (MS). Br J Pharmacol. 164, 1079–1106 (2011).

Talaat RM, Mohamed SF, Bassyouni IH, Raouf AA. Th1/Th2/Th17/Treg cytokine imbalance in systemic lupus erythematosus (SLE) patients: Correlation with disease activity. Cytokine. 72, 146–153 (2015).

Bothur E, Raifer H, Haftmann C, Stittrich A, Brüstle A, Brenner D, et al. Antigen receptor-mediated depletion of FOXP3 in induced regulatory T-lymphocytes via PTPN2 and FOXO1. Nat Commun. 6, 8576 (2015).

Wang X, Zhao BS, Roundtree IA, Lu Z, Han D, Ma H, et al. N(6)-methyladenosine modulates messenger RNA translation efficiency. Cell. 161, 1388–1399 (2015).

Li J, Chen K, Dong X, Xu Y, Sun Q, Wang H, et al. YTHDF1 promotes mRNA degradation via YTHDF1-AGO2 interaction and phase separation. Cell Prolif. 55, e13157 (2022).

Ping XL, Sun BF, Wang L, Xiao W, Yang X, Wang WJ, et al. Mammalian WTAP is a regulatory subunit of the RNA N6-methyladenosine methyltransferase. Cell Res. 24, 177–189 (2014).

Chen Y, Peng C, Chen J, Chen D, Yang B, He B, et al. WTAP facilitates progression of hepatocellular carcinoma via m6A-HuR-dependent epigenetic silencing of ETS1. Mol Cancer. 18, 127 (2019).

Chen S, Li Y, Zhi S, Ding Z, Wang W, Peng Y, et al. WTAP promotes osteosarcoma tumorigenesis by repressing HMBOX1 expression in an m(6)A-dependent manner. Cell Death Dis. 11, 659 (2020).

Li H, Su Q, Li B, Lan L, Wang C, Li W, et al. High expression of WTAP leads to poor prognosis of gastric cancer by influencing tumour-associated T lymphocyte infiltration. J Cell Mol Med. 24, 4452–4465 (2020).

Luo CT, Li MO. Transcriptional control of regulatory T cell development and function. Trends Immunol. 34, 531–539 (2013).

Tan Y, Chen W, Liu C, Zheng X, Guo A, Long J. Effect of IL-21 on the Balance of Th17 Cells/Treg Cells in the Pathogenesis of Graves' Disease. Endocr Res. 44, 138–147 (2019).

Peng S, Xiao W, Ju D, Sun B, Hou N, Liu Q, et al. Identification of entacapone as a chemical inhibitor of FTO mediating metabolic regulation through FOXO1. Sci Transl Med. 11, eaau7116 (2019).

Jian D, Wang Y, Jian L, Tang H, Rao L, Chen K, et al. METTL14 aggravates endothelial inflammation and atherosclerosis by increasing FOXO1 N6-methyladeosine modifications. Theranostics. 10, 8939–8956 (2020).

Chen XY, Zhang J, Zhu JS. The role of m(6)A RNA methylation in human cancer. Mol Cancer. 18, 103 (2019).

Pi J, Wang W, Ji M, Wang X, Wei X, Jin J, et al. YTHDF1 promotes gastric carcinogenesis by controlling translation of FZD7. Cancer Res. 81, 2651–2665 (2021).

Liu T, Wei Q, Jin J, Luo Q, Liu Y, Yang Y, et al. The m6A reader YTHDF1 promotes ovarian cancer progression via augmenting EIF3C translation. Nucleic Acids Res. 48, 3816–3831 (2020).

Zhou Z, Lv J, Yu H, Han J, Yang X, Feng D, et al. Mechanism of RNA modification N6-methyladenosine in human cancer. Mol Cancer. 19, 104 (2020).

Kerdiles YM, Stone EL, Beisner DR, McGargill MA, Ch'en IL, Stockmann C, et al. Foxo transcription factors control regulatory T cell development and function. Immunity. 33, 890–904 (2010).

Hsu P, Santner-Nanan B, Hu M, Skarratt K, Lee C, Stormon M, et al. IL-10 Potentiates differentiation of human induced regulatory T Cells via STAT3 and Foxo1. J Immunol. 195, 3665–3674 (2015).
Funding
This study was supported by the Medical Science and Technology Research Project of Henan Province (No. SB201901004).
Ethics declarations
Competing interests
The authors declare no competing interests.
Ethics Approval/Consent to Participate
This study was approved by the Ethics Committee of The First Affiliated Hospital of Zhengzhou University.
Additional information
Publisher's note Springer Nature remains neutral with regard to jurisdictional claims in published maps and institutional affiliations.
Supplementary information
About this article
Cite this article
Wang, Z., Qi, Y., Feng, Y. et al. The N6-methyladenosine writer WTAP contributes to the induction of immune tolerance post kidney transplantation by targeting regulatory T cells. Lab Invest (2022). https://doi.org/10.1038/s41374-022-00811-w
Received:

Revised:

Accepted:

Published:

DOI: https://doi.org/10.1038/s41374-022-00811-w