Abstract
DNA methyltransferase 1 (DNMT1) shows close link with heart disease. This study aimed to define the role DNMT1 plays in heart failure and determine the underlying mechanism. Expression of microRNA (miR)-152-3p, DNMT1, E26 transformation specific-1 (ETS1) and ras homolog gene family member H (RhoH) was determined by RT-qPCR and/or western blot analysis. The interaction between miR-152-3p and ETS1 was predicted and verified. Methylation of the miR-152-3p promoter region was assessed using methylation-specific PCR. H9c2 cells were chosen for in vitro assays to examine the regulatory role of DNMT1 in autophagy and mitophagy with respect to miR-152-3p/ETS1/RhoH. Doxorubicin (DOX)-induced rat models of heart failure were employed for in vivo validation. DNMT1 expression was upregulated in the heart tissues of DOX-induced rats, where it showed an inverse correlation with miR-152-3p expression. Moreover, DNMT1 was shown to enhance methylation of the miR-152-3p promoter region and suppress its expression, leading to inhibition of mitophagy in H9c2 cells. In addition, DNMT1 enhanced expression of ETS1, which further elevated RhoH expression. Moreover, ETS1-elevated RhoH reduced cell viability and promoted autophagy and mitophagy in H9c2 cells upon treatment with DOX. Next, in vivo results demonstrated that depletion of DNMT1 protected rats from heart failure in a miR-152-3p/ETS1/RhoH-dependent manner. Overall, these findings indicate that DNMT1 may inhibit expression of miR-152-3p by promoting the methylation of miR-152-3p and enhancing the expression of ETS1, thereby inducing RHOH transcriptional activation and inhibiting mitochondrial autophagy, ultimately promoting the development of heart failure.
Your institute does not have access to this article
Access options
Subscribe to Journal
Get full journal access for 1 year
We are sorry, but there is no personal subscription option available for your country.
Buy article
Get time limited or full article access on ReadCube.
$32.00
All prices are NET prices.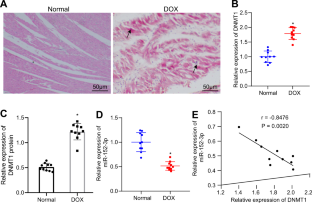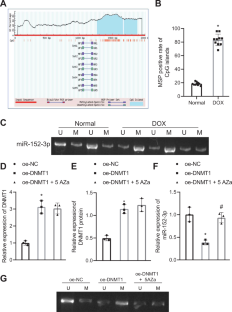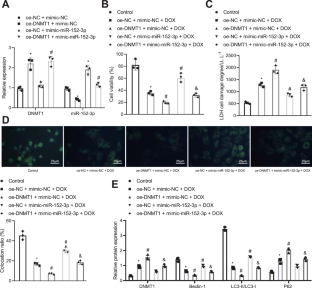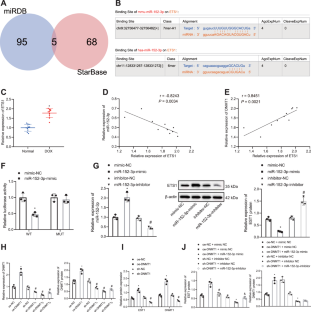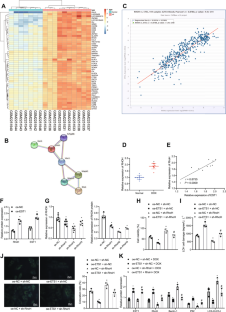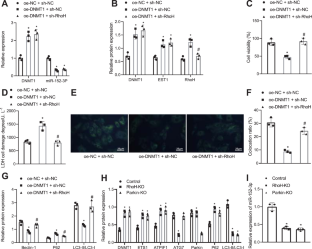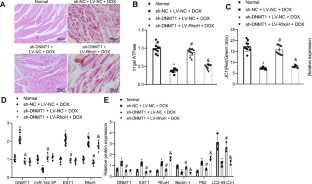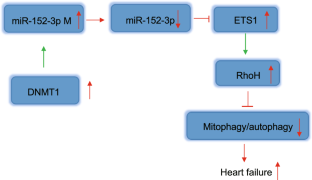 Data availability
All data generated or analyzed during this study are included in this article [and/or] its supplemental material files. Further enquiries can be directed to the corresponding author.
References
Ziaeian, B. & Fonarow, G. C. Epidemiology and aetiology of heart failure. Nat. Rev. Cardiol. 13, 368–378 (2016).

Mazurek, J. A. & Jessup, M. Understanding Heart Failure. Heart Fail. Clin. 13, 1–19 (2017).

Xu, R., Sun, Y., Chen, Z., Yao, Y. & Ma, G. Hypoxic Preconditioning Inhibits Hypoxia-induced Apoptosis of Cardiac Progenitor Cells via the PI3K/Akt-DNMT1-p53 Pathway. Sci. Rep. 6, 30922 (2016).

Jorgensen, B. G. et al. DNA methylation, through DNMT1, has an essential role in the development of gastrointestinal smooth muscle cells and disease. Cell Death Dis. 9, 474 (2018).

Vukic, M. & Daxinger, L. DNA methylation in disease: Immunodeficiency, Centromeric instability, Facial anomalies syndrome. Essays Biochem. 63, 773–783 (2019).

Papait, R., Serio, S. & Condorelli, G. Role of the Epigenome in Heart Failure. Physiol. Rev. 100, 1753–1777 (2020).

Wu, T. T. et al. Myocardial tissue-specific Dnmt1 knockout in rats protects against pathological injury induced by Adriamycin. Lab. Investig. 100, 974–985 (2020).

Chaturvedi, P. et al. Differential regulation of DNA methylation versus histone acetylation in cardiomyocytes during HHcy in vitro and in vivo: an epigenetic mechanism. Physiol. Genom. 46, 245–255 (2014).

Ramalho-Carvalho, J. et al. A multiplatform approach identifies miR-152-3p as a common epigenetically regulated onco-suppressor in prostate cancer targeting TMEM97. Clin. Epigenet. 10, 40 (2018).

Lu, Z. W. et al. MiR-152 functioning as a tumor suppressor that interacts with DNMT1 in nasopharyngeal carcinoma. Onco. Targets Ther. 11, 1733–1741 (2018).

Zhang J., et al. Overexpression of Exosomal Cardioprotective miRNAs Mitigates Hypoxia-Induced H9c2 Cells Apoptosis. Int. J. Mol. Sci. 18, 711 (2017).

Xu, L. et al. Endothelial-specific deletion of Ets-1 attenuates Angiotensin II-induced cardiac fibrosis via suppression of endothelial-to-mesenchymal transition. BMB Rep. 52, 595–600 (2019).

Troeger, A. & Williams, D. A. Hematopoietic-specific Rho GTPases Rac2 and RhoH and human blood disorders. Exp. Cell Res. 319, 2375–2383 (2013).

Yan, Y., Xiang, C., Yang, Z., Miao, D. & Zhang, D. Rho Kinase Inhibition by Fasudil Attenuates Adriamycin-Induced Chronic Heart Injury. Cardiovasc. Toxicol. 20, 351–360 (2020).

Santos, G. L., Hartmann, S., Zimmermann, W. H., Ridley, A. & Lutz, S. Inhibition of Rho-associated kinases suppresses cardiac myofibroblast function in engineered connective and heart muscle tissues. J. Mol. Cell Cardiol. 134, 13–28 (2019).

Ding, R., Han, J., Zhao, D., Hu, Z. & Ma, X. Pretreatment with Rho-kinase inhibitor ameliorates lethal endotoxemia-induced liver injury by improving mitochondrial function. Int. Immunopharmacol. 40, 125–130 (2016).

Zhou, H., He, L., Xu, G. & Chen, L. Mitophagy in cardiovascular disease. Clin. Chim. Acta 507, 210–218 (2020).

Moyzis, A. G., Sadoshima, J. & Gustafsson, A. B. Mending a broken heart: the role of mitophagy in cardioprotection. Am. J. Physiol. Heart Circ. Physiol. 308, H183–H192 (2015).

Lu, L. et al. Adriamycin-induced autophagic cardiomyocyte death plays a pathogenic role in a rat model of heart failure. Int. J. Cardiol. 134, 82–90 (2009).

Wen, J. et al. Salsolinol Attenuates Doxorubicin-Induced Chronic Heart Failure in Rats and Improves Mitochondrial Function in H9c2 Cardiomyocytes. Front. Pharmacol. 10, 1135 (2019).

Hoshino, A. et al. Cytosolic p53 inhibits Parkin-mediated mitophagy and promotes mitochondrial dysfunction in the mouse heart. Nat. Commun. 4, 2308 (2013).

Ma, L. Q. et al. Sweroside Alleviated Aconitine-Induced Cardiac Toxicity in H9c2 Cardiomyoblast Cell Line. Front. Pharmacol. 9, 1138 (2018).

Xu, Q. et al. A regulatory circuit of miR-148a/152 and DNMT1 in modulating cell transformation and tumor angiogenesis through IGF-IR and IRS1. J. Mol. Cell Biol. 5, 3–13 (2013).

Zhang, Z. et al. Tanshinone IIA inhibits apoptosis in the myocardium by inducing microRNA-152-3p expression and thereby downregulating PTEN. Am. J. Transl. Res. 8, 3124–3132 (2016).

Momparler, R. L., Cote, S., Momparler, L. F. & Idaghdour, Y. Inhibition of DNA and Histone Methylation by 5-Aza-2'-Deoxycytidine (Decitabine) and 3-Deazaneplanocin-A on Antineoplastic Action and Gene Expression in Myeloid Leukemic Cells. Front. Oncol. 7, 19 (2017).

Fukui, S. et al. Long-term inhibition of Rho-kinase ameliorates diastolic heart failure in hypertensive rats. J. Cardiovasc. Pharmacol. 51, 317–326 (2008).

Jackson, S. L. et al. National Burden of Heart Failure Events in the United States, 2006 to 2014. Circ. Heart Fail. 11, e004873 (2018).

Pepin, M. E. et al. DNA methylation reprograms cardiac metabolic gene expression in end-stage human heart failure. Am. J. Physiol. Heart Circ. Physiol. 317, H674–H684 (2019).

Fernandes, G. F. S. et al. Epigenetic Regulatory Mechanisms Induced by Resveratrol. Nutrients 9, 1201 (2017).

Wang, P. et al. Kindlin-2 interacts with and stabilizes DNMT1 to promote breast cancer development. Int. J. Biochem. Cell Biol. 105, 41–51 (2018).

Du, W. W. et al. A circular RNA circ-DNMT1 enhances breast cancer progression by activating autophagy. Oncogene 37, 5829–5842 (2018).

Higuchi, F. et al. State-dependent changes in the expression of DNA methyltransferases in mood disorder patients. J. Psychiatr. Res. 45, 1295–1300 (2011).

Fuso, A., Nicolia, V., Cavallaro, R. A. & Scarpa, S. DNA methylase and demethylase activities are modulated by one-carbon metabolism in Alzheimer's disease models. J. Nutr. Biochem. 22, 242–251 (2011).

Sacconi, S. et al. Patients with a phenotype consistent with facioscapulohumeral muscular dystrophy display genetic and epigenetic heterogeneity. J. Med. Genet. 49, 41–46 (2012).

Wang Y. Y., et al. Histone deacetylase 3 suppresses the expression of SHP-1 via deacetylation of DNMT1 to promote heart failure. Life Sci. 119552, https://doi.org/10.1016/j.lfs.2021.119552 (2021).

Vegter, E. L., van der Meer, P., de Windt, L. J., Pinto, Y. M. & Voors, A. A. MicroRNAs in heart failure: from biomarker to target for therapy. Eur. J. Heart Fail. 18, 457–468 (2016).

Zhang, W. B., Lai, X. & Guo, X. F. Activation of Nrf2 by miR-152 Inhibits Doxorubicin-Induced Cardiotoxicity via Attenuation of Oxidative Stress, Inflammation, and Apoptosis. Oxid. Med. Cell Longev. 2021, 8860883 (2021).

Sindi, H. A. et al. Therapeutic potential of KLF2-induced exosomal microRNAs in pulmonary hypertension. Nat. Commun. 11, 1185 (2020).

Gandhi, S., Ezin, M. & Bronner, M. E. Reprogramming Axial Level Identity to Rescue Neural-Crest-Related Congenital Heart Defects. Dev. Cell 53, 300–315 e304 (2020).

Qin, D. et al. HBx and HBs regulate RhoC expression by upregulating transcription factor Ets-1. Arch. Virol. 158, 1773–1781 (2013).

Arafa, M. H., Mohammad, N. S. & Atteia, H. H. Rho-Kinase inhibitors ameliorate diclofenac-induced cardiotoxicity in chloroquine-treated adjuvant arthritic rats. Life Sci. 254, 117605 (2020).

Yang, T. et al. Ginsenoside Rb1 inhibits autophagy through regulation of Rho/ROCK and PI3K/mTOR pathways in a pressure-overload heart failure rat model. J. Pharm. Pharmacol. 70, 830–838 (2018).

Yang, A. et al. Homocysteine activates autophagy by inhibition of CFTR expression via interaction between DNA methylation and H3K27me3 in mouse liver. Cell Death Dis. 9, 169 (2018).
Ethics declarations
Competing interests
The authors declare no competing interests.
Ethics approval
The current study was approved by the Animal Ethics Committee of the Third Hospital of Hebei Medical University. We attempted to reduce the suffering of the animal used during the experiments.
Additional information
Publisher's note Springer Nature remains neutral with regard to jurisdictional claims in published maps and institutional affiliations.
Supplementary information
About this article
Cite this article
Deng, Z., Yao, J., Xiao, N. et al. DNA methyltransferase 1 (DNMT1) suppresses mitophagy and aggravates heart failure via the microRNA-152-3p/ETS1/RhoH axis. Lab Invest 102, 782–793 (2022). https://doi.org/10.1038/s41374-022-00740-8
Received:

Revised:

Accepted:

Published:

Issue Date:

DOI: https://doi.org/10.1038/s41374-022-00740-8