Abstract
The ability of cisplatin (cis-diamminedichloroplatinum II) toxicity to induce acute kidney injury (AKI) has attracted attention and concern for a long time, but the molecular mechanism of action for cisplatin is not clear. MicroRNA-483 is involved in several diseases, such as tumorigenesis and osteoarthritis, but its renal target and potential role in AKI are unknown. In this study, we explored the pathogenic role and underlying mechanism of miR-483-5p in cisplatin-induced AKI, using transgenic mice, clinical specimen, and in vitro cell line. We found that miR-483-5p was significantly upregulated by cisplatin in a cisplatin-induced mouse model, in serum samples of patients who received cisplatin therapy, and in NRK-52E cells. Overexpression of miR-483-5p in mouse kidneys by stereotactic renal injection of lentiviruses mediated miR-483-5p or generation of conditional miR-483-overexpressing transgenic mice accentuated cisplatin-induced AKI by increasing oxidative stress, promoting apoptosis, and inhibiting autophagy of tubular cells. Furthermore, our results revealed miR-483-5p directly targeted to GPX3, overexpression of which rescued cisplatin-induced AKI by inhibiting oxidative stress and apoptosis of tubular cells, but not by regulating autophagy. Collectively, miR-483-5p is upregulated by cisplatin and exacerbates cisplatin-induced AKI via negative regulation of GPX3 and contributing oxidative stress and tubular cell apoptosis. These findings reveal a pathogenic role for miR-483-5p in cisplatin-induced AKI and suggest a novel target for the diagnosis and treatment of AKI.
Your institute does not have access to this article
Access options
Subscribe to Journal
Get full journal access for 1 year
We are sorry, but there is no personal subscription option available for your country.
Buy article
Get time limited or full article access on ReadCube.
$32.00
All prices are NET prices.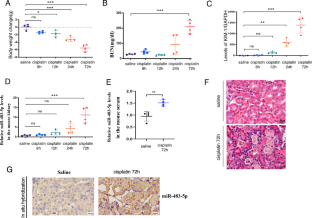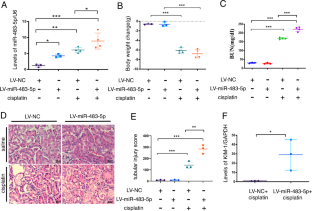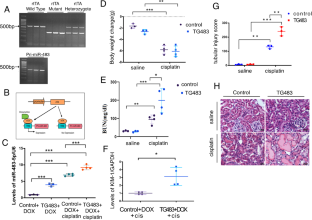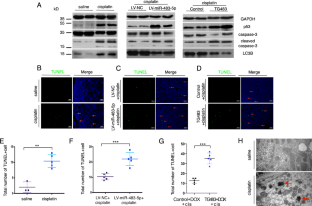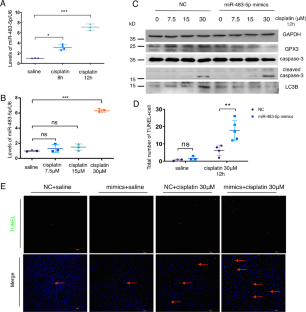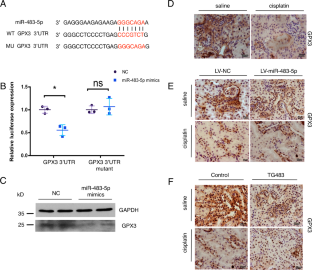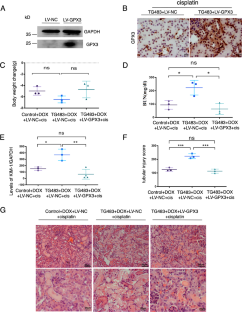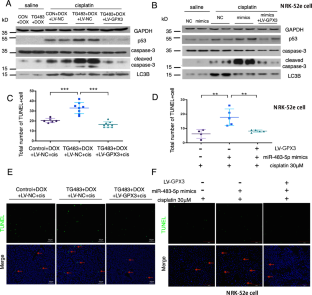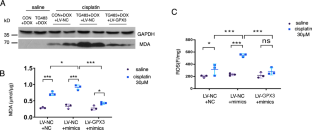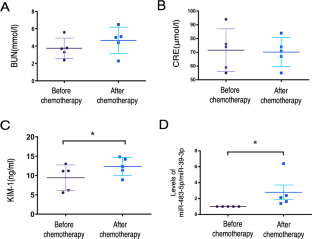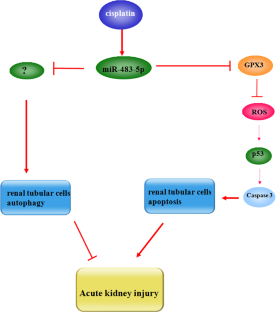 Data availability
The datasets analyzed during the current study are available from the corresponding author on reasonable request after publication.
References
Rewa, O. & Bagshaw, S. M. Acute kidney injury-epidemiology, outcomes and economics. Nat. Rev. Nephrol. 10, 193–207 (2014).

Bellomo, R., Kellum, J. A. & Ronco, C. Acute kidney injury. Lancet 380, 756–766 (2012).

Manohar, S. & Leung, N. Cisplatin nephrotoxicity: a review of the literature. J. Nephrol. 31, 15–25 (2018).

Ozkok, A. & Edelstein, C. L. Pathophysiology of cisplatin-induced acute kidney injury. BioMed Res. Int. 2014, 967826 (2014).

Holditch, S. J., Brown, C. N., Lombardi, A. M., Nguyen, K. N. & Edelstein, C. L. Recent advances in models, mechanisms, biomarkers, and interventions in cisplatin-induced acute kidney injury. Int. J. Mol. Sci. 20, 3011 (2019).

Volarevic, V. et al. Molecular mechanisms of cisplatin-induced nephrotoxicity: a balance on the knife edge between renoprotection and tumor toxicity. J. Biomed. Sci. 26, 25 (2019).

Bartel, D. P. MicroRNAs: target recognition and regulatory functions. Cell 136, 215–233 (2009).

Ebert, M. S. & Sharp, P. A. Roles for microRNAs in conferring robustness to biological processes. Cell 149, 515–524 (2012).

Tufekci, K. U., Meuwissen, R. L. & Genc, S. The role of microRNAs in biological processes. Methods Mol. Biol. 1107, 15–31 (2014).

Paul, P. et al. Interplay between miRNAs and human diseases. J. Cell. Physiol. 233, 2007–2018 (2018).

Fu, H. et al. Identification of human fetal liver miRNAs by a novel method. FEBS Lett. 579, 3849–3854 (2005).

Wang, H. et al. Intra-articular delivery of Antago-miR-483-5p inhibits osteoarthritis by modulating Matrilin 3 and tissue inhibitor of metalloproteinase 2. Mol. Ther. 25, 715–727 (2017).

Li, N. Q. et al. Expression of intronic miRNAs and their host gene Igf2 in a murine unilateral ureteral obstruction model. Braz. J. Med. Biol. Res. 48, 486–492 (2015).

Sui, W. et al. Serum microRNAs as new diagnostic biomarkers for pre- and post-kidney transplantation. Transplant. Proc. 46, 3358–3362 (2014).

Sabbisetti, V. S. et al. Blood kidney injury molecule-1 is a biomarker of acute and chronic kidney injury and predicts progression to ESRD in type I diabetes. J. Am. Soc. Nephrol. 25, 2177–2186 (2014).

Dugbartey, G. J., Peppone, L. J. & de Graaf, I. A. An integrative view of cisplatin-induced renal and cardiac toxicities: Molecular mechanisms, current treatment challenges and potential protective measures. Toxicology 371, 58–66 (2016).

Johansson, M. E. Tubular regeneration: when can the kidney regenerate from injury and what turns failure into success? Nephron Exp. Nephrol. 126, 76 (2014).

Song, Q. et al. miR-483-5p promotes invasion and metastasis of lung adenocarcinoma by targeting RhoGDI1 and ALCAM. Cancer Res. 74, 3031–3042 (2014).

Wang, H. et al. Chondrocyte mTORC1 activation stimulates miR-483-5p via HDAC4 in osteoarthritis progression. J. Cell. Physiol. 234, 2730–2740 (2019).

Ohsumi, Y. Historical landmarks of autophagy research. Cell Res. 24, 9–23 (2014).

Yang, Z. & Klionsky, D. J. Eaten alive: a history of macroautophagy. Nat. Cell Biol. 12, 814–822 (2010).

Livingston, M. J. & Dong, Z. Autophagy in acute kidney injury. Semin. Nephrol. 34, 17–26 (2014).

Kaushal, G. P. & Shah, S. V. Autophagy in acute kidney injury. Kidney Int. 89, 779–791 (2016).

Havasi, A. & Dong, Z. Autophagy and tubular cell death in the kidney. Semin. Nephrol. 36, 174–188 (2016).

Tang, C. et al. PINK1-PRKN/PARK2 pathway of mitophagy is activated to protect against renal ischemia-reperfusion injury. Autophagy 14, 880–897 (2018).

Nikoletopoulou, V., Markaki, M., Palikaras, K. & Tavernarakis, N. Crosstalk between apoptosis, necrosis and autophagy. Biochim. Biophys. Acta 1833, 3448–3459 (2013).

Hashimoto, N., Nagano, H. & Tanaka, T. The role of tumor suppressor p53 in metabolism and energy regulation, and its implication in cancer and lifestyle-related diseases. Endocr. J. 66, 485–496 (2019).

Dutta, R. K. et al. Beneficial effects of Myo-inositol oxygenase deficiency in cisplatin-induced AKI. J. Am. Soc. Nephrol. 28, 1421–1436 (2017).

Yang, A. et al. p53 induces miR-199a-3p to suppress mechanistic target of rapamycin activation in cisplatin-induced acute kidney injury. J. Cell. Biochem. 120, 17625–17634 (2019).

Ranganathan, P. et al. UNC5B receptor deletion exacerbates tissue injury in response to AKI. J. Am. Soc. Nephrol. 25, 239–249 (2014).

Lu, C. Y. & de Albuquerque Rocha, N. Oxidative stress and metabolism: the NF-Erythroid 2 p45-related factor 2: Kelch-like ECH-associated protein 1 system and regulatory T lymphocytes in ischemic AKI. J. Am. Soc. Nephrol. 26, 2893–2895 (2015).

Kaushal, G. P., Chandrashekar, K. & Juncos, L. A. Molecular interactions between reactive oxygen species and autophagy in kidney disease. Int. J. Mol. Sci. 20, 3791 (2019).

Chen, X., Wei, W., Li, Y., Huang, J. & Ci, X. Hesperetin relieves cisplatin-induced acute kidney injury by mitigating oxidative stress, inflammation and apoptosis. Chem. Biol. Interact. 308, 269–278 (2019).

Olson, G. E. et al. Extracellular glutathione peroxidase (Gpx3) binds specifically to basement membranes of mouse renal cortex tubule cells. Am. J. Physiol. Renal Physiol. 298, F1244–F1253 (2010).

Burk, R. F., Olson, G. E., Winfrey, V. P., Hill, K. E. & Yin, D. Glutathione peroxidase-3 produced by the kidney binds to a population of basement membranes in the gastrointestinal tract and in other tissues. Am. J. Physiol. Gastrointest. Liver Physiol. 301, G32–G38 (2011).

Xu, W. et al. Differential expression of genes associated with the progression of renal disease in the kidneys of liver-specific glucokinase gene knockout mice. Int. J. Mol. Sci. 14, 6467–6486 (2013).

Fan, Y. et al. Mechanism of ginsenoside Rg1 renal protection in a mouse model of d-galactose-induced subacute damage. Pharm. Biol. 54, 1815–1821 (2016).

Agosta, C. et al. MiR-483-5p and miR-139-5p promote aggressiveness by targeting N-myc downstream-regulated gene family members in adrenocortical cancer. Int. J. Cancer 143, 944–957 (2018).

Zheng, X.-H. et al. Plasma microRNA profiling in nasopharyngeal carcinoma patients reveals miR-548q and miR-483-5p as potential biomarkers. Chin J. Cancer 33, 330–338 (2014).

Rattanapan, Y. et al. High expression of miR−483-5p predicts chemotherapy resistance in epithelial ovarian cancer. Microrna 10, 51–57 (2021).
Acknowledgements
This work was supported by National Natural Sciences Foundation of China (31371186, 31000633, 81302230), Guangdong Natural Science Foundation (2019A1515011458, 2014A030313296), Science and Technology Program of Guangzhou, China (201607010081), the Guangdong Province Outstanding Young Teacher Training funds, the China Postdoctoral Science Foundation (2013M542159). We thank Prof. Xiaochun Bai for contributing suggestions.
Ethics declarations
Competing interests
The authors declare no competing interests.
Ethics approval and consent to participate
All research involving human participants was approved by the Ethics Committee of Nanfang Hospital Affiliated to Southern Medical University (Guangzhou, China), and informed consent was obtained from all patients.
Additional information
Publisher's note Springer Nature remains neutral with regard to jurisdictional claims in published maps and institutional affiliations.
Supplementary information
About this article
Cite this article
Xia, Y., Pan, W., Xiao, X. et al. MicroRNA-483-5p accentuates cisplatin-induced acute kidney injury by targeting GPX3. Lab Invest 102, 589–601 (2022). https://doi.org/10.1038/s41374-022-00737-3
Received:

Revised:

Accepted:

Published:

Issue Date:

DOI: https://doi.org/10.1038/s41374-022-00737-3