Abstract
Although there have been recent advances in the molecular pathology of ependymomas, little is known about the underlying molecular evolution during its development. Here, we assessed the clinical, pathological and molecular evolutionary process of ependymoma recurrence in a 9-year-old patient who had seven recurrences of supratentorial ependymoma and died from intracranial multiregional recurrences at the age of 19 years old. Whole-genome sequencing (WGS) of 7 tumor samples (1 primary and 6 subsequent recurrent tumors) was performed to elucidate the mutation landscape and identify potential driver mutations for tumor evolution. The genetic profiles of the seven tumor specimens showed significant heterogeneity and suggested a highly branched evolutionary pattern. The mutational signatures and chromothripsis changed with treatments. Strikingly, adhesion G protein-coupled receptor L3 (ADGRL3, also known as Latrophilins 3, LPNH3) was found to be consistently mutated during the entire disease process. However, Sanger sequencing of other 78 ependymoma patients who underwent surgery at our institution showed no genetic alteration of ADGRL3, as found in the present case. The mRNA levels of ADGRL3 were significantly lower in ependymomas (n = 36), as compared with normal brain tissue (n = 3). Grade III ependymomas had the lowest ADGRL3 expression. Moreover, ependymomas with lower mRNA level of ADGRL3 had shorter overall survival. Our findings, therefore, demonstrate a rare evolutionary process of ependymoma involving ADGRL3.
Your institute does not have access to this article
Access options
Subscribe to Journal
Get full journal access for 1 year
We are sorry, but there is no personal subscription option available for your country.
Buy article
Get time limited or full article access on ReadCube.
$32.00
All prices are NET prices.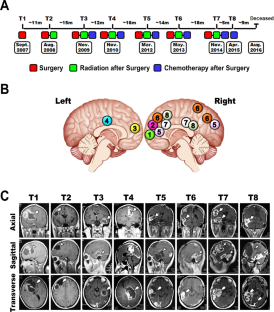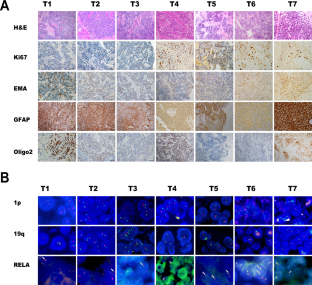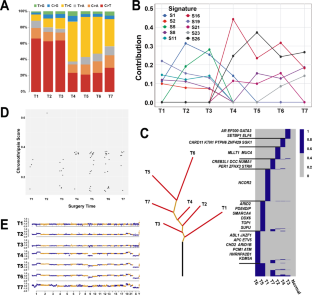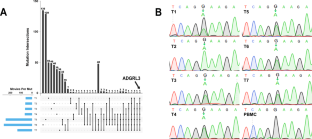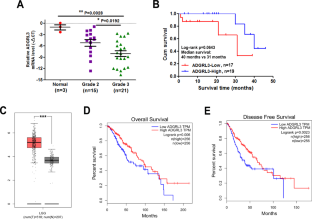 Data availability
The datasets used and/or analyzed in the current study are available from the corresponding author on reasonable request or through Research Data Deposit (http://www.researchdata.org.cn), the approval number is RDDB2020000810.
References
Louis, D. N. et al. The 2016 World Health Organization Classification of Tumors of the Central Nervous System: a summary. Acta. Neuropathol. 131, 803–820 (2016).

Pajtler, K. W. et al. Molecular Classification of Ependymal Tumors across All CNS Compartments, Histopathological Grades, and Age Groups. Cancer Cell 27, 728–743 (2015).

Godfraind, C. et al. Distinct disease-risk groups in pediatric supratentorial and posterior fossa ependymomas. Acta. Neuropathol. 124, 247–257 (2012).

Mack, S. C. et al. Epigenomic alterations define lethal CIMP-positive ependymomas of infancy. Nature 506, 445–450 (2014).

Ellison, D. W. et al. cIMPACT-NOW update 7: advancing the molecular classification of ependymal tumors. Brain Pathol. 30, 863–866 (2020).

Louis, D. N. et al. The 2021 WHO Classification of Tumors of the Central Nervous System: a summary. Neuro. Oncol. 23, 1231–1251 (2021).

Nowell, P. C. The clonal evolution of tumor cell populations. Science 194, 23–28 (1976).

Ding, S., Chen, X. & Shen, K. Single-cell RNA sequencing in breast cancer: Understanding tumor heterogeneity and paving roads to individualized therapy. Cancer Commun. 40, 329–344 (2020).

Burrell, R. A., McGranahan, N., Bartek, J. & Swanton, C. The causes and consequences of genetic heterogeneity in cancer evolution. Nature 501, 338–345 (2013).

Kandoth, C. et al. Mutational landscape and significance across 12 major cancer types. Nature 502, 333–339 (2013).

Lawrence, M. S. et al. Discovery and saturation analysis of cancer genes across 21 tumour types. Nature 505, 495–501 (2018).

Bradley, C. A. Tracing the steps of cancer evolution. Nat. Rev. Urol. 15, 395 (2018).

Huang, H. M. & Li, H. X. Tumor heterogeneity and the potential role of liquid biopsy in bladder cancer. Cancer Commun. 41, 91–108 (2021).

McGranahan, N. & Swanton, C. Biological and therapeutic impact of intratumor heterogeneity in cancer evolution. Cancer Cell 27, 15–26 (2010).

Kilday, J. P. et al. Pediatric ependymoma: biological perspectives. Mol. Cancer Res. 7, 765–786 (2009).

Korshunov, A. et al. Molecular staging of intracranial ependymoma in children and adults. J. Clin. Oncol. 28, 3182–3190 (2010).

Arcos-Burgos, M. et al. A common variant of the latrophilin 3 gene, LPHN3, confers susceptibility to ADHD and predicts effectiveness of stimulant medication. Mol. Psychiatry 15, 1053–1066 (2010).

Ozaslan, A., Guney, E., Ergun, M. A., Okur, I. & Yapar, D. CDH13 and LPHN3 Gene Polymorphisms in Attention-Deficit/Hyperactivity Disorder: Their Relation to Clinical Characteristics. J. Mol. Neurosci. 71, 394–408 (2021).

Xi, S. et al. Clinical significance of the histological and molecular characteristics of ependymal tumors: a single institution case series from China. BMC Cancer 19, 717 (2019).

Hu, W. M. et al. Practice of the New Integrated Molecular Diagnostics in Gliomas: Experiences and New Findings in a Single Chinese Center. J. Cancer 11, 1371–1382 (2020).

Catteau, A. et al. A new sensitive PCR assay for one-step detection of 12 IDH1/2 mutations in glioma. Acta. Neuropathol. Commun. 2, 58 (2014).

Wu, J. et al. Skp2 modulates proliferation, senescence and tumorigenesis of glioma. Cancer Cell Int. 20, 71 (2020).

Tang, Z., Li, C., Kang, B., Gao, G., & Zhang, Z. GEPIA: a web server for cancer and normal gene expression profiling and interactive analyses. Nucleic Acids Res. 45, W98–W102.

Tang, Z., Kang, B., Li, C., Chen, T., & Zhang, Z. GEPIA2: an enhanced web server for large-scale expression profiling and interactive analysis. Nucleic Acids Res. 47, W556–W560.

Preusser, M. et al. Ki67 index in intracranial ependymoma: a promising histopathologicalcandidate biomarker. Histopathology 53, 39–47 (2008).

Nowak, J., et al. MRI phenotype of RELA-fused pediatric supratentorial ependymoma. Clin. Neuroradiol 29, 595–604 (2019).

Gamboa, N. T., et al. Preoperative and intraoperative perfusion magnetic resonance imaging in a RELA fusion-positive anaplastic ependymoma: a case report. Surg. Neurol. Int. 9, 144 (2018).

Parker, M., et al. C11orf95-RELA fusions drive oncogenic NF-kappaB signalling in ependymoma. Nature 506, 451–455 (2014).

Rosenthal, R., McGranahan, N., Herrero, J., Taylor, B. S. & Swanton, C. DeconstructSigs: delineating mutational processes in single tumors distinguishes DNA repair deficiencies and patterns of carcinoma evolution. Genome Biol 17, 31 (2016).

Maher, C. A. & Wilson, R. K. Chromothripsis and human disease: piecing together the shattering process. Cell 148, 29–32 (2012).

Forment, J. V., Kaidi, A. & Jackson, S. P. Chromothripsis and cancer: causes and consequences of chromosome shattering. Nat Rev Cancer 12, 663–670 (2012).

Hu, L., et al. Clinical significance of germline copy number variation in susceptibility of human diseases. J. Genet. Genomics 45, 3–12 (2018).

Study: ICGC(SKCM-US): Skin Cutaneous melanoma—TCGA, US; Study ID: COSU540; Gene Analysed: 24136; Mutated Samples: 399; Total No. of Samples: 477. (https://cancer.sanger.ac.uk/cosmic/mutation/overview?id=149185751).

Bozic, I., et al. Evolutionary dynamics of cancer in response to targeted combination therapy. Elife 2, e00747 (2013).

Johnson, B. E. et al. Mutational analysis reveals the origin and therapy-driven evolution of recurrent glioma. Science 343, 189–193 (2014).

Kim, C., et al. Chemoresistance Evolution in Triple-Negative Breast Cancer Delineated by Single-Cell Sequencing. Cell 173, 879–893 e813 (2018).

Liu, S. J. et al. Multiplatform molecular profiling reveals epigenomic intratumor heterogeneity in ependymoma. Cell Rep. 30, 1300–1309 e1305 (2020).

Fontebasso, A. M. et al. Mutations in SETD2 and genes affecting histone H3K36 methylation target hemispheric high-grade gliomas. Acta. Neuropathol. 125, 659–669 (2013).

Mackay, A. et al. Integrated molecular meta-analysis of 1,000 pediatric high-grade and diffuse intrinsic pontine glioma. Cancer Cell 32, 520–537 e525 (2017).

Lynch, M. Rate, molecular spectrum, and consequences of human mutation. Proc. Natl Acad. Sci. USA 107, 961–968 (2010).

Xing, R. et al. Whole-genome sequencing reveals novel tandem-duplication hotspots and a prognostic mutational signature in gastric cancer. Nat. Commun. 10, 2037 (2019).

Alexandrov, L. B. et al. Signatures of mutational processes in human cancer. Nature 500, 415–421 (2013).

Helleday, T., Eshtad, S. & Nik-Zainal, S. Mechanisms underlying mutational signatures in human cancers. Nat. Rev. Genet. 15, 585–598 (2014).

Reitman, Z. J. et al. Mitogenic and progenitor gene programmes in single pilocytic astrocytoma cells. Nat. Commun. 10, 3731 (2019).

Hauser, A. S., Attwood, M. M., Rask-Andersen, M., Schioth, H. B. & Gloriam, D. E. Trends in GPCR drug discovery: new agents, targets and indications. Nat. Rev. Drug Discov. 16, 829–842 (2017).

Martinez, A. F. et al. An Ultraconserved Brain-Specific Enhancer Within ADGRL3 (LPHN3) Underpins Attention-Deficit/Hyperactivity Disorder Susceptibility. Biol. Psychiatry 80, 943–954 (2016).

Bruxel, E. M., et al. LPHN3 and attention-deficit/hyperactivity disorder: a susceptibility and pharmacogenetic study. Genes Brain Behav. 14, 419–427 (2015).

Fallgatter, A. J., et al. Influence of a latrophilin 3 (LPHN3) risk haplotype on event-related potential measures of cognitive response control in attention-deficit hyperactivity disorder (ADHD). Eur. Neuropsychopharmacol. 23, 458–468 (2012).

O'Hayre, M. et al. The emerging mutational landscape of G proteins and G-protein-coupled receptors in cancer. Nat. Rev. Cancer 13, 412–424 (2013).

Maru, Y. et al. Identification of novel mutations in Japanese ovarian clear cell carcinoma patients using optimized targeted NGS for clinical diagnosis. Gynecol. Oncol. 144, 377–383 (2017).

Kan, Z. et al. Diverse somatic mutation patterns and pathway alterations in human cancers. Nature 466, 869–873 (2010).

Ranaivoson, F. M. et al. Structural and Mechanistic Insights into the Latrophilin3-FLRT3 Complex that Mediates Glutamatergic Synapse Development. Structure 23, 1665–1677 (2015).
Funding
This study was supported by grants from the National Natural Science Foundation of China (82073109, 81872059, 81772677, 81772675, 81572479, 81372685, and 81101521), the Guangzhou Science Technology and Innovation Project (201508020125), the Science and Technology Planning Project of Guangzhou (2016A020213004), the Natural Science Foundation of Guangdong Province (2016A030313309). All these funding had no influential role in the study design, data collection, analysis, data interpretation or writing of the report.
Ethics declarations
Competing interests
The authors declare no competing interests.
Ethics approval
This work has been approved by the ethics committee and institutional review board of Sun Yat-sen University Cancer Center.
Additional information
Publisher's note Springer Nature remains neutral with regard to jurisdictional claims in published maps and institutional affiliations.
Supplementary information
About this article
Cite this article
Wang, J., Xi, Sy., Zhao, Q. et al. Driver mutations in ADGRL3 are involved in the evolution of ependymoma. Lab Invest 102, 702–710 (2022). https://doi.org/10.1038/s41374-021-00721-3
Received:

Revised:

Accepted:

Published:

Issue Date:

DOI: https://doi.org/10.1038/s41374-021-00721-3