Abstract
Diabetic cataract (DC) is a major ocular complication secondary to diabetes mellitus. The epithelial-mesenchymal transition (EMT) of lens epithelial cells (LECs) is an important event in DC progression. Long non-coding RNAs (lncRNAs) and microRNAs are involved in various biological processes and disorders. The aim of this study was to investigate the roles of lncRNA growth arrest-specific transcript 5 (GAS5) and microRNA-204-3p (miR-204-3p) deregulation in the pathogenic mechanism of high glucose (HG)-stimulated LECs. The results show that GAS5 was up-regulated, whereas miR-204-3p was down-regulated in anterior lens capsule tissues of DC patients and in HG-treated LECs compared to their controls, respectively. Functional experiments suggest that the lentivirus-mediated depletion of GAS5, as well as overexpression of miR-204-3p, suppressed migration and EMT in HG-treated LECs. Further mechanistic studies revealed that lncRNA GAS5/miR-204-3p/type 1 receptor of transforming growth factor-beta (TGFBR1) has a regulatory role in the process. Collectively, we demonstrated that dysregulation of GAS5 affects lens epithelial cell migration and EMT under HG conditions via the miR-204-3p/TGFBR1 axis. The current findings may provide new insights into the molecular mechanisms of DC development.
Access options
Subscribe to Journal
Get full journal access for 1 year
We are sorry, but there is no personal subscription option available for your country.
Buy article
Get time limited or full article access on ReadCube.
$32.00
All prices are NET prices.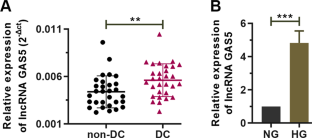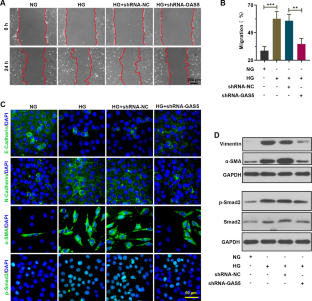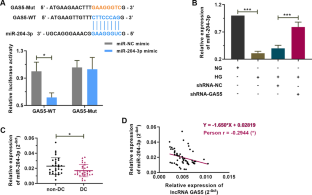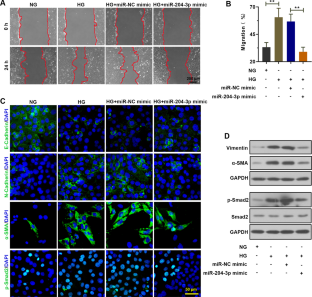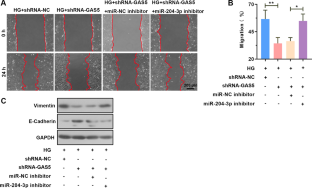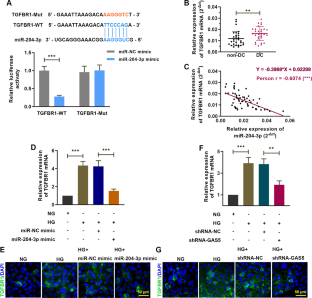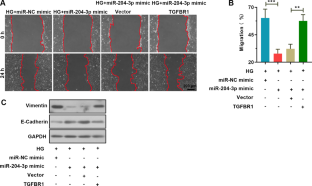 Data availability
The data that support the findings of this study are available from the corresponding author upon reasonable request.
References
De Bruyne S., et al. A potential role for fructosamine-3-kinase in cataract treatment. Int. J. Mol. Sci. 22, 3841 (2021).

Peterson, S. R., Silva, P. A., Murtha, T. J. & Sun, J. K. Cataract surgery in patients with diabetes: management strategies. Semin. Ophthalmol. 33, 75–82 (2018).

Obrosova, I. G., Chung, S. S. & Kador, P. F. Diabetic cataracts: mechanisms and management. Diabetes Metab. Res. Rev. 26, 172–180 (2010).

Šimunović, M. et al. Cataract as early ocular complication in children and adolescents with type 1 diabetes mellitus. Int. J. Endocrinol. 2018, 6763586 (2018).

Hashim, Z. & Zarina, S. Advanced glycation end products in diabetic and non-diabetic human subjects suffering from cataract. Age (Dordr) 33, 377–384 (2011).

Chancellor, J. et al. Intraoperative complications and visual outcomes of cataract surgery in diabetes mellitus: a multicenter database study. Am. J. Ophthalmol. 225, 47–56 (2021).

Iyengar, L. & Lovicu, F. J. Aqueous humour-induced lens epithelial cell proliferation requires FGF-signalling. Growth Factors 35, 131–143 (2017).

Li, J. et al. Activation of autophagy inhibits epithelial to mesenchymal transition process of human lens epithelial cells induced by high glucose conditions. Cell Signal 75, 109768 (2020).

Liu, X. et al. microRNA-199a-5p regulates epithelial-to-mesenchymal transition in diabetic cataract by targeting SP1 gene. Mol. Med. 26, 122 (2020).

Du, L. et al. Quercetin inhibited epithelial mesenchymal transition in diabetic rats, high-glucose-cultured lens, and SRA01/04 cells through transforming growth factor-β2/phosphoinositide 3-kinase/Akt pathway. Mol. Cell Endocrinol. 452, 44–56 (2017).

Wu T. T., et al. AKR1B1-induced epithelial-mesenchymal transition mediated by RAGE-oxidative stress in diabetic cataract lens. Antioxidants (Basel) 9, 273 (2020).

Mattick, J. S. The genetic signatures of noncoding RNAs. PLoS Genet. 5, e1000459 (2009).

Huang, Y. The novel regulatory role of lncRNA-miRNA-mRNA axis in cardiovascular diseases. J. Cell Mol. Med. 22, 5768–5775 (2018).

Gong, W., Zhu, G., Li, J. & Yang, X. LncRNA MALAT1 promotes the apoptosis and oxidative stress of human lens epithelial cells via p38MAPK pathway in diabetic cataract. Diabetes Res. Clin. Pract. 144, 314–321 (2018).

Yang, J., Zhao, S. & Tian, F. SP1-mediated lncRNA PVT1 modulates the proliferation and apoptosis of lens epithelial cells in diabetic cataract via miR-214-3p/MMP2 axis. J. Cell Mol. Med. 24, 554–561 (2020).

Li, Y., Jiang, S. H., Liu, S. & Wang, Q. Role of lncRNA NEAT1 mediated by YY1 in the development of diabetic cataract via targeting the microRNA-205-3p/MMP16 axis. Eur. Rev. Med. Pharmacol. Sci. 24, 5863–5870 (2020).

Nguyen, L. N. T. et al. Long non-coding RNA GAS5 regulates T cell functions via miR21-mediated signaling in people living with HIV. Front Immunol. 12, 601298 (2021).

Lv, L. et al. Silence of lncRNA GAS5 alleviates high glucose toxicity to human renal tubular epithelial HK-2 cells through regulation of miR-27a. Artif Cells Nanomed. Biotechnol. 47, 2205–2212 (2019).

Zhou, R. R. et al. Silencing of GAS5 alleviates glaucoma in rat models by reducing retinal ganglion cell apoptosis. Hum Gene Ther 30, 1505–1519 (2019).

Zeng K., Feng, Q. G., Lin, B. T., Ma, D. H. & Liu, C. M. Effects of microRNA-211 on proliferation and apoptosis of lens epithelial cells by targeting SIRT1 gene in diabetic cataract mice. Biosci. Rep. 37, 695–708 (2017).

Yu, S. Y. et al. Knockdown of lncRNA AK139328 alleviates myocardial ischaemia/reperfusion injury in diabetic mice via modulating miR-204-3p and inhibiting autophagy. J. Cell Mol. Med. 22, 4886–4898 (2018).

Wu, C. et al. MiRNAs regulate oxidative stress related genes via binding to the 3' UTR and TATA-box regions: a new hypothesis for cataract pathogenesis. BMC Ophthalmol. 17, 142 (2017).

Saika, S. et al. Transient adenoviral gene transfer of Smad7 prevents injury-induced epithelial-mesenchymal transition of lens epithelium in mice. Lab Invest 84, 1259–1270 (2004).

Raghavan, C. T. et al. AGEs in human lens capsule promote the TGFβ2-mediated EMT of lens epithelial cells: implications for age-associated fibrosis. Aging Cell 15, 465–476 (2016).

Kubo E., Shibata, T., Singh, D. P. & Sasaki, H. Roles of TGF β and FGF Signals in the Lens: tropomyosin regulation for posterior capsule opacity. Int. J. Mol. Sci. 19, 3093–4004 (2018).

de Iongh, R. U., Wederell, E., Lovicu, F. J. & McAvoy, J. W. Transforming growth factor-beta-induced epithelial-mesenchymal transition in the lens: a model for cataract formation. Cells Tissues Organs 179, 43–55 (2005).

Das, S. J., Wishart, T. F. L., Jandeleit-Dahm, K. & Lovicu, F. J. Nox4-mediated ROS production is involved, but not essential for TGFβ-induced lens EMT leading to cataract. Exp. Eye Res. 192, 107918 (2020).

Paraskevopoulou, M. D. et al. DIANA-LncBase v2: indexing microRNA targets on non-coding transcripts. Nucleic Acids Res. 44, D231–D238 (2016).

Riffo-Campos Á. L., Riquelme, I. & Brebi-Mieville, P. Tools for Sequence-Based miRNA Target Prediction: What to Choose? Int. J. Mol. Sci. 17, 1987–2004 (2016).

Chen, Y. & Wang, X. miRDB: an online database for prediction of functional microRNA targets. Nucleic Acids Res 48, D127–d131 (2020).

Skrypek, N., Goossens, S., De Smedt, E., Vandamme, N. & Berx, G. Epithelial-to-mesenchymal transition: epigenetic reprogramming driving cellular plasticity. Trends Genet. 33, 943–959 (2017).

Serrano-Gomez, S. J., Maziveyi, M. & Alahari, S. K. Regulation of epithelial-mesenchymal transition through epigenetic and post-translational modifications. Mol. Cancer 15, 18 (2016).

Li, X., Wang, F., Ren, M., Du, M. & Zhou, J. The effects of c-Src kinase on EMT signaling pathway in human lens epithelial cells associated with lens diseases. BMC Ophthalmol. 19, 219 (2019).

Liu, J. et al. LncRNA KCNQ1OT1 knockdown inhibits viability, migration and epithelial-mesenchymal transition in human lens epithelial cells via miR-26a-5p/ITGAV/TGF-beta/Smad3 axis. Exp. Eye Res. 200, 108251 (2020).

Sun, D. et al. LncRNA GAS5 inhibits microglial M2 polarization and exacerbates demyelination. EMBO Rep. 18, 1801–1816 (2017).

Ni, W. et al. Long noncoding RNA GAS5 inhibits progression of colorectal cancer by interacting with and triggering YAP phosphorylation and degradation and is negatively regulated by the m(6)A reader YTHDF3. Mol. Cancer. 18, 143 (2019).

Zhao, J. H., Wang, B., Wang, X. H. & Xu, C. W. Effect of lncRNA GAS5 on the apoptosis of neurons via the notch1 signaling pathway in rats with cerebral infarction. Eur. Rev. Med. Pharmacol. Sci. 23, 10083–10091 (2019).

Zhou, R. S. et al. Integrated analysis of lncRNA-miRNA-mRNA ceRNA network in squamous cell carcinoma of tongue. BMC Cancer 19, 779 (2019).

Tang, X. J., Wang, W. & Hann, S. S. Interactions among lncRNAs, miRNAs and mRNA in colorectal cancer. Biochimie 163, 58–72 (2019).

Wang, J. Y. et al. Potential regulatory role of lncRNA-miRNA-mRNA axis in osteosarcoma. Biomed. Pharmacother 121, 109627 (2020).

Tao W., et al. miR-204-3p/Nox4 mediates memory deficits in a mouse model of alzheimer's disease. Mol Ther https://doi.org/10.1016/j.ymthe.2020.09.006 (2020).

Koga, T. et al. MicroRNA-204-3p inhibits lipopolysaccharide-induced cytokines in familial Mediterranean fever via the phosphoinositide 3-kinase γ pathway. Rheumatology (Oxford) 57, 718–726 (2018).

Xi, X. et al. MicroRNA-204-3p represses colon cancer cells proliferation, migration, and invasion by targeting HMGA2. J. Cell Physiol. 235, 1330–1338 (2020).

Guo, J. et al. MiR-204-3p inhibited the proliferation of bladder cancer cells via modulating lactate dehydrogenase-mediated glycolysis. Front Oncol. 9, 1242 (2019).

Yuan, D. et al. LncRNA-ATB promotes the tumorigenesis of ovarian cancer via targeting miR-204-3p. Onco Targets Ther. 13, 573–583 (2020).

Han, X., Li, Q., Wang, C. & Li, Y. MicroRNA-204-3p attenuates high glucose-induced mpc5 podocytes apoptosis by targeting braykinin B2 receptor. Exp. Clin. Endocrinol. Diabetes 127, 387–395 (2019).

Saika, S. et al. Smad3 signaling is required for epithelial-mesenchymal transition of lens epithelium after injury. Am. J. Pathol. 164, 651–663 (2004).

Thiery, J. P., Acloque, H., Huang, R. Y. & Nieto, M. A. Epithelial-mesenchymal transitions in development and disease. Cell 139, 871–890 (2009).

Ji, Y. et al. Paeoniflorin suppresses TGF-β mediated epithelial-mesenchymal transition in pulmonary fibrosis through a Smad-dependent pathway. Acta Pharmacol. Sin. 37, 794–804 (2016).

Beshay, O. N. et al. Resveratrol reduces gentamicin-induced EMT in the kidney via inhibition of reactive oxygen species and involving TGF-β/Smad pathway. Life Sci. 258, 118178 (2020).
Funding
This study was supported by grants from the National Natural Science Foundation of China (Grant No. 81970786 and 81670836), the Medical Science and Technology Project Jointly Built of Henan Province (Grant No. LHGJ20190196), and the Key Scientific Research Projects of Henan Colleges and Universities (Grant No. 20A320031).
Ethics declarations
Competing interests
The authors declare no competing interests.
Ethics approval
The procedures involved in humen were carefully carried out in accordance with the principles of the Declaration of Helsinki and approved by the Ethics Committee of the First Affiliated Hospital of Zhengzhou University Committee.
Additional information
Publisher's note Springer Nature remains neutral with regard to jurisdictional claims in published maps and institutional affiliations.
Supplementary information
About this article
Cite this article
Li, X., Sun, M., Cheng, A. et al. LncRNA GAS5 regulates migration and epithelial-to-mesenchymal transition in lens epithelial cells via the miR-204-3p/TGFBR1 axis. Lab Invest 102, 452–460 (2022). https://doi.org/10.1038/s41374-021-00713-3
Received:

Revised:

Accepted:

Published:

Issue Date:

DOI: https://doi.org/10.1038/s41374-021-00713-3