Abstract
The oncoprotein Smoothened (SMO), a Frizzled-class-G-protein-coupled receptor, is the central transducer of hedgehog (Hh) signaling. While canonical SMO signaling is best understood in the context of cilia, evidence suggests that SMO has other functions in cancer biology that are unrelated to canonical Hh signaling. Herein, we provided evidence that elevated levels of human SMO show a strong correlation with elevated levels of insulin-like growth factor 1 receptor (IGF1R) and reduced survival in diffuse large B-cell lymphoma (DLBCL). As an integral component of raft microdomains, SMO plays a fundamental role in maintaining the levels of IGF1R in lymphoma and breast cancer cells as well IGF1R-associated activation of protein kinase B (AKT). Silencing of SMO increases lysosomal degradation and favors a localization of IGF1R to late endosomal compartments instead of early endosomal compartments from which much of the receptor would normally recycle. In addition, loss of SMO interferes with the lipid raft localization and retention of the remaining IGF1R and AKT, thereby disrupting the primary signaling context for IGF1R/AKT. This activity of SMO is independent of its canonical signaling and represents a novel and clinically relevant contribution to signaling by the highly oncogenic IGF1R/AKT signaling axis.
Access options
Subscribe to Journal
Get full journal access for 1 year
We are sorry, but there is no personal subscription option available for your country.
Buy article
Get time limited or full article access on ReadCube.
$32.00
All prices are NET prices.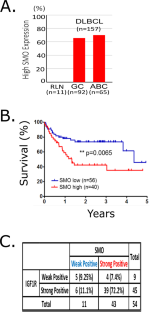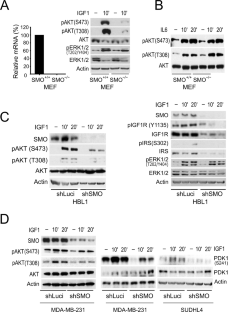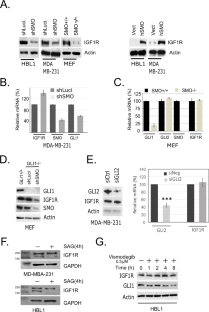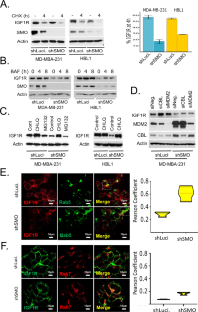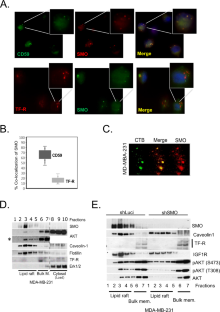 Data availability
The datasets used and/or analyzed during this study are available from the corresponding author on reasonable request.
References
Pollak, M. The insulin and insulin-like growth factor receptor family in neoplasia: an update. Nat. Rev. Cancer 12, 159–169 (2012).

Jerome, L., Shiry, L. & Leyland-Jones, B. Deregulation of the IGF axis in cancer: epidemiological evidence and potential therapeutic interventions. Endocr. Relat. Cancer 10, 561–578 (2003).

Hua, H., Kong, Q., Yin, J., Zhang, J. & Jiang, Y. Insulin-like growth factor receptor signaling in tumorigenesis and drug resistance: a challenge for cancer therapy. J. Hematol. Oncol. 13, 64 (2020).

Crudden, C. et al. Blurring boundaries: receptor tyrosine kinases as functional G protein-coupled receptors. Int. Rev. Cell Mol. Biol. 339, 1–40 (2018).

Vecchione, A., Marchese, A., Henry, P., Rotin, D. & Morrione, A. The Grb10/Nedd4 complex regulates ligand-induced ubiquitination and stability of the insulin-like growth factor I receptor. Mol. Cell. Biol. 23, 3363–3372 (2003).

Girnita, L. et al. Beta-arrestin and Mdm2 mediate IGF-1 receptor-stimulated ERK activation and cell cycle progression. J. Biol. Chem. 282, 11329–11338 (2007).

Lin, Y. et al. SUMO-modified insulin-like growth factor 1 receptor (IGF-1R) increases cell cycle progression and cell proliferation. J. Cell. Physiol. 232, 2722–2730 (2017).

Aleksic, T. et al. Type 1 insulin-like growth factor receptor translocates to the nucleus of human tumor cells. Cancer Res. 70, 6412–6419 (2010).

Chughtai, S. The nuclear translocation of insulin-like growth factor receptor and its significance in cancer cell survival. Cell Biochem. Funct. 38, 347–351 (2020).

Sehat, B., Andersson, S., Vasilcanu, R., Girnita, L. & Larsson, O. Role of ubiquitination in IGF-1 receptor signaling and degradation. PLoS ONE 2, e340 (2007).

Crudden, C. et al. Below the surface: IGF-1R therapeutic targeting and its endocytic journey. Cells 8, 1223 (2019).

Riobo, N. A., Saucy, B., Dilizio, C. & Manning, D. R. Activation of heterotrimeric G proteins by Smoothened. Proc. Natl Acad. Sci. USA 103, 12607–12612 (2006).

Xie, J. et al. Activating Smoothened mutations in sporadic basal-cell carcinoma. Nature 391, 90–92 (1998).

Byrne, E. F. et al. Structural basis of Smoothened regulation by its extracellular domains. Nature https://doi.org/10.1038/nature18934 (2016).

Goetz, S. C. & Anderson, K. V. The primary cilium: a signalling centre during vertebrate development. Nat. Rev. Genet. 11, 331–344 (2010).

Eggenschwiler, J. T. & Anderson, K. V. Cilia and developmental signaling. Annu. Rev Cell. Dev. Biol. 23, 345–373 (2007).

Kuzhandaivel, A., Schultz, S. W., Alkhori, L. & Alenius, M. Cilia-mediated hedgehog signaling in Drosophila. Cell. Rep. 7, 672–680 (2014).

Shi, D. et al. Smoothened oligomerization/higher order clustering in lipid rafts is essential for high Hedgehog activity transduction. J. Biol. Chem. 288, 12605–12614 (2013).

Myers, B. R., Neahring, L., Zhang, Y., Roberts, K. J. & Beachy, P. A. Rapid, direct activity assays for Smoothened reveal Hedgehog pathway regulation by membrane cholesterol and extracellular sodium. Proc. Natl Acad. Sci. USA 114, E11141–E11150 (2017).

Uddin, S. et al. Role of phosphatidylinositol 3'-kinase/AKT pathway in diffuse large B-cell lymphoma survival. Blood 108, 4178–4186 (2006).

Pfeifer, M. et al. PTEN loss defines a PI3K/AKT pathway-dependent germinal center subtype of diffuse large B-cell lymphoma. Proc. Natl Acad. Sci. USA 110, 12420–12425 (2013).

Abubaker, J. et al. PIK3CA mutations are mutually exclusive with PTEN loss in diffuse large B-cell lymphoma. Leukemia 21, 2368–2370 (2007).

Renne, C. et al. High expression of several tyrosine kinases and activation of the PI3K/AKT pathway in mediastinal large B cell lymphoma reveals further similarities to Hodgkin lymphoma. Leukemia 21, 780–787 (2007).

Chen, L. et al. SYK inhibition modulates distinct PI3K/AKT- dependent survival pathways and cholesterol biosynthesis in diffuse large B cell lymphomas. Cancer Cell 23, 826–838 (2013).

Riobo, N. A., Lu, K., Ai, X., Haines, G. M. & Emerson, C. P. Jr. Phosphoinositide 3-kinase and Akt are essential for Sonic Hedgehog signaling. Proc. Natl Acad. Sci. USA 103, 4505–4510 (2006).

Pirskanen, A., Kiefer, J. C. & Hauschka, S. D. IGFs, insulin, Shh, bFGF, and TGF-beta1 interact synergistically to promote somite myogenesis in vitro. Dev. Biol. 224, 189–203 (2000).

Madhala-Levy, D., Williams, V. C., Hughes, S. M., Reshef, R. & Halevy, O. Cooperation between Shh and IGF-I in promoting myogenic proliferation and differentiation via the MAPK/ERK and PI3K/Akt pathways requires Smo activity. J. Cell. Physiol. 227, 1455–1464 (2012).

Hans, C. P. et al. Confirmation of the molecular classification of diffuse large B-cell lymphoma by immunohistochemistry using a tissue microarray. Blood 103, 275–282 (2004).

Kim, J. E. et al. Sonic hedgehog signaling proteins and ATP-binding cassette G2 are aberrantly expressed in diffuse large B-cell lymphoma. Mod. Pathol. 22, 1312–1320 (2009).

Agarwal, N. K., Qu, C., Kunkalla, K., Liu, Y. & Vega, F. Transcriptional regulation of serine/threonine protein kinase (AKT) genes by glioma-associated oncogene homolog 1. J. Biol. Chem. 288, 15390–15401 (2013).

Blank, N. et al. Cholera toxin binds to lipid rafts but has a limited specificity for ganglioside GM1. Immunol. Cell. Biol. 85, 378–382 (2007).

Prior, I. A. et al. GTP-dependent segregation of H-ras from lipid rafts is required for biological activity. Nat. Cell Biol. 3, 368–375 (2001).

Singh, R. R. et al. ABCG2 is a direct transcriptional target of hedgehog signaling and involved in stroma-induced drug tolerance in diffuse large B-cell lymphoma. Oncogene 30, 4874–4886 (2011).

Qu, C. et al. Smoothened stabilizes and protects TRAF6 from degradation: a novel non-canonical role of smoothened with implications in lymphoma biology. Cancer Lett. 436, 149–158 (2018).

Stromberg, T. et al. Picropodophyllin inhibits proliferation and survival of diffuse large B-cell lymphoma cells. Med. Oncol. 32, 188 (2015).

Drose, S. & Altendorf, K. Bafilomycins and concanamycins as inhibitors of V-ATPases and P-ATPases. J. Exp. Biol. 200, 1–8 (1997).

Liu, P., Cheng, H., Roberts, T. M. & Zhao, J. J. Targeting the phosphoinositide 3-kinase pathway in cancer. Nat. Rev. Drug Discov. 8, 627–644 (2009).

Calay, D. et al. Inhibition of Akt signaling by exclusion from lipid rafts in normal and transformed epidermal keratinocytes. J. Investig. Dermatol. 130, 1136–1145 (2010).

Reed, R. A., Mattai, J. & Shipley, G. G. Interaction of cholera toxin with ganglioside GM1 receptors in supported lipid monolayers. Biochemistry 26, 824–832 (1987).

Kimberley, F. C., Sivasankar, B. & Paul Morgan, B. Alternative roles for CD59. Mol. Immunol. 44, 73–81 (2007).

Morrow, I. C. et al. Flotillin-1/reggie-2 traffics to surface raft domains via a novel Golgi-independent pathway. Identification of a novel membrane targeting domain and a role for palmitoylation. J. Biol. Chem. 277, 48834–48841 (2002).

Ding, Y. L., Wang, Q. S., Zhao, W. M. & Xiang, L. Expression of smoothened protein in colon cancer and its prognostic value for postoperative liver metastasis. Asian Pac. J. Cancer Prev. 13, 4001–4005 (2012).

Tao, Y., Mao, J., Zhang, Q. & Li, L. Overexpression of Hedgehog signaling molecules and its involvement in triple-negative breast cancer. Oncol. Lett. 2, 995–1001 (2011).

Ingram, W. J., Wicking, C. A., Grimmond, S. M., Forrest, A. R. & Wainwright, B. J. Novel genes regulated by Sonic Hedgehog in pluripotent mesenchymal cells. Oncogene 21, 8196–8205 (2002).

Li, W. & Miller, W. T. Role of the activation loop tyrosines in regulation of the insulin-like growth factor I receptor-tyrosine kinase. J. Biol. Chem. 281, 23785–23791 (2006).
Acknowledgements
We thank Dr. James K. Chen (Department of Chemical and Systems Biology, Stanford University School of Medicine) for providing the SMO−/− (MEF) cells. We also thank Dr. Amit Deepak Amin for helpful comments for the manuscript. We acknowledge the University of Miami/Sylvester Comprehensive Cancer Center Histology Core and the Biorepository and Tissue Procurement Facility. This work has been supported by research funds from National Cancer Institute, National Institute of Health (grant R01CA222918) (to R.L. and F.V.), Sylvester Comprehensive Cancer Center/University of Miami (to R.L. and F.V.), the American Society of Hematology (ASH) bridge award (to F.V.) and Woman Cancer Association of Florida (to R.L.).
Ethics declarations
Competing interests
The authors declare no competing interests.
Ethics approval and consent to participate
Tissue specimens were collected from Sylvester Comprehensive Cancer Center, University of Miami under the approved institutional review board committee. The study was conducted in accordance with the declaration of Helsinki.
Additional information
Publisher's note Springer Nature remains neutral with regard to jurisdictional claims in published maps and institutional affiliations.
Supplementary information
About this article
Cite this article
Agarwal, N.K., Kim, CH., Kunkalla, K. et al. Smoothened (SMO) regulates insulin-like growth factor 1 receptor (IGF1R) levels and protein kinase B (AKT) localization and signaling. Lab Invest 102, 401–410 (2022). https://doi.org/10.1038/s41374-021-00702-6
Received:

Revised:

Accepted:

Published:

Issue Date:

DOI: https://doi.org/10.1038/s41374-021-00702-6