Abstract
Brain tumors are the leading cause of cancer-related death in children. Tazemetostat is an FDA-approved enhancer of zeste homolog (EZH2) inhibitor. To determine its role in difficult-to-treat pediatric brain tumors, we examined EZH2 levels in a panel of 22 PDOX models and confirmed EZH2 mRNA over-expression in 9 GBM (34.6 ± 12.7-fold) and 11 medulloblastoma models (6.2 ± 1.7 in group 3, 6.0 ± 2.4 in group 4) accompanied by elevated H3K27me3 expression. Therapeutic efficacy was evaluated in 4 models (1 GBM, 2 medulloblastomas and 1 ATRT) via systematically administered tazemetostat (250 and 400 mg/kg, gavaged, twice daily) alone and in combination with cisplatin (5 mg/kg, i.p., twice) and/or radiation (2 Gy/day × 5 days). Compared with the untreated controls, tazemetostat significantly (Pcorrected < 0.05) prolonged survival times in IC-L1115ATRT (101% at 400 mg/kg) and IC-2305GBM (32% at 250 mg/kg, 45% at 400 mg/kg) in a dose-dependent manner. The addition of tazemetostat with radiation was evaluated in 3 models, with only one [IC-1078MB (group 4)] showing a substantial, though not statistically significant, prolongation in survival compared to radiation treatment alone. Combining tazemetostat (250 mg/kg) with cisplatin was not superior to cisplatin alone in any model. Analysis of in vivo drug resistance detected predominance of EZH2-negative cells in the remnant PDOX tumors accompanied by decreased H3K27me2 and H3K27me3 expressions. These data supported the use of tazemetostat in a subset of pediatric brain tumors and suggests that EZH2-negative tumor cells may have caused therapy resistance and should be prioritized for the search of new therapeutic targets.
This is a preview of subscription content
Access options
Subscribe to Journal
Get full journal access for 1 year
We are sorry, but there is no personal subscription option available for your country.
Buy article
Get time limited or full article access on ReadCube.
$32.00
All prices are NET prices.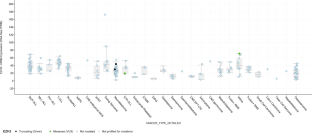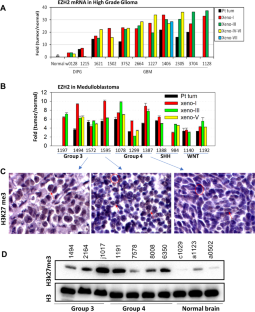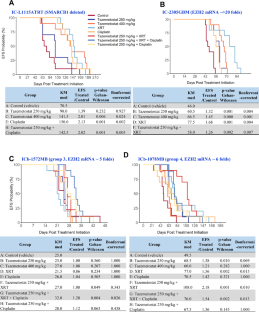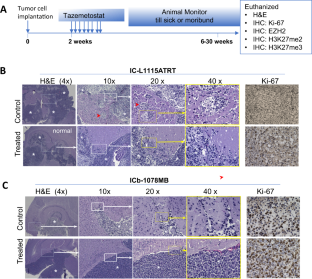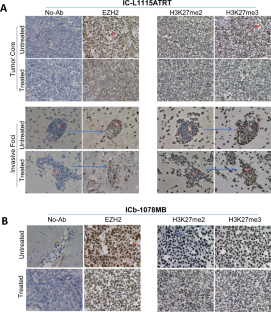 Data availability
Data are either presented in the manuscript or provided in the supplemental figures/tables.
References
Northcott, P. A. et al. Medulloblastoma comprises four distinct molecular variants. J. Clin. Oncol. 29, 1408–1414 (2011).

Taylor, M. D. et al. Molecular subgroups of medulloblastoma: the current consensus. Acta Neuropathol. 123, 465–472 (2012).

Ramaswamy, V. & Taylor, M. D. Medulloblastoma: from myth to molecular. J. Clin. Oncol. 35, 2355–2363 (2017).

Sabel, M. et al. Relapse patterns and outcome after relapse in standard risk medulloblastoma: a report from the HIT-SIOP-PNET4 study. J. Neurooncol. 129, 515–524 (2016).

Espinoza, J. C. et al. Outcome of young children with high-grade glioma treated with irradiation-avoiding intensive chemotherapy regimens: final report of the Head Start II and III trials. Pediatr. Blood Cancer 63, 1806–1813 (2016).

Jones, C. et al. Pediatric high-grade glioma: biologically and clinically in need of new thinking. Neuro Oncol. 19, 153–161 (2017).

Batora, N. V. et al. Transitioning from genotypes to epigenotypes: why the time has come for medulloblastoma epigenomics. Neuroscience 264, 171–185 (2014).

Dubuc, A. M. et al. Aberrant patterns of H3K4 and H3K27 histone lysine methylation occur across subgroups in medulloblastoma. Acta Neuropathol. 125, 373–384 (2013).

Jones, D. T., Northcott, P. A., Kool, M. & Pfister, S. M. The role of chromatin remodeling in medulloblastoma. Brain Pathol. 23, 193–199 (2013).

Parsons, D. W. et al. The genetic landscape of the childhood cancer medulloblastoma. Science 331, 435–439 (2011).

Bender, S. et al. Reduced H3K27me3 and DNA hypomethylation are major drivers of gene expression in K27M mutant pediatric high-grade gliomas. Cancer Cell 24, 660–672 (2013).

Schwartzentruber, J. et al. Driver mutations in histone H3.3 and chromatin remodelling genes in paediatric glioblastoma. Nature 482, 226–231 (2012).

Sturm, D. et al. Hotspot mutations in H3F3A and IDH1 define distinct epigenetic and biological subgroups of glioblastoma. Cancer Cell 22, 425–437 (2012).

Eifert, C. & Powers, R. S. From cancer genomes to oncogenic drivers, tumour dependencies and therapeutic targets. Nat. Rev. Cancer 12, 572–578 (2012).

Wilson, B. G. et al. Epigenetic antagonism between polycomb and SWI/SNF complexes during oncogenic transformation. Cancer Cell 18, 316–328 (2010).

Fiskus, W. et al. Combined epigenetic therapy with the histone methyltransferase EZH2 inhibitor 3-deazaneplanocin A and the histone deacetylase inhibitor panobinostat against human AML cells. Blood 114, 2733–2743 (2009).

Yoo, K. H. & Hennighausen, L. EZH2 methyltransferase and H3K27 methylation in breast cancer. Int. J. Biol. Sci. 8, 59–65 (2012).

Chiba, T. et al. 3-Deazaneplanocin A is a promising therapeutic agent for the eradication of tumor-initiating hepatocellular carcinoma cells. Int. J. Cancer 130, 2557–2567 (2012).

Crea, F. et al. EZH2 inhibition: targeting the crossroad of tumor invasion and angiogenesis. Cancer Metastasis Rev. 31, 753–761 (2012).

Chase, A. & Cross, N. C. Aberrations of EZH2 in cancer. Clin. Cancer Res. 17, 2613–2618 (2011).

Knutson, S. K. et al. Durable tumor regression in genetically altered malignant rhabdoid tumors by inhibition of methyltransferase EZH2. Proc. Natl Acad. Sci. USA 110, 7922–7927 (2013).

Alimova, I. et al. Inhibition of EZH2 suppresses self-renewal and induces radiation sensitivity in atypical rhabdoid teratoid tumor cells. Neuro Oncol. 15, 149–160 (2013).

Ezponda, T. & Licht, J. D. Molecular pathways: deregulation of histone H3 lysine 27 methylation in cancer-different paths, same destination. Clin. Cancer Res. https://doi.org/10.1158/1078-0432.CCR-13-2499 (2014).

Venneti, S. et al. Evaluation of histone 3 lysine 27 trimethylation (H3K27me3) and enhancer of Zest 2 (EZH2) in pediatric glial and glioneuronal tumors shows decreased H3K27me3 in H3F3A K27M mutant glioblastomas. Brain Pathol. 23, 558–564 (2013).

Suva, M. L. et al. EZH2 is essential for glioblastoma cancer stem cell maintenance. Cancer Res. 69, 9211–9218 (2009).

Sun, Y., Bailey, C. P., Sadighi, Z., Zaky, W. & Chandra, J. Pediatric high-grade glioma: aberrant epigenetics and kinase signaling define emerging therapeutic opportunities. J. Neurooncol. 150, 17–26 (2020).

McCabe, M. T. et al. EZH2 inhibition as a therapeutic strategy for lymphoma with EZH2-activating mutations. Nature 492, 108–112 (2012).

Fan, T. Y. et al. Inhibition of EZH2 reverses chemotherapeutic drug TMZ chemosensitivity in glioblastoma. Int. J. Clin. Exp Pathol. 7, 6662–6670 (2014).

Alimova, I. et al. Targeting the enhancer of zeste homologue 2 in medulloblastoma. Int. J. Cancer 131, 9 (2012).

Mohammad, F. et al. EZH2 is a potential therapeutic target for H3K27M-mutant pediatric gliomas. Nat. Med. 23, 483–492 (2017).

Kim, K. H. & Roberts, C. W. Targeting EZH2 in cancer. Nat. Med. 22, 128–134 (2016).

Gounder, M. et al. A phase II, multicenter study of the EZH2 inhibitor tazemetostat in adults: Epithelioid sarcoma cohort (NCT02601950). Ann. Oncol. 29, viii581–viii582 (2018).

First EZH2 inhibitor approved-for rare sarcoma. Cancer Discov. 10, 333–334 (2020).

Shu, Q. et al. Direct orthotopic transplantation of fresh surgical specimen preserves CD133+ tumor cells in clinically relevant mouse models of medulloblastoma and glioma. Stem Cells 26, 1414–1424 (2008).

Zhao, X. et al. Global gene expression profiling confirms the molecular fidelity of primary tumor-based orthotopic xenograft mouse models of medulloblastoma. Neuro. Oncol. 14, 574–583 (2012).

Rokita, J. L. et al. Genomic profiling of childhood tumor patient-derived xenograft models to enable rational clinical trial design. Cell Rep. 29, 1675–1689.e1679 (2019).

Liu, Z. et al. Intravenous injection of oncolytic picornavirus SVV-001 prolongs animal survival in a panel of primary tumor-based orthotopic xenograft mouse models of pediatric glioma. Neuro Oncol. 15, 1173–1185 (2013).

Yu, L. et al. A single intravenous injection of oncolytic picornavirus SVV-001 eliminates medulloblastomas in primary tumor-based orthotopic xenograft mouse models. Neuro Oncol. 13, 14–27 (2010).

Huang, L. et al. Systems biology-based drug repositioning identifies digoxin as a potential therapy for groups 3 and 4 medulloblastoma. Sci. Transl. Med. 10 https://doi.org/10.1126/scitranslmed.aat0150 (2018).

Grasso, C. S. et al. Functionally defined therapeutic targets in diffuse intrinsic pontine glioma. Nat. Med. 21, 555–559 (2015).

Kogiso, M. et al. Concurrent Inhibition of Neurosphere and Monolayer Cells of Pediatric Glioblastoma by Aurora A Inhibitor MLN8237 Predicted Survival Extension in PDOX Models. Clin Cancer Res. 24, 2159–2170 (2018).

Yu, L. et al. A clinically relevant orthotopic xenograft model of ependymoma that maintains the genomic signature of the primary tumor and preserves cancer stem cells in vivo. Neuro Oncol. 12, 580–594 (2010).

Shu, Q. et al. Valproic acid prolongs survival time of severe combined immunodeficient mice bearing intracerebellar orthotopic medulloblastoma xenografts. Clin. Cancer Res. 12, 4687–4694 (2006).

Italiano, A. et al. Tazemetostat, an EZH2 inhibitor, in relapsed or refractory B-cell non-Hodgkin lymphoma and advanced solid tumours: a first-in-human, open-label, phase 1 study. Lancet Oncol. 19, 649–659 (2018).

Chi, S. N. et al. Phase I study of tazemetostat, an enhancer of zeste homolog-2 inhibitor, in pediatric pts with relapsed/refractory integrase interactor 1-negative tumors. J. Clin. Oncol. 38, 10525–10525 (2020).

Kurmasheva, R. T. et al. Initial testing (stage 1) of tazemetostat (EPZ-6438), a novel EZH2 inhibitor, by the Pediatric Preclinical Testing Program. Pediatr. Blood Cancer 64 https://doi.org/10.1002/pbc.26218 (2017).

da Hora, C. C. et al. Sustained NF-kappaB-STAT3 signaling promotes resistance to Smac mimetics in Glioma stem-like cells but creates a vulnerability to EZH2 inhibition. Cell Death Discov. 5, 72 (2019).

Brach, D. et al. EZH2 inhibition by tazemetostat results in altered dependency on B-cell activation signaling in DLBCL. Mol. Cancer Ther. 16, 2586–2597 (2017).

Erkek, S. et al. Comprehensive analysis of chromatin states in atypical teratoid/rhabdoid tumor identifies diverging roles for SWI/SNF and polycomb in gene regulation. Cancer Cell 35, 95–110 (2019). e118.

Hovestadt, V. et al. Resolving medulloblastoma cellular architecture by single-cell genomics. Nature 572, 74–79 (2019).
Acknowledgements
The authors wish to thank all the veterinarians and veterinary technicians of the Center of Comparative Medicine in Baylor College of Medicine and staff members of the Feigin Center animal facility at Texas Children's Hospital for their excellent support of our animal experiments.
Funding
This work was funded by NIH/NCI grants RO1 CA185402 (X.N.L.), U01 CA217613 (X.N.L.), and U0 1 CA199222.
Ethics declarations
Competing interests
The authors declare no competing interests.
Ethics approval/Consent to participate
The patient tumor tissues were collected following our Institutional Review Board (IRB) approved protocols after obtaining consent from the parent(s) or legal guardian(s) of the childhood patients. All the animal experiments were conducted following Institutional Animal Care and Use Committee (IACUC) approved protocols.
Additional information
Publisher's note Springer Nature remains neutral with regard to jurisdictional claims in published maps and institutional affiliations.
Supplementary information
About this article
Cite this article
Qi, L., Lindsay, H., Kogiso, M. et al. Evaluation of an EZH2 inhibitor in patient-derived orthotopic xenograft models of pediatric brain tumors alone and in combination with chemo- and radiation therapies. Lab Invest 102, 185–193 (2022). https://doi.org/10.1038/s41374-021-00700-8
Received:

Revised:

Accepted:

Published:

Issue Date:

DOI: https://doi.org/10.1038/s41374-021-00700-8