Abstract
Osteosarcoma is a bone tumor that often affects children, adolescents and young people. Non-coding RNA activated by DNA damage (NORAD) can promote the proliferation of cancer cells in multiple tumors. Thus, the current study set out to explore the role of NORAD derived from extracellular vesicles (EVs) of bone mesenchymal stem cells (BMSCs) in osteosarcoma. First, NORAD was highly expressed in osteosarcoma cells and tissues, which might be associated with the progression and metastasis of osteosarcoma. We isolated EVs from the characterized BMSCs, and found that NORAD was transferred from BMSCs to osteosarcoma cells via EVs in the co-culture system. Consequently, NORAD delivered by BMSC-derived EVs promoted the proliferation and invasion of osteosarcoma cells. Subsequently, bioinformatics analyses suggested potential binding relationship between NORAD and microRNA-30c-5p (miR-30c-5p) as well as between miR-30c-5p and Krueppel-like factor 10 (KLF10), and the results of which were further verified by dual luciferase reporter gene assay, RNA immunoprecipitation, and RNA pull-down assay. Mechanistically, NORAD acted as a sponge of miR-30c-5p and up-regulated the expression of KLF10 where miR-30-c-5p mimic declined the effect induced by NORAD on cancer cells. The osteosarcoma cells were injected into mice to develop tumor growth and metastasis models. In these two models, injection of BMSC-EVs elevated NORAD expression and KLF10 but reduced miR-30c-5p expression, whereby suppressing tumor growth and lung metastasis. To conclude, BMSC-EVs deliver NORAD to osteosarcoma cells to regulate the miR-30c-5p/KLF10 axis, thereby accelerating the progression and metastasis of osteosarcoma.
Your institute does not have access to this article
Access options
Subscribe to Journal
Get full journal access for 1 year
We are sorry, but there is no personal subscription option available for your country.
Buy article
Get time limited or full article access on ReadCube.
$32.00
All prices are NET prices.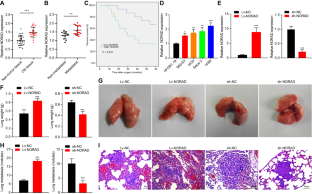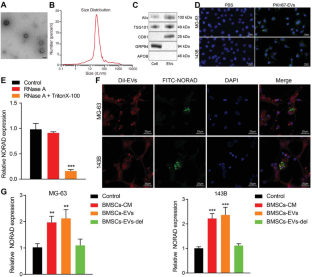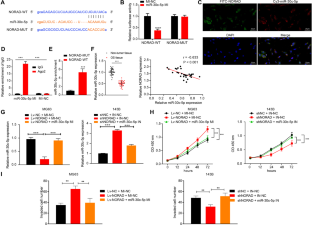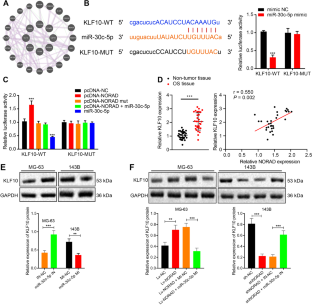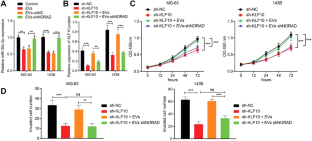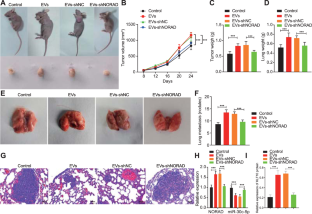 Availability of data and materials
The data that support the findings of this study are available from the corresponding authors upon reasonable request.
References
Jawad, M. U., Cheung, M. C., Clarke, J., Koniaris, L. G. & Scully, S. P. Osteosarcoma: improvement in survival limited to high-grade patients only. J. Cancer. Res. Clin. Oncol. 137, 597–607 (2011).

Maran, A., Yaszemski, M.J., Kohut, A. & Voronov, A. Curcumin and osteosarcoma: can invertible polymeric micelles help? Materials (Basel) 9, (2016)

Hameed, M. & Mandelker, D. Tumor syndromes predisposing to osteosarcoma. Adv. Anat. Pathol. 25, 217–222 (2018).

Ottaviani, G. & Jaffe, N. The epidemiology of osteosarcoma. Cancer Treat. Res. 152, 3–13 (2009).

Pakos, E. E. et al. Prognostic factors and outcomes for osteosarcoma: an international collaboration. Eur. J. Cancer 45, 2367–2375 (2009).

Longhi, A. et al. Height as a risk factor for osteosarcoma. J. Pediatr. Hematol. Oncol. 27, 314–318 (2005).

Lindsey, B. A., Markel, J. E. & Kleinerman, E. S. Osteosarcoma overview. Rheumatol. Ther. 4, 25–43 (2017).

Reed, D. R. et al. Treatment pathway of bone sarcoma in children, adolescents, and young adults. Cancer 123, 2206–2218 (2017).

Harrison, D. J., Geller, D. S., Gill, J. D., Lewis, V. O. & Gorlick, R. Current and future therapeutic approaches for osteosarcoma. Expert Rev. Anticancer Ther. 18, 39–50 (2018).

Xie, L., Ji, T. & Guo, W. Anti-angiogenesis target therapy for advanced osteosarcoma (Review). Oncol. Rep. 38, 625–636 (2017).

Cortini, M., Avnet, S. & Baldini, N. Mesenchymal stroma: role in osteosarcoma progression. Cancer Lett. 405, 90–99 (2017).

Verrecchia, F. & Redini, F. Transforming growth factor-beta signaling plays a pivotal role in the interplay between osteosarcoma cells and their microenvironment. Front. Oncol. 8, 133 (2018).

Zheng, Y., Wang, G., Chen, R., Hua, Y. & Cai, Z. Mesenchymal stem cells in the osteosarcoma microenvironment: their biological properties, influence on tumor growth, and therapeutic implications. Stem Cell Res. Ther. 9, 22 (2018).

Tkach, M. & Thery, C. Communication by extracellular vesicles: where we are and where we need to go. Cell 164, 1226–1232 (2016).

Zhang, X. et al. Hypoxic BMSC-derived exosomal miRNAs promote metastasis of lung cancer cells via STAT3-induced EMT. Mol Cancer 18, 40 (2019).

Qi, J. et al. Exosomes derived from human bone marrow mesenchymal stem cells promote tumor growth through hedgehog signaling pathway. Cell Physiol. Biochem. 42, 2242–2254 (2017).

Zhao, W. et al. Long non-coding RNA PVT1 encapsulated in bone marrow mesenchymal stem cell-derived exosomes promotes osteosarcoma growth and metastasis by stabilizing ERG and sponging miR-183-5p. Aging (Albany NY) 11, 9581–9596 (2019).

Yang, Z. et al. Noncoding RNA activated by DNA damage (NORAD): Biologic function and mechanisms in human cancers. Clin. Chim. Acta 489, 5–9 (2019).

Prensner, J. R. & Chinnaiyan, A. M. The emergence of lncRNAs in cancer biology. Cancer Discov 1, 391–407 (2011).

Li, P. et al. MicroRNA-30c-5p inhibits NLRP3 inflammasome-mediated endothelial cell pyroptosis through FOXO3 down-regulation in atherosclerosis. Biochem Biophys Res Commun 503, 2833–2840 (2018).

Yang, D. et al. LncRNA RP11-361F15.2 promotes osteosarcoma tumorigenesis by inhibiting M2-Like polarization of tumor-associated macrophages of CPEB4. Cancer Lett. 473, 33–49 (2020).

Wang, X. et al. Long noncoding RNA NORAD regulates cancer cell proliferation and migration in human osteosarcoma by endogenously competing with miR-199a-3p. IUBMB Life 71, 1482–1491 (2019).

Bing, Z. et al. Effect of mechanical stretch on the expressions of elastin, LOX and Fibulin-5 in rat BMSCs with ligament fibroblasts co-culture. Mol. Biol. Rep. 39, 6077–6085 (2012).

Puzar Dominkus, P. et al. PKH26 labeling of extracellular vesicles: Characterization and cellular internalization of contaminating PKH26 nanoparticles. Biochim. Biophys. Acta Biomembr. 1860, 1350–1361 (2018).

Guo, Y., Rubin, E. M., Xie, J., Zi, X. & Hoang, B. H. Dominant negative LRP5 decreases tumorigenicity and metastasis of osteosarcoma in an animal model. Clin. Orthop. Relat. Res. 466, 2039–2045 (2008).

Yuan, J. et al. Osteoblastic and osteolytic human osteosarcomas can be studied with a new xenograft mouse model producing spontaneous metastases. Cancer Invest. 27, 435–442 (2009).

Pietrovito, L. et al. Bone marrow-derived mesenchymal stem cells promote invasiveness and transendothelial migration of osteosarcoma cells via a mesenchymal to amoeboid transition. Mol. Oncol. 12, 659–676 (2018).

Lazennec, G. & Jorgensen, C. Concise review: adult multipotent stromal cells and cancer: risk or benefit? Stem Cells 26, 1387–1394 (2008).

Fontanella, R. et al. A novel antagonist of CXCR4 prevents bone marrow-derived mesenchymal stem cell-mediated osteosarcoma and hepatocellular carcinoma cell migration and invasion. Cancer Lett. 370, 100–107 (2016).

Kalluri, R. The biology and function of exosomes in cancer. J. Clin. Invest. 126, 1208–1215 (2016).

Du, L. et al. CXCR1/Akt signaling activation induced by mesenchymal stem cell-derived IL-8 promotes osteosarcoma cell anoikis resistance and pulmonary metastasis. Cell Death Dis. 9, 714 (2018).

Chen, A. K., Reuveny, S. & Oh, S. K. Application of human mesenchymal and pluripotent stem cell microcarrier cultures in cellular therapy: achievements and future direction. Biotechnol. Adv. 31, 1032–1046 (2013).

Raab-Traub, N. & Dittmer, D. P. Viral effects on the content and function of extracellular vesicles. Nat. Rev. Microbiol. 15, 559–572 (2017).

Qin, F. et al. Bone marrow-derived mesenchymal stem cell-derived exosomal microRNA-208a promotes osteosarcoma cell proliferation, migration, and invasion. J. Cell Physiol. 235, 4734–4745 (2020).

Baglio, S. R. et al. Human bone marrow- and adipose-mesenchymal stem cells secrete exosomes enriched in distinctive miRNA and tRNA species. Stem Cell Res. Ther. 6, 127 (2015).

Jones, K. B. et al. miRNA signatures associate with pathogenesis and progression of osteosarcoma. Cancer Res. 72, 1865–1877 (2012).

Wang K, Jiang W, Cheng C, Li Y, Tu M. Pathological and therapeutic aspects of long noncoding RNAs in osteosarcoma. Anticancer Agents Med. Chem. (2017)

Smolle MA, Pichler M. The role of long non-coding RNAs in Osteosarcoma. Noncoding RNA, 4, (2018)

Xie, X. et al. LncRNA NORAD targets miR-410-3p to regulate drug resistance sensitivity of osteosarcoma. Cell Mol. Biol. (Noisy-le-grand) 66, 143–148 (2020).

Yang, Z. et al. Long noncoding RNAs in the progression, metastasis, and prognosis of osteosarcoma. Cell Death Dis. 7, e2389 (2016).

Tan, B. S. et al. LncRNA NORAD is repressed by the YAP pathway and suppresses lung and breast cancer metastasis by sequestering S100P. Oncogene 38, 5612–5626 (2019).

Iqbal, M. A., Arora, S., Prakasam, G., Calin, G. A. & Syed, M. A. MicroRNA in lung cancer: role, mechanisms, pathways and therapeutic relevance. Mol. Aspects Med. 70, 3–20 (2019).

Tay, Y., Rinn, J. & Pandolfi, P. P. The multilayered complexity of ceRNA crosstalk and competition. Nature 505, 344–352 (2014).

Pei, B. et al. Downregulation of microRNA-30c-5p was responsible for cell migration and tumor metastasis via COTL1-mediated microfilament arrangement in breast cancer. Gland Surg. 9, 747–758 (2020).

Zhou, Y. et al. lncRNA DLEU2 modulates cell proliferation and invasion of non-small cell lung cancer by regulating miR-30c-5p/SOX9 axis. Aging (Albany NY) 11, 7386–7401 (2019).

Cao, J. M., Li, G. Z., Han, M., Xu, H. L. & Huang, K. M. MiR-30c-5p suppresses migration, invasion and epithelial to mesenchymal transition of gastric cancer via targeting MTA1. Biomed Pharmacother 93, 554–560 (2017).

Zhang, H. et al. LncRNA CASC15 is upregulated in osteosarcoma plasma exosomes and CASC15 knockdown inhibits osteosarcoma progression by regulating miR-338-3p/RAB14 Axis. Onco. Targets Ther. 13, 12055–12066 (2020).

Subramaniam, M., Hawse, J. R., Rajamannan, N. M., Ingle, J. N. & Spelsberg, T. C. Functional role of KLF10 in multiple disease processes. Biofactors 36, 8–18 (2010).

Wang, L. et al. Circ-0003998 promotes cell proliferative ability and invasiveness by binding to miR-197-3p in osteosarcoma. Eur. Rev. Med. Pharmacol. Sci. 23, 10638–10646 (2019).

Baglio, S. R. et al. Blocking tumor-educated MSC paracrine activity halts osteosarcoma progression. Clin. Cancer Res. 23, 3721–3733 (2017).
Ethics declarations
Competing interests
The authors declare no competing interests.
Additional information
Publisher's note Springer Nature remains neutral with regard to jurisdictional claims in published maps and institutional affiliations.
The original online version of this article was revised: Due to a figure error.
Supplementary information
About this article
Cite this article
He, H., Ding, M., Li, T. et al. Bone mesenchymal stem cell-derived extracellular vesicles containing NORAD promote osteosarcoma by miR-30c-5p. Lab Invest 102, 826–837 (2022). https://doi.org/10.1038/s41374-021-00691-6
Received:

Revised:

Accepted:

Published:

Issue Date:

DOI: https://doi.org/10.1038/s41374-021-00691-6