Abstract
Bioactive glass (BG) has recently shown great promise in soft tissue repair, especially in wound healing; however, the underlying mechanism remains unclear. Pyroptosis is a novel type of programmed cell death that is involved in various traumatic injury diseases. Here, we hypothesized that BG may promote wound healing through suppression of pyroptosis. To test this scenario, we investigated the possible effect of BG on pyroptosis in wound healing both in vivo and in vitro. This study showed that BG can accelerate wound closure, granulation formation, collagen deposition, and angiogenesis. Moreover, western blot analysis and immunofluorescence staining revealed that BG inhibited the expression of pyroptosis-related proteins in vivo and in vitro. In addition, while BG regulated the expression of connexin43 (Cx43), it inhibited reactive oxygen species (ROS) production. Cx43 activation and inhibition experiments further indicate that BG inhibited pyroptosis in endothelial cells by decreasing Cx43 expression and ROS levels. Taken together, these studies suggest that BG promotes wound healing by inhibiting pyroptosis via Cx43/ROS signaling pathway.
Access options
Subscribe to Journal
Get full journal access for 1 year
$119.00
only $9.92 per issue
All prices are NET prices.
VAT will be added later in the checkout.
Tax calculation will be finalised during checkout.
Rent or Buy article
Get time limited or full article access on ReadCube.
from$8.99
All prices are NET prices.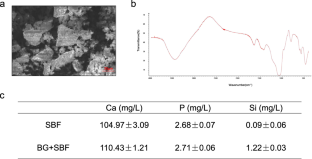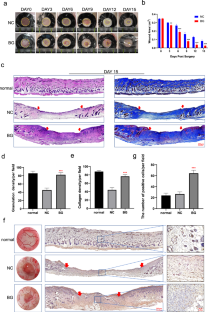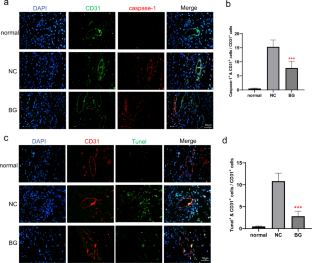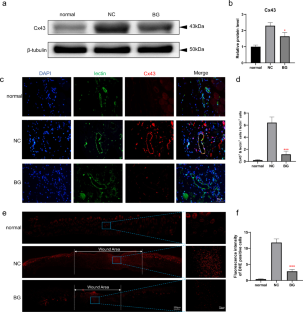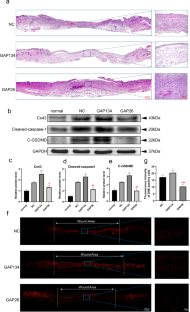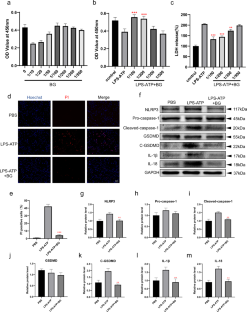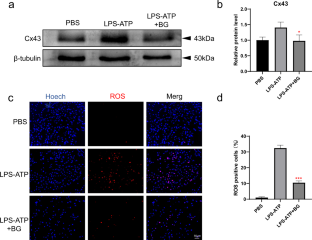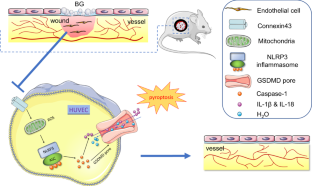 Data availability
The data used to support the findings of this study are available from the corresponding author upon request.
References
1.

Rizwan, M., Hamdi, M. & Basirun, W. J. Bioglass® 45S5-based composites for bone tissue engineering and functional applications. J. Biomed. Mater. Res. A. 105, 3197–3223 (2017).

2.

Kumar, A., Murugavel, S., Aditya, A. & Boccaccini, A. R. Mesoporous 45S5 bioactive glass: synthesis, in vitro dissolution and biomineralization behavior. J. Mater. Chem. B. 5, 8786–8798 (2017).

3.

Wu, C. et al. Preparation and characterization of borosilicate-bioglass-incorporated sodium alginate composite wound dressing for accelerated full-thickness skin wound healing. Biomed. Mater. 15, 055009 (2020).

4.

Yu, H., Peng, J., Xu, Y., Chang, J. & Li, H. Bioglass activated skin tissue engineering constructs for wound healing. ACS Appl. Mater. Interfaces. 8, 703–715 (2016).

5.

Kong, L. et al. Bioactive injectable hydrogels containing desferrioxamine and bioglass for diabetic wound healing. ACS Appl. Mater. Interfaces. 10, 30103–30114 (2018).

6.

Dong, X., Chang, J. & Li, H. Bioglass promotes wound healing through modulating the paracrine effects between macrophages and repairing cells. J. Mater. Chem. B. 5, 5240–5250 (2017).

7.

Zhou, Y. et al. Bioglass Activated Albumin Hydrogels for Wound Healing. Adv. Healthc Mater. 7, e1800144 (2018).

8.

Tonnesen, M. G., Feng, X. & Clark, R. A. Angiogenesis in wound healing. J. Investig. Dermatol. Symp. Proc. 5, 40–46 (2000).

9.

Opneja, A., Kapoor, S. & Stavrou, E. X. Contribution of platelets, the coagulation and fibrinolytic systems to cutaneous wound healing. Thromb. Res. 179, 56–63 (2019).

10.

Xue, Y., Enosi Tuipulotu, D., Tan, W. H., Kay, C. & Man, S. M. Emerging Activators and Regulators of Inflammasomes and Pyroptosis. Trends Immunol .40, 1035–1052 (2019).

11.

Frank, D. & Vince, J. E. Pyroptosis versus necroptosis: similarities, differences, and crosstalk. Cell Death Differ. 26, 99–114 (2019).

12.

Man, S. M., Karki, R. & Kanneganti, T. D. Molecular mechanisms and functions of pyroptosis, inflammatory caspases and inflammasomes in infectious diseases. Immunol. Rev. 277, 61–75 (2017).

13.

Lu, F. et al. Emerging insights into molecular mechanisms underlying pyroptosis and functions of inflammasomes in diseases. J. Cell Physiol. 235, 3207–3221 (2020).

14.

Hu, X. et al. Role of Pyroptosis in Traumatic Brain and Spinal Cord Injuries. Int. J. Biol Sci. 16, 2042–2050 (2020).

15.

Lopez-Pastrana, J. et al. Inhibition of Caspase-1 Activation in Endothelial Cells Improves Angiogenesis: A NOVEL THERAPEUTIC POTENTIAL FOR ISCHEMIA. J. Biol. Chem. 290, 17485–17494 (2015).

16.

Mena, H. A. et al. Extracellular histones reduce survival and angiogenic responses of late outgrowth progenitor and mature endothelial cells. J. Thromb. Haemost. 14, 397–410 (2016).

17.

Tang, Y. S. et al. Neferine inhibits LPS-ATP-induced endothelial cell pyroptosis via regulation of ROS/NLRP3/Caspase-1 signaling pathway. Inflamm Res. 68, 727–738 (2019).

18.

Li, H., He, J., Yu, H., Green, C. R. & Chang, J. Bioglass promotes wound healing by affecting gap junction connexin 43 mediated endothelial cell behavior. Biomaterials. 84, 64–75 (2016).

19.

Montgomery J., Ghatnekar G. S., Grek C. L., Moyer K. E., Gourdie R. G. Connexin 43-Based Therapeutics for Dermal Wound Healing. Int. J. Mol. Sci. 19, 1778 (2018).

20.

Shi, Q. et al. Connexin Controls Cell-Cycle Exit and Cell Differentiation by Directly Promoting Cytosolic Localization and Degradation of E3 Ligase Skp2. Dev. Cell. 35, 483–496 (2015).

21.

Hou, G. et al. An activated mTOR/p70S6K signaling pathway in esophageal squamous cell carcinoma cell lines and inhibition of the pathway by rapamycin and siRNA against mTOR. Cancer Lett. 253, 236–248 (2007).

22.

Cheng, S. T., Chen, Z. F. & Chen, G. Q. The expression of cross-linked elastin by rabbit blood vessel smooth muscle cells cultured in polyhydroxyalkanoate scaffolds. Biomaterials. 29, 4187–4194 (2008).

23.

Jia, C. et al. Endothelial cell pyroptosis plays an important role in Kawasaki disease via HMGB1/RAGE/cathespin B signaling pathway and NLRP3 inflammasome activation. Cell Death Dis. 10, 778 (2019).

24.

Zou, J. et al. Deoxyelephantopin induces reactive oxygen species-mediated apoptosis and autophagy in human osteosarcoma cells. Cell Physiol. Biochem. 42, 1812–1821 (2017).

25.

Jia, S. J. et al. Lysophosphatidylcholine-induced elevation of asymmetric dimethylarginine level by the NADPH oxidase pathway in endothelial cells. Vascul. Pharmacol. 44, 143–148 (2006).

26.

Wang, S. et al. Nanoenzyme-reinforced injectable hydrogel for healing diabetic wounds infected with multidrug resistant bacteria. Nano Lett. 20, 5149–5158 (2020).

27.

Patin, J. et al. Gap-134, a Connexin43 activator, prevents age-related development of ventricular fibrosis in Scn5a(+/)(-) mice. Pharmacol. Res. 159, 104922 (2020).

28.

Desplantez, T., Verma, V., Leybaert, L., Evans, W. H. & Weingart, R. Gap26, a connexin mimetic peptide, inhibits currents carried by connexin43 hemichannels and gap junction channels. Pharmacol. Res. 65, 546–552 (2012).

29.

Yang, K. et al. Synaptic plasticity after focal cerebral ischemia was attenuated by Gap26 but enhanced by GAP-134. Front. Neurol. 11, 888 (2020).

30.

Zou, Z. et al. Cx43 inhibition attenuates sepsis-induced intestinal injury via downregulating ROS transfer and the activation of the JNK1/Sirt1/FoxO3a signaling pathway. Mediators Inflamm. 2019, 7854389 (2019).

31.

Naseri, S., Lepry, W. C. & Nazhat, S. N. Bioactive glasses in wound healing: hope or hype? J. Mater. Chem. B 5, 6167–6174 (2017).

32.

Lyu, Z. et al. Maintaining the pluripotency of mouse embryonic stem cells on gold nanoparticle layers with nanoscale but not microscale surface roughness. Nanoscale 6, 6959–6969 (2014).

33.

Hench, L. L. & Jones, J. R. Bioactive glasses: frontiers and challenges. Front. Bioeng. Biotechnol 3, 194 (2015).

34.

Hench, L. L. The story of Bioglass. J. Mater. Sci. Mater Med. 17, 967–978 (2006).

35.

Verrier, S., Blaker, J. J., Maquet, V., Hench, L. L. & Boccaccini, A. R. PDLLA/Bioglass composites for soft-tissue and hard-tissue engineering: an in vitro cell biology assessment. Biomaterials 25, 3013–3021 (2004).

36.

Rodrigues, C. et al. Bioglass 45S5: Structural characterization of short range order and analysis of biocompatibility with adipose-derived mesenchymal stromal cells in vitro and in vivo. Mater. Sci. Eng. C Mater. Biol. Appl 103, 109781 (2019).

37.

Handel, M., Hammer, T. R., Nooeaid, P., Boccaccini, A. R. & Hoefer, D. 45S5-Bioglass(®)-based 3D-scaffolds seeded with human adipose tissue-derived stem cells induce in vivo vascularization in the CAM angiogenesis assay. Tissue Eng. Part A 19, 2703–2712 (2013).

38.

Hu, S., Chang, J., Liu, M. & Ning, C. Study on antibacterial effect of 45S5 Bioglass. J. Mater. Sci. Mater. Med. 20, 281–286 (2009).

39.

Xu, K. et al. Topical application of fibroblast growth factor 10-PLGA microsphere accelerates wound healing via inhibition of ER stress. Oxid. Med. Cell Longev. 2020, 8586314 (2020).

40.

Wu, Z., He, D. & Li, H. Bioglass enhances the production of exosomes and improves their capability of promoting vascularization. Bioact. Mater. 6, 823–835 (2021).

41.

El-Gendy, R. et al. Investigating the vascularization of tissue-engineered bone constructs using dental pulp cells and 45S5 bioglass(R) scaffolds. Tissue Eng. Part A 21, 2034–2043 (2015).

42.

Ma, Z., Song, W., He, Y. & Li, H. Multilayer injectable hydrogel system sequentially delivers bioactive substances for each wound healing stage. ACS Appl. Mater. Interfaces 12, 29787–29806 (2020).

43.

Bazzoni, G. & Dejana, E. Endothelial cell-to-cell junctions: molecular organization and role in vascular homeostasis. Physiol. Rev. 84, 869–901 (2004).

44.

Garcia M. A., Nelson W. J., Chavez N. Cell-cell junctions organize structural and signaling networks. Cold Spring Harb Perspect Biol 10, a029181 (2018).

45.

Zou, X. R., Tao, J. & Wang, Y. K. [Gap junction and diabetic foot]. Zhejiang Da Xue Xue Bao Yi Xue Ban 44, 684–688 (2015).

46.

Okamoto, T. et al. Gap junction-mediated regulation of endothelial cellular stiffness. Sci. Rep. 7, 6134 (2017).

47.

Kim, D., Mouritzen, U., Larsen, B. D. & Roy, S. Inhibition of Cx43 gap junction uncoupling prevents high glucose-induced apoptosis and reduces excess cell monolayer permeability in retinal vascular endothelial cells. Exp. Eye Res. 173, 85–90 (2018).

48.

Thuringer, D. et al. Gap junction-mediated transfer of miR-145-5p from microvascular endothelial cells to colon cancer cells inhibits angiogenesis. Oncotarget 7, 28160–28168 (2016).

49.

Ding, H., Jiang, Y., Jiang, Y., Yuan, D. & Xiao, L. Ulinastatin attenuates monocyte-endothelial adhesion via inhibiting ROS transfer between the neighboring vascular endothelial cells mediated by Cx43. Am. J. Transl. Res. 12, 4326–4336 (2020).

50.

Gao, K. et al. A novel TXNIP-based mechanism for Cx43-mediated regulation of oxidative drug injury. J. Cell Mol. Med. 19, 2469–2480 (2015).

51.

Ma, J. W., Ji, D. D., Li, Q. Q., Zhang, T. & Luo, L. Inhibition of connexin 43 attenuates oxidative stress and apoptosis in human umbilical vein endothelial cells. BMC Pulm. Med. 20, 19 (2020).

52.

LaRock, C. N. & Cookson, B. T. Burning down the house: cellular actions during pyroptosis. PLoS Pathog. 9, e1003793 (2013).

53.

Liu, W. et al. Ablation of caspase-1 protects against TBI-induced pyroptosis in vitro and in vivo. J. Neuroinflammation 15, 48 (2018).

54.

Sun, Z. et al. VX765 Attenuates Pyroptosis and HMGB1/TLR4/NF-κB Pathways to Improve Functional Outcomes in TBI Mice. Oxid. Med. Cell Longev. 2020, 7879629 (2020).

55.

Kuwar, R. et al. A novel small molecular NLRP3 inflammasome inhibitor alleviates neuroinflammatory response following traumatic brain injury. J. Neuroinflammation 16, 81 (2019).

56.

Dai, W. et al. Celastrol inhibits microglial pyroptosis and attenuates inflammatory reaction in acute spinal cord injury rats. Int. Immunopharmacol. 66, 215–223 (2019).

57.

Abais, J. M., Xia, M., Zhang, Y., Boini, K. M. & Li, P. L. Redox regulation of NLRP3 inflammasomes: ROS as trigger or effector? Antioxid. Redox. Signal 22, 1111–1129 (2015).

58.

Wu, X. et al. Nicotine promotes atherosclerosis via ROS-NLRP3-mediated endothelial cell pyroptosis. Cell Death Dis. 9, 171 (2018).

59.

Zhou, B. et al. Tom20 senses iron-activated ROS signaling to promote melanoma cell pyroptosis. Cell Res. 28, 1171–1185 (2018).

60.

Huang, Y. et al. Connexin43 Contributes to Inflammasome Activation and Lipopolysaccharide-Initiated Acute Renal Injury via Modulation of Intracellular Oxidative Status. Antioxid. Redox. Signal 31, 1194–1212 (2019).

61.

Li, X. et al. Inhibition of connexin43 improves functional recovery after ischemic brain injury in neonatal rats. Glia 63, 1553–1567 (2015).

62.

Butera, J. A. et al. Discovery of (2S,4R)-1-(2-aminoacetyl)-4-benzamidopyrrolidine-2-carboxylic acid hydrochloride (GAP-134)13, an orally active small molecule gap-junction modifier for the treatment of atrial fibrillation. J. Med. Chem. 52, 908–911 (2009).

63.

Hawat, G., Benderdour, M., Rousseau, G. & Baroudi, G. Connexin 43 mimetic peptide Gap26 confers protection to intact heart against myocardial ischemia injury. Pflugers Arch. 460, 583–592 (2010).
Funding
This study was jointly supported by the National Natural Science Foundation of China (81802251, 81772450, and 81801233), Zhejiang Provincial Natural Science Foundation of China (LQ18H150003, LQ18H090011, LY19H150001 LY17H090014, and LWY20H310001), Zhejiang Provincial Medical and Health Science and Technology Fund (2018KY186), and Wenzhou science and technology innovation project (ZY2020023 and ZY2020026).
Ethics declarations
Competing interests
The authors declare no competing interests.
Ethics statement
The animal study was reviewed and approved by the animal welfare and usage management regulations of the Wenzhou Medical University [License No. SCXK [ZJ] 2015-0009].
Additional information
Publisher's note Springer Nature remains neutral with regard to jurisdictional claims in published maps and institutional affiliations.
About this article
Cite this article
Zhang, K., Chai, B., Ji, H. et al. Bioglass promotes wound healing by inhibiting endothelial cell pyroptosis through regulation of the connexin 43/reactive oxygen species (ROS) signaling pathway. Lab Invest (2021). https://doi.org/10.1038/s41374-021-00675-6
Received:

Revised:

Accepted:

Published: