Abstract
Glioblastoma (GBM) is the most malignant primary tumor in the central nervous system of adults. Temozolomide (TMZ), an alkylating agent, is the first-line chemotherapeutic agent for GBM patients. However, its efficacy is often limited by innate or acquired chemoresistance. Cancer cells can rewire their metabolic programming to support rapid growth and sustain cell survival against chemotherapies. An example is the de novo serine synthesis pathway (SSP), one of the main branches from glycolysis that is highly activated in multiple cancers in promoting cancer progression and inducing chemotherapy resistance. However, the roles of SSP in TMZ therapy for GBM patients remain unexplored. In this study, we employed NCT503, a highly selective inhibitor of phosphoglycerate dehydrogenase (PHGDH, the first rate-limiting enzyme of SSP), to study whether inhibition of SSP may enhance TMZ efficacy in MGMT-positive GBMs. 3-(4,5-dimethylthiazol-2-yl)-2,5-diphenyltetrazolium bromide (MTT), flowcytometry and colony formation assays demonstrated that NCT503 worked synergistically with TMZ in suppressing GBM cell growth and inducing apoptosis in T98G and U118 cells in vitro. U118 and patient-derived GBM subcutaneous xenograft models showed that combined NCT503 and TMZ treatment inhibited GBM growth and promoted apoptosis more significantly than would each treatment alone in vivo. Mechanistically, we found that NCT503 treatment decreased MGMT expression possibly by modulating the Wnt/β-catenin pathway. Moreover, intracellular levels of reactive oxygen species were elevated especially when NCT503 and TMZ treatments were combined, and the synergistic effects could be partially negated by NAC, a classic scavenger of reactive oxygen species. Taken together, these results suggest that NCT503 may be a promising agent for augmenting TMZ efficacy in the treatment of GBM, especially in TMZ-resistant GBMs with high expression of MGMT.
Your institute does not have access to this article
Access options
Subscribe to Journal
Get full journal access for 1 year
We are sorry, but there is no personal subscription option available for your country.
Buy article
Get time limited or full article access on ReadCube.
$32.00
All prices are NET prices.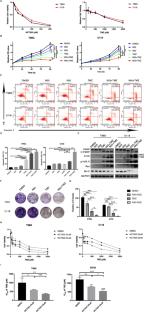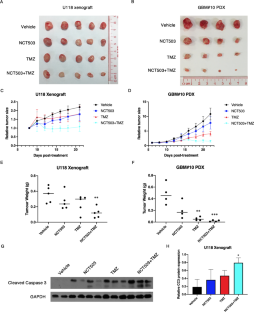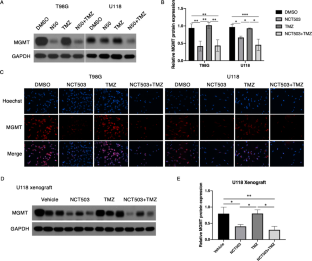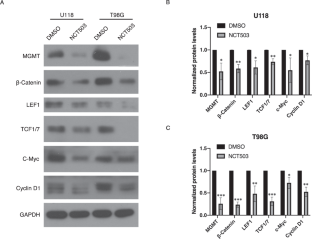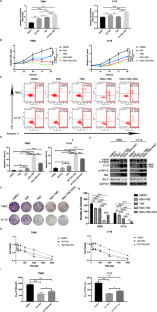 Data availability
The datasets used during the current study are available from the corresponding author on reasonable request.
References
Lapointe, S., Perry, A. & Butowski, N. A. Primary brain tumours in adults. Lancet 392, 432–446 (2018).

Stupp, R. et al. Radiotherapy plus concomitant and adjuvant temozolomide for glioblastoma. N. Engl. J. Med. 352, 987–996 (2005).

Wen, P. Y. et al. Glioblastoma in adults: a Society for Neuro-Oncology (SNO) and European Society of Neuro-Oncology (EANO) consensus review on current management and future directions. Neuro Oncol. 22, 1073–1113 (2020).

Stupp, R., Brada, M., van den Bent, M. J., Ton, J. C. & Pentheroudakis, G. High-grade glioma: ESMO Clinical Practice Guidelines for diagnosis, treatment and follow-up. Ann. Oncol. 25, iii93–iii101 (2014).

Christmann, M., Verbeek, B., Roos, W. P. & Kaina, B. O(6)-Methylguanine-DNA methyltransferase (MGMT) in normal tissues and tumors: enzyme activity, promoter methylation and immunohistochemistry. Biochim. Biophys. Acta 1816, 179–190 (2011).

Lee, S. Y. Temozolomide resistance in glioblastoma multiforme. Genes Dis. 3, 198–210 (2016).

Hegi, M. E. et al. MGMT gene silencing and benefit from temozolomide in glioblastoma. N. Engl. J. Med. 352, 997–1003 (2005).

Christmann, M. et al. MGMT activity, promoter methylation and immunohistochemistry of pretreatment and recurrent malignant gliomas: a comparative study on astrocytoma and glioblastoma. Int. J. Cancer 127, 2106–2118 (2010).

Liu, G. et al. Analysis of gene expression and chemoresistance of CD133+ cancer stem cells in glioblastoma. Mol. Cancer 5, 67 (2006).

van Nifterik, K. A. et al. Absence of the MGMT protein as well as methylation of the MGMT promoter predict the sensitivity for temozolomide. Br. J. Cancer 103, 29–35 (2010).

Esteller, M. et al. Inactivation of the DNA-repair gene MGMT and the clinical response of gliomas to alkylating agents. N. Engl. J. Med. 343, 1350–1354 (2000).

Liberti, M. V. & Locasale, J. W. The Warburg effect: how does it benefit cancer cells? Trends Biochem. Sci. 41, 211–218 (2016).

Icard, P. et al. How the Warburg effect supports aggressiveness and drug resistance of cancer cells? Drug Resist. Update 38, 1–11 (2018).

Pacold, M. E. et al. A PHGDH inhibitor reveals coordination of serine synthesis and one-carbon unit fate. Nat. Chem. Biol. 12, 452–458 (2016).

Zhang, B. X. et al. PHGDH defines a metabolic subtype in lung adenocarcinomas with poor prognosis. Cell Rep 19, 2289–2303 (2017).

Zhu, J. et al. High expression of PHGDH predicts poor prognosis in non-small cell lung cancer. Transl. Oncol. 9, 592–599 (2016).

Liu, J. et al. Phosphoglycerate dehydrogenase induces glioma cells proliferation and invasion by stabilizing forkhead box M1. J. Neurooncol. 111, 245–255 (2013).

Wei, L. et al. Genome-wide CRISPR/Cas9 library screening identified PHGDH as a critical driver for Sorafenib resistance in HCC. Nat. Commun. 10, 4681 (2019).

Dong, J. K. et al. Overcoming erlotinib resistance in EGFR mutation-positive lung adenocarcinomas through repression of phosphoglycerate dehydrogenase. Theranostics 8, 1808–1823 (2018).

Nguyen, M. Q. et al. Targeting PHGDH upregulation reduces glutathione levels and resensitizes resistant NRAS-mutant melanoma to MAPK kinase inhibition. J. Invest. Dermatol. 140, 2242–2252 e2247 (2020).

Bialopiotrowicz, E. et al. Serine biosynthesis pathway supports MYC-miR-494-EZH2 feed-forward circuit necessary to maintain metabolic and epigenetic reprogramming of Burkitt lymphoma cells. Cancers 12, 580 (2020).

Aasland, D. et al. Repair gene O-6-methylguanine-DNA methyltransferase is controlled by SP1 and up-regulated by glucocorticoids, but not by temozolomide and radiation. J. Neurochem. 144, 139–151 (2018).

Wickstrom, M. et al. Wnt/beta-catenin pathway regulates MGMT gene expression in cancer and inhibition of Wnt signalling prevents chemoresistance. Nat. Commun. 6, 8904 (2015).

Li, Z. Y. et al. Tanshinone IIA induces apoptosis via inhibition of Wnt/betacatenin/MGMT signaling in AtT20 cells. Mol. Med. Rep. 16, 5908–5914 (2017).

Lukas, J., Lukas, C. & Bartek, J. More than just a focus: the chromatin response to DNA damage and its role in genome integrity maintenance. Nat. Cell Biol. 13, 1161–1169 (2011).

Li, A. M. & Ye, J. B. The PHGDH enigma: do cancer cells only need serine or also a redox modulator? Cancer Lett. 476, 97–105 (2020).

Davis, J. L., Fallon, H. J. & Morris, H. P. Two enzymes of serine metabolism in rat liver and hepatomas. Cancer Res. 30, 2917–2920 (1970).

Chen, J. Y. et al. Phosphoglycerate dehydrogenase is dispensable for breast tumor maintenance and growth. Oncotarget 4, 2502–2511 (2013).

Jing, Z. et al. Downregulation of phosphoglycerate dehydrogenase inhibits proliferation and enhances cisplatin sensitivity in cervical adenocarcinoma cells by regulating Bcl-2 and caspase-3. Cancer Biol. Ther. 16, 541–548 (2015).

Jia, X. Q. et al. Increased expression of PHGDH and prognostic significance in colorectal cancer. Transl. Oncol. 9, 191–196 (2016).

Xian, Y. et al. Phosphoglycerate dehydrogenase is a novel predictor for poor prognosis in gastric cancer. Oncotargets Ther. 9, 5553–5560 (2016).

Zhang, X. & Bai, W. J. Repression of phosphoglycerate dehydrogenase sensitizes triple-negative breast cancer to doxorubicin. Cancer Chemoth. Pharm. 78, 655–659 (2016).

Zaal, E. A. et al. Bortezomib resistance in multiple myeloma is associated with increased serine synthesis. Cancer Metab. 5, 7 (2017).

Yoshino, H. et al. PHGDH as a key enzyme for serine biosynthesis in HIF2 alpha-targeting therapy for renal cell carcinoma. Cancer Res. 77, 6321–6329 (2017).

Flahaut, M. et al. The Wnt receptor FZD1 mediates chemoresistance in neuroblastoma through activation of the Wnt/beta-catenin pathway. Oncogene 28, 2245–2256 (2009).

Zhang, Z. M. et al. Pygo2 activates MDR1 expression and mediates chemoresistance in breast cancer via the Wnt/beta-catenin pathway. Oncogene 35, 4787–4797 (2016).

Han, P. et al. The lncRNA CRNDE promotes colorectal cancer cell proliferation and chemoresistance via miR-181a-5p-mediated regulation of Wnt/beta-catenin signaling. Mol. Cancer 16, 9 (2017).

Liebelt, B. D. et al. Glioma stem cells: signaling, microenvironment, and therapy. Stem Cells Int. 2016, 7849890 (2016).

de Sousa, E. M. F. & Vermeulen, L. Wnt signaling in cancer stem cell biology. Cancers 8, 60 (2016).

Song, Y., Lee, S., Kim, J. R. & Jho, E. H. Pja2 inhibits Wnt/beta-catenin signaling by reducing the level of TCF/LEF1. Int. J. Stem Cells 11, 242–247 (2018).

Chen, Z., Wei, X., Shen, L., Zhu, H. & Zheng, X. 20(S)-ginsenoside-Rg3 reverses temozolomide resistance and restrains epithelial-mesenchymal transition progression in glioblastoma. Cancer Sci. 110, 389–400 (2019).

Turgeon, M. O., Perry, N. J. S. & Poulogiannis, G. DNA damage, repair, and cancer metabolism. Front. Oncol. 8, 15 (2018).

Lee, D. et al. Folate cycle enzyme MTHFD1L confers metabolic advantages in hepatocellular carcinoma. J. Clin. Invest. 127, 1856–1872 (2017).

Rocha, C. R., Kajitani, G. S., Quinet, A., Fortunato, R. S. & Menck, C. F. NRF2 and glutathione are key resistance mediators to temozolomide in glioma and melanoma cells. Oncotarget 7, 48081–48092 (2016).

Rubenstein, M. et al. In vivo establishment of T98G human glioblastoma. Methods Find Exp. Clin. Pharmacol. 21, 391–393 (1999).

Lenting, K., Verhaak, R., Ter Laan, M., Wesseling, P. & Leenders, W. Glioma: experimental models and reality. Acta Neuropathol. 133, 263–282 (2017).
Acknowledgements
We thank Dr. Michael E. Pacold (Grossman School of Medicine, New York University) and Prof. David M. Sabatini (Massachusetts Institute of Technology) for their kind sharing of the detailed protocol for in vivo administration of NCT503.
Ethics declarations
Competing interests
The authors declare no competing interests.
Ethics approval and consent to participate
The research committee of the University of Hong Kong has reviewed and approved the study according to the principles expressed in the Declaration of Helsinki.
Additional information
Publisher's note Springer Nature remains neutral with regard to jurisdictional claims in published maps and institutional affiliations.
Supplementary information
About this article
Cite this article
Jin, L., Kiang, K.MY., Cheng, S.Y. et al. Pharmacological inhibition of serine synthesis enhances temozolomide efficacy by decreasing O6-methylguanine DNA methyltransferase (MGMT) expression and reactive oxygen species (ROS)-mediated DNA damage in glioblastoma. Lab Invest 102, 194–203 (2022). https://doi.org/10.1038/s41374-021-00666-7
Received:

Revised:

Accepted:

Published:

Issue Date:

DOI: https://doi.org/10.1038/s41374-021-00666-7