Abstract
Acute myeloid leukemia (AML) is a common subtype of leukemia, and a large proportion of patients with AML eventually develop drug resistance. Curcumin exerts cancer suppressive effects and increases sensitivity to chemotherapy in several diseases. This study aimed to investigate the mechanism by which curcumin affects the resistance of AML to Adriamycin by regulating HOX transcript antisense RNA (HOTAIR) expression. Cell viability, colony-formation, flow cytometry, and Transwell assays were used to assess cell proliferation, apoptosis, and migration. A dual-luciferase reporter assay was used to verify the interaction between microRNA (miR)-20a-5p and HOTAIR or Wilms' tumor 1 (WT1). RT-qPCR and Western blotting assays were performed to detect gene and protein expression. The results showed that curcumin suppressed the resistance to Adriamycin, inhibited the expression of HOTAIR and WT1, and promoted the expression of miR-20a-5p in human acute leukemia cells (HL-60) or Adriamycin-resistant HL-60 cells (HL-60/ADR). Furthermore, curcumin suppressed proliferation and promoted apoptosis of HL-60/ADR cells. Overexpression of HOTAIR reversed the regulatory effect of curcumin on apoptosis and migration and restored the effect of curcumin on inducing the expression of cleaved caspase3, Bax, and P27. In addition, HOTAIR upregulated WT1 expression by targeting miR-20a-5p, and inhibition of miR-20a-5p reversed the regulation of Adriamycin resistance by curcumin in AML cells. Finally, curcumin inhibited Adriamycin resistance by suppressing the HOTAIR/miR-20a-5p/WT1 pathway in vivo. In short, curcumin suppressed the proliferation and migration, blocked the cell cycle progression of AML cells, and sensitized AML cells to Adriamycin by regulating the HOTAIR/miR-20a-5p/WT1 axis. These findings suggest a potential role of curcumin and HOTAIR in AML treatment.
Access options
Subscribe to Journal
Get full journal access for 1 year
$399.00
only $33.25 per issue
All prices are NET prices.
VAT will be added later in the checkout.
Tax calculation will be finalised during checkout.
Rent or Buy article
Get time limited or full article access on ReadCube.
from$8.99
All prices are NET prices.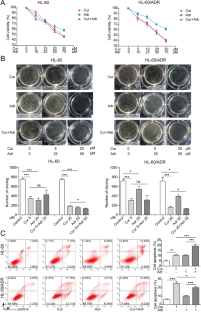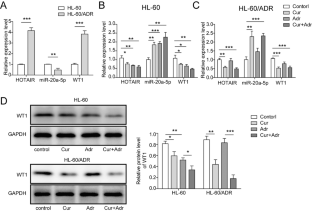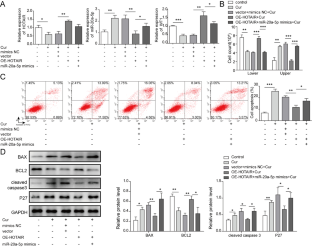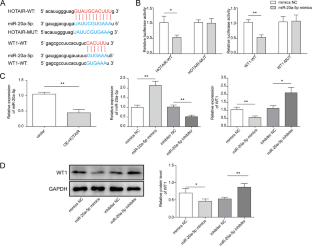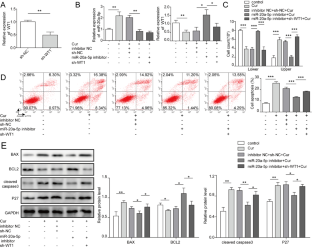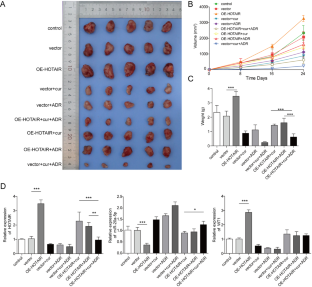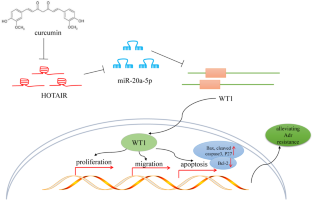 Data availability
All data generated or analyzed during this study are included in this article.
References
1.

Mortality GBD, Causes of Death C.Global, regional, and national life expectancy, all-cause mortality, and cause-specific mortality for 249 causes of death, 1980-2015: a systematic analysis for the Global Burden of Disease Study 2015. Lancet. 2016;388:1459–544.

2.

Global Burden of Disease Cancer C, Fitzmaurice C, Allen C, Barber RM, Barregard L, Bhutta ZA, et al. Global, regional, and national cancer incidence, mortality, years of life lost, years lived with disability, and disability-adjusted life-years for 32 cancer groups, 1990 to 2015: a systematic analysis for the Global Burden of Disease Study. JAMA Oncol. 2017;3:524–48.

3.

Shang J, Chen WM, Liu S, Wang ZH, Wei TN, Chen ZZ, et al. CircPAN3 contributes to drug resistance in acute myeloid leukemia through regulation of autophagy. Leuk Res. 2019;85:106198.

4.

Bertoli S, Picard M, Berard E, Griessinger E, Larrue C, Mouchel PL, et al. Dexamethasone in hyperleukocytic acute myeloid leukemia. Haematologica. 2018;103:988–98.

5.

Dohner H, Weisdorf DJ, Bloomfield CD. Acute myeloid leukemia. N Engl J Med. 2015;373:1136–52.

6.

Deck LM, Hunsaker LA, Vander Jagt TA, Whalen LJ, Royer RE, Vander, et al. Activation of anti-oxidant Nrf2 signaling by enone analogues of curcumin. Eur J Med Chem. 2018;143:854–65.

7.

Deguchi A. Curcumin targets in inflammation and cancer. Endocr Metab Immune Disord Drug Targets. 2015;15:88–96.

8.

Moradi-Marjaneh R, Hassanian SM, Rahmani F, Aghaee-Bakhtiari SH, Avan A, Khazaei M. Phytosomal curcumin elicits anti-tumor properties through suppression of angiogenesis, cell proliferation and induction of oxidative stress in colorectal cancer. Curr Pharm Des. 2018;24:4626–38.

9.

Ramezani M, Hatamipour M, Sahebkar A. Promising anti-tumor properties of bisdemethoxycurcumin: a naturally occurring curcumin analogue. J Cell Physiol. 2018;233:880–7.

10.

Zhou S, Li J, Xu H, Zhang S, Chen X, Chen W, et al. Liposomal curcumin alters chemosensitivity of breast cancer cells to Adriamycin via regulating microRNA expression. Gene. 2017;622:1–12.

11.

Kouhpeikar H, Butler AE, Bamian F, Barreto GE, Majeed M, Sahebkar A. Curcumin as a therapeutic agent in leukemia. J Cell Physiol. 2019;234:12404–14.

12.

Pimentel-Gutierrez HJ, Bobadilla-Morales L, Barba-Barba CC, Ortega-De-La-Torre C, Sanchez-Zubieta FA, Corona-Rivera JR, et al. Curcumin potentiates the effect of chemotherapy against acute lymphoblastic leukemia cells via downregulation of NF-kappaB. Oncol Lett. 2016;12:4117–24.

13.

Cheetham SW, Gruhl F, Mattick JS, Dinger ME. Long noncoding RNAs and the genetics of cancer. Br J Cancer. 2013;108:2419–25.

14.

Mercer TR, Dinger ME, Mattick JS. Long non-coding RNAs: insights into functions. Nat Rev Genet. 2009;10:155–9.

15.

Feng Y, Shen Y, Chen H, Wang X, Zhang R, Peng Y, et al. Expression profile analysis of long non-coding RNA in acute myeloid leukemia by microarray and bioinformatics. Cancer Sci. 2018;109:340–53.

16.

Mozdarani H, Ezzatizadeh V, Rahbar, Parvaneh R. The emerging role of the long non-coding RNA HOTAIR in breast cancer development and treatment. J Transl Med. 2020;18:152.

17.

Li N, Meng DD, Gao L, Xu Y, Liu PJ, Tian YW, et al. Overexpression of HOTAIR leads to radioresistance of human cervical cancer via promoting HIF-1alpha expression. Radiat Oncol. 2018;13:210.

18.

Wang H, Qin R, Guan A, Yao Y, Huang Y, Jia H, et al. HOTAIR enhanced paclitaxel and doxorubicin resistance in gastric cancer cells partly through inhibiting miR-217 expression. J Cell Biochem. 2018;119:7226–34.

19.

Hao S, Shao Z. HOTAIR is upregulated in acute myeloid leukemia and that indicates a poor prognosis. Int J Clin Exp Pathol. 2015;8:7223–8.

20.

Guo L, Zhu Y, Li L, Zhou S, Yin G, Yu G, et al. Breast cancer cell-derived exosomal miR-20a-5p promotes the proliferation and differentiation of osteoclasts by targeting SRCIN1. Cancer Med. 2019;8:5687–701.

21.

Lu H, Lu S, Yang D, Zhang L, Ye J, Li M, et al. MiR-20a-5p regulates gemcitabine chemosensitivity by targeting RRM2 in pancreatic cancer cells and serves as a predictor for gemcitabine-based chemotherapy. Biosci Rep. 2019;39:BSR20181374.

22.

Zhao F, Pu Y, Qian L, Zang C, Tao Z, Gao J. MiR-20a-5p promotes radio-resistance by targeting NPAS2 in nasopharyngeal cancer cells. Oncotarget. 2017;8:105873–81.

23.

Ping L, Jian-Jun C, Chu-Shu L, Guang-Hua L, Ming Z. Silencing of circ_0009910 inhibits acute myeloid leukemia cell growth through increasing miR-20a-5p. Blood Cells Mol Dis. 2019;75:41–47.

24.

Liu H, Wang X, Zhang H, Wang J, Chen Y, Ma T, et al. Dynamic changes in the level of WT1 as an MRD marker to predict the therapeutic outcome of patients with AML with and without allogeneic stem cell transplantation. Mol Med Rep. 2019;20:2426–32.

25.

Yang T, Wang HW, Xu J, Zhang L, Zhu L. The effects of WT1 gene down regulation on the sensitivity of K562/A02 cells to Adriamycin. Zhonghua Xue Ye Xue Za Zhi. 2009;30:373–6.

26.

Dohner H, Estey EH, Amadori S, Appelbaum FR, Buchner T, Burnett AK, et al. Diagnosis and management of acute myeloid leukemia in adults: recommendations from an international expert panel, on behalf of the European LeukemiaNet. Blood. 2010;115:453–74.

27.

Byrd JC, Ruppert AS, Mrozek K, Carroll AJ, Edwards CG, Arthur DC, et al. Repetitive cycles of high-dose cytarabine benefit patients with acute myeloid leukemia and inv(16)(p13q22) or t(16;16)(p13;q22): results from CALGB 8461. J Clin Oncol. 2004;22:1087–94.

28.

Sasca D, Szybinski J, Schuler A, Shah V, Heidelberger J, Haehnel PS, et al. NCAM1 (CD56) promotes leukemogenesis and confers drug resistance in AML. Blood. 2019;133:2305–19.

29.

Gallagher R, Collins S, Trujillo J, McCredie K, Ahearn M, Tsai S, et al. Characterization of the continuous, differentiating myeloid cell line (HL-60) from a patient with acute promyelocytic leukemia. Blood. 1979;54:713–33.

30.

Koeffler HP, Golde DW. Human myeloid leukemia cell lines: a review. Blood. 1980;56:344–50.

31.

So TH, Chan SK, Lee VH, Chen BZ, Kong FM, Lao LX. Chinese medicine in cancer treatment—how is it practised in the East and the West? Clin Oncol (R Coll Radiol). 2019;31:578–88.

32.

Sun L, Mao JJ, Vertosick E, Seluzicki C, Yang Y. Evaluating cancer patients' expectations and barriers toward traditional Chinese medicine utilization in China: a patient-support group-based cross-sectional survey. Integr Cancer Ther. 2018;17:885–93.

33.

Keyvani-Ghamsari S, Khorsandi K, Gul A. Curcumin effect on cancer cells' multidrug resistance: an update. Phytother Res. 2020. https://doi.org/10.1002/ptr.6703.

34.

Pei CS, Wu HY, Fan FT, Wu Y, Shen CS, Pan LQ. Influence of curcumin on HOTAIR-mediated migration of human renal cell carcinoma cells. Asian Pac J Cancer Prev. 2014;15:4239–43.

35.

Kondo Y, Shinjo K, Katsushima K. Long non-coding RNAs as an epigenetic regulator in human cancers. Cancer Sci. 2017;108:1927–33.

36.

Shi X, Sun M, Liu H, Yao Y, Song Y. Long non-coding RNAs: a new frontier in the study of human diseases. Cancer Lett. 2013;339:159–66.

37.

Wang SL, Huang Y, Su R, Yu YY. Silencing long non-coding RNA HOTAIR exerts anti-oncogenic effect on human acute myeloid leukemia via demethylation of HOXA5 by inhibiting Dnmt3b. Cancer Cell Int. 2019;19:114.

38.

Guo F, Cao Z, Guo H, Li S. The action mechanism of lncRNA-HOTAIR on the drug resistance of non-small cell lung cancer by regulating Wnt signaling pathway. Exp Ther Med. 2018;15:4885–9.

39.

Li H, Tian X, Wang P, Huang M, Xu R, Nie T. MicroRNA-582-3p negatively regulates cell proliferation and cell cycle progression in acute myeloid leukemia by targeting cyclin B2. Cell Mol Biol Lett. 2019;24:66.

40.

Zhao F, Pu Y, Cui M, Wang H, Cai S. MiR-20a-5p represses the multi-drug resistance of osteosarcoma by targeting the SDC2 gene. Cancer Cell Int. 2017;17:100.

41.

Rodrigues PC, Oliveira SN, Viana MB, Matsuda EI, Nowill AE, Brandalise SR, et al. Prognostic significance of WT1 gene expression in pediatric acute myeloid leukemia. Pediatr Blood Cancer. 2007;49:133–8.

42.

Ujj Z, Buglyo G, Udvardy M, Beyer D, Vargha G, Biro S, et al. WT1 Expression in adult acute myeloid leukemia: assessing its presence, magnitude and temporal changes as prognostic factors. Pathol Oncol Res. 2016;22:217–21.

43.

Rossi G, Minervini MM, Carella AM, Melillo L, Cascavilla N. Wilms' tumor gene (WT1) expression and minimal residual disease in acute myeloid leukemia. In: M. M. van den Heuvel-Eibrink, editor. Wilms tumor. Brisbane (AU): Codon Publications; 2016. Ch. 16. https://doi.org/10.15586/codon.wt.2016.ch16.

44.

Glienke W, Maute L, Wicht J, Bergmann L. Wilms' tumor gene 1 (WT1) as a target in curcumin treatment of pancreatic cancer cells. Eur J Cancer. 2009;45:874–80.

45.

Wu C, Wang Y, Xia Y, He S, Wang Z, Chen Y, et al. Wilms' tumor 1 enhances Cisplatin-resistance of advanced NSCLC. FEBS Lett. 2014;588:4566–72.

46.

Svensson E, Vidovic K, Lassen C, Richter J, Olofsson T, Fioretos T, et al. Deregulation of the Wilms' tumor gene 1 protein (WT1) by BCR/ABL1 mediates resistance to imatinib in human leukemia cells. Leukemia. 2007;21:2485–94.

47.

Pandey S, Moazam M, Ghimirey N, Kuerbitz SJ, Fraizer GC. WT1 regulates cyclin A1 expression in K562 cells. Oncol Rep. 2019;42:2016–28.

48.

Gao SM, Yang JJ, Chen CQ, Chen JJ, Ye LP, Wang LY, et al. Pure curcumin decreases the expression of WT1 by upregulation of miR-15a and miR-16-1 in leukemic cells. J Exp Clin Cancer Res. 2012;31:27.
Acknowledgements
We would like to give our sincere gratitude to the reviewers for their constructive comments.
Ethics declarations
Funding
This study was supported by Shenzhen science and technology R&D Funds (No. JCY2018022864237514).
Competing interests
The authors declare no competing interests.
Ethical approval
The study was approved by the Animal Ethics Committee of the People's Hospital of Longhua District.
Additional information
Publisher's note Springer Nature remains neutral with regard to jurisdictional claims in published maps and institutional affiliations.
Supplementary information
About this article
Cite this article
Liu, JM., Li, M., Luo, W. et al. Curcumin attenuates Adriamycin-resistance of acute myeloid leukemia by inhibiting the lncRNA HOTAIR/miR-20a-5p/WT1 axis. Lab Invest (2021). https://doi.org/10.1038/s41374-021-00640-3
Received:

Revised:

Accepted:

Published: