Abstract
The mechanisms underlying atrial fibrillation (AF), a type of heart arrhythmia, have not been fully identified. Long noncoding RNAs (lncRNAs) have been implicated in the progression of AF. The current study aimed to ascertain the means by which X-inactive specific transcript (XIST), a lncRNA, contributes to the pathogenesis of AF in an animal model or in atrial myocytes. Extracellular vesicles (EVs) derived from mouse adipose tissue-derived mesenchymal stem cells (AMSCs) were isolated, transfected with XIST, and either injected into AF mouse models or incubated with atrial myocytes. The in vitro and in vivo effects of EV-derived XIST on myocardial pyroptosis were determined by Western blot analysis of pyroptosis-related protein and an ELISA for inflammatory factors. Bioinformatics analysis revealed a relationship between XIST, microRNA (miR)−214-3p, and Arl2, which was subsequently verified by a dual luciferase assay and RNA immunoprecipitation. Functional experiments were performed to elucidate whether changes in miR-214-3p or Arl2 regulated the effect of XIST on myocardial pyroptosis. Overexpressed XIST from AMSC-EVs were found to decrease myocardial pyroptosis while alleviating inflammation, which was demonstrated by reduced expression of nucleotide-binding and oligomerization domain-like receptor family pyrin domain-containing 3 (NLRP3), apoptosis-associated speck-like protein containing a CARD (ASC), cleared-caspase-1/caspase-1 and gasdermin D (GSDMD), as well as the amount of interleukin (IL)-1β and IL-18 in both the cardiomyocytes and AF mouse tissues. Mechanistically, XIST is a competing endogenous RNA (ceRNA) of miR-214-3p, triggering upregulation of its target gene Arl2. Silencing of Arl2 or overexpression miR-214-3p reversed the effects of XIST on inflammation and pyroptosis. Taken together, the key findings of our study suggest that XIST may blunt myocardial pyroptosis by absorbing miR-214-3p to promote Arl2 expression, providing encouraging insight into XIST-based targeted therapy for AF.
This is a preview of subscription content
Access options
Subscribe to Journal
Get full journal access for 1 year
$119.00
only $9.92 per issue
All prices are NET prices.
VAT will be added later in the checkout.
Tax calculation will be finalised during checkout.
Rent or Buy article
Get time limited or full article access on ReadCube.
from$8.99
All prices are NET prices.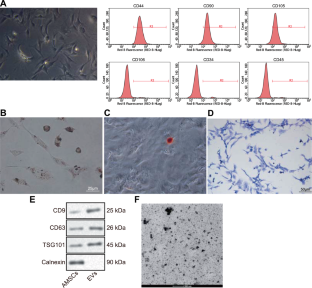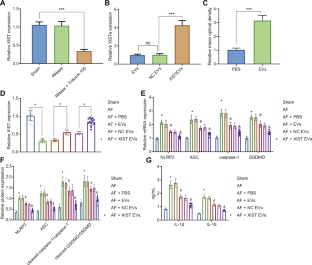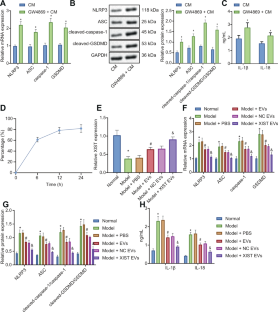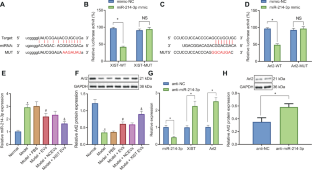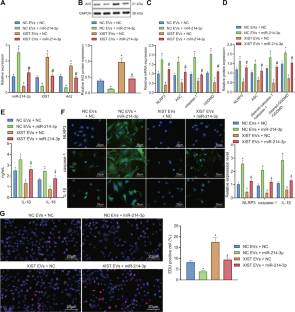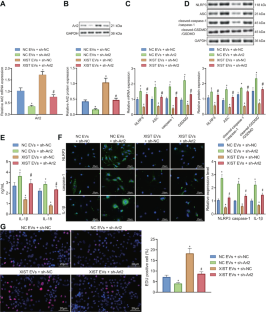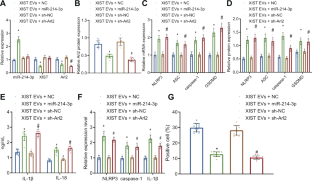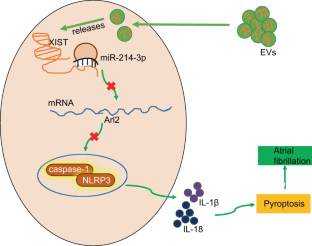 Data availability
The datasets generated analyzed during the current study are available from the corresponding author upon reasonable request.
References
1.

Zimetbaum P. Atrial fibrillation. Ann Intern Med. 2017;166:ITC33–ITC48.

2.

Seccia TM, Caroccia B, Maiolino G, Cesari M, Rossi GP. Arterial hypertension, aldosterone, and atrial fibrillation. Curr Hypertens Rep. 2019;21:94.

3.

Andrade J, Khairy P, Dobrev D, Nattel S. The clinical profile and pathophysiology of atrial fibrillation: relationships among clinical features, epidemiology, and mechanisms. Circ Res. 2014;114:1453–68.

4.

Lau DH, Linz D, Sanders P. New findings in atrial fibrillation mechanisms. Card Electrophysiol Clin. 2019;11:563–71.

5.

Keshtkar S, Azarpira N, Ghahremani MH. Mesenchymal stem cell-derived extracellular vesicles: novel frontiers in regenerative medicine. Stem Cell Res Ther. 2018;9:63.

6.

Li Y, Zhao J, Yu S, Wang Z, He X, Su Y, et al. Extracellular vesicles long RNA sequencing reveals abundant mRNA, circRNA, and lncRNA in human blood as potential biomarkers for cancer diagnosis. Clin Chem. 2019;65:798–808.

7.

Xie F, Zhou X, Fang M, Li H, Su P, Tu Y, et al. Extracellular vesicles in cancer immune microenvironment and cancer immunotherapy. Adv Sci. 2019;6:1901779.

8.

Hafiane A, Daskalopoulou SS. Extracellular vesicles characteristics and emerging roles in atherosclerotic cardiovascular disease. Metabolism. 2018;85:213–22.

9.

Bang OY, Kim EH. Mesenchymal stem cell-derived extracellular vesicle therapy for stroke: challenges and progress. Front Neurol. 2019;10:211.

10.

Thulin A, Lindback J, Granger CB, Wallentin L, Lind L, Siegbahn A. Extracellular vesicles in atrial fibrillation and stroke. Thromb Res. 2020;193:180–9.

11.

Kenneweg F, Bang C, Xiao K, Boulanger CM, Loyer X, Mazlan S, et al. Long noncoding RNA-enriched vesicles secreted by hypoxic cardiomyocytes drive cardiac fibrosis. Mol Ther Nucleic Acids. 2019;18:363–74.

12.

Weakley SM, Wang H, Yao Q, Chen C. Expression and function of a large non-coding RNA gene XIST in human cancer. World J Surg. 2011;35:1751–6.

13.

Liu J, Yao L, Zhang M, Jiang J, Yang M, Wang Y. Downregulation of LncRNA-XIST inhibited development of non-small cell lung cancer by activating miR-335/SOD2/ROS signal pathway mediated pyroptotic cell death. Aging. 2019;11:7830–46.

14.

Buckley CD, Gilroy DW, Serhan CN, Stockinger B, Tak PP. The resolution of inflammation. Nat Rev Immunol. 2013;13:59–66.

15.

Kanneganti TD. The inflammasome: firing up innate immunity. Immunol Rev. 2015;265:1–5.

16.

He Y, Hara H, Nunez G. Mechanism and regulation of NLRP3 inflammasome activation. Trends Biochem Sci. 2016;41:1012–21.

17.

Schroder K, Tschopp J. The inflammasomes. Cell. 2010;140:821–32.

18.

Davis BK, Wen H, Ting JP. The inflammasome NLRs in immunity, inflammation, and associated diseases. Annu Rev Immunol. 2011;29:707–35.

19.

Kovacs SB, Miao EA. Gasdermins: effectors of pyroptosis. Trends Cell Biol. 2017;27:673–84.

20.

Jia C, Chen H, Zhang J, Zhou K, Zhuge Y, Niu C, et al. Role of pyroptosis in cardiovascular diseases. Int Immunopharmacol. 2019;67:311–8.

21.

Chen G, Chelu MG, Dobrev D, Li N. Cardiomyocyte inflammasome signaling in cardiomyopathies and atrial fibrillation: mechanisms and potential therapeutic implications. Front Physiol. 2018;9:1115.

22.

Lu Y, Zhang Y, Wang N, Pan Z, Gao X, Zhang F, et al. MicroRNA-328 contributes to adverse electrical remodeling in atrial fibrillation. Circulation. 2010;122:2378–87.

23.

Peng H, Luo Y, Ying Y. lncRNA XIST attenuates hypoxia-induced H9c2 cardiomyocyte injury by targeting the miR-122-5p/FOXP2 axis. Mol Cell Probes. 2020;50:101500.

24.

Mao Q, Liang XL, Zhang CL, Pang YH, Lu YX. LncRNA KLF3-AS1 in human mesenchymal stem cell-derived exosomes ameliorates pyroptosis of cardiomyocytes and myocardial infarction through miR-138-5p/Sirt1 axis. Stem Cell Res Ther. 2019;10:393.

25.

Zhang L, Liu H, Jia L, Lyu J, Sun Y, Yu H, et al. Exosomes mediate hippocampal and cortical neuronal injury induced by hepatic ischemia-reperfusion injury through activating pyroptosis in rats. Oxid Med Cell Longev. 2019;2019:3753485.

26.

Wei R, Zhang L, Hu W, Wu J, Zhang W. Long non-coding RNA AK038897 aggravates cerebral ischemia/reperfusion injury via acting as a ceRNA for miR-26a-5p to target DAPK1. Exp Neurol. 2019;314:100–10.

27.

Cheng Y, Geng L, Wang K, Sun J, Xu W, Gong S, et al. Long noncoding RNA expression signatures of colon cancer based on the ceRNA network and their prognostic value. Dis Markers. 2019;2019:7636757.

28.

Arslan F, Lai RC, Smeets MB, Akeroyd L, Choo A, Aguor EN, et al. Mesenchymal stem cell-derived exosomes increase ATP levels, decrease oxidative stress and activate PI3K/Akt pathway to enhance myocardial viability and prevent adverse remodeling after myocardial ischemia/reperfusion injury. Stem Cell Res. 2013;10:301–12.

29.

Witwer KW, Van Balkom BWM, Bruno S, Choo A, Dominici M, Gimona M, et al. Defining mesenchymal stromal cell (MSC)-derived small extracellular vesicles for therapeutic applications. J Extracell Vesicles. 2019;8:1609206.

30.

Nair SG. Atrial fibrillation after cardiac surgery. Ann Card Anaesth. 2010;13:196–205.

31.

Yao C, Veleva T, Scott L Jr., Cao S, Li L, Chen G, et al. Enhanced cardiomyocyte NLRP3 inflammasome signaling promotes atrial fibrillation. Circulation. 2018;138:2227–42.

32.

Broz P. Immunology: caspase target drives pyroptosis. Nature. 2015;526:642–3.

33.

Bergsbaken T, Fink SL, Cookson BT. Pyroptosis: host cell death and inflammation. Nat Rev Microbiol. 2009;7:99–109.

34.

de Zoete MR, Palm NW, Zhu S, Flavell RA. Inflammasomes. Cold Spring Harb Perspect Biol. 2014;6:a016287.

35.

Shalini S, Dorstyn L, Dawar S, Kumar S. Old, new and emerging functions of caspases. Cell Death Differ. 2015;22:526–39.

36.

Harada M, Van Wagoner DR, Nattel S. Role of inflammation in atrial fibrillation pathophysiology and management. Circ J. 2015;79:495–502.

37.

Fang Y, Tian S, Pan Y, Li W, Wang Q, Tang Y, et al. Pyroptosis: a new frontier in cancer. Biomed Pharmacother. 2020;121:109595.

38.

Rani S, Ryan AE, Griffin MD, Ritter T. Mesenchymal stem cell-derived extracellular vesicles: toward cell-free therapeutic applications. Mol Ther. 2015;23:812–23.

39.

Yu B, Zhang X, Li X. Exosomes derived from mesenchymal stem cells. Int J Mol Sci. 2014;15:4142–57.

40.

Jansen F, Nickenig G, Werner N. Extracellular vesicles in cardiovascular disease: potential applications in diagnosis, prognosis, and epidemiology. Circ Res. 2017;120:1649–57.

41.

Liu L, Jin X, Hu CF, Li R, Zhou Z, Shen CX. Exosomes derived from mesenchymal stem cells rescue myocardial ischaemia/reperfusion injury by inducing cardiomyocyte autophagy Via AMPK and Akt pathways. Cell Physiol Biochem. 2017;43:52–68.

42.

Liu L, Zhang H, Mao H, Li X, Hu Y. Exosomal miR-320d derived from adipose tissue-derived MSCs inhibits apoptosis in cardiomyocytes with atrial fibrillation (AF). Artif Cells Nanomed Biotechnol. 2019;47:3976–84.

43.

Wang KC, Chang HY. Molecular mechanisms of long noncoding RNAs. Mol Cell. 2011;43:904–14.

44.

Wilusz JE, Sunwoo H, Spector DL. Long noncoding RNAs: functional surprises from the RNA world. Genes Dev. 2009;23:1494–504.

45.

Rinn JL, Chang HY. Genome regulation by long noncoding RNAs. Annu Rev Biochem. 2012;81:145–66.

46.

Babapoor-Farrokhran S, Gill D, Rasekhi RT. The role of long noncoding RNAs in atrial fibrillation. Heart Rhythm. 2020;17:1043–9.

47.

Ma M, Pei Y, Wang X, Feng J, Zhang Y, Gao MQ. LncRNA XIST mediates bovine mammary epithelial cell inflammatory response via NF-kappaB/NLRP3 inflammasome pathway. Cell Prolif. 2019;52:e12525.

48.

Li W, Wang L, Wu Y, Yuan Z, Zhou J. Weighted gene coexpression network analysis to identify key modules and hub genes associated with atrial fibrillation. Int J Mol Med. 2020;45:401–16.

49.

Feng Y, Wan P, Yin L. Long noncoding RNA X-inactive specific transcript (XIST) promotes osteogenic differentiation of periodontal ligament stem cells by sponging MicroRNA-214-3p. Med Sci Monit. 2020;26:e918932.

50.

Luo X, Yang B, Nattel S. MicroRNAs and atrial fibrillation: mechanisms and translational potential. Nat Rev Cardiol. 2015;12:80–90.

51.

Natsume Y, Oaku K, Takahashi K, Nakamura W, Oono A, Hamada S, et al. Combined analysis of human and experimental murine samples identified novel circulating microRNAs as biomarkers for atrial fibrillation. Circ J. 2018;82:965–73.

52.

Yang F, Li A, Qin Y, Che H, Wang Y, Lv J, et al. A novel circular RNA mediates pyroptosis of diabetic cardiomyopathy by functioning as a competing endogenous RNA. Mol Ther Nucleic Acids. 2019;17:636–43.

53.

Yang F, Qin Y, Lv J, Wang Y, Che H, Chen X, et al. Silencing long non-coding RNA Kcnq1ot1 alleviates pyroptosis and fibrosis in diabetic cardiomyopathy. Cell Death Dis. 2018;9:1000.

54.

Long LM, He BF, Huang GQ, Guo YH, Liu YS, Huo JR. microRNA-214 functions as a tumor suppressor in human colon cancer via the suppression of ADP-ribosylation factor-like protein 2. Oncol Lett. 2015;9:645–50.

55.

Kahn RA, Volpicelli-Daley L, Bowzard B, Shrivastava-Ranjan P, Li Y, Zhou C, et al. Arf family GTPases: roles in membrane traffic and microtubule dynamics. Biochem Soc Trans. 2005;33:1269–72.

56.

Wang K, Li P, Dong Y, Cai X, Hou D, Guo J, et al. A microarray-based approach identifies ADP ribosylation factor-like protein 2 as a target of microRNA-16. J Biol Chem. 2011;286:9468–76.
Acknowledgements
We acknowledge and appreciate our colleagues for their valuable efforts and comments on this paper.
Funding
This study was supported by Nantong Municipal Science and Technology Plan (guidance) Project in 2019 (JCZ19058).
Ethics declarations
Competing interests
The authors declare no competing interests.
Ethics approval and consent to participate
The current study was performed with the approval of the Ethics Committee of Affiliated Hospital of Nantong University and performed in accordance with the Guide for the Care and Use of Laboratory Animals published by the US National Institutes of Health. Extensive efforts were made to ensure minimal suffering as well as the number of animals used during the study.
Additional information
Publisher's note Springer Nature remains neutral with regard to jurisdictional claims in published maps and institutional affiliations.
Supplementary information
About this article
Cite this article
Yan, B., Liu, T., Yao, C. et al. LncRNA XIST shuttled by adipose tissue-derived mesenchymal stem cell-derived extracellular vesicles suppresses myocardial pyroptosis in atrial fibrillation by disrupting miR-214-3p-mediated Arl2 inhibition. Lab Invest 101, 1427–1438 (2021). https://doi.org/10.1038/s41374-021-00635-0
Received:

Revised:

Accepted:

Published:

Issue Date: