Abstract
Osteosarcoma (OS) is a type of bone tumor conferred with high metastatic potential. Attainable growth of tumors necessitates functional vasculature mediated by sprouting angiogenesis (SA) and intussusceptive angiogenesis (IA). However, the regulation of IA and SA is still unclear in OS. To understand the mechanisms adopted by OS to induce angiogenesis, initially, we assessed the expression profile of a set of miRNAs' in both OS cells (SaOS2 and MG63) and normal bone cells. Amongst them, miR-432-5p was found to be highly downregulated in OS. The functional role of miR-432-5p in OS was further analyzed using miR-432-5p mimic/inhibitor. Platelet-derived growth factor-B (PDGFB) was found to be a putative target of miR-432-5p and it was further confirmed that the PDGFB 3′UTR is directly targeted by miR-432-5p using the luciferase reporter gene system. PDGFB was found to be secreted by OS to regulate angiogenesis by targeting the cells in its microenvironment. The conditioned medium obtained from miR-432-5p mimic transfected MG63 and SaOS2 cells decreased cell viability, proliferation, migration, and aorta ring formation in endothelial cells. The miRNA mimic/inhibitor transfected MG63 and SaOS2 cells were placed on SA (day 6) and IA (day 9) phase of CAM development to analyze SA and IA mechanisms. It was found that miR-432-5p mimic transfection in OS promotes the transition of SA to IA which was documented by the angiogenic parameters and SA and IA-associated gene expression. Interestingly, this outcome was also supported by the zebrafish tumor xenograft model. Corroborating these results, it is clear that miR-432-5p expression in OS cells regulates SA and IA by targeting PDGFB genes. We conclude that targeting miR-432-5p/PDGFB signaling can be a potential therapeutic strategy to treat OS along with other existing strategies.
Access options
Subscribe to Journal
Get full journal access for 1 year
$119.00
only $9.92 per issue
All prices are NET prices.
VAT will be added later in the checkout.
Tax calculation will be finalised during checkout.
Rent or Buy article
Get time limited or full article access on ReadCube.
from$8.99
All prices are NET prices.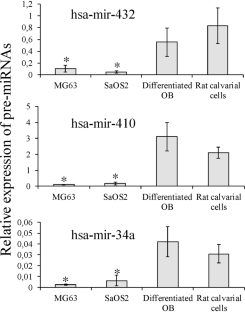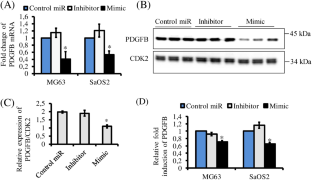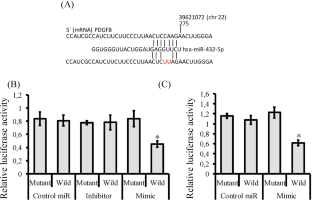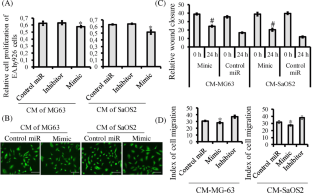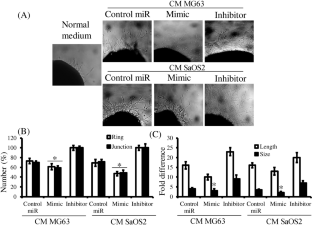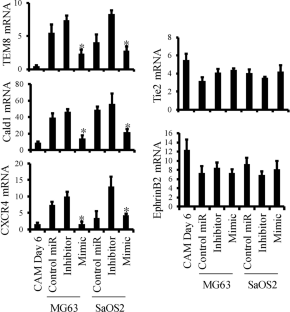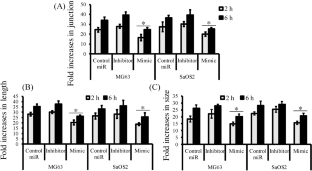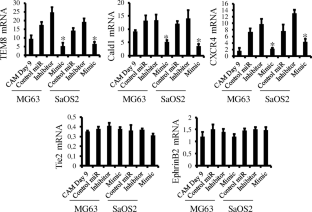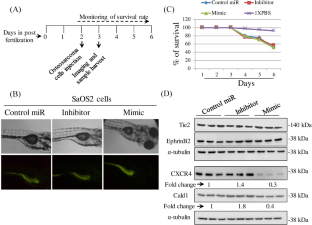 Data availability
The data that support the findings of this study are available from the corresponding author upon reasonable request.
References
1.

Zhang Y, Yang J, Zhao N, Wang C, Kamar S, Zhou Y, et al. Progress in the chemotherapeutic treatment of osteosarcoma. Oncol Lett. 2018;16:6228–37.

2.

Xie L, Ji T, Guo W. Anti-angiogenesis target therapy for advanced osteosarcoma (review). Oncol Rep. 2017;38:625–36.

3.

Ng CF, Frieboes HB. Model of vascular desmoplastic multispecies tumor growth. J Theor Biol. 2017;430:245–82.

4.

Nissen LJ, Cao R, Hedlund E-M, Wang Z, Zhao X, Wetterskog D, et al. Angiogenic factors FGF2 and PDGF-BB synergistically promote murine tumor neovascularization and metastasis. J Clin Invest. 2007;117:2766–77.

5.

Xue Y, Lim S, Yang Y, Wang Z, Jensen LDE, Hedlund E-M, et al. PDGF-BB modulates hematopoiesis and tumor angiogenesis by inducing erythropoietin production in stromal cells. Nat Med. 2011;18:100–10.

6.

Lindahl P, Hellström M, Kalén M, Karlsson L, Pekny M, Pekna M, et al. Paracrine PDGF-B/PDGF-Rbeta signaling controls mesangial cell development in kidney glomeruli. Dev Camb Engl. 1998;125:3313–22.

7.

Vimalraj S, Miranda PJ, Ramyakrishna B, Selvamurugan N. Regulation of breast cancer and bone metastasis by microRNAs. Dis Markers. 2013;35:369–87.

8.

Qian Z, Li Y, Chen J, Li X, Gou D. miR-4632 mediates PDGF-BB-induced proliferation and antiapoptosis of human pulmonary artery smooth muscle cells via targeting cJUN. Am J Physiol Cell Physiol. 2017;313:C380–91.

9.

Davis BN, Hilyard AC, Nguyen PH, Lagna G, Hata A. Induction of microRNA-221 by platelet-derived growth factor signaling is critical for modulation of vascular smooth muscle phenotype. J Biol Chem. 2009;284:3728–38.

10.

Yang X, Dong M, Wen H, Liu X, Zhang M, Ma L, et al. MiR-26a contributes to the PDGF-BB-induced phenotypic switch of vascular smooth muscle cells by suppressing Smad1. Oncotarget. 2017;8:75844–53.

11.

Billiau A, Edy VG, Heremans H, Van Damme J, Desmyter J, Georgiades JA, et al. Human interferon: mass production in a newly established cell line, MG-63. Antimicrob Agents Chemother. 1977;12:11–15.

12.

Fogh J, Fogh JM, Orfeo T. One hundred and twenty-seven cultured human tumor cell lines producing tumors in nude mice. J Natl Cancer Inst. 1977;59:221–6.

13.

McAllister RM, Nelson-Rees WA, Peer M, Laug WE, Isaacs H, Gilden RV, et al. Childhood sarcomas and lymphomas. Characterization of new cell lines and search for type-C virus. Cancer. 1975;36:1804–14.

14.

Vimalraj S, Partridge NC, Selvamurugan N. A positive role of microRNA-15b on regulation of osteoblast differentiation. J Cell Physiol. 2014;229:1236–44.

15.

Vimalraj S, Selvamurugan N. Regulation of proliferation and apoptosis in human osteoblastic cells by microRNA-15b. Int J Biol Macromol. 2015;79:490–497.

16.

Vishal M, Vimalraj S, Ajeetha R, Gokulnath M, Keerthana R, He Z, et al. MicroRNA-590-5p stabilizes Runx2 by targeting Smad7 during osteoblast differentiation. J Cell Physiol. 2017;232:371–80.

17.

Vimalraj S, Bhuvaneswari S, Lakshmikirupa S, Jyothsna G, Chatterjee S. Nitric oxide signaling regulates tumor-induced intussusceptive-like angiogenesis. Microvasc Res. 2018;119:47–59.

18.

Niemistö A, Dunmire V, Yli-Harja O, Zhang W, Shmulevich I. Robust quantification of in vitro angiogenesis through image analysis. IEEE Trans Med Imaging. 2005;24:549–53.

19.

Siamwala JH, Veeriah V, Priya MK, Rajendran S, Saran U, Sinha S. Nitric oxide rescues thalidomide mediated teratogenicity. Sci Rep. 2012;2:679.

20.

Tamilarasan KP, Kolluru GK, Rajaram M, Indhumathy M, Saranya R, Chatterjee S. Thalidomide attenuates nitric oxide mediated angiogenesis by blocking migration of endothelial cells. BMC Cell Biol. 2006;7:17.

21.

Avdesh A, Chen M, Martin-Iverson MT, Mondal A, Ong D, Rainey-Smith S, et al. Regular care and maintenance of a zebrafish (Danio rerio) laboratory: an introduction. J Vis Exp. 2012:69;e4196.

22.

Nicoli S, Presta M. The zebrafish/tumor xenograft angiogenesis assay. Nat Protoc. 2007;2:2918–23.

23.

Chiavacci E, Rizzo M, Pitto L, Patella F, Evangelista M, Mariani L, et al. The zebrafish/tumor xenograft angiogenesis assay as a tool for screening anti-angiogenic miRNAs. Cytotechnology. 2015;67:969–75.

24.

Oda Y, Wehrmann B, Radig K, Walter H, Röse I, Neumann W, et al. Expression of growth factors and their receptors in human osteosarcomas. Immunohistochemical detection of epidermal growth factor, platelet-derived growth factor and their receptors: its correlation with proliferating activities and p53 expression. Gen Diagn Pathol. 1995;141:97–103.

25.

Sulzbacher I, Birner P, Trieb K, Träxler M, Lang S, Chott A. Expression of platelet-derived growth factor-AA is associated with tumor progression in osteosarcoma. Mod Pathol. 2003;16:66–71.

26.

Hassan SE, Bekarev M, Kim MY, Lin J, Piperdi S, Gorlick R, et al. Cell surface receptor expression patterns in osteosarcoma. Cancer. 2012;118:740–9.

27.

Andersen GB, Knudsen A, Hager H, Hansen LL, Tost J. miRNA profiling identifies deregulated miRNAs associated with osteosarcoma development and time to metastasis in two large cohorts. Mol Oncol. 2018;12:114–31.

28.

Vimalraj S, Saravanan S, Raghunandhakumar S, Anuradha D. Melatonin regulates tumor angiogenesis via miR-424-5p/VEGFA signaling pathway in osteosarcoma. Life Sci. 2020;256:118011.

29.

Wang J-C, Li G-Y, Wang B, Han S-X, Sun X, Jiang Y-N, et al. Metformin inhibits metastatic breast cancer progression and improves chemosensitivity by inducing vessel normalization via PDGF-B downregulation. J Exp Clin Cancer Res CR. 2019;38:235.

30.

Cao R, Björndahl MA, Religa P, Clasper S, Garvin S, Galter D, et al. PDGF-BB induces intratumoral lymphangiogenesis and promotes lymphatic metastasis. Cancer Cell. 2004;6:333–45.

31.

Thijssen VL, Paulis YW, Nowak-Sliwinska P, Deumelandt KL, Hosaka K, Soetekouw PM, et al. Targeting PDGF-mediated recruitment of pericytes blocks vascular mimicry and tumor growth. J Pathol. 2018;246:447–58.

32.

Guo Y, Yin J, Wang Z, Zha L. Overexpression of platelet-derived growth factor-B increases the growth, invasion, and angiogenesis of gastric carcinoma cells through protein kinase B. Neoplasma. 2013;60:605–12.

33.

Perut F, Roncuzzi L, Zini N, Massa A, Baldini N. Extracellular nanovesicles secreted by human osteosarcoma cells promote angiogenesis. Cancers. 2019;11:779.

34.

Raica M, Cimpean AM. Platelet-derived growth factor (PDGF)/PDGF receptors (PDGFR) axis as target for antitumor and antiangiogenic therapy. Pharmaceuticals (Basel). 2010;3:572–99.

35.

Wang L-H, Tsai H-C, Cheng Y-C, Lin C-Y, Huang Y-L, Tsai C-H, et al. CTGF promotes osteosarcoma angiogenesis by regulating miR-543/angiopoietin 2 signaling. Cancer Lett. 2017;391:28–37.

36.

Lederle W, Stark H-J, Skobe M, Fusenig NE, Mueller MM. Platelet-derived growth factor-BB controls epithelial tumor phenotype by differential growth factor regulation in stromal cells. Am J Pathol. 2006;169:1767–83.

37.

Lokker NA, Sullivan CM, Hollenbach SJ, Israel MA, Giese NA. Platelet-derived growth factor (PDGF) autocrine signaling regulates survival and mitogenic pathways in glioblastoma cells. Cancer Res. 2002;62:3729.

38.

Furuhashi M, Sjöblom T, Abramsson A, Ellingsen J, Micke P, Li H, et al. Platelet-derived growth factor production by B16 melanoma cells leads to increased pericyte abundance in tumors and an associated increase in tumor growth rate. Cancer Res. 2004;64:2725–33.

39.

Roberts WG, Whalen PM, Soderstrom E, Moraski G, Lyssikatos JP, Wang H-F, et al. Antiangiogenic and antitumor activity of a selective PDGFR tyrosine kinase inhibitor, CP-673,451. Cancer Res. 2005;65:957–66.

40.

Sajib S, Zahra FT, Lionakis MS, German NA, Mikelis CM. Mechanisms of angiogenesis in microbe-regulated inflammatory and neoplastic conditions. Angiogenesis. 2018;21:1–14.

41.

Vimalraj S, Saravanan S, Anuradha D, Chatterjee S. Models to investigate intussusceptive angiogenesis: a special note on CRISPR/Cas9 based system in zebrafish. Int J Biol Macromol. 2019;123:1229–40.

42.

Plate KH, Scholz A, Dumont DJ. Tumor angiogenesis and anti-angiogenic therapy in malignant gliomas revisited. Acta Neuropathol. 2012;124:763–75.
Acknowledgements
This work was supported by Department of Science and Technology, INSPIRE Faculty Program, Government of India for the research grant to SV (grant no. DST/INSPIRE/04/2017/002913).
Ethics declarations
Conflict of interest
The authors declare no competing interests.
Additional information
Publisher's note Springer Nature remains neutral with regard to jurisdictional claims in published maps and institutional affiliations.
Supplementary information
About this article
Cite this article
Vimalraj, S., Subramanian, R., Saravanan, S. et al. MicroRNA-432-5p regulates sprouting and intussusceptive angiogenesis in osteosarcoma microenvironment by targeting PDGFB. Lab Invest 101, 1011–1025 (2021). https://doi.org/10.1038/s41374-021-00589-3
Received:

Revised:

Accepted:

Published:

Issue Date: