Abstract
C-reactive protein (CRP) is an acute-phase protein that is used as an established biomarker to follow disease severity and progression in a plethora of inflammatory diseases. However, its pathophysiologic mechanisms of action are still poorly defined and remain elusive. CRP, in its pentameric form, exhibits weak anti-inflammatory activity. On the contrary, the monomeric isoform (mCRP) exhibits potent pro-inflammatory properties in endothelial cells, leukocytes, and platelets. So far, no data exists regarding mCRP effects in human or mouse chondrocytes. This work aimed to verify the pathophysiological relevance of mCRP in the etiology and/or progression of osteoarthritis (OA). We investigated the effects of mCRP in cultured human primary chondrocytes and in the chondrogenic ATDC5 mouse cell line. We determined mRNA and protein levels of relevant factors involved in inflammatory responses and the modulation of nitric oxide synthase type II (NOS2), an early inflammatory molecular target. We demonstrate, for the first time, that monomeric C reactive protein increases NOS2, COX2, MMP13, VCAM1, IL-6, IL-8, and LCN2 expression in human and murine chondrocytes. We also demonstrated that NF-kB is a key factor in the intracellular signaling of mCRP-driven induction of pro-inflammatory and catabolic mediators in chondrocytes. We concluded that mCRP exerts a sustained catabolic effect on human and murine chondrocytes, increasing the expression of inflammatory mediators and proteolytic enzymes, which can promote extracellular matrix (ECM) breakdown in healthy and OA cartilage. In addition, our results implicate the NF-kB signaling pathway in catabolic effects mediated by mCRP.
Access options
Subscribe to Journal
Get full journal access for 1 year
$399.00
only $33.25 per issue
All prices are NET prices.
VAT will be added later in the checkout.
Tax calculation will be finalised during checkout.
Rent or Buy article
Get time limited or full article access on ReadCube.
from$8.99
All prices are NET prices.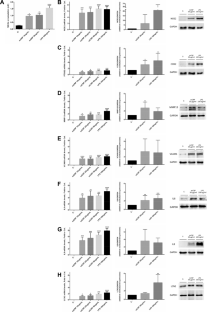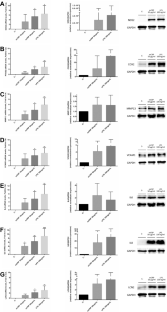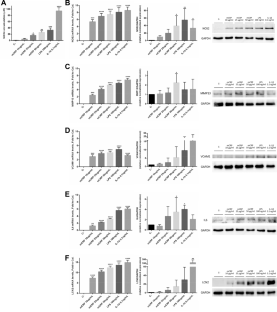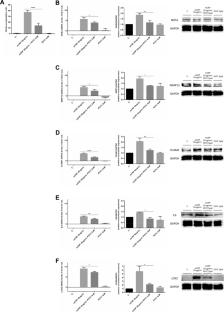 References
1.

Sproston NR, Ashworth JJ. Role of C-reactive protein at sites of inflammation and infection. Front Immunol. 2018;9:754.

2.

Hanada M, Takahashi M, Furuhashi H, Koyama H, Matsuyama Y. Elevated erythrocyte sedimentation rate and high-sensitivity C-reactive protein in osteoarthritis of the knee: relationship with clinical findings and radiographic severity. Ann Clin Biochem. 2016;53:548–53.

3.

Schwedler SB, Filep JG, Galle J, Wanner C, Potempa LA. C-reactive protein: a family of proteins to regulate cardiovascular function. Am J Kidney Dis. 2006;47:212–22.

4.

Francisco V, et al. Biomechanics, obesity, and osteoarthritis. The role of adipokines: When the levee breaks. J Orthop Res. 2018;36:594–604.

5.

Sanchez-Ramirez DC et al. Elevated C-reactive protein is associated with lower increase in knee muscle strength in patients with knee osteoarthritis: A 2-year follow-up study in the Amsterdam Osteoarthritis (AMS-OA) cohort. Arthritis Res. Ther. 2014;16:R123.

6.

Lee YC, et al. Pain sensitivity and pain reactivity in osteoarthritis. Arthritis Care Res. 2011;63:320–7.

7.

Punzi L, et al. Value of C reactive protein in the assessment of erosive osteoarthritis of the hand. Ann Rheum Dis. 2005;64:955–7.

8.

Jin X, et al. Circulating C reactive protein in osteoarthritis: a systematic review and meta-analysis. Ann Rheum Dis. 2015;74:703–10.

9.

Lowe GDO, Pepys MB. C-reactive protein and cardiovascular disease: weighing the evidence. Curr Atheroscl Rep. 2006;8:421–8.

10.

Lloyd-Jones DM, Liu K, Tian L, Greenland P. Narrative review: assessment of C-reactive protein in risk prediction for cardiovascular disease. Ann Intern Med. 2006;145:35–42.

11.

Sattar N, Hingorani AD. C-reactive protein and prognosis in diabetes: getting to the heart of the matter. Diabetes. 2009;58:798–9.

12.

Elliott P, et al. Genetic loci associated with C-reactive protein levels and risk of coronary heart disease. JAMA. 2009;302:37–48.

13.

Yousuf O, et al. High-sensitivity C-reactive protein and cardiovascular disease: a resolute belief or an elusive link? J Am Coll Cardiol. 2013;62:397–408.

14.

Chang YH, Hwu DW, Kao WP, Lee YJ. Benefits of rosuvastatin in cardiovascular protection remain unclear after HOPE-3. Rev Diabet Stud. 2016;13:212–4.

15.

Antonelli M, Kushner I. It's time to redefine inflammation. FASEB J. 2017;31:1787–91.

16.

Review Criteria for Assessment of C Reactive Protein (CRP), High Sensitivity C-Reactive Protein (hsCRP) and Cardiac C-Reactive Protein (cCRP) Assays - Guidance for Industry and FDA Staff | FDA. Accessed 5 Oct 2020. https://www.fda.gov/regulatory-information/search-fda-guidance-documents/review-criteria-assessment-c-reactive-protein-crp-high-sensitivity-c-reactive-protein-hscrp-and.

17.

Kozijn AE, et al. Human C-reactive protein aggravates osteoarthritis development in mice on a high-fat diet. Osteoarthr Cartil. 2019;27:118–28.

18.

Thiele JR, et al. Dissociation of pentameric to monomeric C-reactive protein localizes and aggravates inflammation: In vivo proof of a powerful proinflammatory mechanism and a new anti-inflammatory strategy. Circulation. 2014;130:35–50.

19.

Kortekangas P, Aro HT, Nevalainen TJ. Group II phospholipase a2 in synovial fluid and serum in acute arthritis. Scand J Rheumatol. 1994;23:68–72.

20.

Panula HE, et al. Elevated levels of synovial fluid PLA2, stromelysin (MMP-3) and TIMP in early osteoarthrosis after tibial valgus osteotomy in young beagle dogs. Acta Orthop Scand. 1998;69:152–8.

21.

Rajab IM, et al. C-reactive protein in gallbladder diseases: diagnostic and therapeutic insights. Biophys Rep. 2020;6:49–67.

22.

Potempa LA, Yao Z-Y, Ji S-R, Filep JG, Wu Y. Solubilization and purification of recombinant modified C-reactive protein from inclusion bodies using reversible anhydride modification. Biophys Rep. 2015;1:18–33.

23.

Otero M, et al. Human chondrocyte cultures as models of cartilage-specific gene regulation. Methods Mol. Biol. 2012;806:301–36.

24.

Gõmez R, et al. Nitric oxide boosts TLR-4 mediated lipocalin 2 expression in chondrocytes. J Orthop Res. 2013;31:1046–52.

25.

Otero M, et al. Phosphatidylinositol 3-kinase, MEK-1 and p38 mediate leptin/interferon-gamma synergistic NOS type II induction in chondrocytes. Life Sci. 2007;81:1452–60.

26.

Santoro A, et al. Choosing the right chondrocyte cell line: focus on nitric oxide. J. Orthop. Res. 2015;33:1784–8.

27.

Scotece M, et al. Oleocanthal inhibits catabolic and inflammatory mediators in LPS-activated human primary osteoarthritis (OA) chondrocytes through MAPKs/NF-κB pathways. Cell Physiol Biochem. 2018;49:2414–26.

28.

Lago R, et al. A new player in cartilage homeostasis: adiponectin induces nitric oxide synthase type II and pro-inflammatory cytokines in chondrocytes. Osteoarthr Cartil. 2008;16:1101–9.

29.

Yamamoto Y, Gaynor RB. Therapeutic potential of inhibition of the NF-κB pathway in the treatment of inflammation and cancer. J Clin Investig. 2001;107:135–42.

30.

Satriano J, Schlondorff D. Activation and attenuation of transcription factor NF-kB in mouse glomerular mesangial cells in response to tumor necrosis factor-α, immunoglobulin G, and adenosine 3':5'-cyclic monophosphate. Evidence for involvement of reactive oxygen species. J Clin Investig. 1994;94:1629–36.

31.

Wu Y, Potempa LA, El Kebir D, Filep JG. C-reactive protein and inflammation: conformational changes affect function. Biol Chem. 2015;396:1181–97.

32.

Thiele JR, et al. Targeting C-reactive protein in inflammatory disease by preventing conformational changes. Mediators Inflamm. 2015;2015:9.

33.

Khreiss T, et al. Loss of pentameric symmetry of C-reactive protein is associated with delayed apoptosis of human neutrophils. J Biol Chem. 2002;277:40775–81.

34.

Jia Z-K, Li H-Y, Liang Y-L, Potempa LA, Ji S-R, Wu Y. Monomeric C-reactive protein binds and neutralizes receptor activator of NF-κB ligand-induced osteoclast differentiation. Front Immunol. 2018;9:234.

35.

Slevin M, Krupinski J. A role for monomeric c-reactive protein in regulation of angiogenesis, endothelial cell inflammation and thrombus formation in cardiovascular/cerebrovascular disease? Histol Histopathol. 2009;24:1473–8.

36.

El Kebir D, et al. C-reactive protein-derived peptide 201-206 inhibits neutrophil adhesion to endothelial cells and platelets through CD32. J Leukoc Biol. 2011;90:1167–75.

37.

Ji S-R, et al. Monomeric C-reactive protein activates endothelial cells via interaction with lipid raft microdomains. FASEB J. 2009;23:1806–16.

38.

Sun HB. Mechanical loading, cartilage degradation, and arthritis. Ann N. Y. Acad Sci. 2010;1211:37–50.

39.

Francisco V, et al. Adipokines: Linking metabolic syndrome, the immune system, and arthritic diseases. Biochem Pharmacol. 2019;165:196–206.

40.

Abella V, et al. Adipokines, metabolic syndrome and rheumatic diseases. J Immunol Res. 2014;2014:343746.

41.

Khreiss T, József L, Potempa LA, Filep JG. Conformational rearrangement in C-reactive protein is required for proinflammatory actions on human endothelial cells. Circulation. 2004;109:2016–22.

42.

Khreiss T, József L, Potempa LA, Filep JG. Loss of pentameric symmetry in C-reactive protein induces interleukin-8 secretion through peroxynitrite signaling in human neutrophils. Circ. Res. 2005;97:690–7.

43.

Wang Q, et al. Effect of C-reactive protein on gene expression in vascular endothelial cells. Am J Physiol Heart Circ Physiol. 2005;288:H1539–45.

44.

De Lorgeril M, et al. Cholesterol lowering, cardiovascular diseases, and the rosuvastatin-JUPITER controversy: a critical reappraisal. Arch Intern Med. 2010;170:1032–6.

45.

Ji SR, Wu Y, Potempa LA, Liang YH, Zhao J. Effect of modified C-reactive protein on complement activation: a possible complement regulatory role of modified or monomeric C-reactive protein in atherosclerotic lesions. Arterioscler Thromb Vasc Biol. 2006;26:934–41.

46.

Ji S, et al. Cell membranes and liposomes dissociate C-reactive protein (CRP) to form a new, biologically active structural intermediate: mCRP m. FASEB J. 2007;21:284–94.

47.

Ji SR, Wu Y, Potempa LA, Qiu Q, Zhao J. Interactions of C-reactive protein with low-density lipoproteins: Implications for an active role of modified C-reactive protein in atherosclerosis. Int J Biochem Cell Biol. 2006;38:648–61.

48.

Ullah N, et al. Monomeric C-reactive protein regulates fibronectin mediated monocyte adhesion. Mol Immunol. 2020;117:122–30.

49.

Boras E, et al. Monomeric C-reactive protein and Notch-3 co-operatively increase angiogenesis through PI3K signalling pathway. Cytokine. 2014;69:165–79.

50.

Boras E, Slevin M, Gilmore W, Potempa LA, Matou-Nasri S. Common angiogenic signaling pathways induced by monomeric C-reactive protein and FGF-2 through MAPK and PI3K. Eur J Exp Biol. 2017;7:18.
Acknowledgements
OG and FL are Staff Personnel (I3SNS stable Researcher) of Xunta de Galicia (Servizo Galego de Saude, SERGAS) through a research-staff contract (ISCIII/SERGAS). VF is currently a "Sara Borrell" Researcher funded by ISCIII and FEDER (CD16/00111). RG and JC are "Miguel Servet" Researchers funded by Instituto de Salud Carlos III (ISCIII) and FEDER. CRF is a pre-doctoral research scholar funded by ISCIII and FEDER (Exp.18/00188). OG, MAGG, and RG are members of RETICS Programme, RD16/0012/0014 (RIER: Red de Investigación en Inflamación y Enfermedades Reumáticas) via Instituto de Salud Carlos III (ISCIII) and FEDER. FL is a member of CIBERCV (Centro de Investigación Biomédica en Red de Enfermedades Cardiovasculares). The work of OG and JP (PI17/00409), RG (PI16/01870) and FL (PI18/00821 and CB16/11/00226) was funded by Instituto de Salud Carlos III and FEDER. OG is a beneficiary of a project funded by Research Executive Agency of the European Union in the framework of MSCA-RISE Action of the H2020 Programme (Project number 734899). OG is beneficiary of a grant funded by Xunta de Galicia, Consellería de Educación, Universidade e Formación Profesional and Consellería de Economía, Emprego e Industria (GAIN), GPC IN607B2019/10.
Funding
The funders had no role in study design, data collection, and analysis, decision to publish, or preparation of the manuscript.
Ethics declarations
Conflict of interest
The authors declare no competing interests.
Additional information
Publisher's note Springer Nature remains neutral with regard to jurisdictional claims in published maps and institutional affiliations.
About this article
Cite this article
Ruiz-Fernández, C., Gonzalez-Rodríguez, M., Francisco, V. et al. Monomeric C reactive protein (mCRP) regulates inflammatory responses in human and mouse chondrocytes. Lab Invest (2021). https://doi.org/10.1038/s41374-021-00584-8
Received:

Revised:

Accepted:

Published: