Abstract
Endometrial carcinoma is one of the most common malignancies in the female reproductive system. Interleukin-37 (IL-37) is a newly discovered anti-inflammatory factor belonging to the IL-1 family. IL-37 has five different isoforms, and IL-37b is the most biologically functional subtype. In recent years, the protective roles of IL-37 in different cancers, including lung and liver cancers, have been successively reported. IL-37 also plays an important role in some gynecological diseases such as endometriosis, adenomyosis, and cervical cancer. However, the role and mechanism of IL-37b, especially the mature form of IL-37b, in endometrial carcinoma have not been elucidated. The present study demonstrated that IL-37 protein was downregulated in endometrial carcinoma cells compared with the control endometrium. IL-37b did not affect the proliferation and colony-forming ability of endometrial cancer cells. A mature form of IL-37b (IL-37bΔ1-45) effectively suppressed the migration and invasion of endometrial cancer cells by decreasing the expression of matrix metalloproteinase 2 (MMP2) via Rac1/NF-κB signal pathway. However, it did not affect epithelial–mesenchymal transition (EMT) or filamentous actin (F-actin) depolymerization of endometrial cancer cells. IL-37bΔ1-45 attenuated tumor metastasis in a peritoneal metastatic xenograft model of endometrial cancer. To sum up, these results suggested IL-37b could be involved in the pathogenesis of endometrial carcinoma and provide a novel target for the diagnosis and treatment of endometrial carcinoma.
Access options
Subscribe to Journal
Get full journal access for 1 year
$399.00
only $33.25 per issue
All prices are NET prices.
VAT will be added later in the checkout.
Tax calculation will be finalised during checkout.
Rent or Buy article
Get time limited or full article access on ReadCube.
from$8.99
All prices are NET prices.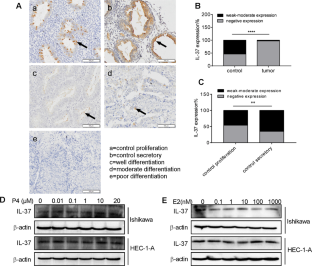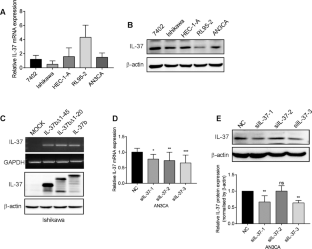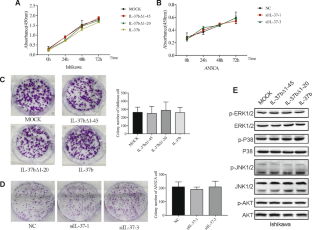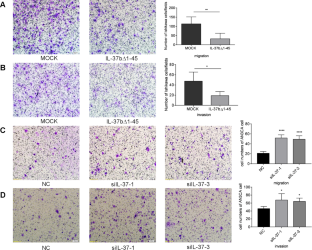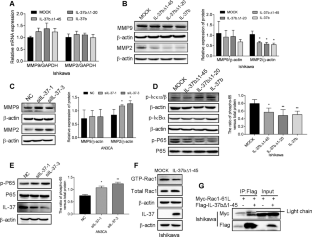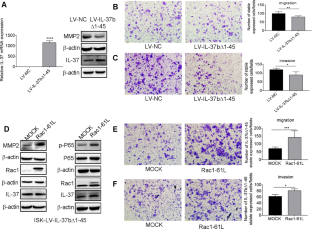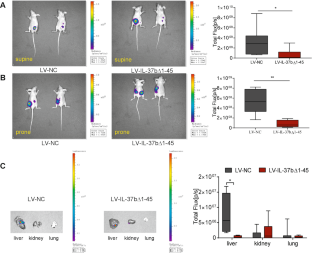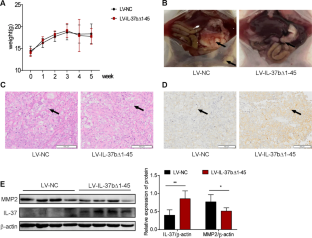 References
1.

Shang Y. Molecular mechanisms of oestrogen and SERMs in endometrial carcinogenesis. Nat Rev Cancer. 2006;6:360–8.

2.

Horn LC, Meinel A, Handzel R, Einenkel J. Histopathology of endometrial hyperplasia and endometrial carcinoma: an update. Ann Diagn Pathol. 2007;11:297–311.

3.

Gien LT, Kwon JS, D'Souza DP, Radwan JS, Hammond JA, Sugimoto AK, et al. Brain metastases from endometrial carcinoma: a retrospective study. Gynecol Oncol. 2004;93:524–8.

4.

Xiong S, Klausen C, Cheng JC, Leung PCK. TGFβ1 induces endometrial cancer cell adhesion and migration by up-regulating integrin αvβ3 via SMAD-independent MEK-ERK1/2 signaling. Cell Signal. 2017;34:92–101.

5.

Sun XM, Dongol S, Qiu CP, Xu Y, Sun CG, Zhang ZW, et al. miR-652 promotes tumor proliferation and metastasis by targeting RORA in endometrial cancer. Mol Cancer Res. 2018;16:1927–39.

6.

Amant F, Moerman P, Neven P, Timmerman D, Van Limbergen E, Vergote I. Endometrial cancer. Lancet. 2005;366:491–505.

7.

Bokhman JV. Two pathogenetic types of endometrial carcinoma. Gynecol Oncol. 1983;15:10–7.

8.

Mutter GL, Lin MC, Fitzgerald JT, Kum JB, Baak JP, Lees JA, et al. Altered PTEN expression as a diagnostic marker for the earliest endometrial precancers. J Natl Cancer Inst. 2000;92:924–30.

9.

Myatt SS, Wang J, Monteiro LJ, Christian M, Ho KK, Fusi L, et al. Definition of microRNAs that repress expression of the tumor suppressor gene FOXO1 in endometrial cancer. Cancer Res. 2010;70:367–77.

10.

Kumar S, McDonnell PC, Lehr R, Tierney L, Tzimas MN, Griswold DE, et al. Identification and initial characterization of four novel members of the interleukin-1 family. J Biol Chem. 2000;275:10308–14.

11.

Boraschi D, Lucchesi D, Hainzl S, Leitner M, Maier E, Mangelberger D, et al. IL-37: a new anti-inflammatory cytokine of the IL-1 family. Eur Cytokine Netw. 2011;22:127–47.

12.

Nicklin MJ, Barton JL, Nguyen M, FitzGerald MG, Duff GW, Kornman K. A sequence-based map of the nine genes of the human interleukin-1 cluster. Genomics. 2002;79:718–25.

13.

Dinarello CA, Nold-Petry C, Nold M, Fujita M, Li S, Kim S, et al. Suppression of innate inflammation and immunity by interleukin-37. Eur J Immunol. 2016;46:1067–81.

14.

Cavalli G, Dinarello CA. Suppression of inflammation and acquired immunity by IL-37. Immunol Rev. 2018;281:179–90.

15.

Jia H, Liu J, Han B. Reviews of interleukin-37: functions, receptors, and roles in diseases. Biomed Res Int. 2018;2018:3058640.

16.

Abulkhir A, Samarani S, Amre D, Duval M, Haddad E, Sinnett D, et al. A protective role of IL-37 in cancer: a new hope for cancer patients. J Leukoc Biol. 2017;101:395–406.

17.

Quirk S, Agrawal DK. Immunobiology of IL-37: mechanism of action and clinical perspectives. Expert Rev Clin Immunol. 2014;10:1703–9.

18.

Nold MF, Nold-Petry CA, Zepp JA, Palmer BE, Bufler P, Dinarello CA. IL-37 is a fundamental inhibitor of innate immunity. Nat Immunol. 2010;11:1014–22.

19.

Ding VA, Zhu Z, Xiao H, Wakefield MR, Bai Q, Fang Y. The role of IL-37 in cancer. Med Oncol. 2016;33:68.

20.

Jiang M, Wang Y, Zhang H, Ji Y, Zhao P, Sun R, et al. IL-37 inhibits invasion and metastasis in non-small cell lung cancer by suppressing the IL-6/STAT3 signaling pathway. Thorac Cancer. 2018;9:621–9.

21.

Zhang G, Tang C, Tan J, Liu R, Zhou M, Wu Z. IL-37 inhibits the proliferation, invasion and migration of SMMC-7721 cells in vitro. Chin J Cell Mol Immunol. 2015;31:1301–5.

22.

Jiang JF, Deng Y, Xue W, Zheng TP, Sun AJ. Increased expression of interleukin 37 in the eutopic and ectopic endometrium of patients with ovarian endometriosis. Reprod Sci. 2016;23:244–8.

23.

Kaabachi W, Kacem O, Belhaj R, Hamzaoui A, Hamzaoui K. Interleukin-37 in endometriosis. Immunol Lett. 2017;185:52–5.

24.

Jiang J, Jiang Z, Xue M. Serum and peritoneal fluid levels of interleukin-6 and interleukin-37 as biomarkers for endometriosis. Gynecol Endocrinol. 2019;35:571–5.

25.

Jiang J, Yu K, Jiang Z, Xue M. IL-37 affects the occurrence and development of endometriosis by regulating the biological behavior of endometrial stromal cells through multiple signaling pathways. Biol Chem. 2018;399:1325–37.

26.

Fan YY, Chen HY, Chen W, Liu YN, Fu Y, Wang LN. Expression of inflammatory cytokines in serum and peritoneal fluid from patients with different stages of endometriosis. Gynecol Endocrinol. 2018;34:507–12.

27.

Jiang JF, Xiao SS, Xue M. Decreased expression of interleukin-37 in the ectopic and eutopic endometria of patients with adenomyosis. Gynecol Endocrinol. 2018;34:83–6.

28.

Wang S, An W, Yao Y, Chen R, Zheng X, Yang W, et al. Interleukin 37 expression inhibits STAT3 to suppress the proliferation and invasion of human cervical cancer cells. J Cancer. 2015;6:962–9.

29.

Zaino RJ. FIGO staging of endometrial adenocarcinoma: a critical review and proposal. Int J Gynecol Pathol. 2009;28:1–9.

30.

Noyes RW, Hertig AT, Rock J. Dating the endometrial biopsy. Am J Obstet Gynecol. 1975;122:262–3.

31.

Ye Z, Wang C, Tang J, Zhou Y, Bai L, Liu Y, et al. Decreased interleukin-37 expression in Vogt-Koyanagi-Harada disease and upregulation following immunosuppressive treatment. J Interferon Cytokine Res. 2015;35:265–72.

32.

Song L, Qiu F, Fan Y, Ding F, Liu H, Shu Q, et al. Glucocorticoid regulates interleukin-37 in systemic lupus erythematosus. J Clin Immunol. 2013;33:111–7.

33.

Chen Z, Che Q, He X, Wang F, Wang H, Zhu M, et al. Stem cell protein Piwil1 endowed endometrial cancer cells with stem-like properties via inducing epithelial-mesenchymal transition. BMC Cancer. 2015;15:811.

34.

Wu TJ, Xu B, Zhao GH, Luo J, Luo C. IL-37 suppresses migration and invasion of gallbladder cancer cells through inhibition of HIF-1alpha induced epithelial-mesenchymal transition. Eur Rev Med Pharmacol Sci. 2018;22:8179–85.

35.

Acconcia F, Barnes CJ, Kumar R. Estrogen and tamoxifen induce cytoskeletal remodeling and migration in endometrial cancer cells. Endocrinology. 2006;147:1203–12.

36.

Nobes CD, Hall A. Rho, rac, and cdc42 GTPases regulate the assembly of multimolecular focal complexes associated with actin stress fibers, lamellipodia, and filopodia. Cell. 1995;81:53–62.

37.

Ridley AJ. Rho GTPases and actin dynamics in membrane protrusions and vesicle trafficking. Trends Cell Biol. 2006;16:522–9.

38.

Najafi M, Farhood B, Mortezaee K. Extracellular matrix (ECM) stiffness and degradation as cancer drivers. J Cell Biochem. 2019;120:2782–90.

39.

Bjorklund M, Koivunen E. Gelatinase-mediated migration and invasion of cancer cells. Biochim Biophys Acta. 2005;1755:37–69.

40.

Huang N, Liu K, Liu J, Gao X, Zeng Z, Zhang Y, et al. Interleukin-37 alleviates airway inflammation and remodeling in asthma via inhibiting the activation of NF-κB and STAT3 signalings. Int Immunopharmacol. 2018;55:198–204.

41.

Li TT, Zhu D, Mou T, Guo Z, Pu JL, Chen QS, et al. IL-37 induces autophagy in hepatocellular carcinoma cells by inhibiting the PI3K/AKT/mTOR pathway. Mol Immunol. 2017;87:132–40.

42.

Li Y, Zhao M, Guo C, Chu H, Li W, Chen X, et al. Intracellular mature IL-37 suppresses tumor metastasis via inhibiting Rac1 activation. Oncogene. 2018;37:1095–106.

43.

Ding VA, Zhu Z, Mantz AA, Xiao H, Wakefield MR, Bai Q, et al. The role of IL-37 in non-cancerous diseases. Pathol Oncol Res. 2017;23:463–70.

44.

Osborne DG, Domenico J, Luo Y, Reid AL, Amato C, Zhai Z, et al. Interleukin-37 is highly expressed in regulatory T cells of melanoma patients and enhanced by melanoma cell secretome. Mol Carcinog. 2019;58:1670–9.

45.

Yan X, Zhao J, Zhang R. Interleukin-37 mediates the antitumor activity in colon cancer through β-catenin suppression. Oncotarget. 2017;8:49064–75.

46.

Kavlashvili T, Jia Y, Dai D, Meng X, Thiel KW, Leslie KK, et al. Inverse relationship between progesterone receptor and Myc in endometrial cancer. PloS One. 2016;11:e0148912.

47.

Bommer I, Muzzio DO, Zygmunt M, Jensen F. Progesterone and estradiol exert an inhibitory effect on the production of anti-inflammatory cytokine IL-10 by activated MZ B cells. J Reprod Immunol. 2016;116:113–6.

48.

Banchereau J, Pascual V, O'Garra A. From IL-2 to IL-37: the expanding spectrum of anti-inflammatory cytokines. Nat Immunol. 2012;13:925–31.

49.

Ballak DB, van Diepen JA, Moschen AR, Jansen HJ, Hijmans A, Groenhof GJ, et al. IL-37 protects against obesity-induced inflammation and insulin resistance. Nat Commun. 2014;5:4711.

50.

Carinci F, Lessiani G, Spinas E, Kritas SK, Ronconi G, Caraffa A, et al. Mast cell and cancer with special emphasis on il-37 an anti-inflammatory and inhibitor of innate immunity: new frontiers. J Biol Regul Homeost Agents. 2016;30:945–50.

51.

Chen YH, Zhou BY, Wu XJ, Xu JF, Zhang JA, Chen YH, et al. CCL22 and IL-37 inhibit the proliferation and epithelial-mesenchymal transition process of NSCLC A549 cells. Oncol Rep. 2016;36:2017–24.

52.

Chen YH, Zhou BY, Wu GC, Liao DQ, Li J, Liang SS, et al. Effects of exogenous IL-37 on the biological characteristics of human lung adenocarcinoma A549 cells and the chemotaxis of regulatory T cells. Cancer Biomarker. 2018;21:661–73.

53.

Li X, Bao C, Ma Z, Xu B, Ying X, Liu X, et al. Perfluorooctanoic acid stimulates ovarian cancer cell migration, invasion via ERK/NF-κB/MMP-2/-9 pathway. Toxicol Lett. 2018;294:44–50.

54.

Zhuge Y, Xu J. Rac1 mediates type I collagen-dependent MMP-2 activation. role in cell invasion across collagen barrier. J Biol Chem. 2001;276:16248–56.

55.

Hakoshima T, Shimizu T, Maesaki R. Structural basis of the Rho GTPase signaling. J Biochem. 2003;134:327–31.

56.

Zheng B, Ye L, Zhou Y, Zhu S, Wang Q, Shi H, et al. Epidermal growth factor attenuates blood-spinal cord barrier disruption via PI3K/Akt/Rac1 pathway after acute spinal cord injury. J Cell Mol Med. 2016;20:1062–75.

57.

Gastonguay A, Berg T, Hauser AD, Schuld N, Lorimer E, Williams CL. The role of Rac1 in the regulation of NF-κB activity, cell proliferation, and cell migration in non-small cell lung carcinoma. Cancer Biol Ther. 2012;13:647–56.
Ethics declarations
Conflict of interest
The authors declare no competing interests.
Additional information
Publisher's note Springer Nature remains neutral with regard to jurisdictional claims in published maps and institutional affiliations.
Supplementary information
About this article
Cite this article
Wang, X., Wei, Z., Tang, Z. et al. IL-37bΔ1-45 suppresses the migration and invasion of endometrial cancer cells by targeting the Rac1/NF-κB/MMP2 signal pathway. Lab Invest (2021). https://doi.org/10.1038/s41374-021-00544-2
Received:

Revised:

Accepted:

Published: