Abstract
Hepatocellular carcinoma (HCC) is a rapidly growing tumor characterized by a high potential for vascular invasion and metastasis. The purpose of our study is to explore the regulation mechanism of long noncoding RNA (lncRNA) LINC01419 on cell-cycle distribution and metastasis in hepatocellular carcinoma (HCC) by regulating zinc finger of the cerebellum (ZIC1) through PI3K/Akt signaling pathway. Bioinformatics analysis and dual-luciferase reporter assay were used to analyze LINC01419 and related genes in HCC, and their expression in HCC tissues and adjacent normal tissues were determined by reverse transcription quantitative polymerase chain reaction (RT-qPCR) and western blot. Then, HCC cell lines were subjected to the construction of LINC01419/ZIC1 overexpression/knockdown cells utilizing lentiviral vectors. RIP and ChIP assays were applied to identify the LINC01419-binding protein. BSP and MSP assays were used to determine gene methylation. According to the results, LINC01419 was highly expressed in HCC tissues and cells, while ZIC1 was poorly expressed. LINC01419 targeted and downregulated ZIC1 expression. Furthermore, LINC01419 increased the methylation of ZIC1 promoter and repressed ZIC1 expression. PI3K/Akt signaling pathway was activated by LINC01419 overexpression and ZIC1 knockdown, under which conditions, the HCC cell self-renewal and proliferation were promoted while cell apoptosis was attenuated, accompanied by accelerated formation and metastasis of xenografted tumors in mice. In conclusion, LINC01419 enhances the methylation of ZIC1 promoter, inhibits ZIC1 expression, and activates the PI3K/Akt signaling pathway, thereby enhancing the malignant phenotypes of HCC cells in vitro as well as tumor formation and metastasis in vivo.
Access options
Subscribe to Journal
Get full journal access for 1 year
$399.00
only $33.25 per issue
All prices are NET prices.
VAT will be added later in the checkout.
Tax calculation will be finalised during checkout.
Rent or Buy article
Get time limited or full article access on ReadCube.
from$8.99
All prices are NET prices.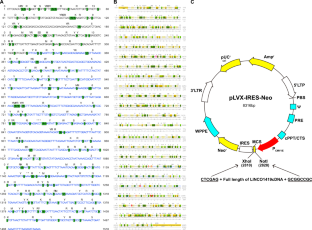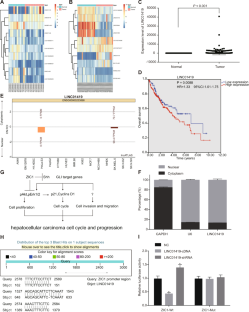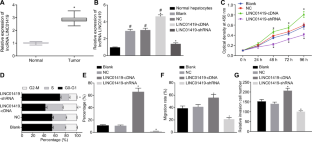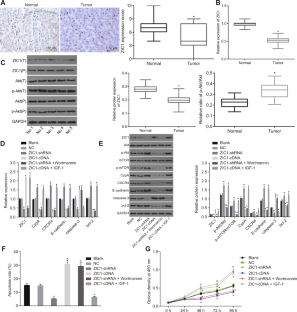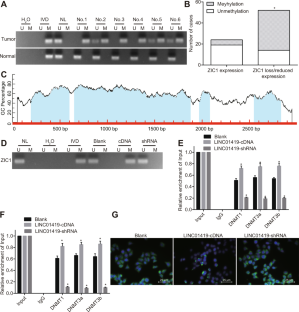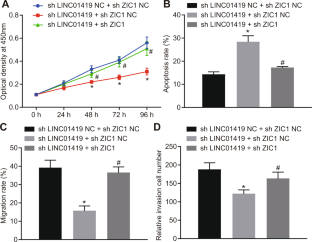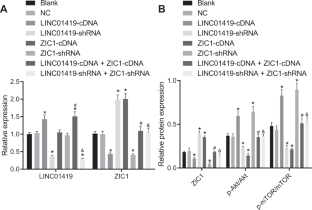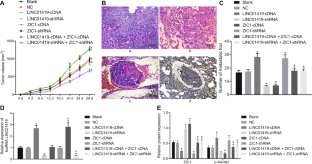 Data availability
The authors confirm that the data supporting the findings of this study are available within the article.
References
1.

Thomas MB, Jaffe D, Choti MM, Belghiti J, Curley S, Fong Y, et al. Hepatocellular carcinoma: consensus recommendations of the National Cancer Institute Clinical Trials Planning Meeting. J Clin Oncol. 2010;28:3994–4005.

2.

El-Serag HB. Epidemiology of viral hepatitis and hepatocellular carcinoma. Gastroenterology. 2012;142:1264–73.e1.

3.

Verslype C, Rosmorduc O, Rougier P, Group EGW. Hepatocellular carcinoma: ESMO-ESDO Clinical Practice Guidelines for diagnosis, treatment and follow-up. Ann Oncol. 2012;23 Suppl 7:vii41–8.

4.

Maluccio M, Covey A. Recent progress in understanding, diagnosing, and treating hepatocellular carcinoma. CA Cancer J Clin. 2012;62:394–9.

5.

Jelic S, Sotiropoulos GC, Group EGW. Hepatocellular carcinoma: ESMO Clinical Practice Guidelines for diagnosis, treatment and follow-up. Ann Oncol. 2010;21 Suppl 5:v59–64.

6.

Attwa MH, El-Etreby SA. Guide for diagnosis and treatment of hepatocellular carcinoma. World J Hepatol. 2015;7:1632–51.

7.

Lencioni R, Chen XP, Dagher L, Venook AP. Treatment of intermediate/advanced hepatocellular carcinoma in the clinic: how can outcomes be improved? Oncologist. 2010;15 Suppl 4:42–52.

8.

Chen F, Bai G, Li Y, Feng Y, Wang L. A positive feedback loop of long noncoding RNA CCAT2 and FOXM1 promotes hepatocellular carcinoma growth. Am J Cancer Res. 2017;7:1423–34.

9.

Yuan SX, Yang F, Yang Y, Tao QF, Zhang J, Huang G, et al. Long noncoding RNA associated with microvascular invasion in hepatocellular carcinoma promotes angiogenesis and serves as a predictor for hepatocellular carcinoma patients' poor recurrence-free survival after hepatectomy. Hepatology. 2012;56:2231–41.

10.

Zhang H, Zhu C, Zhao Y, Li M, Wu L, Yang X, et al. Long non-coding RNA expression profiles of hepatitis C virus-related dysplasia and hepatocellular carcinoma. Oncotarget. 2015;6:43770–8.

11.

Ge Q, Hu Y, He J, Chen F, Wu L, Tu X, et al. Zic1 suppresses gastric cancer metastasis by regulating Wnt/beta-catenin signaling and epithelial-mesenchymal transition. FASEB J. 2020;34:2161–72.

12.

Jochheim-Richter A, Rudrich U, Koczan D, Hillemann T, Tewes S, Petry M, et al. Gene expression analysis identifies novel genes participating in early murine liver development and adult liver regeneration. Differentiation. 2006;74:167–73.

13.

Wang YY, Jiang JX, Ma H, Han J, Sun ZY, Liu ZM, et al. Role of ZIC1 methylation in hepatocellular carcinoma and its clinical significance. Tumour Biol. 2014;35:7429–33.

14.

Zhong J, Chen S, Xue M, Du Q, Cai J, Jin H, et al. ZIC1 modulates cell-cycle distributions and cell migration through regulation of sonic hedgehog, PI(3)K and MAPK signaling pathways in gastric cancer. BMC Cancer. 2012;12:290.

15.

Zhou Q, Lui VW, Yeo W. Targeting the PI3K/Akt/mTOR pathway in hepatocellular carcinoma. Future Oncol. 2011;7:1149–67.

16.

Fujita A, Sato JR, Rodrigues Lde O, Ferreira CE, Sogayar MC. Evaluating different methods of microarray data normalization. BMC Bioinform. 2006;7:469.

17.

Smyth GK. Linear models and empirical bayes methods for assessing differential expression in microarray experiments. Stat Appl Genet Mol Biol. 2004;3:Article3.

18.

Robinson MD, McCarthy DJ, Smyth GK. edgeR: a Bioconductor package for differential expression analysis of digital gene expression data. Bioinformatics. 2010;26:139–40.

19.

Heagerty PJ, Zheng Y. Survival model predictive accuracy and ROC curves. Biometrics. 2005;61:92–105.

20.

Zhou L, Rui JA, Zhou WX, Wang SB, Chen SG, Qu Q. Edmondson-Steiner grade: a crucial predictor of recurrence and survival in hepatocellular carcinoma without microvascular invasio. Pathol Res Pract. 2017;213:824–30.

21.

Telugu RB, Chowhan AK, Rukmangadha N, Patnayak R, Phaneendra BV, Prasad BC, et al. Human epidermal growth factor receptor 2/neu protein expression in meningiomas: an immunohistochemical study. J Neurosci Rural Pract. 2016;7:526–31.

22.

Guo RJ, Funakoshi S, Lee HH, Kong J, Lynch JP. The intestine-specific transcription factor Cdx2 inhibits beta-catenin/TCF transcriptional activity by disrupting the beta-catenin-TCF protein complex. Carcinogenesis. 2010;31:159–66.

23.

Olsen AK, Coskun M, Bzorek M, Kristensen MH, Danielsen ET, Jorgensen S, et al. Regulation of APC and AXIN2 expression by intestinal tumor suppressor CDX2 in colon cancer cells. Carcinogenesis. 2013;34:1361–9.

24.

Morimoto A, Kannari M, Tsuchida Y, Sasaki S, Saito C, Matsuta T, et al. An HNF4alpha-microRNA-194/192 signaling axis maintains hepatic cell function. J Biol Chem. 2017;292:10574–85.

25.

Han W, Soltani K, Ming M, He YY. Deregulation of XPC and CypA by cyclosporin A: an immunosuppression-independent mechanism of skin carcinogenesis. Cancer Prev Res (Phila). 2012;5:1155–62.

26.

Yin X, Liu Z, Zhu P, Wang Y, Ren Q, Chen H, et al. CXCL12/CXCR4 promotes proliferation, migration, and invasion of adamantinomatous craniopharyngiomas via PI3K/AKT signal pathway. J Cell Biochem. 2019;120:9724–36.

27.

Kourtidis A, Lu R, Pence LJ, Anastasiadis PZ. A central role for cadherin signaling in cancer. Exp Cell Res. 2017;358:78–85.

28.

Erratum: Global cancer statistics 2018. GLOBOCAN estimates of incidence and mortality worldwide for 36 cancers in 185 countries. CA Cancer J Clin. 2020;70:313.

29.

Doycheva I, Thuluvath PJ. Systemic therapy for advanced hepatocellular carcinoma: an update of a rapidly evolving field. J Clin Exp Hepatol. 2019;9:588–96.

30.

Ho DW, Lo RC, Chan LK, Ng IO. Molecular pathogenesis of hepatocellular carcinoma. Liver Cancer. 2016;5:290–302.

31.

Yan JJ, Zhang YN, Liao JZ, Ke KP, Chang Y, Li PY, et al. MiR-497 suppresses angiogenesis and metastasis of hepatocellular carcinoma by inhibiting VEGFA and AEG-1. Oncotarget. 2015;6:29527–42.

32.

Huang MD, Chen WM, Qi FZ, Xia R, Sun M, Xu TP, et al. Long non-coding RNA ANRIL is upregulated in hepatocellular carcinoma and regulates cell proliferation by epigenetic silencing of KLF2. J Hematol Oncol. 2015;8:57.

33.

Lan T, Chang L, Wu L, Yuan Y. Downregulation of ZEB2-AS1 decreased tumor growth and metastasis in hepatocellular carcinoma. Mol Med Rep. 2016;14:4606–12.

34.

Ma G, Dai W, Sang A, Yang X, Li Q. Roles of ZIC family genes in human gastric cancer. Int J Mol Med. 2016;38:259–66.

35.

Gu X, Liu Q, Yang N, Shen JF, Zhang XG, Cao F, et al. Clinicopathological significance of increased ZIC1 expression in human endometrial cancer. J Huazhong Univ Sci Technol Med Sci. 2015;35:898–903.

36.

Chen JL, Lin ZX, Qin YS, She YQ, Chen Y, Chen C, et al. Overexpression of long noncoding RNA LINC01419 in esophageal squamous cell carcinoma and its relation to the sensitivity to 5-fluorouracil by mediating GSTP1 methylation. Ther Adv Med Oncol. 2019;11:1758835919838958.

37.

Qiang W, Zhao Y, Yang Q, Liu W, Guan H, Lv S, et al. ZIC1 is a putative tumor suppressor in thyroid cancer by modulating major signaling pathways and transcription factor FOXO3a. J Clin Endocrinol Metab. 2014;99:E1163–72.

38.

Shuttleworth SJ, Silva FA, Cecil AR, Tomassi CD, Hill TJ, Raynaud FI, et al. Progress in the preclinical discovery and clinical development of class I and dual class I/IV phosphoinositide 3-kinase (PI3K) inhibitors. Curr Med Chem. 2011;18:2686–714.

39.

Spoerke JM, O'Brien C, Huw L, Koeppen H, Fridlyand J, Brachmann RK, et al. Phosphoinositide 3-kinase (PI3K) pathway alterations are associated with histologic subtypes and are predictive of sensitivity to PI3K inhibitors in lung cancer preclinical models. Clin Cancer Res. 2012;18:6771–83.

40.

Fang Y, Xue JL, Shen Q, Chen J, Tian L. MicroRNA-7 inhibits tumor growth and metastasis by targeting the phosphoinositide 3-kinase/Akt pathway in hepatocellular carcinoma. Hepatology. 2012;55:1852–62.

41.

Huang ZJ, Zhu JJ, Yang XY, Biskup E. NEDD4 promotes cell growth and migration via PTEN/PI3K/AKT signaling in hepatocellular carcinoma. Oncol Lett. 2017;14:2649–56.
Acknowledgements
We acknowledge and appreciate our colleagues for their valuable efforts and comments on this paper.
Funding
The study was supported by Science & Technology Department of Sichuan Province Applied Basic Research Program (No. 2020YJ0462).
Ethics declarations
Conflict of interest
The authors declare no competing interests.
Ethical approval
The study was approved by the Ethics Committee of Sichuan Provincial People's Hospital, Henan Provincial People's Hospital. Signed informed consents of all study procedures including the collection of tumor and adjacent normal tissues were obtained from all patients participating in this study. Animal experiments were preapproved by the Institutional Review Board of Sichuan Provincial People's Hospital, Henan Provincial People's Hospital. All efforts were made to minimize the number and pain of animals used in the experiments.
Additional information
Publisher's note Springer Nature remains neutral with regard to jurisdictional claims in published maps and institutional affiliations.
Supplementary information
About this article
Cite this article
Hou, Y., Chen, K., Liao, R. et al. LINC01419-mediated epigenetic silencing of ZIC1 promotes metastasis in hepatocellular carcinoma through the PI3K/Akt signaling pathway. Lab Invest (2021). https://doi.org/10.1038/s41374-021-00539-z
Received:

Revised:

Accepted:

Published: