Abstract
NOD-like receptor protein 3 (NLRP3) promotes the inflammatory response during progression of nonalcoholic fatty liver (NAFL) to nonalcoholic steatohepatitis (NASH). This study aimed to further delineate the role of NLRP3 in NASH development by abolishing its expression in mice. A high-fat and calorie diet plus high fructose and glucose in drinking water (HFCD-HF/G) was used to establish NASH in both wild-type (WT) and NLRP3 knock-out (KO) mice. Hepatocellular injury, hepatic steatosis and fibrosis, as well as inflammatory response and insulin resistance in the liver and epidydimal white adipose tissue (eWAT) were determined. Elevated body weight, liver weight and serum alanine transaminase level, increased hepatic triglyceride accumulation and collagen deposition, and worsened systemic insulin resistance were observed in Nlrp3−/− mice compared to WT mice under HFCD-HF/G feeding. Upregulated hepatic transcription of tumor necrosis factor-α (TNF-α) and monocyte chemotactic protein-1 (MCP-1), and enhanced infiltration of inducible nitric oxide synthase-positive (iNOS+) M1 macrophages were also documented in HFCD-HF/G-fed Nlrp3−/− mice in comparison to HFCD-HF/G-fed WT mice. Moreover, transcription of TNF-α and MCP-1 and infiltration of iNOS+ M1 macrophages were increased in the liver of Nlrp3−/− mice under control diet. NLRP3 deficiency did not attenuate, but instead aggravated NASH development under HFCD-HF/G feeding. The worsened extent of NASH might be attributed to enhanced hepatic MCP-1 expression and M1 macrophage infiltration in Nlrp3−/− mice. Our study points to additional caution when NLRP3 blockade is considered as a therapeutic strategy in the treatment of human NASH.
Access options
Subscribe to Journal
Get full journal access for 1 year
$499.00
only $41.58 per issue
All prices are NET prices.
VAT will be added later in the checkout.
Rent or Buy article
Get time limited or full article access on ReadCube.
from$8.99
All prices are NET prices.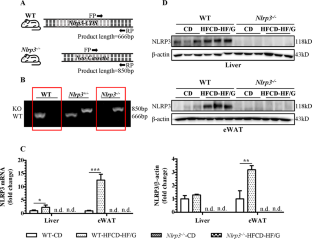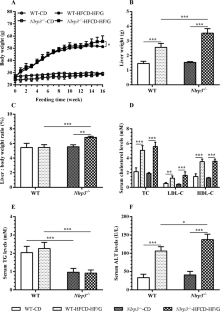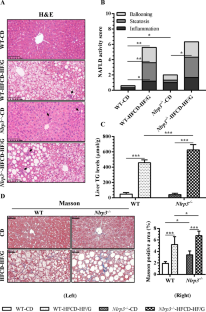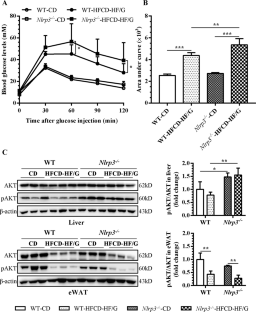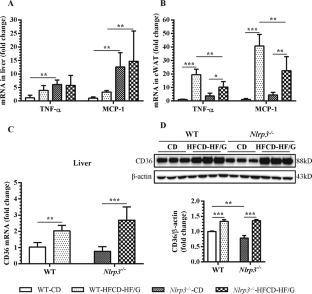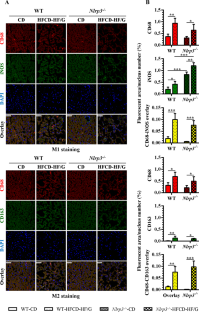 References
1.

Diehl AM, Day C. Cause, pathogenesis, and treatment of nonalcoholic steatohepatitis. N Engl J Med. 2017;377:2063–72.

2.

Younossi ZM, Koenig AB, Abdelatif D, Fazel Y, Henry L, Wymer M. Global epidemiology of nonalcoholic fatty liver disease-Meta-analytic assessment of prevalence, incidence, and outcomes. Hepatology. 2016;64:73–84.

3.

Wu J. Utilization of animal models to investigate nonalcoholic steatohepatitis-associated hepatocellular carcinoma. Oncotarget. 2016;7:42762–76.

4.

Ye J, Li TS, Xu G, Zhao YM, Zhang NP, Fan J, et al. JCAD promotes progression of nonalcoholic steatohepatitis to liver cancer by inhibiting LATS2 kinase activity. Cancer Res. 2017;77:5287–5300.

5.

Younossi ZM, Otgonsuren M, Henry L, Venkatesan C, Mishra A, Erario M, et al. Association of nonalcoholic fatty liver disease (NAFLD) with hepatocellular carcinoma (HCC) in the United States from 2004 to 2009. Hepatology. 2015;62:1723–30.

6.

Kleiner DE, Brunt EM, Wilson LA, Behling C, Guy C, Contos M, et al. Association of histologic disease activity with progression of nonalcoholic fatty liver disease. JAMA Netw Open. 2019;2:e1912565.

7.

Tilg H, Moschen AR. Evolution of inflammation in nonalcoholic fatty liver disease: the multiple parallel hits hypothesis. Hepatology. 2010;52:1836–46.

8.

Martinon F, Burns K, Tschopp J. The inflammasome: a molecular platform triggering activation of inflammatory caspases and processing of proIL-beta. Mol Cell. 2002;10:417–26.

9.

Schroder K, Tschopp J. The inflammasomes. Cell. 2010;140:821–32.

10.

Szabo G, Csak T. Inflammasomes in liver diseases. J Hepatol. 2012;57:642–54.

11.

Thomas HNAFLD. A critical role for the NLRP3 inflammasome in NASH. Nat Rev Gastroenterol Hepatol. 2017;14:197.

12.

Wree A, Eguchi A, McGeough MD, Pena CA, Johnson CD, Canbay A, et al. NLRP3 inflammasome activation results in hepatocyte pyroptosis, liver inflammation, and fibrosis in mice. Hepatology. 2014;59:898–910.

13.

Zhang NP, Liu XJ, Xie L, Shen XZ, Wu J. Impaired mitophagy triggers NLRP3 inflammasome activation during the progression from nonalcoholic fatty liver to nonalcoholic steatohepatitis. Lab Invest. 2019;99:749–63.

14.

Gaul S, Leszczynska A, Alegre F, Kaufmann B, Johnson CD, Adams LA, et al. Hepatocyte pyroptosis and release of inflammasome particles induce stellate cell activation and liver fibrosis. J Hepatol. 2021;74:156–67.

15.

Duan NN, Liu XJ, Wu J. Palmitic acid elicits hepatic stellate cell activation through inflammasomes and hedgehog signaling. Life Sci. 2017;176:42–53.

16.

Mridha AR, Wree A, Robertson AAB, Yeh MM, Johnson CD, Van Rooyen DM, et al. NLRP3 inflammasome blockade reduces liver inflammation and fibrosis in experimental NASH in mice. J Hepatol. 2017;66:1037–46.

17.

Henao-Mejia J, Elinav E, Jin C, Hao L, Mehal WZ, Strowig T, et al. Inflammasome-mediated dysbiosis regulates progression of NAFLD and obesity. Nature. 2012;482:179–85.

18.

Pierantonelli I, Rychlicki C, Agostinelli L, Giordano DM, Gaggini M, Fraumene C, et al. Lack of NLRP3-inflammasome leads to gut-liver axis derangement, gut dysbiosis and a worsened phenotype in a mouse model of NAFLD. Sci Rep. 2017;7:12200.

19.

Ringling RE, Gastecki ML, Woodford ML, Lum-Naihe KJ, Grant RW, Pulakat L, et al. Loss of Nlrp3 does not protect mice from western diet-induced adipose tissue inflammation and glucose intolerance. PLoS One. 2016;11:e0161939.

20.

Liu XJ, Duan NN, Liu C, Niu C, Liu XP, Wu J. Characterization of a murine nonalcoholic steatohepatitis model induced by high fat high calorie diet plus fructose and glucose in drinking water. Lab Invest. 2018;98:1184–99.

21.

Wree A, Kahraman A, Gerken G, Canbay A. Obesity affects the liver - the link between adipocytes and hepatocytes. Digestion. 2011;83:124–33.

22.

Caputo T, Gilardi F, Desvergne B. From chronic overnutrition to metaflammation and insulin resistance: adipose tissue and liver contributions. FEBS Lett. 2017;591:3061–88.

23.

Kleiner DE, Brunt EM, Van Natta M, Behling C, Contos MJ, Cummings OW, et al. Design and validation of a histological scoring system for nonalcoholic fatty liver disease. Hepatology. 2005;41:1313–21.

24.

Liu X-J, Xie L, Du K, Liu C, Zhang N-P, Gu C-J, et al. Succinate-GPR-91 receptor signalling is responsible for nonalcoholic steatohepatitis-associated fibrosis: Effects of DHA supplementation. Liver Int. 2020;40:830–43.

25.

Ino H. Antigen retrieval by heating en bloc for pre-fixed frozen material. J Histochem Cytochem. 2003;51:995–1003.

26.

Yamashita S, Okada Y. Application of heat-induced antigen retrieval to aldehyde-fixed fresh frozen sections. J Histochem Cytochem. 2005;53:1421–32.

27.

Manning BD, Toker A. AKT/PKB signaling: navigating the network. Cell. 2017;169:381–405.

28.

Morinaga H, Mayoral R, Heinrichsdorff J, Osborn O, Franck N, Hah N, et al. Characterization of distinct subpopulations of hepatic macrophages in HFD/obese mice. Diabetes. 2015;64:1120–30.

29.

Krenkel O, Tacke F. Liver macrophages in tissue homeostasis and disease. Nat Rev Immunol. 2017;17:306–21.

30.

Kazankov K, Jorgensen SMD, Thomsen KL, Moller HJ, Vilstrup H, George J, et al. The role of macrophages in nonalcoholic fatty liver disease and nonalcoholic steatohepatitis. Nat Rev Gastroenterol Hepatol. 2019;16:145–59.

31.

Krenkel O, Puengel T, Govaere O, Abdallah AT, Mossanen JC, Kohlhepp M, et al. Therapeutic inhibition of inflammatory monocyte recruitment reduces steatohepatitis and liver fibrosis. Hepatology. 2018;67:1270–83.

32.

Prochnicki T, Latz E. Inflammasomes on the crossroads of innate immune recognition and metabolic control. Cell Metab. 2017;26:71–93.

33.

Lee HM, Kim JJ, Kim HJ, Shong M, Ku BJ, Jo EK. Upregulated NLRP3 inflammasome activation in patients with type 2 diabetes. Diabetes. 2013;62:194–204.

34.

Lech M, Lorenz G, Kulkarni OP, Grosser MO, Stigrot N, Darisipudi MN, et al. NLRP3 and ASC suppress lupus-like autoimmunity by driving the immunosuppressive effects of TGF-beta receptor signalling. Ann Rheum Dis. 2015;74:2224–35.

35.

Osuka A, Hanschen M, Stoecklein V, Lederer JA. A protective role for inflammasome activation following injury. Shock. 2012;37:47–55.

36.

Kim SH, Kim G, Han DH, Lee M, Kim I, Kim B, et al. Ezetimibe ameliorates steatohepatitis via AMP activated protein kinase-TFEB-mediated activation of autophagy and NLRP3 inflammasome inhibition. Autophagy. 2017;13:1767–81.

37.

Wree A, McGeough MD, Pena CA, Schlattjan M, Li H, Inzaugarat ME, et al. NLRP3 inflammasome activation is required for fibrosis development in NAFLD. J Mol Med (Berl). 2014;92:1069–82.

38.

Guarda G, Zenger M, Yazdi AS, Schroder K, Ferrero I, Menu P, et al. Differential expression of NLRP3 among hematopoietic cells. J Immunol. 2011;186:2529–34.

39.

Bruchard M, Rebe C, Derangere V, Togbe D, Ryffel B, Boidot R, et al. The receptor NLRP3 is a transcriptional regulator of TH2 differentiation. Nat Immunol. 2015;16:859–70.

40.

Camell CD, Sander J, Spadaro O, Lee A, Nguyen KY, Wing A, et al. Inflammasome-driven catecholamine catabolism in macrophages blunts lipolysis during ageing. Nature. 2017;550:119–23.

41.

Jiang D, Chen S, Sun R, Zhang X, Wang D. The NLRP3 inflammasome: Role in metabolic disorders and regulation by metabolic pathways. Cancer Lett. 2018;419:8–19.

42.

Liu XJ, Liu C, Zhu LY, Fan CL, Niu C, Liu XP, et al. Hepalatide ameliorated progression of nonalcoholic steatohepatitis in mice. Biomed Pharmacother. 2020;126:110053.

43.

Prakash S, Rai U, Kosuru R, Tiwari V, Singh S. Amelioration of diet-induced metabolic syndrome and fatty liver with sitagliptin via regulation of adipose tissue inflammation and hepatic Adiponectin/AMPK levels in mice. Biochimie. 2020;168:198–209.

44.

Vandanmagsar B, Youm YH, Ravussin A, Galgani JE, Stadler K, Mynatt RL, et al. The NLRP3 inflammasome instigates obesity-induced inflammation and insulin resistance. Nat Med. 2011;17:179–88.

45.

Kotas ME, Jurczak MJ, Annicelli C, Gillum MP, Cline GW, Shulman GI, et al. Role of caspase-1 in regulation of triglyceride metabolism. Proc Natl Acad Sci USA. 2013;110:4810–5.

46.

Smith U. Impaired ('diabetic') insulin signaling and action occur in fat cells long before glucose intolerance–is insulin resistance initiated in the adipose tissue? Int J Obes Relat Metab Disord. 2002;26:897–904.

47.

Vergadi E, Ieronymaki E, Lyroni K, Vaporidi K, Tsatsanis C. Akt Signaling Pathway in Macrophage Activation and M1/M2 Polarization. J Immunol. 2017;198:1006–14.

48.

Zhong S, Zhao L, Wang Y, Zhang C, Liu J, Wang P, et al. Cluster of differentiation 36 deficiency aggravates macrophage infiltration and hepatic inflammation by upregulating monocyte chemotactic protein-1 expression of hepatocytes through histone deacetylase 2-dependent pathway. Antioxid Redox Signal. 2017;27:201–14.

49.

Schuster S, Cabrera D, Arrese M, Feldstein AE. Triggering and resolution of inflammation in NASH. Nat Rev Gastroenterol Hepatol. 2018;15:349–64.

50.

Sun L, Ma W, Gao W, Xing Y, Chen L, Xia Z, et al. Propofol directly induces caspase-1-dependent macrophage pyroptosis through the NLRP3-ASC inflammasome. Cell Death Dis. 2019;10:542.

51.

de Castro-Jorge LA, de Carvalho RVH, Klein TM, Hiroki CH, Lopes AH, Guimaraes RM, et al. The NLRP3 inflammasome is involved with the pathogenesis of Mayaro virus. PLoS Pathog. 2019;15:e1007934.
Acknowledgements
The authors are in debt to Associate Prof. Si Zhang in the Dept. of Biochemistry and Molecular Biology for providing the NLRP3 knock-out mice, and Prof. Xiuping Liu in the Dept. Pathology and Laboratory Medicine, School of Basic Medical Sciences, Fudan University for her generous assistance in pathologic evaluation of NAFLD activity score in H&E stained sections. The authors are grateful for technical assistance from the Technology Platform of Fudan University School of Basic Medical Sciences for the use of confocal microscope in this study.
Funding
This work is supported by the National Key R&D Program of China (#2016YFE0107400), the National Natural Science Foundation of China (NSFC #81272436, 81572356, 81871997), Shanghai Commission of Sciences and Technologies (#16140903700) to JW.
Ethics declarations
Conflict of interest
The authors declare that they have no conflict of interest.
Additional information
Publisher's note Springer Nature remains neutral with regard to jurisdictional claims in published maps and institutional affiliations.
Supplementary information
About this article
Cite this article
Zhu, LY., Liu, C., Li, ZR. et al. NLRP3 deficiency did not attenuate NASH development under high fat calorie diet plus high fructose and glucose in drinking water. Lab Invest (2021). https://doi.org/10.1038/s41374-021-00535-3
Received:

Revised:

Accepted:

Published: