Abstract
Lung cancer is an aggressive disease and the leading cause of cancer-related deaths worldwide. In the past several decades, the incidence of adenocarcinoma has significantly increased, and accounts for ~40% of all lung cancer cases. In the present study, we investigated the clinicopathologic significance of microRNA-130b (miR-130b) in lung adenocarcinoma and analyzed its cancer-specific functions. RNA was extracted from formalin-fixed paraffin-embedded specimens of 146 lung adenocarcinoma cases, and miR-130b expression was analyzed using quantitative real-time polymerase chain reaction. NCI-H1650 cells were transfected with miR-130b mimic and inhibitor to determine its effects on tumor cell proliferation, migration, and invasion. The expression of miR-130b in lung adenocarcinoma tissues was classified into two groups according to the median value. High expression of miR-130b was associated with higher histological grade, advanced pathologic T stage, lymph node metastasis, and lymphovascular invasion. Moreover, survival analysis showed that high miR-130b expression was significantly associated with unfavorable prognosis. In addition, miR-130b upregulation promoted cell migration and invasion, while its downregulation resulted in decreased cell proliferation, migration, and wound healing in in vitro experiments. In conclusion, these findings suggest that miR-130b promotes tumor progression and serves as a biomarker of poor prognosis for patients with lung adenocarcinoma. Hence, targeting miR-130b may serve as a potential therapeutic strategy for lung cancer.
Access options
Subscribe to Journal
Get full journal access for 1 year
$499.00
only $41.58 per issue
All prices are NET prices.
VAT will be added later in the checkout.
Rent or Buy article
Get time limited or full article access on ReadCube.
from$8.99
All prices are NET prices.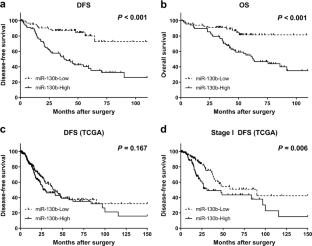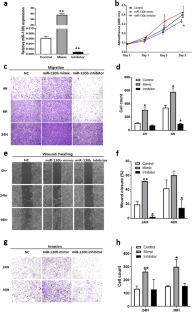 References
1.

Bray F, Ferlay J, Soerjomataram I, Siegel RL, Torre LA, Jemal A. Global cancer statistics 2018: GLOBOCAN estimates of incidence and mortality worldwide for 36 cancers in 185 countries. CA Cancer J Clin. 2018;68:394–424.

2.

Duma N, Santana-Davila R, Molina JR. Non-small cell lung cancer: epidemiology, screening, diagnosis, and treatment. Mayo Clin Proc. 2019;94:1623–40.

3.

Arbour KC, Riely GJ. Systemic therapy for locally advanced and metastatic non-small cell lung cancer: a review. JAMA. 2019;322:764–74.

4.

Bartel DP. MicroRNAs: genomics, biogenesis, mechanism, and function. Cell. 2004;116:281–97.

5.

Orellana EA, Kasinski AL. MicroRNAs in cancer: a historical perspective on the path from discovery to therapy. Cancers. 2015;7:1388–405.

6.

Calin GA, Croce CM. MicroRNA signatures in human cancers. Nat Rev Cancer. 2006;6:857–66.

7.

Kobayashi H, Tomari Y. RISC assembly: coordination between small RNAs and argonaute proteins. Biochim Biophys Acta. 2016;1859:71–81.

8.

Wen D, Danquah M, Chaudhary AK, Mahato RI. Small molecules targeting microRNA for cancer therapy: promises and obstacles. J Control Release. 2015;219:237–47.

9.

Li J, Yang J, Zhou P, Le Y, Zhou C, Wang S, et al. Circular RNAs in cancer: novel insights into origins, properties, functions and implications. Am J Cancer Res. 2015;5:472–80.

10.

Zaravinos A. The regulatory role of microRNAs in EMT and cancer. J Oncol. 2015;2015:865816.

11.

Lan H, Lu H, Wang X, Jin H. MicroRNAs as potential biomarkers in cancer: opportunities and challenges. Biomed Res Int. 2015;2015:125094.

12.

Osaki M, Okada F, Ochiya T. miRNA therapy targeting cancer stem cells: a new paradigm for cancer treatment and prevention of tumor recurrence. Ther Deliv. 2015;6:323–37.

13.

Lu J, Getz G, Miska EA, Alvarez-Saavedra E, Lamb J, Peck D, et al. MicroRNA expression profiles classify human cancers. Nature. 2005;435:834–8.

14.

Di Leva G, Croce CM. miRNA profiling of cancer. Curr Opin Genet Dev. 2013;23:3–11.

15.

Egawa H, Jingushi K, Hirono T, Ueda Y, Kitae K, Nakata W, et al. The miR-130 family promotes cell migration and invasion in bladder cancer through FAK and Akt phosphorylation by regulating PTEN. Sci Rep. 2016;6:20574.

16.

Sheng X, Chen H, Wang H, Ding Z, Xu G, Zhang J, et al. MicroRNA-130b promotes cell migration and invasion by targeting peroxisome proliferator-activated receptor gamma in human glioma. Biomed Pharmacother. 2015;76:121–6.

17.

Yu T, Cao R, Li S, Fu M, Ren L, Chen W, et al. MiR-130b plays an oncogenic role by repressing PTEN expression in esophageal squamous cell carcinoma cells. BMC Cancer. 2015;15:29.

18.

Satterfield L, Shuck R, Kurenbekova L, Allen-Rhoades W, Edwards D, Huang S, et al. miR-130b directly targets ARHGAP1 to drive activation of a metastatic CDC42-PAK1-AP1 positive feedback loop in Ewing sarcoma. Int J Cancer. 2017;141:2062–75.

19.

Tian J, Hu L, Li X, Geng J, Dai M, Bai X. MicroRNA-130b promotes lung cancer progression via PPARgamma/VEGF-A/BCL-2-mediated suppression of apoptosis. J Exp Clin Cancer Res. 2016;35:105.

20.

Li Y, Chen D, Li Y, Jin L, Liu J, Su Z, et al. Identification of miR130b as an oncogene in renal cell carcinoma. Mol Med Rep. 2016;13:1902–8.

21.

Colangelo T, Fucci A, Votino C, Sabatino L, Pancione M, Laudanna C, et al. MicroRNA-130b promotes tumor development and is associated with poor prognosis in colorectal cancer. Neoplasia. 2013;15:1086–99.

22.

Miao Y, Zheng W, Li N, Su Z, Zhao L, Zhou H, et al. MicroRNA-130b targets PTEN to mediate drug resistance and proliferation of breast cancer cells via the PI3K/Akt signaling pathway. Sci Rep. 2017;7:41942.

23.

Zhang Q, Zhang B, Sun L, Yan Q, Zhang Y, Zhang Z, et al. MicroRNA-130b targets PTEN to induce resistance to cisplatin in lung cancer cells by activating Wnt/beta-catenin pathway. Cell Biochem Funct. 2018;36:194–202.

24.

Travis WD, Brambilla E, Burke AP, Marx A, Nicholson AG. Introduction to the 2015 world health organization classification of tumors of the lung, pleura, thymus, and heart. J Thorac Oncol. 2015;10:1240–2.

25.

Goldstraw P, Chansky K, Crowley J, Rami-Porta R, Asamura H, Eberhardt WE, et al. The IASLC lung cancer staging project: proposals for revision of the TNM stage groupings in the forthcoming (eighth) edition of the TNM classification for lung cancer. J Thorac Oncol. 2016;11:39–51.

26.

Liu X, Kong C, Zhang Z. miR-130b promotes bladder cancer cell proliferation, migration and invasion by targeting VGLL4. Oncol Rep. 2018;39:2324–32.

27.

Gu JJ, Fan KC, Zhang JH, Chen HJ, Wang SS. Suppression of microRNA-130b inhibits glioma cell proliferation and invasion, and induces apoptosis by PTEN/AKT signaling. Int J Mol Med. 2018;41:284–92.

28.

Gu JJ, Zhang JH, Chen HJ, Wang SS. MicroRNA-130b promotes cell proliferation and invasion by inhibiting peroxisome proliferator-activated receptor-gamma in human glioma cells. Int J Mol Med. 2016;37:1587–93.

29.

Li B, Liu YH, Sun AG, Huan LC, Li HD, Liu DM. MiR-130b functions as a tumor promoter in glioma via regulation of ERK/MAPK pathway. Eur Rev Med Pharmacol Sci. 2017;21:2840–6.

30.

Xiao ZQ, Yin TK, Li YX, Zhang JH, Gu JJ. miR-130b regulates the proliferation, invasion and apoptosis of glioma cells via targeting of CYLD. Oncol Rep. 2017;38:167–74.

31.

Lv M, Zhong Z, Chi H, Huang M, Jiang R, Chen J. Genome-wide screen of miRNAs and targeting mRNAs reveals the negatively regulatory effect of miR-130b-3p on PTEN by PI3K and integrin beta1 signaling pathways in bladder carcinoma. Int J Mol Sci. 2016;18:78.

32.

Hu XY, Li L, Wu HT, Liu Y, Wang BD, Tang Y. Serum miR-130b level, an ideal marker for monitoring the recurrence and prognosis of primary hepatocellular carcinoma after radiofrequency ablation treatment. Pathol Res Pract. 2018;214:1655–60.

33.

Tu K, Zheng X, Dou C, Li C, Yang W, Yao Y, et al. MicroRNA-130b promotes cell aggressiveness by inhibiting peroxisome proliferator-activated receptor gamma in human hepatocellular carcinoma. Int J Mol Sci. 2014;15:20486–99.

34.

Yi R, Li Y, Wang F, Gu J, Isaji T, Li J, et al. Transforming growth factor (TGF) beta1 acted through miR-130b to increase integrin alpha5 to promote migration of colorectal cancer cells. Tumour Biol. 2016;37:10763–73.

35.

Chen H, Yang Y, Wang J, Shen D, Zhao J, Yu Q. miR-130b-5p promotes proliferation, migration and invasion of gastric cancer cells via targeting RASAL1. Oncol Lett. 2018;15:6361–7.

36.

Lai KW, Koh KX, Loh M, Tada K, Subramaniam MM, Lim XY, et al. MicroRNA-130b regulates the tumour suppressor RUNX3 in gastric cancer. Eur J Cancer. 2010;46:1456–63.

37.

Shui Y, Yu X, Duan R, Bao Q, Wu J, Yuan H, et al. miR-130b-3p inhibits cell invasion and migration by targeting the Notch ligand Delta-like 1 in breast carcinoma. Gene. 2017;609:80–87.

38.

Paudel D, Zhou W, Ouyang Y, Dong S, Huang Q, Giri R, et al. MicroRNA-130b functions as a tumor suppressor by regulating RUNX3 in epithelial ovarian cancer. Gene. 2016;586:48–55.

39.

Sun B, Li L, Ma W, Wang S, Huang C. MiR-130b inhibits proliferation and induces apoptosis of gastric cancer cells via CYLD. Tumour Biol. 2016;37:7981–7.

40.

Chen Q, Zhao X, Zhang H, Yuan H, Zhu M, Sun Q, et al. MiR-130b suppresses prostate cancer metastasis through down-regulation of MMP2. Mol Carcinog. 2015;54:1292–1300.

41.

Zhao G, Zhang JG, Shi Y, Qin Q, Liu Y, Wang B, et al. MiR-130b is a prognostic marker and inhibits cell proliferation and invasion in pancreatic cancer through targeting STAT3. PLoS One. 2013;8:e73803.

42.

Wu Y, Sun W, Kong Y, Liu B, Zeng M, Wang W. Restoration of microRNA-130b expression suppresses osteosarcoma cell malignant behavior in vitro. Oncol Lett. 2018;16:97–104.

43.

Yang L, Wang Y, Shi S, Xie L, Liu T, Wang Y, et al. The TNF-alpha-induced expression of miR-130b protects cervical cancer cells from the cytotoxicity of TNF-alpha. FEBS Open Bio. 2018;8:614–27.

44.

Cui X, Kong C, Zhu Y, Zeng Y, Zhang Z, Liu X, et al. miR-130b, an onco-miRNA in bladder cancer, is directly regulated by NF-kappaB and sustains NF-kappaB activation by decreasing Cylindromatosis expression. Oncotarget. 2016;7:48547–61.

45.

Li P, Wang X, Shan Q, Wu Y, Wang Z. MicroRNA-130b promotes cell migration and invasion by inhibiting peroxisome proliferator-activated receptor-gamma in human glioma. Oncol Lett. 2017;13:2615–22.

46.

Wang WY, Zhang HF, Wang L, Ma YP, Gao F, Zhang SJ, et al. High expression of microRNA-130b correlates with poor prognosis of patients with hepatocellular carcinoma. Diagn Pathol. 2014;9:160.

47.

Li C, Feng Y, Coukos G, Zhang L. Therapeutic microRNA strategies in human cancer. AAPS J. 2009;2009:747–757.
Acknowledgements
This research was supported by Basic Science Research Program through the National Research Foundation of Korea (NRF) funded by the Ministry of Education (NRF-2018R1D1A1B07048798). We would like to thank Sungwoong Kim, Jeongyun Eom, and Jisook Kim (Department of Pathology, Hanyang University Hospital) for their technical assistance.
Ethics declarations
Conflict of interest
The authors declare that they have no conflict of interest.
Additional information
Publisher's note Springer Nature remains neutral with regard to jurisdictional claims in published maps and institutional affiliations.
About this article
Cite this article
Kim, Y., Kim, H., Bang, S. et al. MicroRNA-130b functions as an oncogene and is a predictive marker of poor prognosis in lung adenocarcinoma. Lab Invest (2020). https://doi.org/10.1038/s41374-020-00496-z
Received:

Revised:

Accepted:

Published: