Abstract
Nasal continuous positive airway pressure (nCPAP) is a safe, effective, non-invasive respiratory modality to deliver positive end expiratory pressure in neonates. Many studies have established its associated improved respiratory outcomes without increase in major morbidities associated with preterm neonates. In contrast, there is paucity in literature addressing complications such as nasal injury, abdominal distention, air leak syndromes (especially pneumothorax), hearing loss, heat and chemical burns, swallowing and aspiration of small components of the nasal interface and delay in escalation of respiratory support associated with the use of nCPAP, most frequently due to its incorrect use. This is a comprehensive review that seeks to address the different complications that are associated with the incorrect use of nCPAP highlighting that these are operator-related and not device-related.
Access options
Subscribe to this journal
Receive 12 print issues and online access
$259.00 per year
only $21.58 per issue
Rent or buy this article
Prices vary by article type
from$1.95
to$39.95
Prices may be subject to local taxes which are calculated during checkout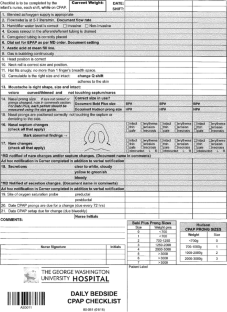 References
Morley CJ, Davis PG, Doyle LW, Brion LP, Hascoet JM, Carlin JB, et al. Nasal CPAP or intubation at birth for very preterm infants. N Engl J Med. 2008;358:700–8.

Tapia JL, Urzua S, Bancalari A, Meritano J, Torres G, Fabres J, et al. Randomized trial of early bubble continuous positive airway pressure for very low birth weight infants. J Pediatr. 2012;161:75–80.e1.

Carlo WA. Gentle ventilation: the new evidence from the SUPPORT, COIN, VON, CURPAP, Colombian Network, and Neocosur Network trials. Early Hum Dev. 2012;88:S81–3.

Van Marter LJ, Allred EN, Pagano M, Sanocka U, Parad R, Moore M, et al. Do clinical markers of barotrauma and oxygen toxicity explain interhospital variation in rates of chronic lung disease? The Neonatology committee for the developmental network. Pediatrics. 2000;105:1194–201.

Aly H, Mohamed MA. An experience with a bubble CPAP bundle: Is chronic lung disease preventable? Pediatr Res. 2020;88:444–50.

Hoffman SB. Noninvasive respiratory support for the premature infant: Choosing the optimum interface. Respir Care. 2018;63:1314–5.

Evans NJ, Rutter N. Development of the epidermis in the newborn. Biol Neonate. 1986;49:74–80.

Edsberg LE, Black JM, Goldberg M, McNichol L, Moore L, Sieggreen M. Revised national pressure ulcer advisory panel pressure injury staging system: Revised pressure injury staging system. J Wound Ostomy Cont Nurs. 2016;43:585–97.

Willock J, Hughes J, Tickle S, Rossiter G, Johnson C, Pye H. Pressure sores in children-the acute hospital perspective. J Tissue Viability. 2000;10:59–62.

Baharestani MM, Ratliff CR. Pressure ulcers in neonates and children: An NPUAP white paper. Adv Ski Wound Care. 2007;20:18–20.

Lund CH, Osborne JW, Kuller J, Lane AT, Lott JW, Raines DA. Neonatal skin care: Clinical outcomes of the AWHONN/NANN evidence-based clinical practice guideline. Association of Women's Health, Obstetric and neonatal nurses and the national association of neonatal nurses. J Obstet Gynecol Neonatal Nurs. 2001;30:41–51.

Huffines B, Logsdon MC. The neonatal skin risk assessment scale for predicting skin breakdown in neonates. Issues Compr Pediatr Nurs. 1997;20:103–14.

Lawrence C, Mohr LD, Geistkemper A, Murphy S, Fleming K. Sustained reduction of nasal pressure injuries in the neonatal intensive care unit with the use of bubble continuous positive airway pressure: A quality improvement project. J Wound Ostomy Cont Nurs. 2021;48:101–7.

Yong SC, Chen SJ, Boo NY. Incidence of nasal trauma associated with nasal prong versus nasal mask during continuous positive airway pressure treatment in very low birthweight infants: a randomised control study. Arch Dis Child Fetal Neonatal Ed. 2005;90:F480–3.

Imbulana DI, Owen LS, Dawson JA, Bailey JL, Davis PG, Manley BJ. A randomized controlled trial of a barrier dressing to reduce nasal injury in preterm infants receiving binasal noninvasive respiratory support. J Pediatr. 2018;201:34–9 e3.

Xie LH. Hydrocolloid dressing in preventing nasal trauma secondary to nasal continuous positive airway pressure in preterm infants. World J Emerg Med. 2014;5:218–22.

Bashir T, Murki S, Kiran S, Reddy VK, Oleti TP. 'Nasal mask' in comparison with 'nasal prongs' or 'rotation of nasal mask with nasal prongs' reduce the incidence of nasal injury in preterm neonates supported on nasal continuous positive airway pressure (nCPAP): A randomized controlled trial. PLoS One. 2019;14:e0211476.

Aly H, Milner JD, Patel K, El-Mohandes AA. Does the experience with the use of nasal continuous positive airway pressure improve over time in extremely low birth weight infants? Pediatrics. 2004;114:697–702.

Hong H, Li XX, Li J, Zhang ZQ. High-flow nasal cannula versus nasal continuous positive airway pressure for respiratory support in preterm infants: A meta-analysis of randomized controlled trials. J Matern Fetal Neonatal Med. 2021;34:259–66.

Milligan PS. GM: Implementation of an evidence-based non-invasive respiratory support (NIRS) bundle in the NICU to decrease nasal injury complications. J Neo Nurs. 2017;23:89–98.

Fischer C, Bertelle V, Hohlfeld J, Forcada-Guex M, Stadelmann-Diaw C, Tolsa JF. Nasal trauma due to continuous positive airway pressure in neonates. Arch Dis Child Fetal Neonatal Ed. 2010;95:F447–51.

Massa-Buck B, Sherwood, A, Ghazirad, M, Okito, O, Morris, H, Rastogi, S. Preventing Nasal Septum Injury in VLBW Infants on Bubble CPAP. APS-SPR annual conference. Denver, CO, 2022.

Jaile JC, Levin T, Wung JT, Abramson SJ, Ruzal-Shapiro C, Berdon WE. Benign gaseous distension of the bowel in premature infants treated with nasal continuous airway pressure: a study of contributing factors. AJR Am J Roentgenol. 1992;158:125–7.

Mohamed MA, Teumer KK, Leone M, Akram N, Rahamn MH, Abdelatif D, et al. Cue-based feeding as intervention to achieve full oral feeding in preterm infants primarily managed with bubble CPAP. Am J Perinatol. 2023;40:766–72.

de Waard M, Li Y, Zhu Y, Ayede AI, Berrington J, Bloomfield FH, et al. Time to Full Enteral Feeding for Very Low-Birth-Weight Infants Varies Markedly Among Hospitals Worldwide But May Not Be Associated With Incidence of Necrotizing Enterocolitis: The NEOMUNE-NeoNutriNet Cohort Study. JPEN J Parenter Enter Nutr. 2019;43:658–67.

Hlaing AY, Weinberger B, Schanler R, Cerise J, Kurepa D. Ultrasound assessment of gastric emptying in premature infants treated with non-invasive ventilatory support. J Pediatr Gastroenterol Nutr. 2021;73:197–202.

Dani C. Nasal continuous positive airway pressure and high-flow nasal cannula today. Clin Perinatol. 2021;48:711–24.

Glackin SJ, O'Sullivan A, George S, Semberova J, Miletin J. High flow nasal cannula versus NCPAP, duration to full oral feeds in preterm infants: a randomised controlled trial. Arch Dis Child Fetal Neonatal Ed. 2017;102:F329–F32.

Aly H, Massaro AN, El-Mohandes AA. Can delivery room management impact the length of hospital stay in premature infants? J Perinatol. 2006;26:593–6.

Priyadarshini AHM, Badawi N, Luig M, Tracy M. Continuous positive airway pressure belly syndrome: Challenges of a changing paradigm. Int J Clin Pediatr. 2020;9:9–15.

Aly H, Massaro AN, Hammad TA, Narang S, Essers J. Early nasal continuous positive airway pressure and necrotizing enterocolitis in preterm infants. Pediatrics. 2009;124:205–10.

McGill VE. Neonatal abdominal support to address CPAP belly: Two cases report and literature review. J Neonatal Perinat Med. 2022;15:831–6.

Macklin MTMC. Malignant interstitial emphysema of the lungs and mediastinum as an important occult complication in many respiratory diseases and other conditions: an interpretation of the clinical literature in the light of laboratory experiment. Medicine. 1945;23:281–358.

Murayama S, Gibo S. Spontaneous pneumomediastinum and Macklin effect: Overview and appearance on computed tomography. World J Radio. 2014;6:850–4.

Finer NN, Carlo WA, Walsh MC, Rich W, Gantz MG, Laptook AR, et al. Early CPAP versus surfactant in extremely preterm infants. N Engl J Med. 2010;362:1970–9.

Dunn MS, Kaempf J, de Klerk A, de Klerk R, Reilly M, Howard D, et al. Randomized trial comparing 3 approaches to the initial respiratory management of preterm neonates. Pediatrics. 2011;128:e1069–76.

Toro-Huamanchumo CJ, Hilario-Gomez MM, Diaz-Reyes N, Caballero-Alvarado JA, Barboza JJ. The efficacy of CPAP in neonates with meconium aspiration syndrome: A systematic review and meta-analysis. Child (Basel). 2022;9:589.

Gupta A, Rastogi S, Sahni R, Bhutada A, Bateman D, Rastogi D, et al. Inhaled nitric oxide and gentle ventilation in the treatment of pulmonary hypertension of the newborn-a single-center, 5-year experience. J Perinatol. 2002;22:435–41.

Donda, K, Babu, S, Rastogi, D, Rastogi, S. Risk factors for pneumothorax and its relationshio with ventilation in neonates. Am J Perinatol (accepted) 2023.

Olicker AL, Raffay TM, Ryan RM. Neonatal respiratory distress secondary to meconium aspiration syndrome. Child (Basel). 2021;8:246.

Banner MJ, Lampotang S, Boysen PG, Hurd TE, Desautels DA. Flow resistance of expiratory positive-pressure valve systems. Chest. 1986;90:212–7.

Pillow JJ, Travadi JN. Bubble CPAP: Is the noise important? An in vitro study. Pediatr Res. 2005;57:826–30.

Zimmerman E, Lahav A. Ototoxicity in preterm infants: Effects of genetics, aminoglycosides, and loud environmental noise. J Perinatol. 2013;33:3–8.

Surenthiran SS, Wilbraham K, May J, Chant T, Emmerson AJ, Newton VE. Noise levels within the ear and post-nasal space in neonates in intensive care. Arch Dis Child Fetal Neonatal Ed. 2003;88:F315–8.

Noise: a hazard for the fetus and newborn. American academy of pediatrics. Committee on environmental health. Pediatrics. 1997;100:724–7.

Rastogi S, Mikhael M, Filipov P, Rastogi D. Effects of ventilation on hearing loss in preterm neonates: Nasal continuous positive pressure does not increase the risk of hearing loss in ventilated neonates. Int J Pediatr Otorhinolaryngol. 2013;77:402–6.

Orita Y, Sando I, Miura M, Hasebe S. Postnatal changes in the connective tissue in the region lateral to the eustachian tube: possible relationship to tube function. Ann Otol Rhinol Laryngol. 2003;112:716–21.

Orita Y, Sando I, Hasebe S, Miura M. Postnatal change on the location of Ostmann's fatty tissue in the region lateral to Eustachian tube. Int J Pediatr Otorhinolaryngol. 2003;67:1105–12.

Orita Y, Sando I, Hirsch BE, Miura M, Hasebe S, Balaban CD. Postnatal development of the eustachian tube glands. Laryngoscope. 2002;112:1647–52.

Choi H, Lee J, Song J. Steam burn on nose by heated, humidified high-flow nasal cannula in neonate. Int Wound J. 2016;13:1087–8.

Fau S, Baud O, Rimensberger P. Heated humidifiers for noninvasive respiratory support and the risk of burns in neonates: A Bench evaluation. Respir Care. 2021;66:1398–405.

Jain A, Sathenahalli VB. Unique injury due to reuse of CPAP cannula. Indian Pediatr. 2015;52:161.

Peck DJ, Tulloh RM, Madden N, Petros AJ. A wandering nasal prong-a thing of risks and problems. Paediatr Anaesth. 1999;9:77–9.

Rastogi S, Wong W, Gupta A, Bhutada A, Deepa R, Maimonides Neonatal G. Gradual versus sudden weaning from nasal CPAP in preterm infants: A pilot randomized controlled trial. Respir Care. 2013;58:511–6.

Amatya S, Macomber M, Bhutada A, Rastogi D, Rastogi S. Sudden versus gradual pressure wean from Nasal CPAP in preterm infants: A randomized controlled trial. J Perinatol. 2017;37:662–7.

Amatya S, Rastogi D, Bhutada A, Rastogi S. Weaning of nasal CPAP in preterm infants: Who, when and how? A systematic review of the literature. World J Pediatr. 2015;11:7–13.
Ethics declarations
Competing interests
The authors declare no competing interests.
Additional information
Publisher's note Springer Nature remains neutral with regard to jurisdictional claims in published maps and institutional affiliations.
Rights and permissions
Springer Nature or its licensor (e.g. a society or other partner) holds exclusive rights to this article under a publishing agreement with the author(s) or other rightsholder(s); author self-archiving of the accepted manuscript version of this article is solely governed by the terms of such publishing agreement and applicable law.
About this article
Cite this article
Massa-Buck, B., Rastogi, D. & Rastogi, S. Complications associated with incorrect use of nasal CPAP. J Perinatol 43, 975–981 (2023). https://doi.org/10.1038/s41372-023-01700-w
Received:

Revised:

Accepted:

Published:

Issue Date:

DOI: https://doi.org/10.1038/s41372-023-01700-w