Abstract
Objective
We studied the reliability and validity of the COMFORTneo scale, designed to measure neonatal prolonged pain.
Study design
This prospective observational study evaluated four clinimetric properties of the COMFORTneo scale from NICU nurses' assessments of neonates' pain. Intra-rater reliability was determined from three video fragments at two time points. Inter-rater reliability and construct validity were determined in five neonates per nurse with the COMFORTneo and numeric rating scales (NRS) for pain and distress. Pain scores using N-PASS were correlated with COMFORTneo scores to further evaluate construct validity.
Result
Intra-rater reliability: Twenty-two nurses assessed pain twice with an intraclass correlation coefficient (ICC) of 0.70. Inter-rater reliability: The ICC for 310 COMFORTneo scores together with 62 nurses was 0.93. Construct validity: Correlation between COMFORTneo and NRS pain, distress, and N-PASS was 0.34, 0.72, and 0.70, respectively.
Conclusion
The COMFORTneo can be used to reliably and validly assess pain in NICU patients.
Access options
Subscribe to this journal
Receive 12 print issues and online access
$259.00 per year
only $21.58 per issue
Rent or buy this article
Prices vary by article type
from$1.95
to$39.95
Prices may be subject to local taxes which are calculated during checkout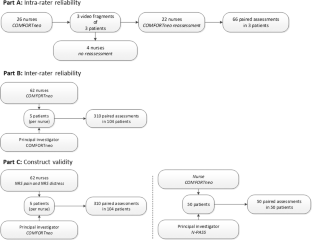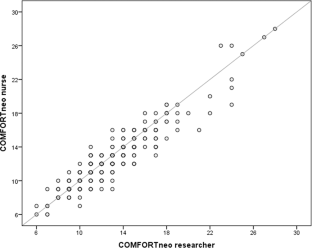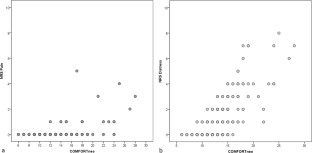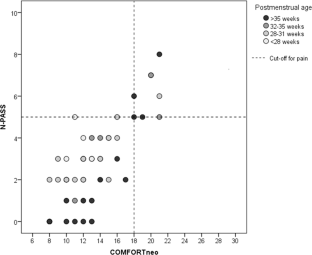 Data availability
The datasets generated and analyzed during the current study are available from the corresponding author upon reasonable request.
References
Vinall J, Grunau RE. Impact of repeated procedural pain-related stress in infants born very preterm. Pediatr Res. 2014;75:584–7.

Vinall J, Miller SP, Bjornson BH, Fitzpatrick KP, Poskitt KJ, Brant R, et al. Invasive procedures in preterm children: brain and cognitive development at school age. Pediatrics. 2014;133:412–21.

Brummelte S, Grunau RE, Chau V, Poskitt KJ, Brant R, Vinall J, et al. Procedural pain and brain development in premature newborns. Ann Neurol. 2012;71:385–96.

Ranger M, Grunau RE. Early repetitive pain in preterm infants in relation to the developing brain. Pain Manag. 2014;4:57–67.

Valeri BO, Holsti L, Linhares MB. Neonatal pain and developmental outcomes in children born preterm: a systematic review. Clin J Pain. 2015;31:355–62.

Cong X, Wu J, Vittner D, Xu W, Hussain N, Galvin S, et al. The impact of cumulative pain/stress on neurobehavioral development of preterm infants in the NICU. Early Hum Dev. 2017;108:9–16.

Wielenga JM, Tume LN, Latour JM, van den Hoogen A. European neonatal intensive care nursing research priorities: an e-Delphi study. Arch Dis Child Fetal Neonatal Ed. 2015;100:F66–71.

Cong X, McGrath JM, Cusson RM, Zhang D. Pain assessment and measurement in neonates: an updated review. Adv Neonatal Care. 2013;13:379–95.

Manworren RC, Stinson J. Pediatric pain measurement, assessment, and evaluation. Semin Pediatr Neurol. 2016;23:189–200.

Herr K, Coyne PJ, McCaffery M, Manworren R, Merkel S. Pain assessment in the patient unable to self-report: position statement with clinical practice recommendations. Pain Manag Nurs. 2011;12:230–50.

Ranger M, Johnston CC, Anand KJ. Current controversies regarding pain assessment in neonates. Semin Perinatol. 2007;31:283–8.

Giordano V, Edobor J, Deindl P, Wildner B, Goeral K, Steinbauer P, et al. Pain and sedation scales for neonatal and pediatric patients in a preverbal stage of development: a systematic review. JAMA Pediatr. 2019;173:1186–97.

Anand KJS. Defining pain in newborns: need for a uniform taxonomy? Acta Paediatr. 2017;106:1438–44.

Anand KJS, Eriksson M, Boyle EM, Avila-Alvarez A, Andersen RD, Sarafidis K, et al. Assessment of continuous pain in newborns admitted to NICUs in 18 European countries. Acta Paediatr. 2017;106:1248–59.

Pillai Riddell RR, Stevens BJ, McKeever P, Gibbins S, Asztalos L, Katz J, et al. Chronic pain in hospitalized infants: health professionals' perspectives. J Pain. 2009;10:1217–25.

van Dijk M, Roofthooft DW, Anand KJ, Guldemond F, de Graaf J, Simons S, et al. Taking up the challenge of measuring prolonged pain in (premature) neonates: the COMFORTneo scale seems promising. Clin J Pain. 2009;25:607–16.

Dekker J, Lopriore E, van Zanten HA, Tan R, Hooper SB, Te Pas AB. Sedation during minimal invasive surfactant therapy: a randomised controlled trial. Arch Dis Child Fetal Neonatal Ed. 2019;104:F378–F83.

Stenkjaer RL, Pedersen PU, Hundrup YA, Weis J. Evaluation of NICU Nurses' Competence in Pain Assessment 5 Years After Implementation of the COMFORTneo Scale. Adv Neonatal Care. 2019;19:409–15.

Kahraman A, Başbakkal Z, Yalaz M, Sözmen EY. The effect of nesting positions on pain, stress and comfort during heel lance in premature infants. Pediatr Neonatol. 2018;59:352–9.

van Dokkum NH, Jaschke AC, Ravensbergen AG, Reijneveld SA, Hakvoort L, de Kroon MLA, et al. Feasibility of live-performed music therapy for extremely and very preterm infants in a tertiary NICU. Front Pediatr. 2020;8:581372.

Buldur E, Yalcin Baltaci N, Terek D, Yalaz M, Altun Koroglu O, Akisu M, et al. Comparison of the finger feeding method versus syringe feeding method in supporting sucking skills of preterm babies. Breastfeed Med. 2020;15:703–8.

de Vet HC, Terwee CB, Mokkink LB, Knol DL. Measurement in medicine. New York: Cambridge University Press; 2011.

Hall RW. Anesthesia and analgesia in the NICU. Clin Perinatol. 2012;39:239–54.

Hummel P, Puchalski M, Creech SD, Weiss MG. Clinical reliability and validity of the N-PASS: neonatal pain, agitation and sedation scale with prolonged pain. J Perinatol. 2008;28:55–60.

Hummel P, Lawlor-Klean P, Weiss MG. Validity and reliability of the N-PASS assessment tool with acute pain. J Perinatol. 2010;30:474–8.

Mokkink LB, Terwee CB, Patrick DL, Alonso J, Stratford PW, Knol DL, et al. The COSMIN checklist for assessing the methodological quality of studies on measurement properties of health status measurement instruments: an international Delphi study. Qual Life Res. 2010;19:539–49.

Prinsen CAC, Mokkink LB, Bouter LM, Alonso J, Patrick DL, de Vet HCW, et al. COSMIN guideline for systematic reviews of patient-reported outcome measures. Qual Life Res. 2018;27:1147–57.

Mokkink LB, Terwee CB, Knol DL, Stratford PW, Alonso J, Patrick DL, et al. The COSMIN checklist for evaluating the methodological quality of studies on measurement properties: a clarification of its content. BMC Med Res Methodol. 2010;10:22.

Polkki T, Korhonen A, Axelin A, Saarela T, Laukkala H. Development and preliminary validation of the Neonatal Infant Acute Pain Assessment Scale (NIAPAS). Int J Nurs Stud. 2014;51:1585–94.

Cignacco E, Mueller R, Hamers JP, Gessler P. Pain assessment in the neonate using the Bernese Pain Scale for Neonates. Early Hum Dev. 2004;78:125–31.

Black RE, Lord S, Wright IMR. The premature infant pain profile (PIPP) scores-who does them counts. J Paediatr Child Health. 2014;50:71.

Ilhan E, Pacey V, Brown L, Spence K, van Ganzewinkel C-J, Pillai Riddell R, et al. What is the definition of acute episodic and chronic pain in critically ill neonates and infants? A global, four-stage consensus and validation study. BMJ Open. 2022;12:e055255.

DiLorenzo M, Pillai Riddell R, Holsti L. Beyond acute pain: understanding chronic pain in infancy. Child. 2016;3:26.

Jones L, Fabrizi L, Laudiano-Dray M, Whitehead K, Meek J, Verriotis M, et al. Nociceptive cortical activity is dissociated from nociceptive behavior in newborn human infants under stress. Curr Biol. 2017;27:3846–51.e3.

van Dijk M, Tibboel D. Update on pain assessment in sick neonates and infants. Pediatr Clin North Am. 2012;59:1167–81.

Meesters N, Dilles T, Simons S, van Dijk M. Do pain measurement instruments detect the effect of pain-reducing interventions in neonates? A systematic review on responsiveness. J Pain. 2019;20:760–70.

Slater R, Cornelissen L, Fabrizi L, Patten D, Yoxen J, Worley A, et al. Oral sucrose as an analgesic drug for procedural pain in newborn infants: a randomised controlled trial. Lancet. 2010;376:1225–32.

Pillai Riddell R, Fitzgerald M, Slater R, Stevens B, Johnston C, Campbell-Yeo M. Using only behaviours to assess infant pain: a painful compromise? Pain. 2016;157:1579–80.
Ethics declarations
Competing interests
The authors declare no competing financial interests
Additional information
Publisher's note Springer Nature remains neutral with regard to jurisdictional claims in published maps and institutional affiliations.
Rights and permissions
Springer Nature or its licensor (e.g. a society or other partner) holds exclusive rights to this article under a publishing agreement with the author(s) or other rightsholder(s); author self-archiving of the accepted manuscript version of this article is solely governed by the terms of such publishing agreement and applicable law.
About this article
Cite this article
Meesters, N.J., Dilles, T., van Rosmalen, J. et al. COMFORTneo scale: a reliable and valid instrument to measure prolonged pain in neonates?. J Perinatol 43, 595–600 (2023). https://doi.org/10.1038/s41372-023-01628-1
Received:

Revised:

Accepted:

Published:

Issue Date:

DOI: https://doi.org/10.1038/s41372-023-01628-1