Abstract
Objective
Pulmonary hemorrhage is a rare but severe complication of extremely low birth weight (ELBW) infants. The association of hemodynamically significant patent ductus arteriosus (hsPDA) and the diameter of the foramen ovale (FO) with pulmonary hemorrhage has not been reported.
Study Design
Case control study of ELBW infants with and without pulmonary hemorrhage. Each ELBW infant with an echocardiogram within 48 h of pulmonary hemorrhage was analyzed.
Result
16 infants with pulmonary hemorrhage were matched with 32 controls by birth weight and gestational age. Echocardiogram showed hsPDA in all infants and those with pulmonary hemorrhage had significantly smaller patent FO [PFO] (1 vs 2.4 mm, p < 0.01) (OR 0.007; 95% CI 0.00007, 0.67 p = 0.03). Incidence of pulmonary hemorrhage was 8.9%.
Conclusion
ELBW infants with hsPDA who experienced pulmonary hemorrhage had a significantly restricted or closed FO. Evaluation of FO should be considered with serial echocardiograms when evaluating for hsPDA.
Access options
Subscribe to Journal
Get full journal access for 1 year
$119.00
only $9.92 per issue
All prices are NET prices.
VAT will be added later in the checkout.
Tax calculation will be finalised during checkout.
Buy article
Get time limited or full article access on ReadCube.
$32.00
All prices are NET prices.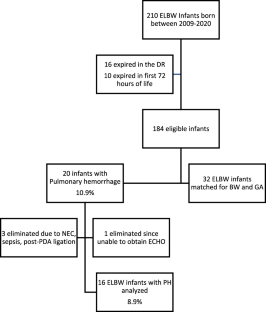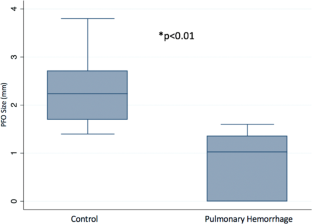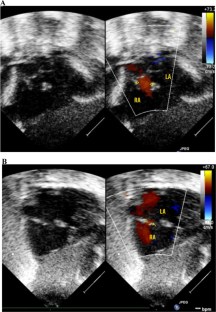 Data availability
The authors confirm that the data supporting the findings of this study are available within the article.
References
Tomaszewska M, Stork E, Minich NM, Friedman H, Berlin S, Hack M. Pulmonary hemorrhage: clinical course and outcomes among very low-birth-weight infants. Arch Pediatr Adolesc Med. 1999;153:715–21.

Su B-H, Lin H-Y, Huang F-K, Tsai M-L. Pulmonary hemorrhage in very-low-birth-weight infants. Pediatr Neonatol. 2014;55:326–7.

Ferreira CH, Carmona F, Martinez FE. Prevalence, risk factors and outcomes associated with pulmonary hemorrhage in newborns. J Pediatr. 2014;90:316–22.

Kluckow M, Evans N. Ductal shunting, high pulmonary blood flow, and pulmonary hemorrhage. J Pediatr. 2000;137:68–72.

Yen TA, Wang CC, Hsieh WH, Chou HC, Chen CY, Tsao PN. Short-term outcome of pulmonary hemorrhage in very-low-birth-weight preterm infants. Pediatr Neonatol. 2013;54:331.

Cole VA, Normand IC, Reynolds EO, Rivers RP. Pathogenesis of hemorrhagic pulmonary edema and massive pulmonary hemorrhage in the newborn. Pediatrics 1973;51:175–87.

Hagen PT, Scholz DG, Edwards WD. Incidence and size of patent foramen ovale during the first 10 decades of life: An autopsy study of 965 normal hearts. Mayo Clin Proc. 1984;59:17–20.

Hari P, Pai RG, Varadarajan P. Echocardiographic evaluation of patent foramen ovale and atrial septal defect. Echocardiography 2015;32:S110–24.

Markhorst DG, Rothuis E, Sobotka-Plojhar M, Moene RJ. Transient foramen ovale incompetence in the normal newborn: an echocardiographic study. Eur J Pediatr. 1995;154:667–71.

Lee C, Lim G, Kim WS, Han HS. Clinical characteristics and outcome of incidental atrial septal openings in very low birth weight infants. Neonatology 2014;105:85–90.

Kappico JM, Siassi B, Ebrahimi M, Ramanathan R. Pulmonary Venous Congestion and Pulmonary Hemorrhage in an Extremely Premature Neonate with a Large Patent Ductus Arteriosus and Closed Patent Foramen Ovale: A Case Report. J Investig Med High Impact Case Rep. 2020;8:2324709620982430.

Polat TB, Celik IH, Erdeve O. Early predictive echocardiographic features of hemodynamically significant patent ductus arteriosus in preterm VLBW infants: Indicators of PDA in preterm VLBW infants. Pediatr Int. 2016;58:589–94.

Shennan AT, Dunn MS, Ohlsson A, Lennox K, Hoskins EM. Abnormal pulmonary outcomes in premature infants: prediction from oxygen requirement in the neonatal period. Pediatrics 1988;82:527–32.

Bell MJ, Ternberg JL, Feigin RD, Keating JP, Marshall R, Barton L, et al. Neonatal necrotizing enterocolitis. Therapeutic decisions based upon clinical staging. Ann Surg. 1978;187:1–7.

Papile L-A, Burstein J, Burstein R, Koffler H. Incidence and evolution of subependymal and intraventricular hemorrhage: A study of infants with birth weights less than 1500 gm. J Pediatr. 1978;92:529–34.

Evans N, Iyer P. Incompetence of the foramen ovale in preterm infants supported by mechanical ventilation. J Pediatr. 1994;125:786–92.

Bhat R, Das UG. Management of patent ductus arteriosus in premature infants. Indian J Pediatr. 2015;82:53–60.

Richard JM, Avroy AF, Michele CW, Fanaroff and Martin's neonatal-perinatal medicine: diseases of the fetus and infant. Philadelphia, PA: Elsevier/Saunders, 2015, pp 1339.

Su B-H, Lin H-Y, Huang F-K, Tsai M-L, Huang Y-T. Circulatory management focusing on preventing intraventricular hemorrhage and pulmonary hemorrhage in preterm infants. Pediatr Neonatol. 2016;57:453–62.

Gupta U, Abdulla R-I, Bokowski J. Benign outcome of pulmonary hypertension in neonates with a restrictive patent foramen ovale versus result for neonates with an unrestrictive patent foramen ovale. Pediatr Cardiol. 2011;32:972–6.

Kääpä P, Seppänen M, Kero P, Saraste M. Pulmonary hemodynamics after synthetic surfactant replacement in neonatal respiratory distress syndrome. J Pediatr. 1993;123:115–9.

Bussmann N, Breatnach C, Levy PT, McCallion N, Franklin O, EL-Khuffash A. Early diastolic dysfunction and respiratory morbidity in premature infants: an observational study. J Perinatol. 2018;38:1205–11.

Bussmann N, EL-Khuffash A, Breatnach C, McCallion N, Franklin O, Singh GK, et al. Left ventricular diastolic function influences right ventricular - Pulmonary vascular coupling in premature infants. Early Hum Dev. 2019;128:35–40.
Acknowledgements
We would like to thank the neonatologists, neonatal fellows, and staff at LAC + USC Medical Center NICU for their dedication and hard work in taking care of sick infants. There was no funding for this study.
Ethics declarations
Competing interests
The authors declare no competing interests.
Additional information
Publisher's note Springer Nature remains neutral with regard to jurisdictional claims in published maps and institutional affiliations.
About this article
Cite this article
Kappico, J.M., Cayabyab, R., Ebrahimi, M. et al. Pulmonary hemorrhage in extremely low birth weight infants: Significance of the size of left to right shunting through a valve incompetent patent foramen ovale. J Perinatol 42, 1233–1237 (2022). https://doi.org/10.1038/s41372-022-01464-9
Received:

Revised:

Accepted:

Published:

Issue Date:

DOI: https://doi.org/10.1038/s41372-022-01464-9