Abstract
Objective
To determine the frequency and etiology of diagnostic errors during the first 7 days of admission for inborn neonatal intensive care unit (NICU) patients.
Study design
We conducted a retrospective cohort study of 600 consecutive inborn admissions. A physician used the "Safer Dx NICU Instrument" to review the electronic health record for the first 7 days of admission, and categorized cases as "yes," "unclear," or "no" for diagnostic error. A secondary reviewer evaluated all "yes" charts plus a random sample of charts in the other categories. Subsequently, all secondary reviewers reviewed records with discordance between primary and secondary review to arrive at consensus.
Results
We identified 37 diagnostic errors (6.2% of study patients) with "substantial agreement" between reviewers (κ = 0.66). The most common diagnostic process breakdown was missed maternal history (51%).
Conclusion
The frequency of diagnostic error in inborn NICU patients during the first 7 days of admission is 6.2%.
Access options
Subscribe to this journal
Receive 12 print issues and online access
$259.00 per year
only $21.58 per issue
Rent or buy this article
Get just this article for as long as you need it
$39.95
Prices may be subject to local taxes which are calculated during checkout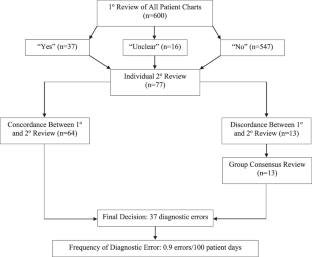 Data availability
Data available on request due to privacy/ethical restrictions.
References
Improving Diagnosis in Health Care. Washington, District of Columbia: The National Academies Press, (2015): 1-18, 31-69.

Berner E. Diagnostic error in medicine: introduction. Adv Health Sci Educ: Theory Pract. 2009;14:1–5.

Graber M, Gordon R, Franklin N. Reducing diagnostic errors in medicine: what's the goal? Academic Med. 2002;77.10:981–92.

Newman-Toker D, Pronovost P. Diagnostic errors – the next frontier for patient safety. JAMA. 2009;301.10:1060–2.

Thammasitboon S, Thammasitboon S, Singhal G. Diagnosing diagnostic error. Curr Probl Pediatr Adolesc Health Care. 2013;43.9:227–31.

Graber M. The incidence of diagnostic error in medicine. BMJ Qual Saf. 2013;22:21–7.

Singh H, Sittig D. Advancing the science of measurement of diagnostic errors in healthcare: the safer Dx framework. BMJ Qual Saf. 2015;24.2:727–31.

Custer J, Winters B, Goode V, Robinson K, Yang T, Pronovost P, et al. Diagnostic errors in the pediatric and neonatal ICU: a systematic review. Pediatr Crit Care Med. 2015;16.1:29–36.

Bergl P, Taneja A, El-Kareh R, Singh H, Nanchal R. Frequency, risk factors, causes, and consequences of diagnostic errors in critically Ill medical patients: a retrospective cohort study. Crit Care Med. 2019;47.11:e902–e910.

Bergl P, Nanchal R, Singh H. Diagnostic error in the critically III: defining the problem and exploring next steps to advance intensive care unit safety. Ann Am Thorac Soc. 2018;15.8:903–7.

Saber-Tehrani A, Lee HW, Matthews S, Shore A, Makary MA, Ponovost P, et al. 25-year summary of US malpractice claims for diagnostic errors 1986–2010: an analysis from the national practitioner data bank. BMJ Qual Saf. 2013;22.8:672–80.

Shafer G, Suresh G. Diagnostic errors in the neonatal intensive care unit: a case series. Am J Pediatrics Rep. 2018;08.04:e379–e383.

Shafer G, Singh H, Suresh G. Diagnostic errors in the neonatal intensive care unit: state of the science and new directions. Semin Perinatol. 2019;43.8:151175.

Davalos M, Samuels K, Meyer A, Thammasitboon S, Sur M, Roy K, et al. Finding diagnostic errors in children admitted to the PICU. Pediatr Crit Care Med. 2017;18.3:265–71.

Singh H. Editorial: helping health care organizations to define diagnostic errors as missed opportunities in diagnosis. Jt Comm J Qual patient Saf /. 2014;40.3:99–101.

Al-Mutairi A, Meyer A, Thomas E, Etchegaray J, Roy K, Davalos M, et al. Accuracy of the safer Dx Instrument to identify diagnostic errors in primary care. J Gen Intern Med. 2016;31.6:602–8.

Lee H, Bennet M, Schulman J, Gould J. Accounting for variation in length of NICU stay for extremely low birth weight infants. J Perinatol. 2013;33.11:872–6.

Cifra C, Ten Eyck P, Dawson J, Reisinger H, Singh H, Herwaldt L. Factors associated with diagnostic error on admission to a PICU: a pilot study. Pediatr Crit Care Med. 2020;21.5:e311–e315.

Singh H, Giardina T, Meyer A, Forjuoh S, Reis M, Thomas E, et al. Types and origins of diagnostic errors in primary care settings. JAMA Intern Med. 2013;173.6:418–25.

Landis JR, Koch GG. The measurement of observer agreement for categorical data. Biometrics. 1977;33.1:159–74.

Gunderson CG, Bilan VP, Holleck JL, Nickerson P, Cherry BM, Chui P, et al. Prevalence of harmful diagnostic errors in hospitalized patients: a systematic review and meta-analysis. BMJ Qual Saf. 2020;29:1008–18.

Raffel KE, Kanto MA, Barish P, Esmailia A, Lim H, Xue F, et al. Prevalence and characterization of diagnostic error among 7 day all-cause hospital medicine readmissions: a retrospective cohort study. BMJ Qual Saf. 2020;29:971–9.

Singh H, Thomas EJ, Wilson L, Kelly PA, Pietz K, Elkeeb D, et al. Errors of diagnosis in pediatric practice: a multisite surgery. Pediatrics. 2010;126:70–9.

Widmann R, Caduff R, Giudici L, Zhong Q, Vogetseder A, Arlettaz R, et al. Value of postmortem studies in deceased neonatal and pediatric intensive care unit patients. Virchows Arch. 2017;470.2:217–23.

Shojania KG, Burton EC, McDonald KM, Goldman L. Changes in rates of autopsy-detected diagnostic errors over time: a systematic review. JAMA. 2003;289.21:2849–56.

Harrison W, Wasserman J, Goodman D. Regional variation in neonatal intensive care admissions and the relationship to bed supply. J Pediatrics. 2018;192:73–79.e4.

Gephart S. The art of effective handoffs: what is the evidence? Adv Neonatal Care. 2012;12.1:37–39.

Lane-Fall M, Collard M, Turnball A, Halpern S, Shea J. ICU attending handoff practices: results from a national surgery of academic intensivists. Crit Care Med. 2016;44.4:690–8.

Derienzo C, Lenfesty R, Horvath M, Goldberg R, Ferranti J. Neonatal intensive care handoffs: a pilot study on core elements and epidemiology of errors. J Perinatol. 2013;34.2:149–52.

Vanderbilt A, Pappada S, Howard S, Harper D, Papadimos TJ. Increasing patient safety with neonates via handoff communication during delivery: a call for interprofessional health care team training across GME and CME. Adv Med Educ Pract. 2017;8:365–7.

Fred H. Hyposkillia: deficiency of clinical skills. Tex Heart Inst J. 2005;32.3:255–7.

Spitzer A. Has quality improvement really improved outcomes for babies in the neonatal intensive care unit? Clin Perinatol. 2017;44.3:469–83.

Wears R, Nemeth C. Replacing hindsight with insight: toward better understanding of diagnostic failures. Ann Emerg Med. 2007;49.2:206–9.

Thomas EJ, Petersen LA. Measuring errors and adverse events in healthcare. J Gen Intern Med. 2003;18:61–7.

Thomas EJ. The future of measuring patient safety: prospective clinical surveillance. BMJ Qual Saf. 2015;24:244–5.

Singh H, Giardina T, Forjouh S, Reis M, Kosmach S, Khan M, et al. Electronic health record-based surveillance of diagnostic errors in primary care. BMJ Qual Saf. 2012;21.2:93–100.
Acknowledgements
We would like to thank Dr. Joseph Garcia-Prats, Dr. Mohan Pammi, and Dr. Lakshmi Katakam for their assistance with the secondary review process. The authors would also like to thank Dr. Joseph Hagan for his assistance with the statistical analysis.
Funding
This study was funded by the "Evie" Whitlock Fund for neonatal-perinatal medicine fellows at Baylor College of Medicine and Texas Children's Hospital. Dr. Singh is funded in part by the Houston Veterans Administration (VA) Health Services Research and Development (HSR&D) Center for Innovations in Quality, Effectiveness, and Safety (CIN13–413), the VA HSR&D Service (CRE17–127 and the Presidential Early Career Award for Scientists and Engineers USA 14–274), the VA National Center for Patient Safety, the Agency for Healthcare Research and Quality (R01HS27363), and the Gordon and Betty Moore Foundation. Dr. Thomas is supported by the University of Texas at Houston – Memorial Hermann Center for Healthcare Quality and Safety.
Ethics declarations
Competing interests
The authors declare no competing interests.
Additional information
Publisher's note Springer Nature remains neutral with regard to jurisdictional claims in published maps and institutional affiliations.
Supplementary information
About this article
Cite this article
Shafer, G.J., Singh, H., Thomas, E.J. et al. Frequency of diagnostic errors in the neonatal intensive care unit: a retrospective cohort study. J Perinatol 42, 1312–1318 (2022). https://doi.org/10.1038/s41372-022-01359-9
Received:

Revised:

Accepted:

Published:

Issue Date:

DOI: https://doi.org/10.1038/s41372-022-01359-9