Abstract
Objective
Studies suggest that parents of NICU infants are at increased risk of mental health disorders. We sought to characterize this risk using a large database.
Study design
The Military Health System was used to retrospectively link records between parents and infants admitted to a NICU over 5 years and were matched to similar families without NICU exposure. The total study population included 35,012 infants. Logistic regression was used to estimate the association between NICU exposure and parental mental health diagnoses within 5 years of infant birth.
Results
Maternal NICU exposure was associated with incident diagnoses of depression (OR: 1.18–1.27, p < 0.0001), anxiety (OR: 1.06–1.18, p = 0.0151), alcohol/opiate dependence (OR: 1.29–1.52, p = 0.0079), and adjustment disorder (OR: 0.97–1.18, p = 0.0224). Paternal NICU exposure was associated with alcohol/opiate dependence (OR: 0.78–1.42, p = 0.0339).
Conclusion
Parents of NICU infants are at risk of developing mental health disorders. Future work should identify characteristics that predict highest risk to develop effective interventions.
Access options
Subscribe to Journal
Get full journal access for 1 year
$119.00
only $9.92 per issue
All prices are NET prices.
VAT will be added later in the checkout.
Tax calculation will be finalised during checkout.
Buy article
Get time limited or full article access on ReadCube.
$32.00
All prices are NET prices.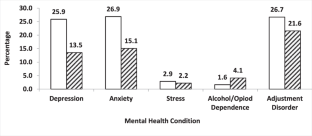 References
Harrison WN, Wasserman JR, Goodman DC. Regional variation in neonatal intensive care admissions and the relationship to bed supply. J Pediatr. 2018;192:73–9.

Busse M, Stromgren K, Thorngate L, Thomas KA. Parents' responses to stress in the neonatal intensive care unit. Crit Care Nurse. 2013;33:52–9.

Greene MM, Rossman B, Patra K, Kratovil AL, Janes JE, Meier PP. Depression, anxiety, and perinatal-specific posttraumatic distress in mothers of very low birth weight infants in the neonatal intensive care unit. J Dev Behav Pediatr. 2015;36:362–70.

Lefkowitz DS, Baxt C, Evans JR. Prevalence and correlates of posttraumatic stress and postpartum depression in parents of infants in the neonatal intensive care unit (NICU). J Clin Psychol Med Settings. 2010;17:230–7.

Segre LS, McCabe JE, Chuffo-Siewert R, O'Hara MW. Depression and anxiety symptoms in mothers of newborns hospitalized on the neonatal intensive care unit. Nurs Res. 2015;63:320–32.

Roque ATF, Lasiuk GC, Radünz V, Hegadoren K. Scoping review of the mental health of parents of infants in the NICU. J Obstet Gynecol Neonatal Nurs. 2017;46:576–87.

Mendelson T, Cluxton-Keller F, Vullo GC, Tandon SD, Noazin S. NICU-based interventions to reduce maternal depressive and anxiety symptoms: a meta-analysis. Pediatrics. 2017;139:e20161870.

Kim WJ, Lee E, Kim KR, Namkoong K, Park ES, Rha DW. Progress of PTSD symptoms following birth: a prospective study in mothers of high-risk infants. J Perinatol. 2015;35:575–9.

Miles MS, Holditch-Davis D, Schwartz TA, Scher M. Depressive symptoms in mothers of prematurely born infants. J Dev Behav Pediatr. 2007;28:36–44.

Davidson JE, Jones C, Bienvenu OJ. Family response to critical illness: postintensive care syndrome-family. Crit Care Med. 2012;40:618–24.

Mulder RT, Carter JD, Frampton CMA, Darlow BA. Good two-year outcome for parents whose infants were admitted to a neonatal intensive care unit. Psychosomatics. 2014;55:613–20.

Dorrance KA, Ramchandani S, Neil N, Fisher H. Leveraging the military health system as a laboratory for health care reform. Mil Med. 2013;178:142–5.

Binder WS, Zeltzer LK, Simmons CF, Mirocha J, Pandya A. The father in the hallway: posttraumatic stress reactions in fathers of NICU babies. Psychiatr Ann. 2011;41:396–402.

Brody DJ, Pratt LA, Hughes JP. Prevalence of depression among adults aged 20 and over: United States, 2013-2016. NCHS Data Brief. 2018;303:1–8.

Carty CL, Soghier LM, Kritikos KI, Tuchman LK, Jiggetts M, Glass P, et al. The Giving Parents Support Study: a randomized clinical trial of a parent navigator intervention to improve outcomes after neonatal intensive care unit discharge. Contemp Clin Trials. 2018;70:117–34.

Hall SL, Hynan MT, Phillips R, Lassen S, Craig JW, Goyer E, et al. The neonatal intensive parenting unit: an introduction. J Perinatol. 2017;37:1259–64.
Ethics declarations
Competing interests
The authors declare no competing interests.
Ethical approval
This project was approved through the Naval Medical Center Portsmouth Institutional Review Board (Protocol Identification: NMCP.2019.0015). Subject consent was not required, and all data are de-identified. This study was performed in accordance with the Declaration of Helsinki.
Additional information
Publisher's note Springer Nature remains neutral with regard to jurisdictional claims in published maps and institutional affiliations.
Supplementary information
About this article
Cite this article
Farr, B.J., Evans, A.M., Rush, T.M. et al. New mental health diagnoses in parents of infants admitted to a neonatal intensive care unit—a retrospective review of the Military Health System database. J Perinatol 42, 738–744 (2022). https://doi.org/10.1038/s41372-022-01331-7
Received:

Revised:

Accepted:

Published:

Issue Date:

DOI: https://doi.org/10.1038/s41372-022-01331-7