Abstract
Objective
To explore LGBTQI+ parental experiences regarding their interactions with healthcare professionals as a resource for feeding options during the prenatal-to-neonatal period.
Study design
This single-center, interview-based qualitative study of LGBTQI+ parents utilized grounded theory to identify and verify emergent themes and subthemes. We developed a conceptual framework to illustrate relationships among themes and subthemes, as well as opportunities for healthcare professionals and families to improve LGBTQI+ parental support.
Results
Thematic saturation was attained after interviewing 21 parents from 12 families. Analyses revealed four main themes representing opportunities for improvement: education, continuity of care, parental engagement and open communication. Personal and interpersonal factors influenced parental experiences and decisions, which shaped ultimate feeding outcomes.
Conclusions
LGBTQI+ parents revealed challenges of establishing feeding practices that best aligned with their values and goals. Recognizing these factors can help healthcare professionals improve their counseling, engagement and support of LGBTQI+ parents.
Access options
Subscribe to Journal
Get full journal access for 1 year
$119.00
only $9.92 per issue
All prices are NET prices.
VAT will be added later in the checkout.
Tax calculation will be finalised during checkout.
Buy article
Get time limited or full article access on ReadCube.
$32.00
All prices are NET prices.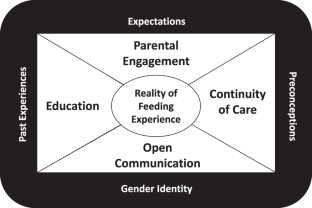 References
Lee R. Queer lactation: contributions of queer theory to lactation support for LGBTQIA2S+ individuals and families. J Hum Lactation. 2019;35:233–8.

The Williams Institute. LGBT Demographic Data Interactive. 2019. https://williamsinstitute.law.ucla.edu/visualization/lgbt-stats/?topic=LGBT#demographic.

Gates G. The Williams Institute LGBT Snapshot. 2020. https://williamsinstitute.law.ucla.edu/visualization/lgbt-stats/?topic=LGBT#density.

Hoffkling A, Obedin-Maliver J, Sevelius J. From erasure to opportunity: a qualitative study of the experiences of transgender men around pregnancy and recommendations for providers. BMC Pregnancy Childbirth. 2017;17:7–20.

Tasker F. Lesbian mothers, gay fathers, and their children: a review. Dev Behav Pediatrics. 2005;26:224–240.

Cao H, Mills-Koonce WR, Wood C, Fine MA. Identity transformation during the transition to parenthood among same-sex couples: an ecological, stress-strategy-adaptation perspective. J Fam Theory Rev. 2016;8:30–59.

MacDonald T, Noel-Weiss J, West D, Walks M, Biener M, Kibbe A, et al. Transmasculine individuals' experiences with lactation, chestfeeding, and gender identity: a qualitative study. BMC Pregnancy Childbirth May. 2016;16:106. https://doi.org/10.1186/s12884-016-0907-y.

Baby-Friendly USA guidelines and evaluation criteria for facilities seeking baby-friendly designation. Albany, NY: Baby-Friendly USA; 2016.

Eidelman AI, Schanler R. Breastfeeding and the use of human milk. Pediatrics. 2017;12:e827–41.

Chantry CJ, Eglash A, Labbok M. ABM position on breastfeeding – revised 2015. Breastfeed Med. 2015;10:407–11.

Bartick M, Stehel EK, Calhoun SL, Feldman-Winter L, Zimmerman D, Noble L, et al. Academy of breastfeeding medicine position statement and guideline: infant feeding and lactation-related language and gender. Breastfeed Med. 2021;16:1–4.

Ferri R, Rosen-Carole CB, Jackson J, Carreno-Rijo E. Greenberg KB and the academy of breastfeeding medicine. ABM clinical protocol #33: lactation care for lesbian, gay, bisexual, transgender, queer, questioning, plus patients. Breastfeed Med. 2020;15:284–9.

Tong A, Sainsbury P, Craig J. Consolidated criteria for reporting qualitative research (COREQ): a 32-item checklist for interviews and focus groups. Int J Qual Health Care. 2007;19:349–57.

Merriam S, Tisdell E. Qualitative research: a guide to design and implementation (Fourth edition). Jossey-Bass: San Francisco; 2016.

Miller W, Crabtree B. Qualitative analysis: how to begin making sense. Fam Pract Res J. 1994;14:289–97.

Verdinelli S, Scagnoli N. Data display in qualitative research. Int J Qualitative Res. 2013;12:359–81.

Bryant C. Nursing the adopted infant. J Am Board Fam Med. 2006;19:374–9.

Wilson E, Perrin MT, Fogleman A, Chetwynd E. The intricacies of induced lactation for same-sex mothers of an adopted child. J Hum Lactation. 2015;31:64–7.

Juntereal NA, Spatz DL. Breastfeeding experiences of same-sex mothers. Birth. 2020;47:21–8.

Parameshwaran V, Cockbain BC, Hillyard M, Price JR. Is the lack of specific lesbian, gay, bisexual, transgender and queer/questioning (LGBTQ) health care education in medical school a cause for concern? Evidence from a survey of knowledge and practice among UK medical students. J Homosex. 2017;64:367–381.

Greene MZ, France K, Kreider EF, Wolfe-Roubatis E, Chen KD, Wu A, et al. Comparing medical, dental, and nursing students' preparedness to address lesbian, gay, bisexual, transgender, and queer health. PLoS One. 2018;13:e0204104.

Chetwynd E, Facelli V. Lactation support for LGBTQIA+ families. J Hum Lactation. 2019;35:244–7.

Bridges N, Howell G and Schmied V. Exploring breastfeeding support on social media. Int Breastfeeding J. 2018;13:22.

Regan S, Brown A. Experiences of online breastfeeding support: support and reassurance versus judgement and misinformation. Matern Child Nutr. 2019. https://doi.org/10.1111/mcn.12874.

Skelton KR, Evans R, LaChenaye J, Amsbary J, Wingate M, Talbott L. Exploring social media group use among breastfeeding mothers: qualitative analysis. JMIR Pediatr Parent. 2018;1:e11344.

Tang K, Gerling K, Chen W, Geurts L. Information and communication systems to tackle barriers to breastfeeding: systematic search and review. J Med Internet Res. 2019;21:e13947.

Engström H, Häggström-Nordin E, Borneskog C, Almqvist AL. Mothers in same-sex relationships – striving for equal parenthood: a grounded theory study. J Clin Nurs. 2019;28:3700–09.

Steen M, Downe S, Bamford N, Edozien L. Not-patient and not-visitor: a metasynthesis fathers' encounters with pregnancy, birth and maternity care. Midwifery. 2012;28:422–31.

Niela-Vilén H, Axelin A, Melender HL, Salanterä. Aiming to a breastfeeding mother in a neonatal intensive care unit and at home: a thematic analysis of peer-support group discussion in social media. Matern Child Nutr. 2015;11:712–26.

Gawlik S, Müller M, Hoffman L, Dienes A, Reck C. Assessing birth experience in fathers as an important aspect of clinical obstetrics: how applicable is Salmon's Item List for men? Midwifery. 2015;31:221–8.

Balogun OO, O'Sullivan EJ, McFadden A, Ota E, Gavine A, Garner CD, et al. Interventions for promoting the initiation of breastfeeding. Cochrane Database Syst Rev. 2016;11:CD001688.

Tokhi M, Comrie-Thomson L, Davis J, Portela A, Chersich M, Luchters S. Involving men to improve maternal and newborn health: a systematic review of the effectiveness of interventions. PLoS ONE. 2018;13:e0191620.

Tohotoa J, Maycock B, Hauck Y, Howat P, Burns S, Binns C. Dads make a difference: an exploratory study of paternal support for breastfeeding in Perth, Western Australia. Int Breastfeed J. 2009;4:15.
Acknowledgements
This study was supported in part by the University of Rochester Clinical and Translational Science Award (UL1 TR002001) from the National Center for Advancing Translational Sciences of the National Institutes of Health. The content is solely the responsibility of the authors and does not necessarily represent the official views of the National Institutes of Health. The authors would like to thank Casey Rosen-Carole, MD, and John Cullen, PhD, for their input on preliminary study materials and the LGBTQI+ family for help piloting our interview guide.
Ethics declarations
Competing interests
The authors declare no competing interests.
Additional information
Publisher's note Springer Nature remains neutral with regard to jurisdictional claims in published maps and institutional affiliations.
About this article
Cite this article
Jackson, J.R., Moreno, L., Carmen, M. et al. What are LGBTQI+ parental experiences of healthcare support and decision-making regarding infant feeding options? A grounded theory study. J Perinatol 42, 1083–1090 (2022). https://doi.org/10.1038/s41372-021-01259-4
Received:

Accepted:

Published:

Issue Date:

DOI: https://doi.org/10.1038/s41372-021-01259-4