Abstract
Objective
To evaluate effect of enteral zinc supplementation on growth and neurodevelopmental outcomes of preterm infants.
Study design
A systematic review and meta-analysis of randomized-controlled trials (RCTs) examining growth and neurodevelopmental outcomes after zinc supplementation in preterm infants.
Results
Of eight RCTs involving 742 infants included, seven reported growth anthropometrics at 3–6 months corrected age (CA) and two reported neurodevelopmental outcomes at 6–12 months CA. Zinc supplementation was associated with increased weight z-score (weighted mean difference (WMD) = 0.50; 95% CI 0.23–0.76, heterogeneity I2 = 89.1%; P < 0.01), length z-score (WMD = 1.12; 95% CI 0.63–1.61, heterogeneity I2 = 96.0%; P < 0.01) and motor developmental score (WMD = 9.54; 95% CI 6.6–12.4 heterogeneity I2 = 0%; P = 0.52). There was no effect on head circumference and total developmental score. Evidence is "moderate" certainty for weight and length and "very low" certainty for neurodevelopment.
Conclusion
Zinc supplementation may enhance weight gain and linear growth in preterm infants. There is a lack of data about relationship between zinc supplementation and neurodevelopment.
Access options
Subscribe to this journal
Receive 12 print issues and online access
$259.00 per year
only $21.58 per issue
Rent or buy this article
Get just this article for as long as you need it
$39.95
Prices may be subject to local taxes which are calculated during checkout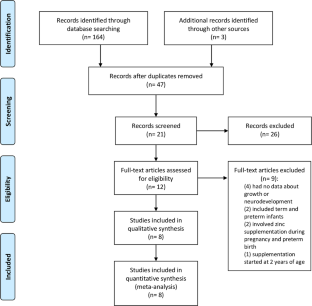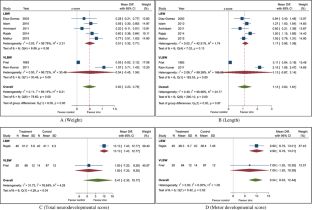 References
Maret W. Zinc and the zinc proteome. Met ions life Sci. 2013;12:479–501.

Cousins RJ, Liuzzi JP, Lichten LA. Mammalian zinc transport, trafficking, and signals. J Biol Chem. 2006;281:24085–9.

Wastney ME, Angelus P, Barnes RM, Subramanian KN. Zinc kinetics in preterm infants: a compartmental model based on stable isotope data. Am J Physiol. 1996;271:R1452–9.

King JC. Determinants of maternal zinc status during pregnancy. Am J Clin Nutr. 2000;71:1334S–43S.

Griffin IJ, Domellof M, Bhatia J, Anderson DM, Kler N. Zinc and copper requirements in preterm infants: an examination of the current literature. Early Hum Dev. 2013;89:S29–34.

Terrin G, Berni Canani R, Di Chiara M, Pietravalle A, Aleandri V, Conte F, et al. Zinc in early life: a key element in the fetus and preterm neonate. Nutrients. 2015;7:10427–46.

Terrin G, Boscarino G, Di Chiara M, Iacobelli S, Faccioli F, Greco C, et al. Nutritional intake influences zinc levels in preterm newborns: an observational study. Nutrients. 2020;12:529–38.

Friel JK, Andrews WL, Simmons BS, Miller LV, Longerich HP. Zinc absorption in premature infants: comparison of two isotopic methods. Am J Clin Nutr. 1996;63:342–7.

Wastney ME, Angelus PA, Barnes RM, Subramanian KN. Zinc absorption, distribution, excretion, and retention by healthy preterm infants. Pediatr Res. 1999;45:191–6.

Itabashi K, Saito T, Ogawa Y, Uetani Y. Incidence and predicting factors of hypozincemia in very-low-birth-weight infants at near-term postmenstrual age. Biol Neonate. 2003;83:235–40.

Obladen M, Loui A, Kampmann W, Renz H. Zinc deficiency in rapidly growing preterm infants. Acta Paediatr. 1998;87:685–91.

Vazquez-Gomis R, Bosch-Gimenez V, Juste-Ruiz M, Vazquez-Gomis C, Izquierdo-Fos I, Pastor-Rosado J. Zinc concentration in preterm newborns at term age, a prospective observational study. BMJ Paediatrics Open 2019;3:e000527.

Barbarot S, Chantier E, Kuster A, Hello M, Roze JC, Blouin E, et al. Symptomatic acquired zinc deficiency in at-risk premature infants: high dose preventive supplementation is necessary. Pediatr Dermatol. 2010;27:380–3.

Sandstead HH. Subclinical zinc deficiency impairs human brain function. J Trace Elem Med Biol. 2012;26:70–3.

Moher D, Liberati A, Tetzlaff J, Altman DG, Group P. Preferred reporting items for systematic reviews and meta-analyses: the PRISMA statement. PLoS Med. 2009;6:e1000097.

Brion LP, Heyne R, Lair CS. Role of zinc in neonatal growth and brain growth: review and scoping review. Pediatr Res. 2020:s41390-020.

Tee PS. Does enteral zinc supplementation improve growth and clinical outcome in preterm babies <37 weeks? J Paediatrics Child Health. 2020;56:1971–7.

Higgins JP, Thomas J, Chandler J, Cumposton M, Li T, Page MJ, et al. Cochrane handbook for systematic reviews of interventions.: cochrane. John Wiley & Sons; Chichester (UK); 2019.

World Health Orgnization. https://www.who.int/tools/child-growth-standards/standards.

Fenton TR, Kim JH. A systematic review and meta-analysis to revise the Fenton growth chart for preterm infants. BMC Pediatr. 2013;13:59.

World Health Organization. WHO Child Growth Standards: Head Circumference-for-age, Arm Circumference-for-age, Triceps Skinfold-for-age and Subscapular Skinfold-for-age: Methods and Development 2007.

Guyatt GH, Oxman AD, Vist GE, Kunz R, Falck-Ytter Y, Alonso-Coello P, et al. GRADE: an emerging consensus on rating quality of evidence and strength of recommendations. BMJ. 2008;336:924–6.

Schünemann H, Brożek J, Guyatt G, Oxman A, editors. GRADE handbook for grading quality of evidence and strength of recommendations. John Wiley & Sons; Chichester (UK); 2013.

McMaster University, Evidence Prime, Inc. GRADEpro GDT: GRADEpro Guideline Development Tool. https://gradepro.org; 2020.

Terrin G, Berni Canani R, Passariello A, Messina F, Conti MG, Caoci S, et al. Zinc supplementation reduces morbidity and mortality in very-low-birth-weight preterm neonates: a hospital-based randomized, placebo-controlled trial in an industrialized country. Am J Clin Nutr. 2013;98:1468–74.

Mathur NB, Agarwal DK. Zinc supplementation in preterm neonates and neurological development, a randomized controlled trial. Indian Pediatr. 2015;52:951–5.

El-Farghali O, El-Wahed MA, Hassan NE, Imam S, Alian K. Early zinc supplementation and enhanced growth of the low-birth weight neonate. Open Access Maced J Med Sci 2015;3:63–8.

Hoque A, Ali S. Role of zinc in low birth weight neonates. Bangladesh Med J. 2009;38:24–30.

Friel JK, Andrews WL, Matthew JD, Long DR, Cornel AM, Cox M, et al. Zinc supplementation in very-low-birth-weight infants. J Pediatr Gastroenterol Nutr. 1993;17:97–104.

Ram Kumar TV, Ramji S. Effect of zinc supplementation on growth in very low birth weight infants. J Trop Pediatr. 2012;58:50–4.

Aminisani N, Barak M, Shamshirgaran SM. Effect of zinc supplementation on growth of low birth weight infants aged 1-6 mo in Ardabil, Iran. Indian J Pediatr. 2011;78:1239–43.

Prasad AS. Discovery of human zinc deficiency: its impact on human health and disease. Adv Nutr. 2013;4:176–90.

Ram Kumar TV, Ramji S. Effect of zinc supplementation on growth in very low birth weight infants. J Trop Pediatr. 2012;58:50–4.

Diaz-Gomez NM, Domenech E, Barroso F, Castells S, Cortabarria C, Jimenez A. The effect of zinc supplementation on linear growth, body composition, and growth factors in preterm infants. Pediatrics. 2003;111:1002–9.

American Acadmey of Pediatrics Committee on Nutrition. Nutritional needs of the preterm infants. In: Kleinman R, Greer F, editors. Pediatric Nutrition Handbook. 8TH ed. Elk Grove Village, IL; American Academy of Pediatrics; 2020.

Amiel-Tison C. Update of the Amiel-Tison neurologic assessment for the term neonate or at 40 weeks corrected age. Pediatr Neurol. 2002;27:196–212.

Islam MN, Chowdhury MA, Siddika M, Qurishi SB, Bhuiyan MK, Hoque MM, et al. Effect of oral zinc supplementation on the growth of preterm infants. Indian Pediatr. 2010;47:845–9.

Ragab SM. The effects of zinc supplementation on growth and development in preterm neonates Menoufia Med J. 2014;27:524–8.

Gollenberg AL, Lynch CD, Jackson LW, McGuinness BM, Msall ME. Concurrent validity of the parent-completed Ages and Stages Questionnaires, 2nd Ed. with the Bayley Scales of Infant Development II in a low-risk sample. Child Care Health Dev. 2010;36:485–90.

Imdad A, Bhutta ZA. Effect of preventive zinc supplementation on linear growth in children under 5 years of age in developing countries: a meta-analysis of studies for input to the lives saved tool. BMC Public Health. 2011;11:S22.

Mayo-Wilson E, Junior JA, Imdad A, Dean S, Chan XH, Chan ES, et al. Zinc supplementation for preventing mortality, morbidity, and growth failure in children aged 6 months to 12 years of age. Cochrane Database Syst Rev. 2014:CD009384.

Flynn RS, Huber MD, DeMauro SB. Predictive value of the BSID-II and the Bayley-III for early school age cognitive function in very preterm infants. Glob Pediatr Health. 2020;7:2333794X20973146.

Hack M, Taylor HG, Drotar D, Schluchter M, Cartar L, Wilson-Costello D, et al. Poor predictive validity of the Bayley Scales of Infant Development for cognitive function of extremely low birth weight children at school age. Pediatrics. 2005;116:333–41.

Roberts G, Anderson PJ, Doyle LW, Victorian Infant Collaborative Study G. The stability of the diagnosis of developmental disability between ages 2 and 8 in a geographic cohort of very preterm children born in 1997. Arch Dis Child. 2010;95:786–90.

Gogia S, Sachdev HS. Zinc supplementation for mental and motor development in children. Cochrane Database Syst Rev. 2012;12:CD007991.

Andescavage NN, du Plessis A, McCarter R, Serag A, Evangelou I, Vezina G, et al. Complex trajectories of brain development in the healthy human fetus. Cereb Cortex. 2017;27:5274–83.

Agostoni C, Buonocore G, Carnielli VP, De Curtis M, Darmaun D, Decsi T, et al. Enteral nutrient supply for preterm infants: commentary from the European Society of Paediatric Gastroenterology, Hepatology and Nutrition Committee on Nutrition. J Pediatr Gastroenterol Nutr. 2010;50:85–91.

Donangelo CM, King JC. Maternal zinc intakes and homeostatic adjustments during pregnancy and lactation. Nutrients. 2012;4:782–98.

Higashi A, Ikeda T, Iribe K, Matsuda I. Zinc balance in premature infants given the minimal dietary zinc requirement. J Pediatrics. 1988;112:262–6.

Altigani M, Murphy JF, Gray OP. Plasma zinc concentration and catch up growth in preterm infants. Acta Paediatrica Scandinavica Suppl. 1989;357:20–33.

Abrams SA. Zinc for preterm infants: who needs it and how much is needed? Am J Clin Nutr. 2013;98:1373–4.

Saper RB, Rash R. Zinc: an essential micronutrient. Am Fam Phys. 2009;79:768–72.

Olivares M, Pizarro F, Ruz M. Zinc inhibits nonheme iron bioavailability in humans. Biol Trace Elem Res. 2007;117:7–14.

Vallee BL, Falchuk KH. The biochemical basis of zinc physiology. Physiological Rev. 1993;73:79–118.

Berni Canani R, Secondo A, Passariello A, Buccigrossi V, Canzoniero LM, Ruotolo S, et al. Zinc inhibits calcium-mediated and nitric oxide-mediated ion secretion in human enterocytes. Eur J Pharmacol. 2010;626:266–70.

de Queiroz CA, Fonseca SG, Frota PB, Figueiredo IL, Aragao KS, Magalhaes CE, et al. Zinc treatment ameliorates diarrhea and intestinal inflammation in undernourished rats. BMC Gastroenterol. 2014;14:136.
Ethics declarations
Conflict of interest
The authors declare no competing interests.
Additional information
Publisher's note Springer Nature remains neutral with regard to jurisdictional claims in published maps and institutional affiliations.
Supplementary information
About this article
Cite this article
Alshaikh, B., Abo Zeed, M., Yusuf, K. et al. Effect of enteral zinc supplementation on growth and neurodevelopment of preterm infants: a systematic review and meta-analysis. J Perinatol 42, 430–439 (2022). https://doi.org/10.1038/s41372-021-01094-7
Received:

Revised:

Accepted:

Published:

Issue Date:

DOI: https://doi.org/10.1038/s41372-021-01094-7
This article is cited by
Mariela Sanchez-Rosado
Cheryl S. Lair
Luc P. Brion

Journal of Perinatology (2023)

Priya V. Creed
Rebecca S. Rose

Journal of Perinatology (2023)