Abstract
Objective
This study evaluates the 24-month follow-up for the NICHD Neonatal Research Network (NRN) Inositol for Retinopathy Trial.
Study design
Bayley Scales of Infants Development-III and a standardized neurosensory examination were performed in infants enrolled in the main trial. Moderate/severe NDI was defined as BSID-III Cognitive or Motor composite score <85, moderate or severe cerebral palsy, blindness, or hearing loss that prevents communication despite amplification were assessed.
Results
Primary outcome was determined for 605/638 (95%). The mean gestational age was 25.8 ± 1.3 weeks and mean birthweight was 805 ± 192 g. Treatment group did not affect the risk for the composite outcome of death or survival with moderate/severe NDI (60% vs 56%, p = 0.40).
Conclusions
Treatment group did not affect the risk of death or survival with moderate/severe NDI. Despite early termination, this study represents the largest RCT of extremely preterm infants treated with myo-inositol with neurodevelopmental outcome data.
Access options
Subscribe to this journal
Receive 12 print issues and online access
$259.00 per year
only $21.58 per issue
Rent or buy this article
Prices vary by article type
from$1.95
to$39.95
Prices may be subject to local taxes which are calculated during checkout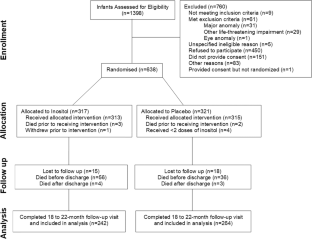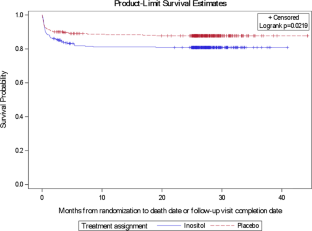 Similar content being viewed by others
References
Hasan SH, Nishigaki I, Tsutsui Y, Yagi K. Studies on myoinositol. IX. Morphological examinaiton of the effect of massive doses of myoinositol on the liver and kidney of rat. J Nutritional Sci Vitaminol. 1974;20:55–58.

Hallman M, Bry K, Hoppu K, Lappi M, Pohjavuori M. Inositol supplementation in premature infants with respiratory distress syndrome. N. Engl J Med. 1992;326:1233–9.

Hallman M, Järvenpää AL, Pohjavuori M. Respiratory distress syndrome and inositol supplementation in preterm infants. Arch Dis Child. 1986;61:1076–83.

Howlett A, Ohlsson A, Plakkal N. Inositol in preterm infants at risk for or having respiratory distress syndrome. Cochrane Database Syst Rev. 2015;2:CD000366.

Phelps DL, Watterberg KL, Nolen TL, Cole CA, Cotten CM, Oh W, et al. Effects of myo-inositol on type 1 retinopathy of prematurity among preterm infants <28 weeks' gestational age: a randomized clinical trial. JAMA 2018;320:1649–58.

Howlett A, Ohlsson A, Plakkal N. Inositol in preterm infants at risk for or having respiratory distress syndrome. Cochrane Database Syst Rev. 2019;7:CD000366.

Newman JE, Bann CM, Vohr BR, Dusick AM, Higgins RD. Improving the Neonatal Research Network annual certification for neurologic examination of the 18–22 month child. J Pediatr. 2012;161:1041–6.

Stoll BJ, Hansen NI, Bell EF, Shankaran S, Laptook AR, Walsh MC, et al. Neonatal outcomes of extremely preterm infants from the NICHD neonatal research network. Pediatrics 2010;126:443–56.

Bayley N. Manual for the Bayley Scales of Infant and Toddler Development. 3 San Antonio, Texas: Harcourt Assessment; 2006.

Palisano R, Rosenbaum P, Walter S, Russell D, Wood E, Galuppi B. Development and reliability of a system to classify gross motor function in children with cerebral palsy. Developmental Med Child Neurol. 1997;39:214–23.

Section on Ophthalmology American Academy of Pediatrics, American Academy of Ophthalmology, American Association for Pediatric Ophthalmology and Strabismus. Screening examination of premature infants for retinopathy of prematurity. Pediatrics. 2006;117:572–6.

Early Treatment For Retinopathy Of Prematurity Cooperative G. Revised indications for the treatment of retinopathy of prematurity: results of the early treatment for retinopathy of prematurity randomized trial. Arch Ophthalmol 2003;121:1684–94.

Phelps DL, Ward RM, Williams RL, Nolen TL, Watterberg KL, Oh W, et al. Safety and pharmacokinetics of multiple dose myo-inositol in preterm infants. Pediatr Res. 2016;80:209–17.

Stoll BJ, Hansen NI, Adams-Chapman I, Fanaroff AA, Hintz SR, Vohr B, et al. Neurodevelopmental and growth impairment among extremely low-birth-weight infants with neonatal infection. JAMA 2004;292:2357–65.

Serenius F, Ewald U, Farooqi A, Fellman V, Hafström M, Hellgren K, et al. Neurodevelopmental outcomes among extremely preterm infants 6.5 years after active perinatal care in sweden. JAMA Pediatrics 2016;170:954–63.

Adams-Chapman I, DeMauro SB. Neurodevelopmental Outcomes of the Preterm Infant. Clin Perinatol. 2018;45:xvii–xviii.

Ancel P, Goffinet F. and the E-WG. Survival and morbidity of preterm children born at 22 through 34 weeks' gestation in france in 2011: Results of the epipage-2 cohort study. JAMA Pediatrics 2015;169:230–8.

Anderson PJ, De Luca CR, Hutchinson E, Roberts G, Doyle LW. Underestimation of developmental delay by the new Bayley-III Scale. Arch Pediatr Adolesc Med. 2010;164:352–6.
Acknowledgements
IA-C died after writing the manuscript. The study team appreciates her efforts in leading the follow-up study, data analysis and completion of the manuscript. She is a very special person and will be missed by all of the team. Mina Chung, MD, was the research ophthalmologist at the University of Rochester and conducted primary outcome examinations for study participants recruited at this center. Dr. Chung provided important contributions to the study concept and design and she performed ophthalmologic evaluations on the 63 infants enrolled at this site. Dr. Chung died prior to preparation of the final manuscript. The study team would like to extend a special acknowledgement of her efforts on this project.
The National Institutes of Health and the Eunice Kennedy Shriver National Institute of Child Health and Human Development (NICHD) through the Neonatal Research Network, and the National Eye Institute (NEI) provided grant support for the Inositol Trial. While NICHD staff had input into the study design, conduct, analysis, and manuscript drafting, the comments and views of the authors do not necessarily represent the views of NICHD, NEI, the National Institutes of Health, the Department of Health and Human Services, or the U.S. Government.
Participating NRN sites collected data and transmitted it to RTI International, the data coordinating center (DCC) for the network, which stored, managed and analyzed the data for this study. On behalf of the NRN, RTI International had full access to all of the data in the study, and with the NRN Center Principal Investigators, takes responsibility for the integrity of the data and accuracy of the data analysis.
We are indebted to our medical and nursing colleagues and the infants and their parents who agreed to take part in this study. The following investigators, in addition to those listed as authors, participated in this study:
NRN Steering Committee Chair: Richard A. Polin, MD, Division of Neonatology, College of Physicians and Surgeons, Columbia University, (2011-present).
Alpert Medical School of Brown University and Women & Infants Hospital of Rhode Island (UG1 HD27904)—Abbot R. Laptook, MD; Martin Keszler, MD; Elisabeth C. McGowan, MD; Angelita M. Hensman, PhD RNC-NIC; Barbara Alksninis, PNP; Mary Lenore Keszler, MD; Andrea M. Knoll; Theresa M. Leach, MEd Emilee Little, RN BSN; Elisabeth C. McGowan, MD; Michael R. Muller, PharmD; Elisa Vieira, RN BSN; Victoria E. Watson, MS CAS.
Case Western Reserve University, Rainbow Babies & Children's Hospital (UG1 HD21364)—Michele C. Walsh, MD MS; Anna Maria Hibbs, MD MSCE; Nancy S. Newman, BA RN; Michael Banchy, RPH; Monika Bhola, MD; Jeffrey L. Blumer, MD; Allison H. Payne, MD MS; Bonnie S. Siner, RN; Elizabeth Ross, MS; Eileen K. Stork, MD; H. Gerry Taylor, PhD; Gulgun Yalcinkaya, MD; Arlene Zadell, RN.
Children's Mercy Hospital, University of Missouri Kansas City School of Medicine (UG1 HD68284)—William E. Truog, MD; Eugenia K. Pallotto, MD MSCE; Prabhu S. Parimi, MD; Cheri Gauldin, RN BSN CCRC; Lisa Gaetano, MSN RN; Anne M. Holmes, RN MSN MBA-HCM CCRC; Kathy Johnson RN, CCRC; Allison Knutson, BSN RNC-NIC.
Cincinnati Children's Hospital Medical Center, University of Cincinnati Medical Center, and Good Samaritan Hospital (UG1 HD27853, UL1 TR77)—Kurt Schibler, MD; Cathy Grisby, BSN CCRC; Patricia Cobb, MS; Teresa L. Gratton, PA; Kristin Kirker, CRC; Stacey Tepe, BS; Sandra Wuertz, RN-BSN CCRP CLC; Kimberly Yolton, PhD.
Duke University School of Medicine, University Hospital, University of North Carolina, Duke Regional Hospital, and WakeMed Health and Hospitals (UG1 HD40492, UL1 TR1117)—Ronald N. Goldberg, MD; Joanne Finkle, RN JD; Kimberley A. Fisher, PhD FNP-BC IBCLC; William F. Malcolm, MD; Patricia L. Ashley, MD PHD; Deesha Mago-Shah, MD; Chi Dang-Hornik, PharmD BCPS; Sharon F. Freedman, MD; Kathryn E. Gustafson, PhD; Mary Miller-Bell, PharmD RPh; Sasapin Grace Prakalapakorn, MD MPH; Matthew M. Laughon, MD MPH; Carl L. Bose, MD; Janice Bernhardt, MS RN; Cindy Clark, RN; Diane D. Warner, MD MPH; TMO'S; Janice Wereszczak CPNP-AC/PC; Jennifer Talbert, MS RN; Stephen D. Kicklighter, MD; Sofia Aliaga, MD, MPH; Jeffery Board, MD; KRG; Jerry Magolan, MD; Linda Manor, RPh; Jan Niklas Ulrich, MD; Ginger Rhodes-Ryan, ARNP MSN NNP-BC; Donna White, BSN, RN-BC BSN; Alexandra Bentley, MD; Laura Edwards, MD.
Emory University, Children's Healthcare of Atlanta, Grady Memorial Hospital, and Emory University Hospital Midtown (UG1 HD27851, UL1 TR454)—David P. Carlton, MD; Barbara J. Stoll, MD; Ellen C. Hale, RN BS CCRC; Yvonne Loggins, RN; Diane I. Bottcher, RN MSN; Sheena L. Carter, PhD; Colleen Mackie, BS RT; Maureen Mulligan LaRossa, RN; Lynn C. Comerford, NNP; Gloria Smike, PNP MSN; Salathiel Kendrick-Allwood, MD; Angela Leon-Hernandez, MD.
Eunice Kennedy Shriver National Institute of Child Health and Human Development—SWA.
Indiana University, Riley Hospital for Children and Methodist Hospital at Indiana University Health (UG1 HD27856)—GMS; SG, NNP CCRC; DEH, RN CCRC; ACH; EHyn, RNC-NIC; L-AP; LS CCRC.
McGovern Medical School at The University of Texas Health Science Center at Houston and Children's Memorial Hermann Hospital (UG1 HD87229)—JET; KAK; AMK; ADu, RM, EA; JA-M, MSN APRN; SB, RCPhT; AGD; EE; FE-A, RPH; CG, RN BSN; KK; JJ, CPNP; PMJ; MLL, RN BSN; KM, RN; SCM, RN; GEM, RN; SME; HO; SR, RN; DS, RN; EKS, RN BSN; Vu Ta, PharmD; CW; SLW, MT (ASCP).
Nationwide Children's Hospital and The Ohio State University Wexner Medical Center (UG1 HD68278)—PJS; LDN; SRJ; AEG; PL; CAF; GEB; NAP; DLR; RPG; COJ.
RTI International (U10 HD36790)—DW; MGG; CMB; JO'DA, BS; MMC, BS CCRP; JG, MPH CCRP; CMPH, MS CCRP; JWPII; AMV.
Stanford University and Lucile Packard Children's Hospital (UG1 HD27880, UL1 TR93)—KPVM; DKS; MBB, BS CCRC; SChi; MSP, RCP; BB, PsychD MSEd; MED; AMD, RN PNP PhD; BE; LCH; CEK; RL; HEW.
University of Alabama at Birmingham Health System and Children's Hospital of Alabama (UG1 HD34216)—WAC; NA; MVC, RN BSN MaEd; SSC, RN BSN; RJQ; BRD; AMA-B; FJB; KCJ, MSN CRNP; CSP; VAP, RN BSN; SW, MA OTR-L FAOTA.
University of California—Los Angeles, Mattel Children's Hospital, Santa Monica Hospital, Los Robles Hospital and Medical Center, and Olive View Medical Center (UG1 HD68270)—UD; MGarg; TC, MPH; RG, RN BSN.
University of Iowa (UG1 HD53109, UL1 TR442)—EFB; JEB; KJJ, RN BSN; JRW, RN; CAG, RN; KMJ, BSPharm RPh; AM, BA CPhT; JLN, PharmD BCPS; SQL; AVD; DLE, RN CPNP MA; SAL; KRG; VPB.
University of New Mexico Health Sciences Center (UG1 HD53089, UL1TR41)—RKO; SSB, MSN RNC; TD; MRH, RN BSN; CHH, MPH RN; EK, RN BSN; SJK; JL; NAM, RPh MBA.
University of Oulu, and Oulu University Hospital, Oulu, Finland—MKH.
University of Pennsylvania, Hospital of the University of Pennsylvania, Pennsylvania Hospital, and Children's Hospital of Philadelphia (UG1 HD68244)—BS; HK; SA; ASC, BS RRT; TM, RN BSN CCRC; WVA; JCB; GB, MD MSCE; NC; SLD; MGerdes; HH; MDM; MR; KRJr; JS, RN BSN; SMY, RPh.
University of Rochester Medical Center, Golisano Children's Hospital, and the University of Buffalo Women's and Children's Hospital of Buffalo (UG1 HD68263, UL1 TR42)—CD'A; SL; AMR, MD MPH; SAB; MFC; PRC; RJ; RSR; AMT; AW, MS Ed; MGS, MAT; HW; JH; AH, LPN; MBo, RN NP; MH-M; WZ; OF; KY; JM, LMSW; CF; KB, BS; CO; PS, MPH.
University of Texas Southwestern Medical Center, Parkland Health & Hospital System, and Children's Medical Center Dallas (UG1 HD40689)—MHW; LPB; DMV, RNC-NIC; SSA, MS RN CPNP; CC; JC, RN; MMDL, BSN RN; FE, BSN RN; LG, PharmD RPh; LG, RN; AG; EH, PsyD PA-C; LEL, RN; HCL; AM, PharmD RPh; LP; CTB, MS CIMI; RW, RPh.
Wayne State University, Hutzel Women's Hospital and Children's Hospital of Michigan (UG1 HD21385)—SS; BGS; RB, RN BSN; PA; MB; SCha; KC, RN BSN; MF; LAG; MEJ, RN BSN; ML-B, RPh; BP; EW, RN MSN.
Data and Safety Monitoring Committee—CAG, MD, chair, University of Washington; MCA, MD, Johns Hopkins University School of Medicine; RJB, MD, University of Virginia Health System; Traci Clemons, PhD, The EMMES Corporation; MED'A, MD, Columbia Ob/Gyn Midtown; ADa (ex officio), PhD, RTI International; DEverett, MA (non-voting member), National Eye Institute; Ralph E. Kauffman, MD, University of Missouri-Kansas City, Medical Research Department at Children's Mercy Hospital; Menachem Miodovnik, MD, Washington Hospital Center; TMO'S, MD MPH, Wake Forest University School of Medicine; Lois Smith, MD, Harvard University Children's Hospital; Steven J. Weiner, MS, The George Washington University; Marian Willinger (ex officio), PhD, Eunice Kennedy Shriver National Institute of Child Health and Human Development.
The BOOST Study ROP Credentialing site, www.boostnz.info/ROP/[boostnz.info, allowed NRN ophthalmologists to use their online system to certify their ROP training.
Eunice Kennedy Shriver National Institute of Child Health and Human Development Neonatal Research Network
Stephanie Wilson Archer39, Gregory M. Sokol42, Susan Gunn42, Dianne E. Herron42, Abbey C. Hines42, Elizabeth Hynes42, Lu-Ann Papile42, Lucy Smiley42, Jon E. Tyson43, Kathleen A. Kennedy43, Amir M. Khan43, Andi Duncan43, Ricardo Mosquera43, Elizabeth Allain43, Julie Arldt-McAlister43, Shanti Brown43, Allison G. Dempsey43, Elizabeth Eason43, Farida El-Ali43, Carmen Garcia43, Kartik Kumar43, Janice John43, Patrick M. Jones43, M. Layne Lillie43, Karen Martin43, Sara C. Martin43, Georgia E. McDavid43, Shannon McKee EdS43, Hatice Ozsoy43, Shawna Rodgers43, Daniel Sperry43, Emily K. Stephens43, Vu Ta43, Christine Wong43, Sharon L. Wright43, Pablo J. Sánchez44, Leif D. Nelin44, Sudarshan R. Jadcherla44, Amanda E. Graf44, Patricia Luzader44, Christine A. Fortney44, Gail E. Besner44, Nehal A. Parikh44, David L. Rogers44, Richard P. Golden44, Catherine Olson Jordan44, Dennis Wallace45, Marie G. Gantz45, Carla M. Bann45, Jeanette O' Donnell Auman45, Margaret M. Crawford45, Jenna Gabrio45, Carolyn M. Petrie Huitema45, James W. PickettII45, Annie M. VonLehmden45, Krisa P. Van Meurs46, David K. Stevenson46, M. Bethany Ball46, Steven Chinn46, Melinda S. Proud46, Barbara Bentley46, Maria Elena DeAnda46, Anne M. DeBattista46, Beth Earhart46, Lynne C. Huffman46, Casey E. Krueger46, Ryan Lucash46, Hali E. Weiss46, Waldemar A. Carlo47, Namasivayam Ambalavanan47, Monica V. Collins47, Shirley S. Cosby47, Rebecca J. Quinn47, Brenda Reed Denson47, Ann Marie Arciniegas-Bernal47, Fred J. Biasini47, Kristen C. Johnston47, Cryshelle S. Patterson47, Vivien A. Phillips47, Sally Whitley47, Uday Devaskar48, Meena Garg48, Teresa Chanlaw48, Rachel Geller48, Edward F. Bell49, Jane E. Brumbaugh49, Karen J. Johnson49, Jacky R. Walker49, Claire A. Goeke49, Kristine M. Johnson49, Angela Merriss49, Joanna L. Nohr49, Susannah Q. Longmuir49, Arlene V. Drack49, Diane L. Eastman49, Scott A. Larson49, Kevin R. Gertsch49, Vikki P. Bell49, Robin K. Ohls2, Sandra Sundquist Beauman2, Tara Dupont2, Mary Ruffaner Hanson2, Carol H. Hartenberger2, Elizabeth Kuan2, Susan J. Kunkel2, Jean Lowe2, Nancy A. Morgan2, Mikko K. Hallman50, Barbara Schmidt51, Haresh Kirpalani51, Soraya Abbasi51, Aasma S. Chaudhary51, Toni Mancini51, William V. Anninger51, Judy C. Bernbaum51, Gil Binenbaum51, Noah Cook51, Stefanie L. Davidson51, Marsha Gerdes51, Hallam Hurt51, Monte D. Mills51, Mina Ricciardelli51, Kenneth RockwellJr.51, Jonathan Snyder51, Sze Man Yau51, Carl D'Angio52, Satyan Lakshminrusimha52, Anne Marie Reynolds52, Stephen A. Bean52, Melissa F. Carmen52, Patricia R. Chess52, Rosemary Jensen52, Rajeev S. Ramchandran52, Ann Marie Turner52, Ashley Williams52, Michael G. Sacilowski52, Holly Wadkins52, Julianne Hunn52, Aimee Horan52, Melissa Bowman52, Michele Hartley-McAndrew52, William Zorn52, Osman Farooq52, Kelley Yost52, Joan Merzbach52, Cait Fallone52, Kyle Binion52, Constance Orme52, Premini Sabaratnam52, Myra H. Wyckoff53, Luc P. Brion53, Diana M. Vasil53, Sally S. Adams53, Christine Cha53, Juana Cisneros53, Maria M. De Leon53, Frances Eubanks53, Lynda Godowic53, Laura Grau53, Alicia Guzman53, Elizabeth Heyne53, Lizette E. Lee53, Helen C. Lira53, Azadeh Mozaffari53, Lara Pavageau53, Catherine Twell Boatman53, Reshma Wright53, Seetha Shankaran54, Beena G. Sood54, Rebecca Bara54, Prashant Agarwal54, Monika Bajaj54, Sanjay Chawla54, Kirsten Childs54, Melissa February54, Laura A. Goldston54, Mary E. Johnson54, Mirjana Lulic-Botica54, Bogdan Panaitescu54, Eunice Woldt54, Christine A. Gleason55, Marilee C. Allen55, Robert J. Boyle56, Traci Clemons57, Mary E. D'Alton58, Abhik Das59, Donald Everett45, Ralph E. Kauffman60, Menachem Miodovnik61, T. Michael O'Shea62, Lois Smith63, Steven J. Weiner64, Marian Willinger65
Funding
Funded by the National Institutes of Health, the Eunice Kennedy Shriver National Institute of Child Health and Human Development (NICHD) (U10 HD36790, UG1 HD27904, UG1 HD21364, UG1 HD68284, UG1 HD27853, UG1 HD40492, UG1 HD27851, UG1 HD27856, UG1 HD87229, UG1 HD68278, UG1 HD27880, UG1 HD34216, UG1 HD68270, UG1 HD53109, UG1 HD53089, UG1 HD68244, UG1 HD68263, UG1 HD40689, UG1 HD21385), the National Eye Institute (via co-funding to NICHD), and the National Center for Advancing Translational Sciences (UL1 TR41, UL1 TR42, UL1 TR77, UL1 TR93, UL1 TR442, UL1 TR454, UL1 TR1117).
Ethics declarations
Conflict of interest
None of the authors report any commercial, proprietary, or financial interest in any of the products described in this article. NICHD is the sponsor of the study and holds the investigational new drug (IND) application. Abbott Nutrition Division, Abbott Laboratories, Columbus, OH, provided the inositol product. They had no role in the: design of the trial; the analyses, interpretation, or writing of the manuscript; or the decision to submit the manuscript for publication. They provided on-site monitoring to assist in quality assurance of the data collection.
Additional information
Publisher's note Springer Nature remains neutral with regard to jurisdictional claims in published maps and institutional affiliations.
Members of the Eunice Kennedy Shriver National Institute of Child Health and Human Development Neonatal Research Network are listed below Acknowledgements
About this article
Cite this article
Adams-Chapman, I., Watterberg, K.L., Nolen, T.L. et al. Neurodevelopmental outcome of preterm infants enrolled in myo-inositol randomized controlled trial. J Perinatol 41, 2072–2087 (2021). https://doi.org/10.1038/s41372-021-01018-5
Received:

Revised:

Accepted:

Published:

Issue Date:

DOI: https://doi.org/10.1038/s41372-021-01018-5
This article is cited by
Pediatric Research (2023)