Abstract
Objective
Point of care ultrasound (POCUS) use is increasing in pediatrics and has been demonstrated to be superior in identifying central catheter tip location in neonatal intensive care units. However, limited data exist regarding cardiorespiratory changes secondary to POCUS in neonates.
Study design
A prospective observational equivalence study was performed on 50 POCUS assessments of central catheter tip location in 46 patients ≥23 weeks gestation. Heart rate (HR), respiratory rate (RR), and percent oxygen saturation (SpO2) levels were collected before and after POCUS. Limits of equivalence were set in advance.
Result
Equivalence was demonstrated in HR, RR, and SpO2 before and after POCUS. HR decreased by 3.24 beats per minute (90% CI: −5.36, −1.14). RR increased by 0.71 breath/min (90% CI: −1.84, +3.27). SpO2 increased by 0.54 percentage points (90% CI: −0.23, +1.31).
Conclusion
Identifying central catheter tip location using POCUS in neonates appears safe without affecting cardiorespiratory stability.
Access options
Subscribe to Journal
Get full journal access for 1 year
$119.00
only $9.92 per issue
All prices are NET prices.
VAT will be added later in the checkout.
Tax calculation will be finalised during checkout.
Rent or Buy article
Get time limited or full article access on ReadCube.
from$8.99
All prices are NET prices.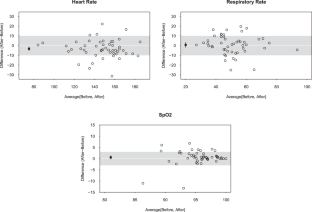 References
1.

Miller LE, Stoller JZ, Fraga MV. Point-of-care ultrasound in the neonatal ICU. Curr Opin Pediatr. 2020;32:216–27.

2.

Meinen RD, Bauer AS, Devous K, Cowan E. Point-of-care ultrasound use in umbilical line placement: a review. J Perinatol. 2020;40:560–6.

3.

Bauer AS, Meinen R, Devous K, Al-Subu A, Cowan E. Introduction of point of care ultrasound into the neonatal intensive care unit. J Ultrasound. 2020;23:631–2.

4.

Zeileis A, Köll S, Graham N. Various versatile variances: an object-oriented implementation of clustered covariances in R. J Statist Softw. 2020;95:1–36.

5.

Cameron AC, Gelbach JB, Miller DL. Robust inference with multiway clustering. J Bus Economic Stat. 2012;90:414–27.

6.

Chandrasekharan P, Rawat M, Reynolds AM, Phillips K, Lakshminrusimha S. Apnea, bradycardia and desaturation spells in premature infants: impact of a protocol for the duration of 'spell-free' observation on interprovider variability and readmission rates. J Perinatol. 2018;38:86–91.

7.

Suterwala MS, Reynolds J, Carroll S, Sturdivant C, Armstrong ES. Using fiberoptic endoscopic evaluation of swallowing to detect laryngeal penetration and aspiration in infants in the neonatal intensive care unit. J Perinatol. 2017;37:404–8.

8.

Custer J, Rau R. The Harriet Lane handbook eighteenth edition. Philadelphia, PA: Elsevier Mosby; 2009.

9.

Askie LM, Darlow BA, Davis PG, Finer N, Stenson B, Vento M, et al. Effects of targeting lower versus higher arterial oxygen saturations on death or disability in preterm infants. Cochrane Database Syst Rev. 2017;4:CD011190.

10.

Groves AM, Kuschel CA, Knight DB, Skinner JR. Cardiorespiratory stability during echocardiography in preterm infants. Arch Dis Child. 2005;90:86–7.

11.

Noori S, Seri I. Does targeted neonatal echocardiography affect hemodynamics and cerebral oxygenation in extremely preterm infants? J Perinatol. 2014;34:847–9.

12.

Lakens D. Equivalence tests: a practical primer for t tests, correlations, and meta-analyses. Soc Psychol Personal Sci. 2017;8:355–62.

13.

Fleming SE, Kim JH. Ultrasound-guided umbilical catheter insertion in neonates. J Perinatol. 2011;31:344–9.

14.

Franta J, Harabor A, Soraisham AS. Ultrasound assessment of umbilical venous catheter migration in preterm infants: a prospective study. Arch Dis Child Fetal Neonatal Ed. 2017;102:F251–F5.

15.

Guimaraes AF, Souza AA, Bouzada MC, Meira ZM. Accuracy of chest radiography for positioning of the umbilical venous catheter. J Pediatr. 2017;93:172–8.

16.

Hoellering AB, Koorts PJ, Cartwright DW, Davies MW. Determination of umbilical venous catheter tip position with radiograph. Pediatr Crit Care Med. 2014;15:56–61.

17.

Michel F, Brevaut-Malaty V, Pasquali R, Thomachot L, Vialet R, Hassid S, et al. Comparison of ultrasound and X-ray in determining the position of umbilical venous catheters. Resuscitation. 2012;83:705–9.
Funding
UnityPoint Health-Meriter Foundation provided grant money for this project.
Ethics declarations
Conflict of interest
The authors declare no competing interest.
Additional information
Publisher's note Springer Nature remains neutral with regard to jurisdictional claims in published maps and institutional affiliations.
About this article
Cite this article
Cowan, E., Meinen, R.D., Lasarev, M.R. et al. Implementing point of care ultrasound in the neonatal intensive care unit: a safety study. J Perinatol 41, 879–884 (2021). https://doi.org/10.1038/s41372-021-00955-5
Received:

Revised:

Accepted:

Published:

Issue Date: